| Reviewed on a CLX Gaming Custom PC |
I've checked out quite a few gaming keyboards in the last 3 years of doing this and during my process, I've been absolutely blown away by the sheer quality that companies like Roccat has been producing since before the Pandemic — Roccat to me has been delivering nothing but homeruns in that front and as one would expect, the Vulcan II Mini Air is not only an extremely good keyboard, it's damn near the best in the market. You can check out my impression of the wired format here – and my impression with the Air model is pretty much exact, with the benefit, of course, it being wireless and just as precise. There's a reason Dr. Disrespect loves this company.
The Definitive Form
Alright, let's get into it – I am thrilled to share my experience with the Vulcan II Mini Air, a remarkable keyboard that offers an incredible combination of form factor, functionality, and performance. The Vulcan II Mini Air boasts a sleek and modern design, featuring a durable aluminum frame that exudes elegance. The keycaps are crafted with high-quality materials, providing a comfortable typing experience and maintaining a satisfying tactile response. The build quality is exceptional, ensuring longevity and resilience against daily wear and tear. The form factor strikes the perfect balance between functionality and space-saving design. Its compact 65% size manages to retain all the essential keys without sacrificing usability. This makes it an ideal choice for those seeking a smaller keyboard without compromising on performance or key functionality. Vulcan II Mini Air returns with its EZ Function, boasting an impressive array of 29 smart keys, each accompanied by dedicated LED indicators. As one would expect, this enhances productivity but also adds a touch of flair to your gaming or work setup. The EZ Function allows you to effortlessly customize and assign various commands, macros, and shortcuts, providing a seamless user experience tailored to your unique needs.
At the heart of the Vulcan II Mini Air lies the TITAN II Optical Switch, known for its lightning-fast actuation and precise responsiveness. I was once again eager to put this keyboard to the test during my intense sessions in Destiny 2's Season of the Deep; when it comes to my long hours of grinding on my CLX Gaming Custom PC, the Vulcan II Mini Air keyboard is an incredible addition to my setup. Its compact size fits perfectly, and the smooth, responsive keys give me precise control in the process. And this brings me to its otherworldly Adaptive Battery system; with approximately 240 hours of battery life, this keyboard ensures long-lasting performance without frequent recharging. What sets it apart is its ability to automatically detect when you step away from the keyboard and adjust the RGB lighting accordingly. This intelligent feature not only saves battery life but also adds a touch of environmental consciousness to the overall user experience.
The Tech in the Technical
Here's what you should expect when getting your hands on one of these:


Package Contents: ROCCAT® Vulcan II Mini Air Gaming Keyboard
Detachable USB-C to USB-A cable (1.8m)
Stellar Wireless Dongle
Quick-Start Guid
System Requirements: Windows® 7 and above (software support)
USB 2.0 (or higher)
Internet connection (for driver software)
Warranty: 2-year limited manufacturer warranty
Connectivity: Detachable USB-C to USB-A Wired
Wireless 2.4GHz dongle
3x Bluetooth v5.2
Cable: Detachable 1.8m braided USB-C to USB-A 2.0
Switches: TITAN II OPTICAL Red
Smooth Linear
1.4 mm Actuation Point
3.6 mm Travel Distance

TITAN II OPTICAL Brown
Tactile Bump
1.8 mm Actuation Point
3.6 mm Travel Distance
Switch Lifecycle: Tested to 150 million
Polling Rate: 1,000 Hz
On-board memory: 4MB (5 On-board Profiles)
RGB: RGB per-key illumination + 29 smart keys
Keyboard Rollover: Full Key (NKRO) with 100% Anti-Ghosting
Processor: 32-bit ARM Cortex M4
Battery life: Up to 240 Hours (Varies with usage)
Adjustable height: Yes, 3 different heights
Color: Black or White
Weight: 578g (Without Cable)
620g (With Cable)
Dimensions: 18.23 x 9.29 x 1.32 inch
An Absolute Need
To further enhance the Vulcan II Mini Air's versatility, the accompanying SWARM software offers extensive customization options. The intuitive interface allows users to personalize key assignments, create macros, and customize RGB lighting effects. The software is user-friendly and provides an effortless way to tailor the keyboard to suit your preferences and individual style.
REVIEW SCORE: 9/10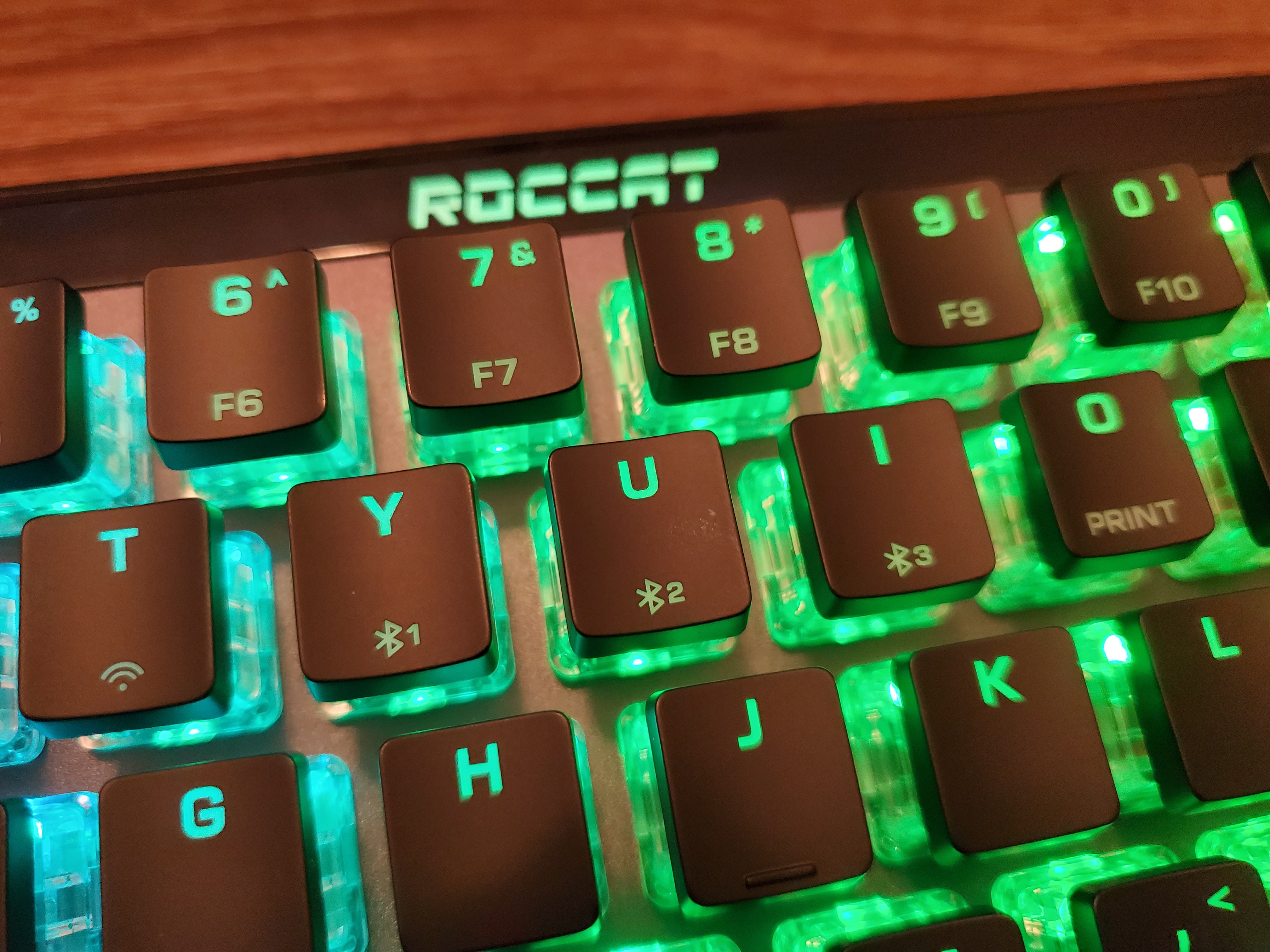 The Vulcan II Mini Air stands as a testament to the power and ingenuity that can be packed into a compact form factor. Its thoughtful design, enhanced functionality, and exceptional performance make it a top-tier choice for both gamers and productivity enthusiasts alike. The TITAN II Optical Switches deliver an unmatched gaming experience, while the Adaptive Battery system adds convenience and efficiency to your workflow. With its sleek design, customizable features, and outstanding build quality, the Vulcan II Mini Air has won me over and earns my enthusiastic recommendation.
So, whether you're a gaming aficionado seeking precision and speed or a productivity enthusiast looking to optimize your workflow, the Vulcan II Mini Air is undoubtedly a mini marvel with maximum potential. Embrace the power of compact greatness and elevate your keyboard experience to new heights with this exceptional piece of technology.
For more on Roccat's Vulcan II Mini Air and gaming, follow me on Twitter and other social media here