| Installed on an ASUS ROG Ally |
The pursuit of seamless performance and accelerated gameplay has always been a desire of mine, it's why I'm constantly buying mid-gen upgrades when really, I don't need to. Recently, I had the privilege of upgrading my ASUS ROG Ally with the Seagate FireCuda 520N M.2 SSD 1TB, a storage solution promising high performance, Gen4 NVMe experience in a compact M.2 2230 form factor. I'll delve into my experience with the installation process, the drive's specifications, and the surprising impact it had on my handheld gaming sessions.
A Breeze of Gaming
Installing the Seagate FireCuda 520N into my ROG Ally was remarkably seamless, quick, and surprisingly easy. Seagate's packaging included all the necessary components and clear instructions, ensuring that even users with limited technical expertise could navigate the installation effortlessly – though I highly recommend tutorial videos. After removing the stock drive, I was able to slot the new one in place. The entire installation took about 15 minutes, and just like that I went from 512gb to 1TB. The true test of any SSD lies in its performance, and the Seagate FireCuda 520N delivers in spades. Boasting a 4,800MB/s bringing loading to near instant experience. What sets the FireCuda 520N apart is its compatibility with both Gen3 and Gen2 PCIe slots, providing versatility that ensures it can seamlessly integrate into a variety of gaming systems. The inclusion of Gen4 NVMe performance in the M.2 2230 form factor, specifically designed for handheld gaming devices like my ASUS ROG Ally, only shows the commitment Seagate has for portable gaming.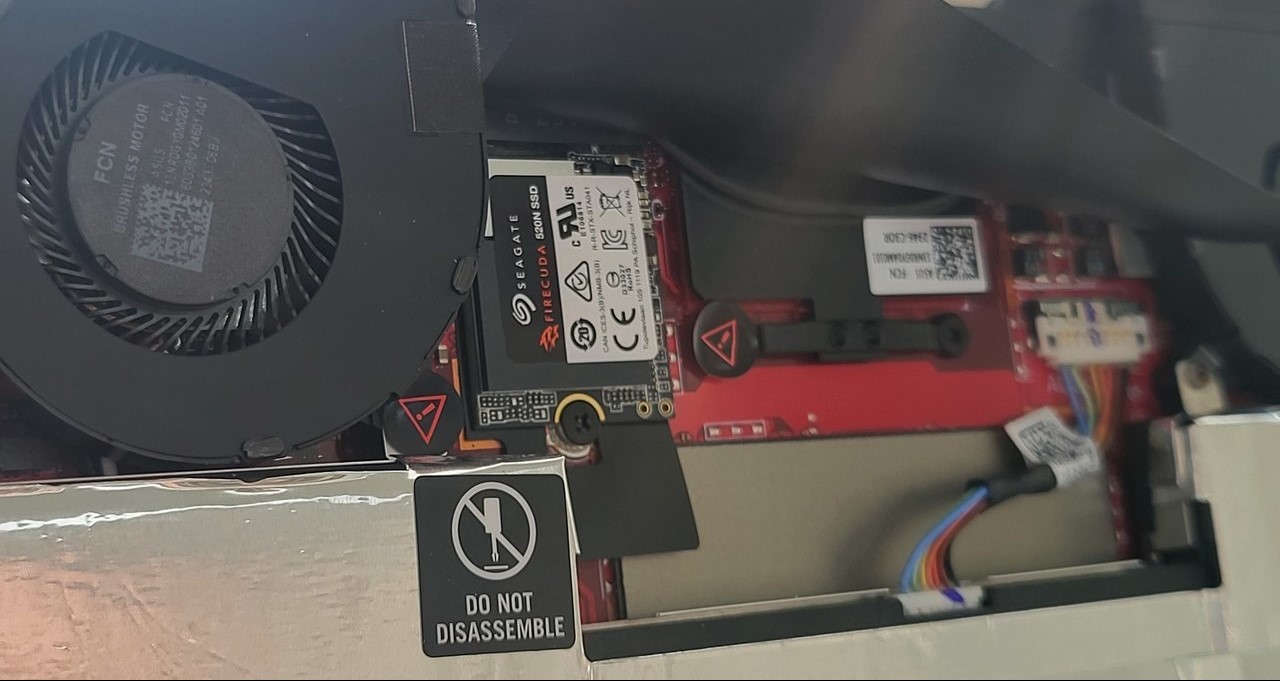 The Seagate FireCuda 520N offers not only impeccable speed but also a few storage options; In my case, the 1TB variant proved to be more than sufficient to accommodate my library, but for those who demand even more space, the 2TB option is a tantalizing prospect. I mainly carry my Ally with games I would like to grind on the go like Diablo 4, Destiny 2 and more — but you will find that storing smaller games to be a delight.
The Desktop Experience in Your Hands
The marriage of Gen4 NVMe performance and the M.2 2230 form factor is where the FireCuda 520N truly shines. The desktop gaming experience, characterized by speed, responsiveness, and fluidity, is seamlessly translated to handheld gaming devices like the ASUS ROG Ally. The Seagate FireCuda 520N M.2 SSD is not just a storage upgrade; it's a transformative experience for any gaming enthusiast. The installation process, marked by its simplicity, sets the stage for a journey into the realms of accelerated gaming. The combination of high-octane performance, ample storage capacity, and the forward-thinking Gen4 NVMe technology makes the FireCuda 520N a formidable companion for those who demand the best from their gaming handhelds.
REVIEW SCORE 10/10
I see no flaws with this chip – only that maybe with time it may falter due to lack of cooling, but with the nature of handhelds, that can only be solved through modded means. I highly recommend this to anyone that's looking to upgrade. You can purchase here starting at $109
For more on Seagate and gaming, follow me on Twitter and other social media here