When it comes to productivity, nothing beats having an extra monitor, especially one that is large and in ultrawide format. And while an ultrawide 1080p monitor isn't bad, they get much better when you head into 2K and 4K territory mainly because of the extra desktop space you can squeeze out of them. I've also grown to love curved displays and find them to be much more comfortable on the eyes. That's why I was so intrigued by the newly released Dell UltraSharp 38 Curved USB-C Hub Monitor (U3824DW). This is a 37.5″ WQHD+ ultrawide display built for productivity with some rather unique features not found on other monitors.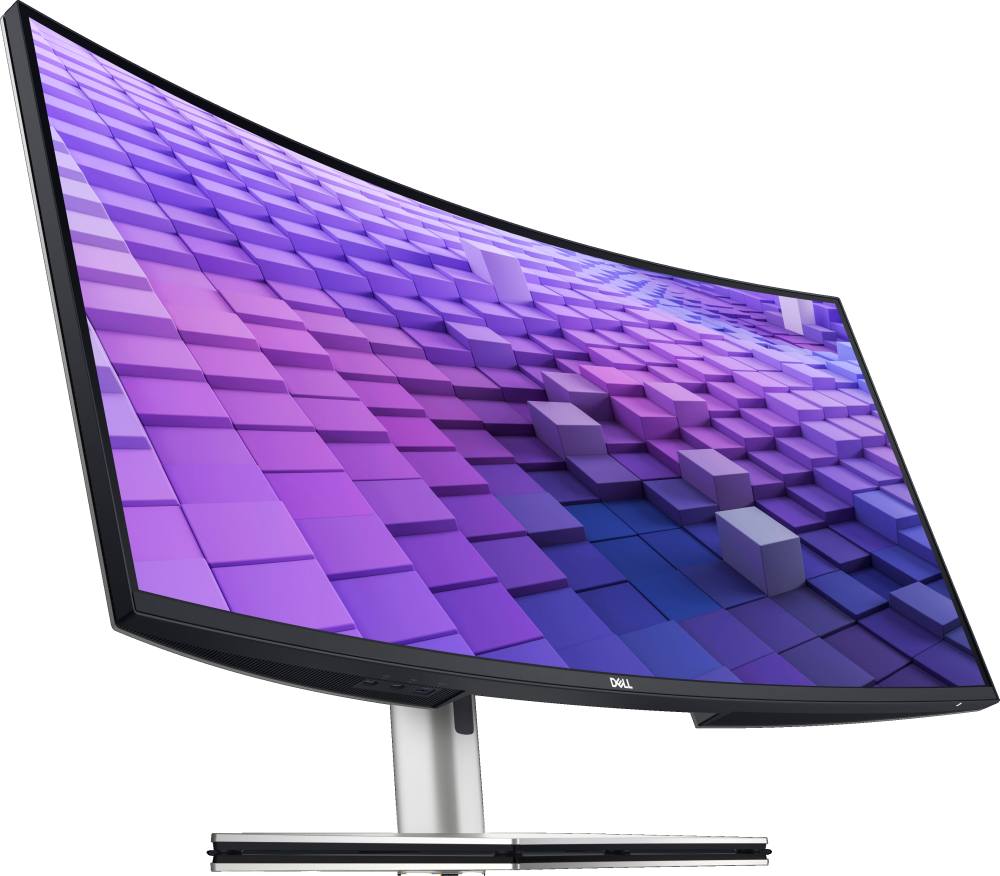 DESIGN
Dell built itself a rather handsome and well-thought-out monitor with the Dell UltraSharp 38. It's very aesthetically pleasing to look at with its mostly silver metallic body and thinly black bezel face. I've used a lot of monitors and this one by far is the cleanest looking one. Its modern looks make it welcome in any office space and match a wide variety of laptops and accessories on the market.
Aside from the looks, the functionality is adjustability is there. Not only can you adjust the height of the monitor, but you can also adjust the tilt angle and swivel angle. Although, my favorite inclusion has to be the built-in USB-C hub. This is the first monitor I've ever looked at that has this and it saves you not only desktop space but makes it fairly easy to cable manage as well. The hub is built into the back of the monitor and includes a ton of additional ports. Below is a quick rundown of what's included:
DisplayPort 1.4
2 x HDMI (HDCP 2.2)
USB-C/DisplayPort 1.4 Alt Mode (power up to 90W)
USB-C 3.2 Gen 2 upstream (data only)
4 x USB 3.2 Gen 2 downstream
2 x USB-C 3.2 Gen 2 downstream (power up to 15W)
USB 3.2 Gen 2 downstream with Battery Charging 1.2
Audio line-out
Network (RJ-45)
I like that the hub is well hidden behind the monitor, except for three ports that sit just under the monitor for easy reachability. These are mainly used if you want to connect external accessories temporarily like your phone, external drive, etc. These can also be used as charging ports too.
Lastly, while not something normally seen on computer monitors, the Dell U3824DW has built-in speakers. While they aren't the best-sounding speakers, they sound decent enough for things like online meetings and the occasional video.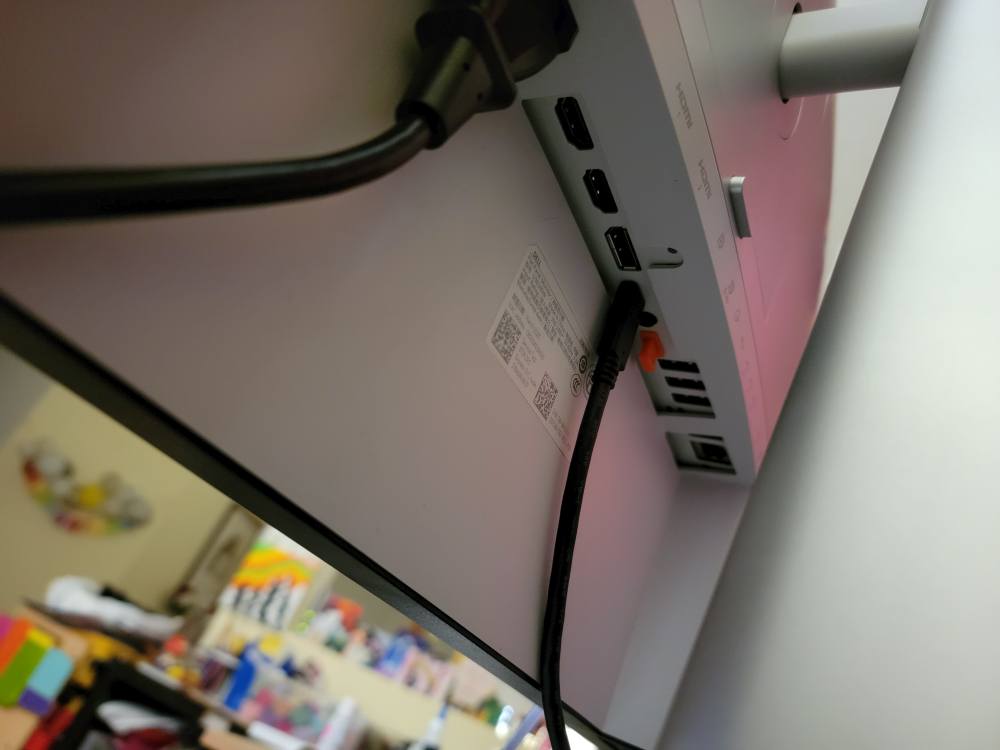 SPECS
The specs on the Dell UltraSharp 38 Curved USB-C Hub Monitor (U3824DW) are pretty impressive. The panel is an IPS Black unit with a max resolution is WQHD+ @ 3840 x 1600 with a refresh rate of 60Hz. While 60Hz might sound a bit low, we have to remember that this is a productivity monitor and not a gaming monitor. At 60Hz, it runs quite well, especially for all your normal, everyday tasks. It's an LED-backlit LCD / TFT active matrix monitor that is plenty bright with a 5ms response time.
As for the hub, this isn't just some cheapo hub they slapped to the back of the monitor. Instead, the specs on the hub are also quite impressive. I listed most of the specs above but the standout features in my opinion have to be the sheer number of included ports, the inclusion of an RJ45 Ethernet jack, and a 90W USB-C PD port. You basically don't even need a separate hub with this monitor as it has everything you need.
Speaking of which, one of the selling points of the U3824DW is that you can connect two different sources at once. For instance, two PCs, one desktop and one laptop, a Windows machine and a Mac, or anything else really. On top of that, the built-in hub also works as a KVM switch so you can share a keyboard and mouse between two devices.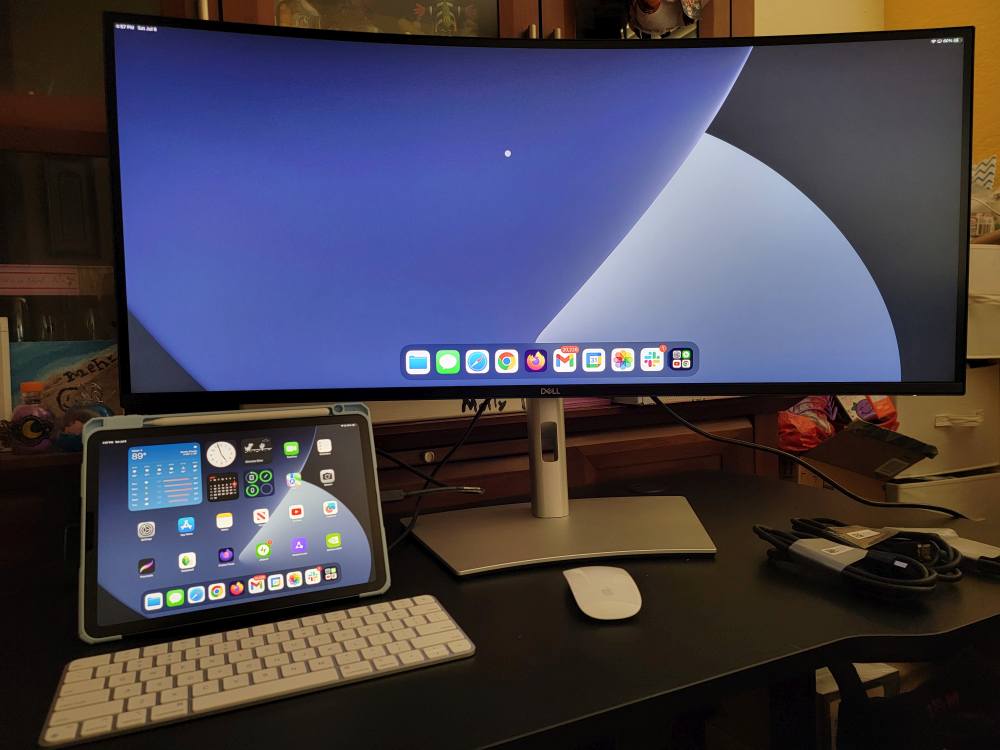 EXPERIENCE
There is a lot to like with the Dell UltraSharp 38 Curved USB-C Hub Monitor. For starters, this monitor is huge and provides a lot of desktop space for all the apps you might be using. The resolution is set at 3840 x 1600 which allows me to set three browser windows side by side without overlap. That also means if I'm working, I am able to have two browser windows up and Slack so I can keep track of my entire workflow without having to switch windows or virtual desktops.
What is neat is that the U3824DW allows for two sources at the same time so if you use a desktop and a laptop, you can hook up both sources at once and switch between them. You can also split the display in half and display both sources at once. This mode is actually pretty cool especially if you're running two different OSes at once. For instance a Windows laptop and a Macbook at the same time. If you wanted to, you could also run your work laptop and something like a Nintendo Switch in a little mini window on the side. It's very versatile and gives you a lot of options.
Next up is the built-in hub which I really love. Normally I'd have to run a separate hub that takes up space on my desk, but since this is attached to the back of the monitor, it saves a ton of space. There are a ton of ports included, enough for all your devices and gadgets that you might need to be hooked up. I especially like the inclusion of USB-C PD ports that also let me charge my phone and other devices at the same time.
The Dell UltraSharp 38 Curved USB-C Hub Monitor is a powerhouse that does a lot, hence why it's great for productivity.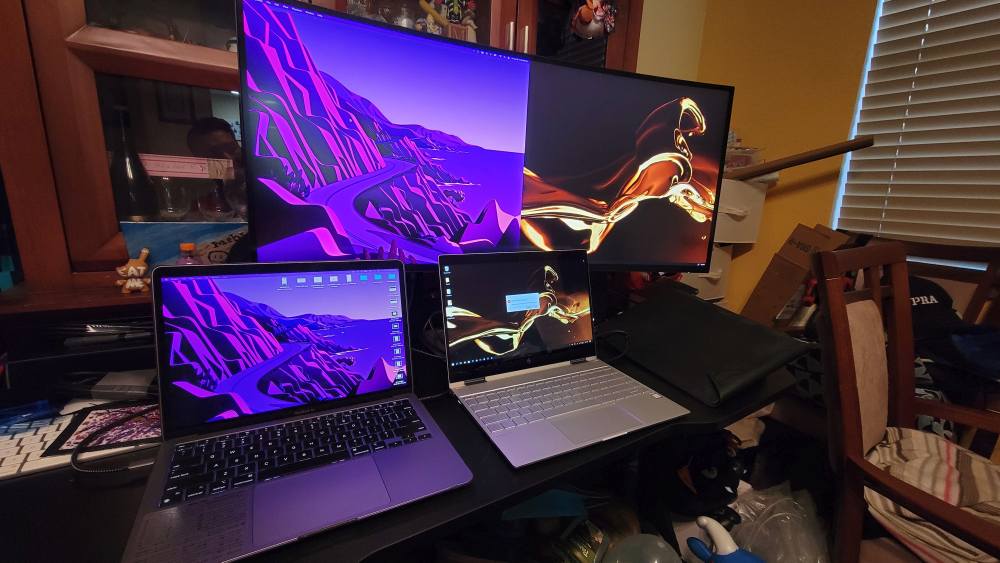 FINAL THOUGHTS
The Dell UltraSharp 38 Curved USB-C Hub Monitor (U3824DW) is a rather exciting proposition that makes a lot of sense for those who have productivity on their mind. This is one of the larger monitors I've tested out and I have to say that I love everything about it. The picture quality is amazing and the monitor is super bright. The refresh rate at 60Hz however might not seem great at first, but since this is a monitor made for work, 60Hz works just fine. The picture still looks really smooth and I'm not playing games on it so I can deal with the lower refresh rate.
Overall, the Dell UltraSharp 38 Curved USB-C Hub Monitor is one of the best monitors I've used for productivity. The integrated hub is an amazing feature and once you use a 4K ultrawide, going back to anything less is just disappointing.