The Nintendo Switch is an excellent console whether you're playing at home on the big screen or on the go in portable mode. It's one of the most versatile consoles out there, and while you really don't need anything else to enjoy it, there are accessories out there that can make your gaming experience better. For instance, a good case will keep your Switch protected, a grip will allow you to use your Joy-Cons like a regular controller, and a traditional controller can be more comfortable for long hours of gaming. Luckily, PowerA has a new collection that gives you all this in one convenient package, the PowerA Pokemon: Sweet Friends Accessory Collection featuring cute Pokemon and a Spring appropriate pastel color pallet.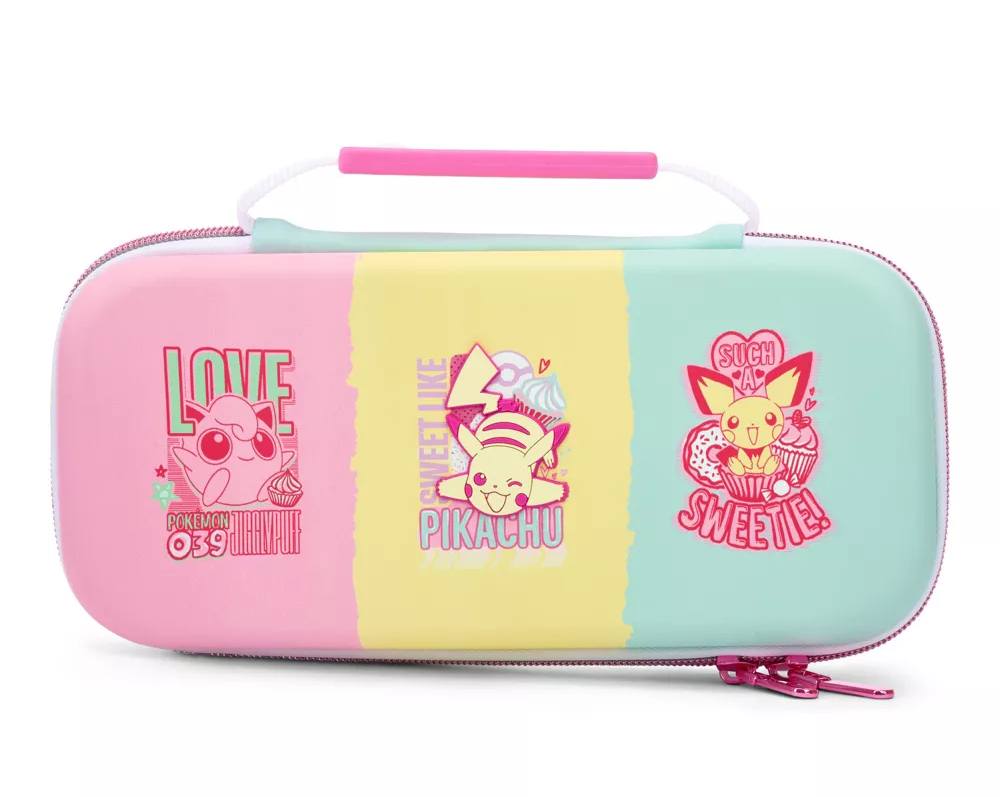 PROTECTION CASE – POKEMON: SWEET FRIENDS EDITION
The Pokemon: Sweet Friends Edition case is based on the PowerA Protection Case design. It is a medium-sized case that can fit any sized Nintendo Switch, with room for additional accessories. That includes the newer Nintendo Switch OLED. The back even has extra grooves in it for the parts on the Joy-Cons that protrude out so they don't get squished in the case.
Other notable features include an interior pocket to hold extra Joy-Cons or cables and accessories, 10-game cartridge holders, and a built-in stand for Table Top mode. There's also a Velcro strap to keep your Nintendo Switch firmly in place while stored away and a foam insert if you are using this for a Nintendo Switch Lite. One of the straps can even be used to create a stand for your Nintendo Switch. Lastly, there is a carry handle on the outside and double zipper pulls.
While these are all great features, my favorite thing about the Pokemon: Sweet Friends Protection Case is just how far they went with the theme. This isn't just a case with an image of Pokemon slapped on the front. Instead, the entire case features Pokemon-themed colors that also carry into the interior of the case. There are a lot of pastel colors here, much of which match the older Animal Crossings Nintendo Switch Special Edition console. The interior also sees a cute polka-dot patterned insert and a special Pokeballl tag. It's these little design extras that really make this case stand out. I should also mention that one of the outer Pokemon images is a molded badge for that extra special look.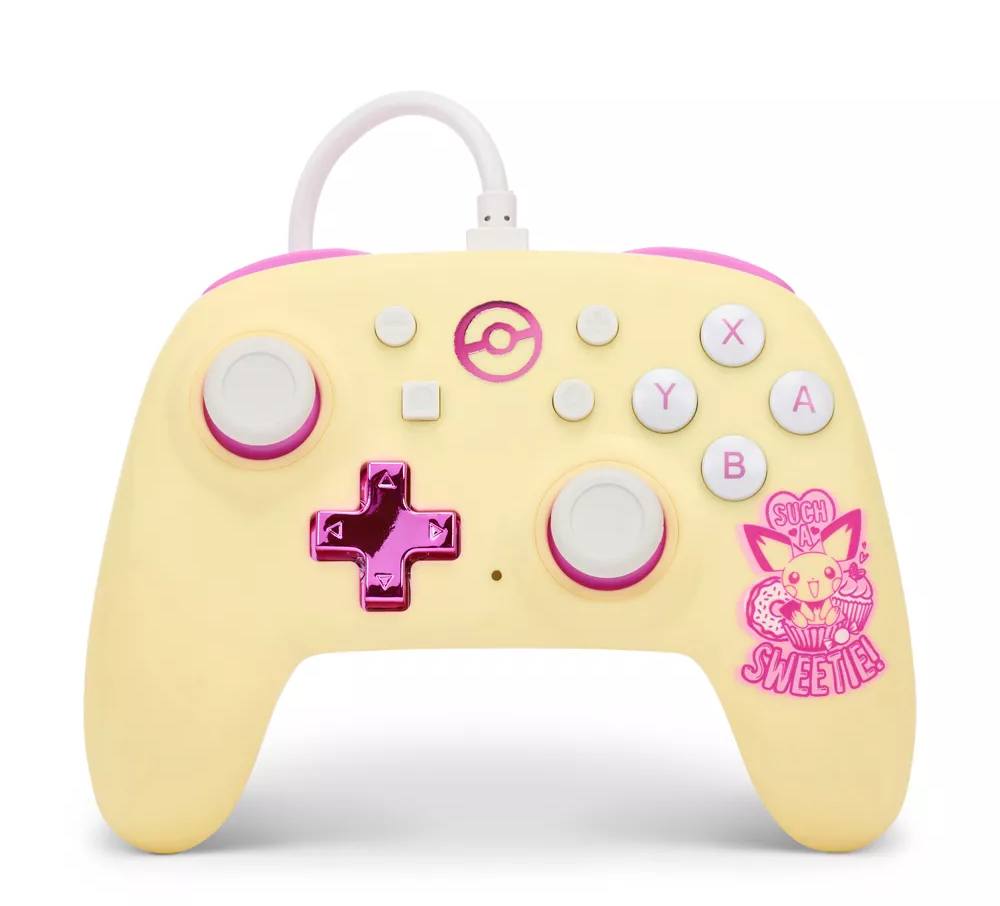 NANO WIRED CONTROLLER – POKEMON: SWEET FRIENDS EDITION
The PowerA Nano Wired Controller is a smaller version of their regular Wired Controller. It has all the same buttons, triggers, and controls as a normal Switch controller, but just in a smaller package. This one is done up in a pastel yellow color with pink accents and a little Pichu badge on one side. It's a cute little controller and perfect for smaller hands.
The controller is also pretty lightweight but still feels nice in your hands. This is a wired controller so it does come with a detachable USB-C cable, though one end is USB-A so you can't hook it up directly to your Switch. You'll need to connect it to the dock.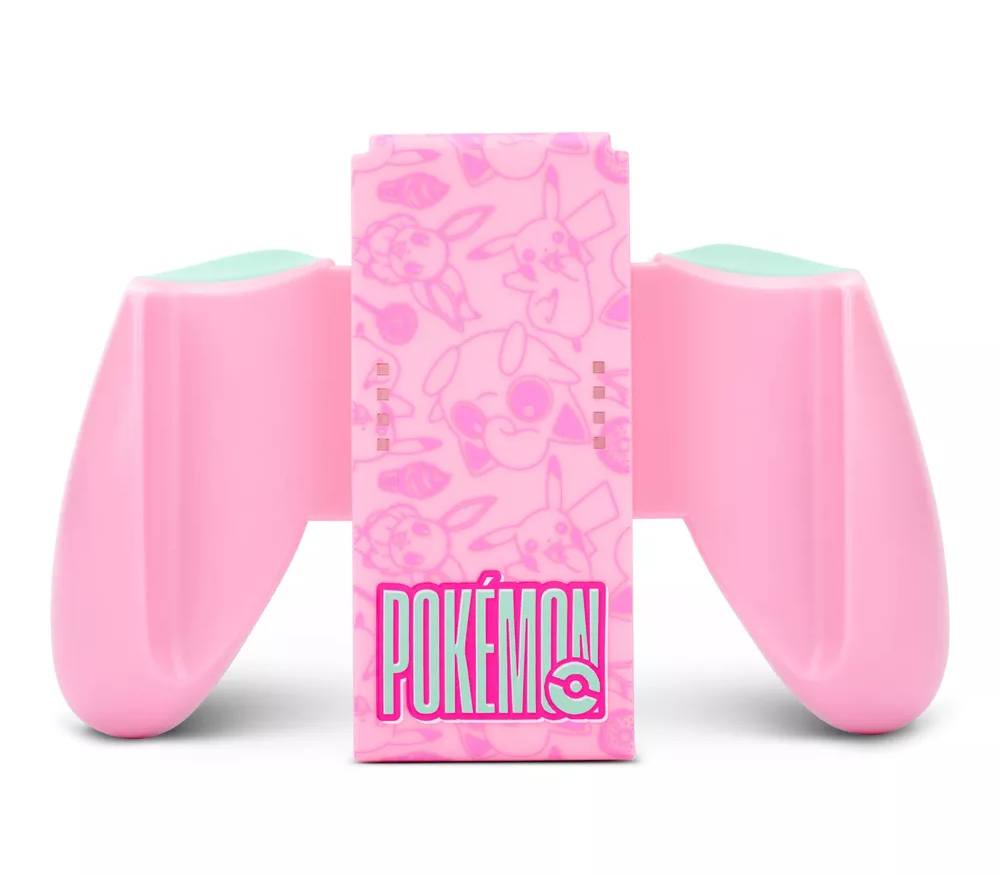 JOY-CON COMFORT GRIP – POKEMON: SWEET FRIENDS EDITION
For those who prefer to use their Joy-Cons, this collection also includes the Joy-Con Comfort Grip, with matching Pokemon: Sweet Friends decor. This comes in a pastel pink color on the front and pastel mint green on the back, with Jigglypugg, Pikachu, and Eevee on the center plate. This is not a powered comfort grip so they won't charge your Joy-Cons, but they do have player indicators on them.
INAL THOUGHTS
If you have a Nintendo Switch, I would highly suggest picking up some accessories, especially a case. The case that comes with the PowerA Pokemon: Sweet Friends Accessory Collection is very good and the addition of the Joy-Con Grip and Nano Controller are mainly just bonuses that you probably would have picked up eventually anyways. These are all accessories that make gaming on the Nintendo Switch a bit more enjoyable and they're not just useless accessories. At least with this package, all the accessories match and they really do look pretty good. At lease in my case with the Nintendo Switch Animal Crossing Edition, the color pallet matched up perfectly and really looks with this combo.
The PowerA Pokemon Sweet Friends Accessory Collection is available now exclusively at Target.