It was only a couple years ago when Bowers & Wilkins hopped into the true wireless arena with its Pi5 and Pi7 earbuds. Flash forward to earlier this year and we have the Pi5 S2 & Pi7 S2 models which on the outside look like refreshed models of their predecessors. Are they hiding anything inside, and which is better for your dollars?
Style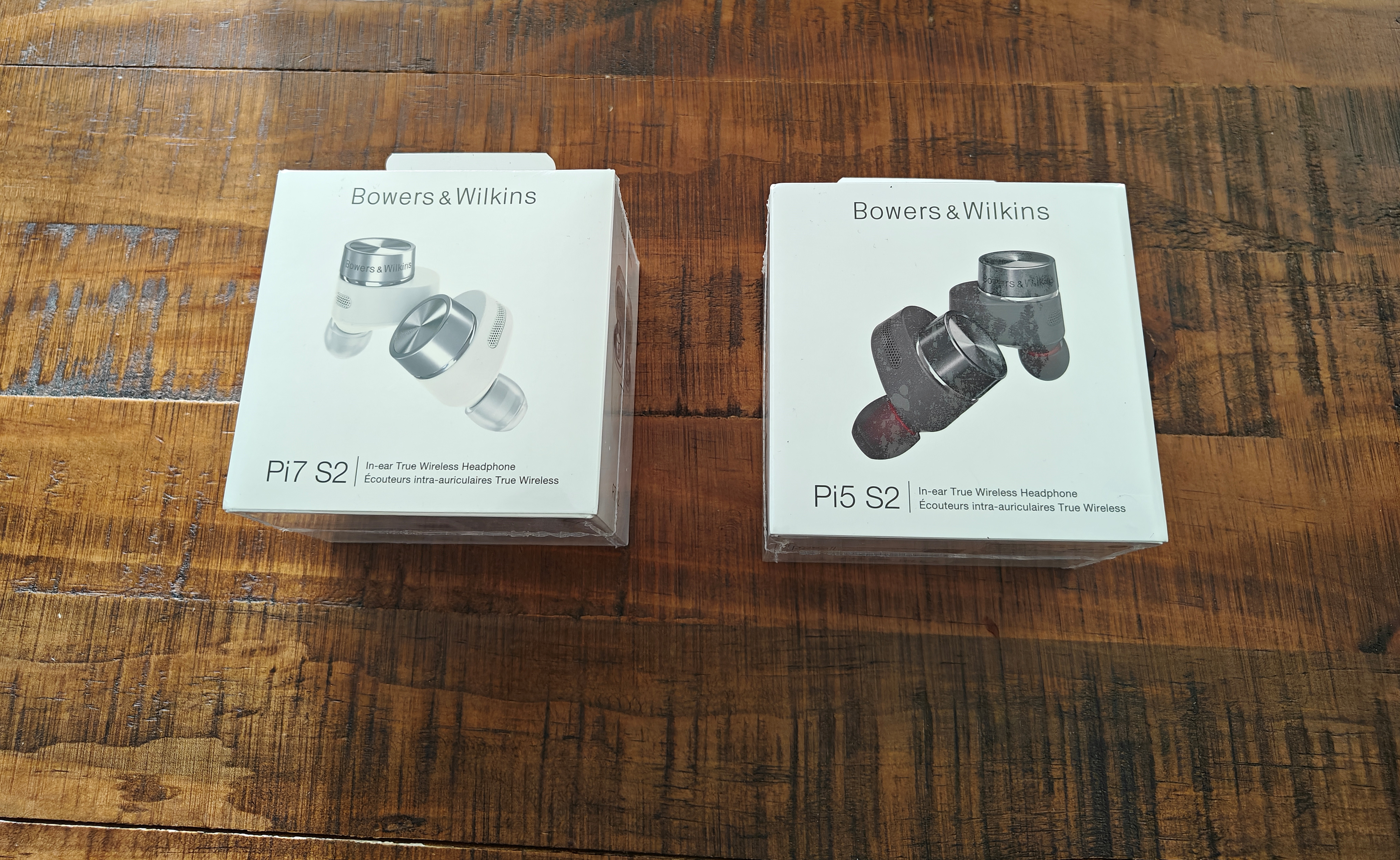 Both the Pi5 S2 and Pi7 S2 come in a variety of colors with the Pi5 having four colors (Sage Green, Storm Grey, Cloud Grey, and Spring Lilac) while the Pi7 have three colors (Satin Black, Canvas White, and Midnight Blue). We were fortunate to check out the Storm Grey for the Pi5 S2 and the Canvas White for the Pi7 S2 thanks to B&W.
Looking at the charging cases, both are the same size, design, and weight in at 47g each. Really the only noticeable difference is the Pi7 S2 case has a button at the front that allows for wireless audio transmission. For instance, if you are on an airplane, you can connect the included 3.5mm USB-C audio cable to the case and to the airplane jack and then have that audio sync to your earbuds. Besides that, both cases have indicator lights on the front, have USB-C charging ports and can utilize wireless charging as well. Each is made of plastic and has the Bowers & Wilkins branding on the flat-top lid.
The earbuds themselves have a dual tone look to them and depending which colors you get stand out more. As with the Canvas White on the Pi7 S2 you get a silver and white mix while the Pi5's Storm Grey has two hues of grey which matches up perfectly with the cases. Also, while they may look a bit thick, they are surprisingly light in the ears coming in at 6g (Pi5) and 7g (Pi7). They are easy to apply just popping them and doing a little twist. The silicone helps it stand in place for the most part. Both have an IP54 rating.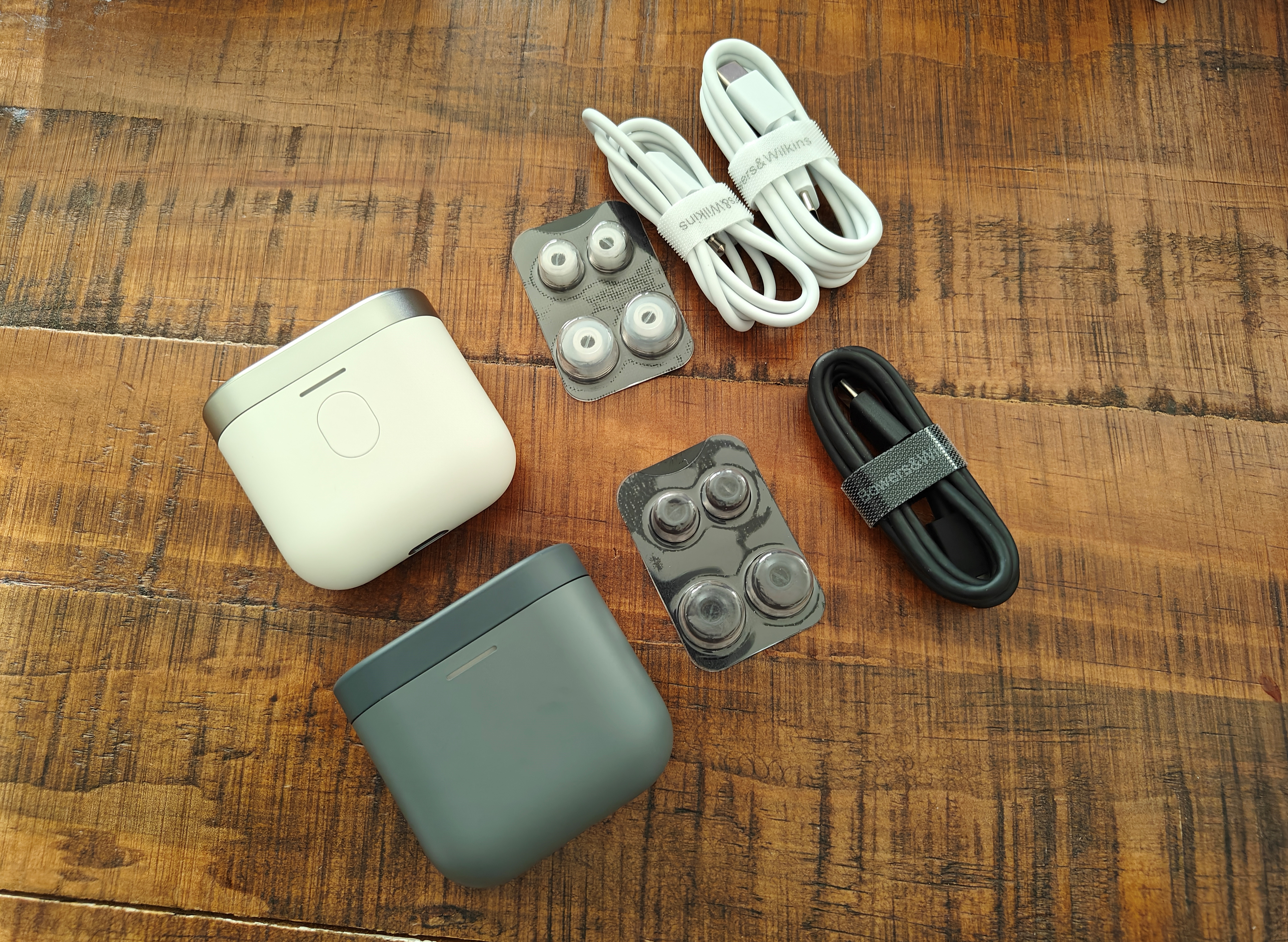 Bowers & Wilkins Pi5 S2 comes with a USB-C Cable and different ear tip sizes.
Bowers & Wilkins Pi7 S2 comes with a USB-C Cable, 3.5mm to USB-C cable, and different ear tip sizes.
Features
Each earbud has touch panels allowing play controls, toggling ANC, and turning on voice assistant. They have a premium feel and are very responsive. There are also wear sensors which work with no issue when taking in/out of your ears (A feature I had to turn off for the Px8 / Px7 S2).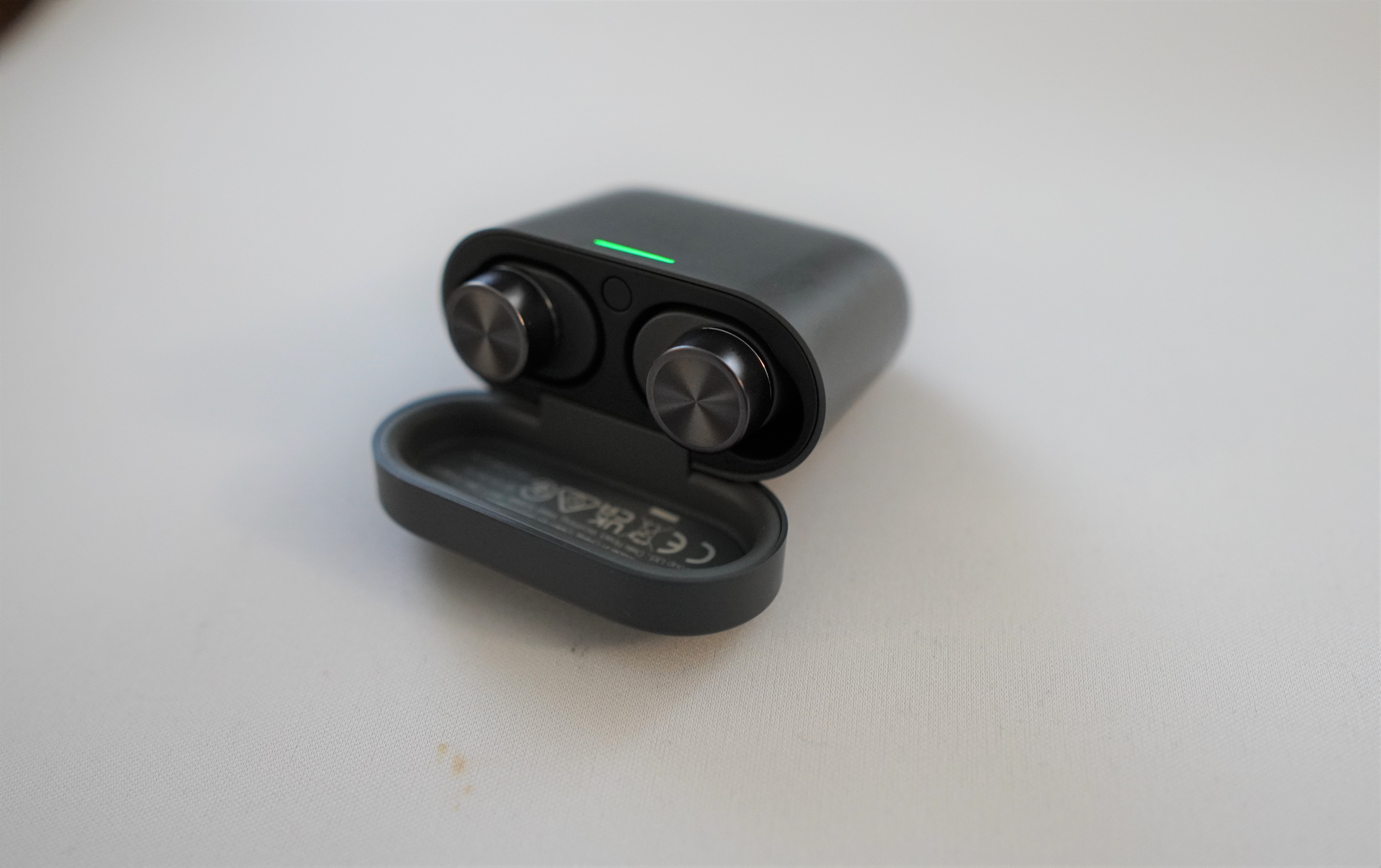 When I reviewed the Px7 S2 / Px8 late last year, B&W created a new mobile app for those and that same one works for these two new wireless earbuds as well. So, seeing that it's the same app I expected some of the same features but them utilizing the same app is where it ends. There isn't an ability to adjust the EQ on either pair. I have also come across issues with the app and Bluetooth syncing together. Sometimes it will sync and show on the Bluetooth screen but won't connect via the B&W app. This goes for the Pi5 / Pi7 S2.
Via the app is the ability to toggle on/off ANC which you can also do by holding the left ear bud for a few secs. You can also turn on "Passthrough" aka ambient sound but it's only on the app. This was the same with the prior Pi5. Not sure why this option isn't on the earbuds themselves. Thus, also having issues with the app makes it rare I can enable it.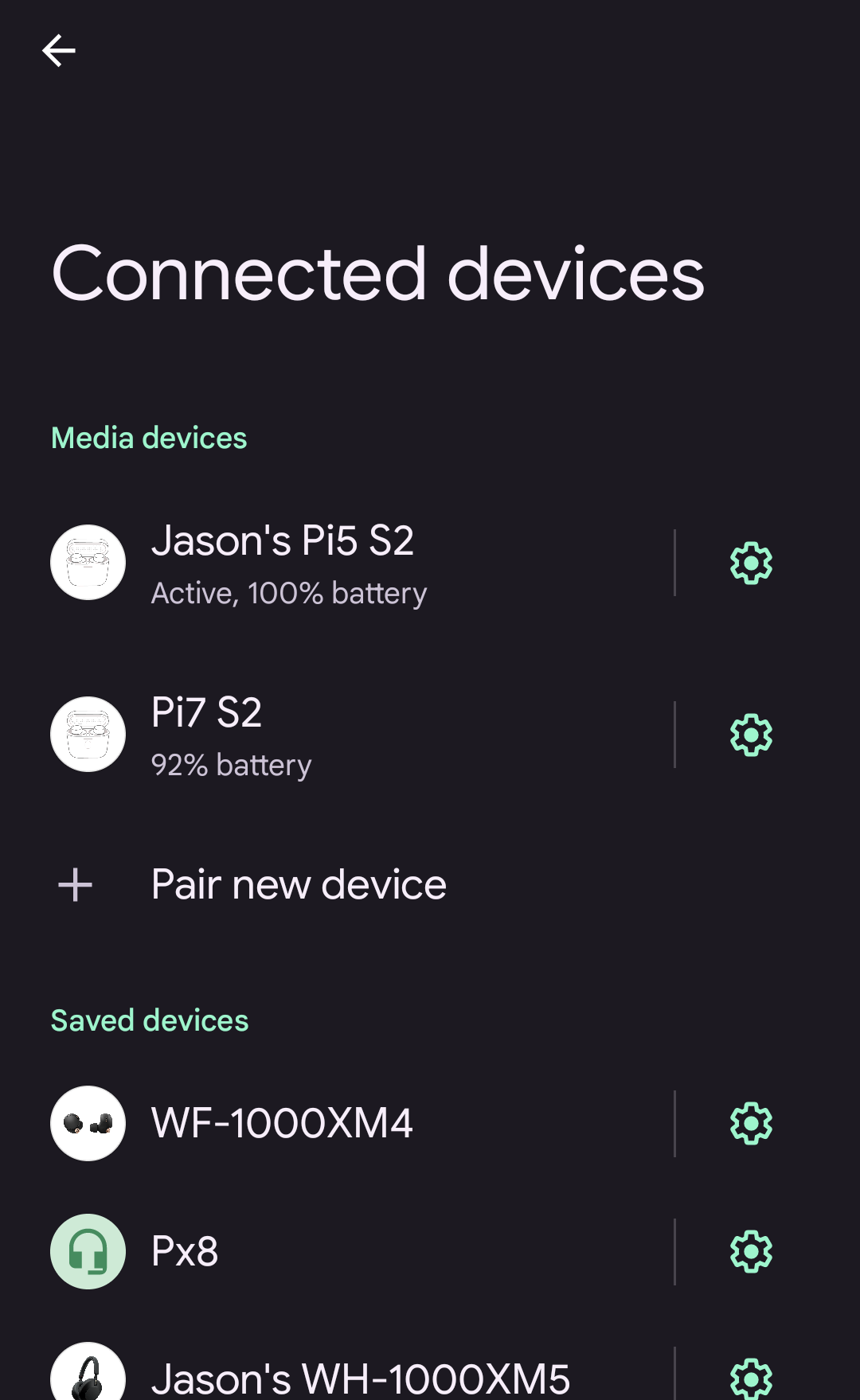 As far as battery life is concerned, these cases do hold up to par as far as advertised battery life. You do get more battery life on the Pi5 S2 giving you 5hrs and addtl 19hrs from the case versus the Pi7 S2 giving you and addtl 15hrs. Both do provide a 2hr boost off a 15min charge though. Yeah, using both I can't remember how often I have had to charge either one.
B&W Pi5 S2 and Pi7 S2 were mostly used wirelessly with a Pixel 7 Pro and sometimes with an iPhone 14 Pro and Samsung Galaxy Fold 4 when testing various other things.
Sound
Both the Pi5 S2 and Pi7 S2 have 9.2mm dynamic drivers (Pi7 S2 also have Balanced Armature). As far as sound codecs both support aptX, AAC, SBC while Pi7 S2 also supports AptX Adaptive / HD. Of course, this goes for Android, if you are using iOS, it's only AAC support.
Pi5 S2 and Pi7 S2 give a nice soundstage immersing you deep into the music. While both sound similar the edge can be given to the Pi7 S2 in terms of just clarity in the vocals dept and just bringing a cleaner presence overall with the music. Instruments in Fourplay's "Quicksilver" are picked up more. SZA's "Kill Bill" seem to be more in the forefront. Same can be said for Billy Joel's "Uptown Girl" grabbing just a bit more detail. You do get a nice amount of bass coming from these earbuds that isn't too harsh but has just enough kick.
The music apps used were mostly Spotify and Tidal(sometimes).
Experience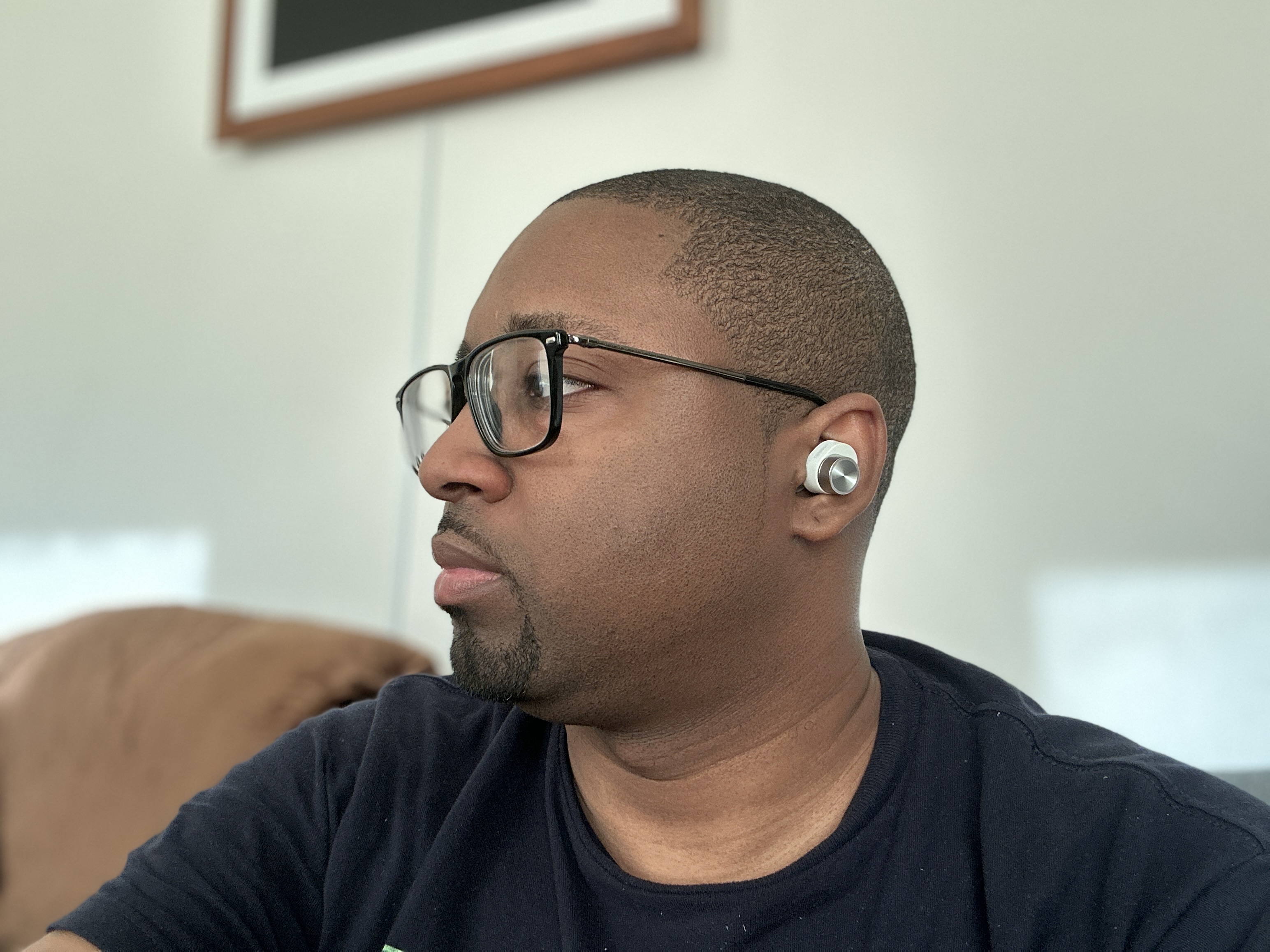 Using both pair on my daily train commutes the noise cancelling isn't bad but there are others that seem to do it better and at a lower price. In quieter areas the ANC holds it own. When I can get the app working to use "Passthrough" it's not bad picking up my surroundings especially in an office or walking the streets. On a comfort level both models are nice to wear and don't provide any irritation or discomfort for long periods. They also managed to not fall out my ears once either. Taking calls on each was fine with the other party able to hear me and vice versa.
Verdict
Flipping back and forth from the B&W Pi5 S2 and Pi7 S2 for quite a while, first and foremost they both sound great. They are comfortable, have great battery life and support a wide range of audio codecs. Things that hampered my experience was the app being finicky which made getting access to "passthrough" an issue but also something Bowers & Wilkins needs to address for starters by just providing the option on the earbuds. Next thing is the price tag. The Pi5 S2 retails for $299 which make them pricey but the Pi7 S2 kicks that up a notch costing $399.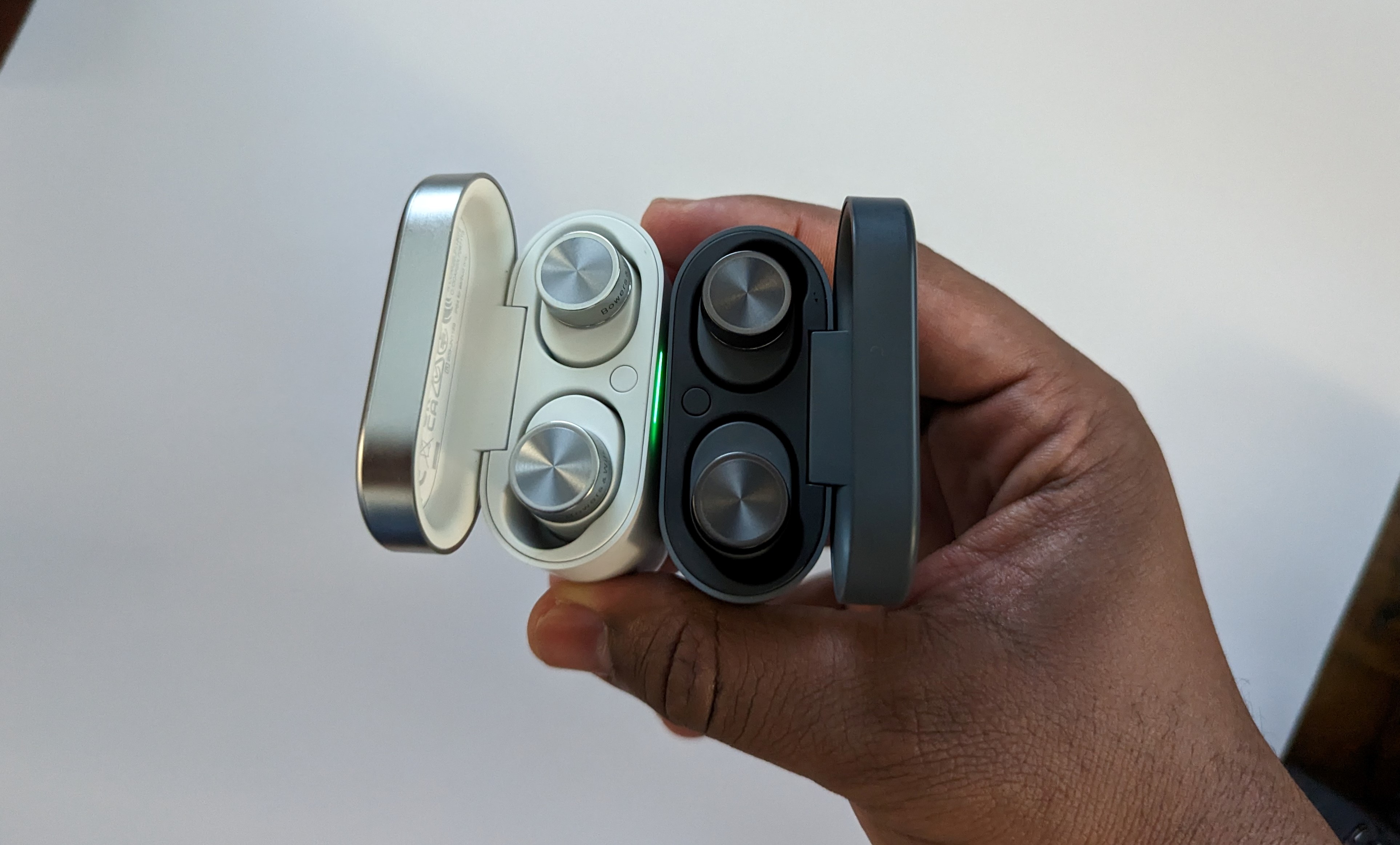 Bowers & Wilkins Pi7 S2 sounds phenomenal for what's packed in those little earbuds. If you are more on sound quality these will be up your alley, but mileage may vary if you rely on the app to change things up time to time. Pi5 S2 hold their own as well but could be slightly cheaper to compete with others in its pricepoint.
You can check our full unboxing of the Bowers & Wilkins Pi5 S2 & Pi7 S2 on on YouTube, Instagram, and TikTok.