There are plenty of choices when it comes to in-ear headphones but how many of those can you say are built for enterprise use? Most enterprise-focused headsets are on-ear units that aren't very stylish nor comfortable. That changes with the introduction of the HP | Poly Votayger Free 60+ UC which is an enterprise-grade wireless earbud that work just as well for audio and music as it would for such apps as Microsoft Teams and Zoom.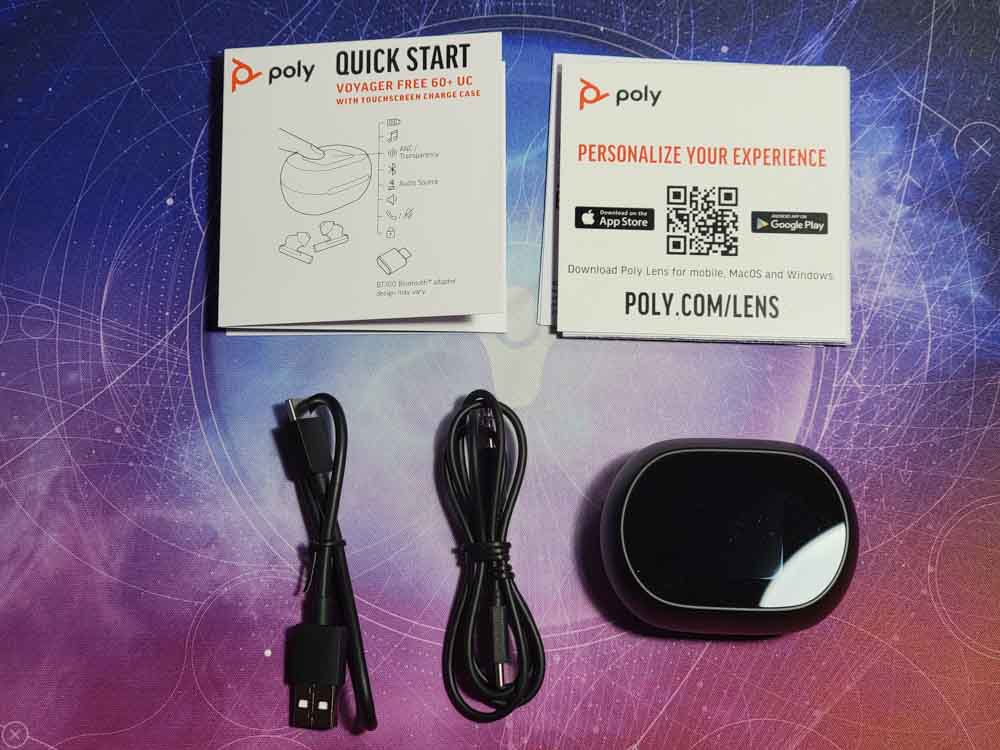 SPECS & DESIGN
So what makes the HP | Poly Voyager Free 60+ UC so special is the fact that these are enterprise-grade certified earbuds. It uses a three-mic array system in each earbud that triangulates on your voice and minimizes surrounding noise. This combination provides the required clarity of sound to meet the audio requirements of top UC vendor certifications. That means they've been certified for use with Microsoft Teams and Zoom.
Other notable features of the HP | Poly Voyager Free 60+ UC are the inclusion of ANC (Active Noice Canceling), advanced Sidetone, and transparency mode. These advanced features make it so that you can better concentrate on the audio you are listening to, be able to hear yourself when needed, and the ability to also hear your surroundings. All of these features can be turned on or off on the fly using either the controls on the earbuds themselves, the mobile app, or the touchscreen on the case, which we'll touch on soon.
By soon, I mean right now because the case for the HP | Poly Voyager Free 60+ UC is very unique. Not only is it a storage/charging case, but it has something I've never seen on another case before, and that's a color touchscreen. The touchscreen isn't just for looks and has several uses. The touchscreen gives you a quick summary of how much charge is left on the case and on both earbuds. When you're using the earbuds, you can use the touchscreen to control your music playback, volume, and whether or not ANC, Sidetone, or Transparency mode is on.
Speaking of charging, the case can be charged either via USB-C or wirelessly as it is Qi Charging compatible. Lastly, I should mention that the HP | Poly Voyager Free 60+ UC is the only one in the lineup that includes a BT700 adaptor. You can plug this into your Mac or PC and it will establish a link directly to your HP | Poly Voyager Free 60+ UC without the need to pair it with the device. What's neat is the dongle can be stored in the charging case which keeps you from ever losing it.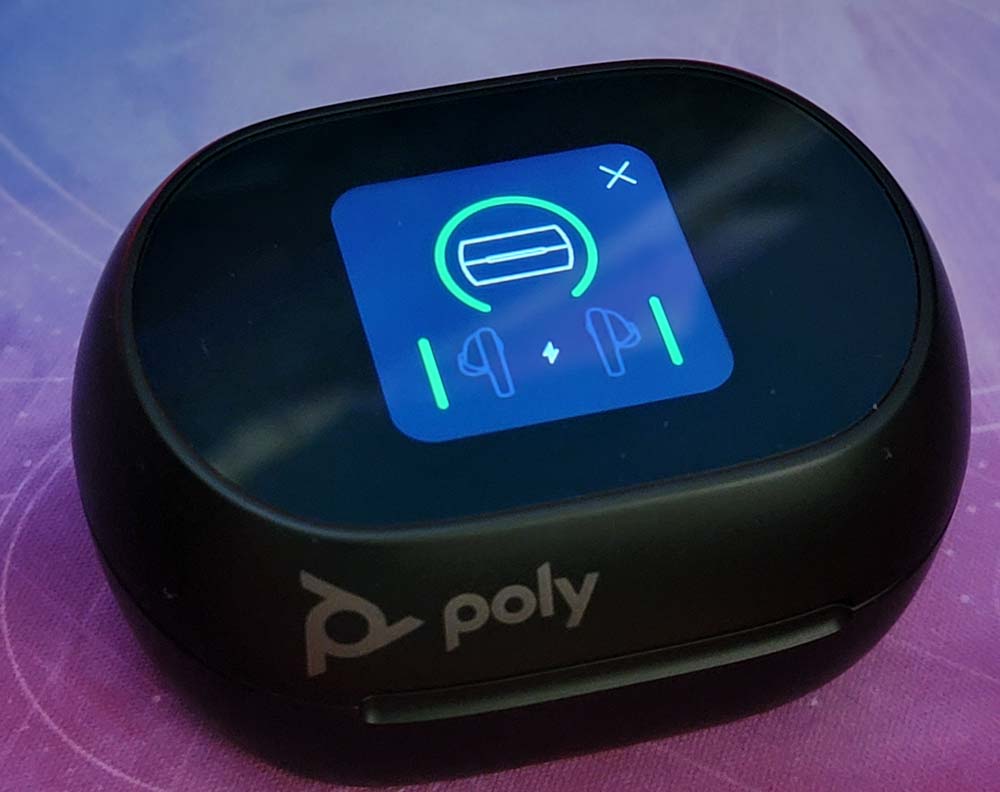 EXPERIENCE
Now come the part you're most interested in and that's the audio experience. I've used the HP | Poly Voyager Free 60+ UC with my work Mac laptop as well as my Samsung Galaxy S21 Ultra. On my phone, I went with the Bluetooth connection, and on the Mac, I used the included BT700 dongle. That means I can keep the HP | Poly Voyager Free 60+ UC paired to my phone while also connected to my laptop.
No surprise here, but the HP | Poly Voyager Free 60+ UC sound great on my phone for music and videos. There's plenty of clarity in the highs and a decent amount of bass at the lows. I like that you can control much of your audio playback using the touch controls on the earbud stems as well as with the touchscreen on the case.
When using the HP | Poly Voyager Free 60+ UC with my Macbook Air, the experience isn't much different. The dongle is easily installed as long as you have a USB-A port or a hub that will accept it and it is instantly recognized. I did test the audio out here with a Zoom and it seemed to work like a charm as well. The triple mics on both earbuds seem to help cut out background noise and the participants in my meetings never complained about excess noise. I even created a couple Loom videos with voice audio and didn't notice any background pickup noises.
Overall, very satisfied with the audio and mic quality on the HP | Poly Voyager Free 60+ UC.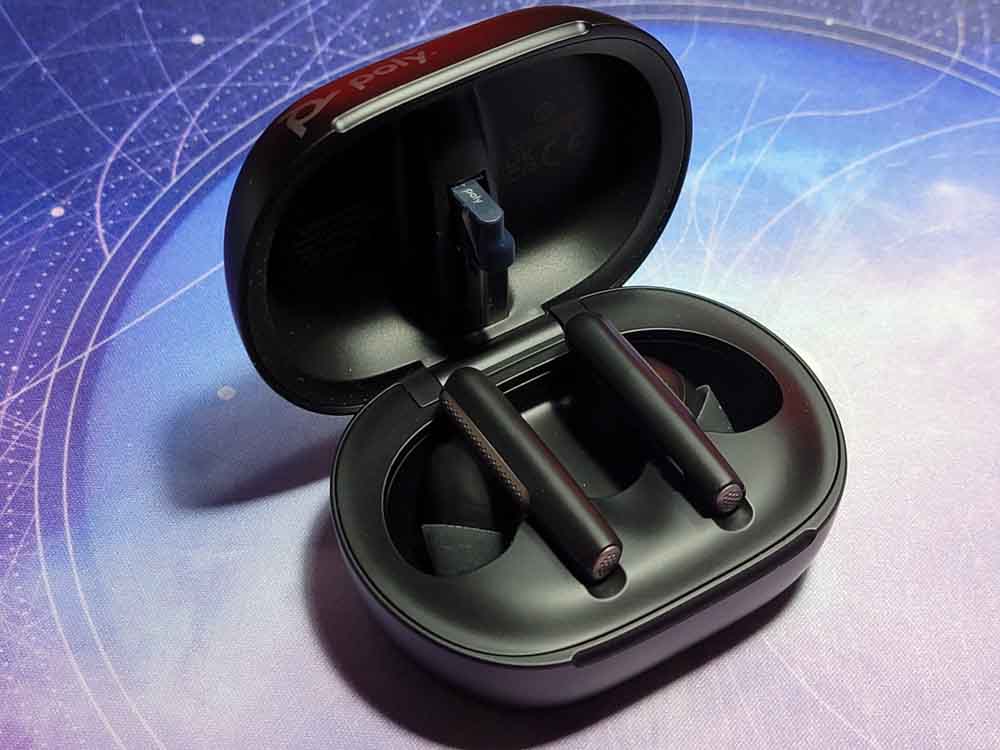 FINAL THOUGHTS
For work, I have the unfortunate use of another enterprise-grade headset that everyone in the office hates. While the mics on them might be really good, the quality of the headset themselves leaves little to be desired and they're just plain bad at what they do. They aren't comfortable to wear and they are constantly dropping Bluetooth connections. However, I've since switched over the HP | Poly Voyager Free 60+ UC as my everyday work headset and have had zero issues with them so far. Not only do they look much better than having a headset over my head, but they sound much better too. I can now have Zoom meetings with better audio and better voice quality without looking like a work drone and be able to use them for recreation as well.
While the HP | Poly Voyager Free 60+ UC might be a bit on the expensive side, I think they're well worth the money. However, if you don't want to spend as much, HP | Poly does offer them in two other tiers, HP | Poly Voyager Free 60 UC and the HP | Poly Voyager Free 60. The difference is that these two do not come with the touchscreen charge case and one of them doesn't have the BT700 adaptor. All three however use the same exact earbuds so the audio and mic quality should be the same.