SteelSeries is a very well-known and popular brand for gaming enthusiasts who want some of the very best in gaming accessories. They offer peripherals for both console and PC gamers and are also one of the few that offer them as multi-system setups. Their gaming headsets often allow for use on different systems and not just for one, like other brands. Their brand new SteelSeries Arctis Nova Pro Wireless, for instance, is compatible with PC, PlayStation, Xbox, Nintendo Switch, Mac, and mobile which is a huge plus for those who own multiple systems. Of course, the new Arctis Nova Pro Wireless isn't just another addition to their Arctis line, but an evolution that takes the line to a whole new level of refinement and useability with new features and improvements.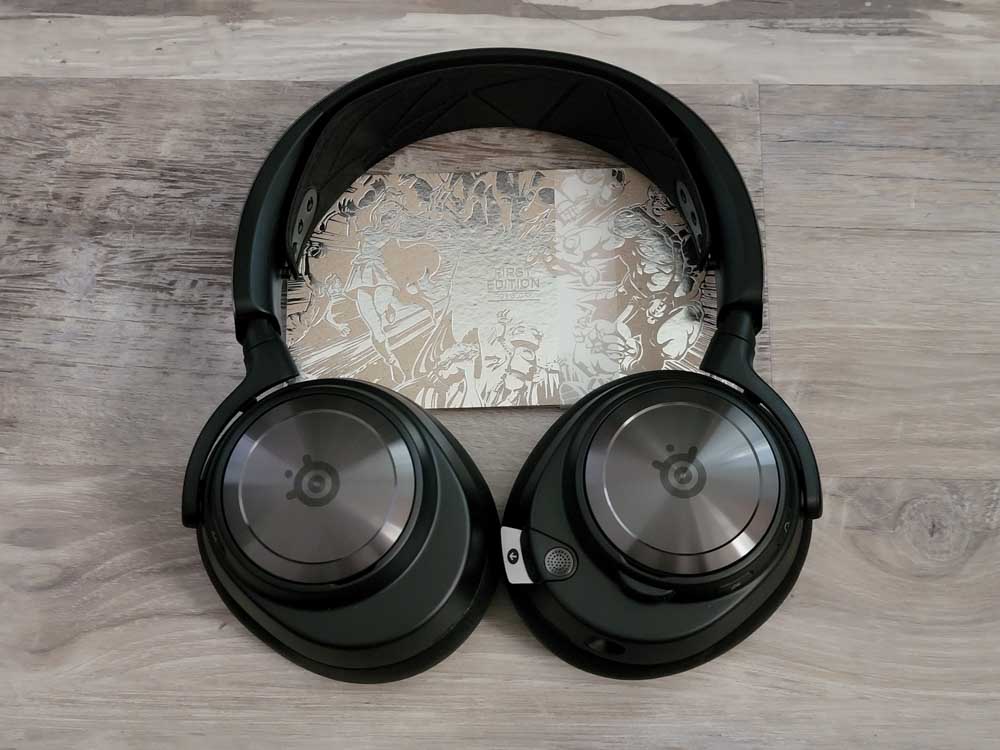 ARCTIS NOVA PRO WIRELESS DESIGN
The biggest change to the new SteelSeries Arctis Nova Pro Wireless is the brand new design that brings refinement to what I thought was already a great design in their regular Arctis lineup. This new design was created in Denmark in collaboration with Danish Designer Jakob Wagner. It's a gorgeous design that takes the Arctis Nova Pro Wireless to new heights.
The most notable change comes from the earcup design, which is now height-adjustable, and the new comfort band design. While I know the previous SteelSeries Arctis designs required no input from you when it came to sizing, this new ComfortMAX System seems more precise when it comes to sizing. You're able to size it exactly to your head, instead of using the one-size-fits-all approach. Not to say that the previous method wasn't great, just that this one is better.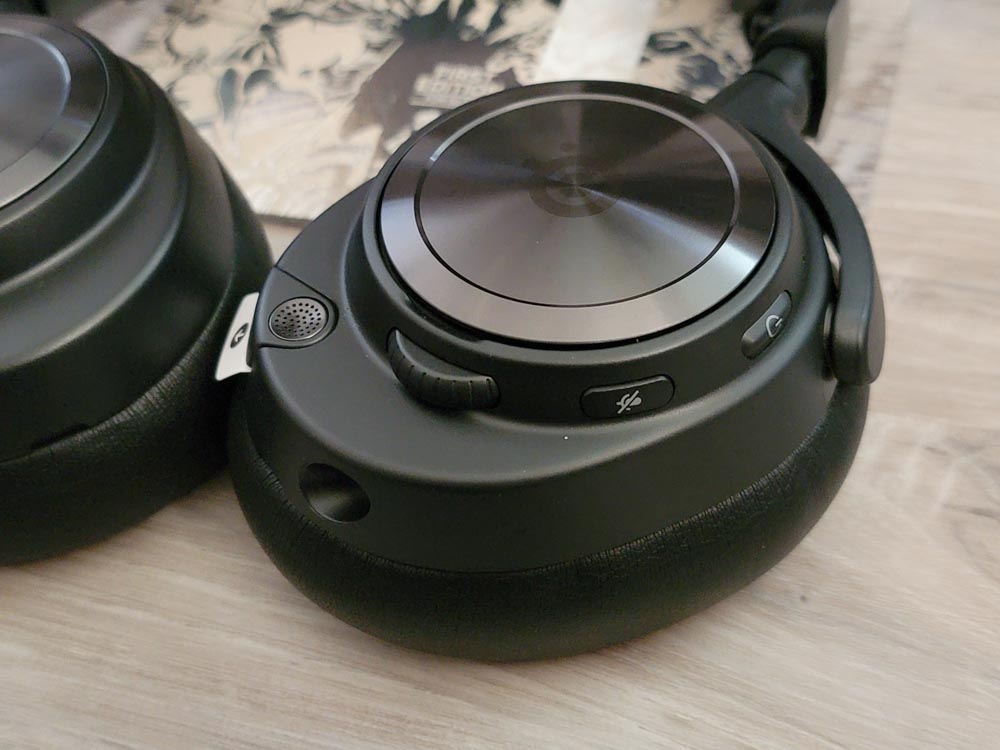 Back to the earcups, the shape of them has been tweaked and now features a slightly sleeker and more modern design. There are new circular metal speaker plates that are removable and can be swapped out for optional colored ones. Not only that, removing the right speaker plate reveals the removable rechargeable battery pack which is reminiscent of their old Siberia 800 Wireless and H Wireless headsets. This allows you to replace a battery pack that is out of juice with a freshly charged one so you're never out of the game or tethered to a cable. We'll get to how these are charged in a bit.
The earcups also see changes to the mic which is now integrated better into the design and the inclusion of Active Noise Cancellation. We still get nice physical buttons for greater control as well as an AUX jack in case you want to plug in and a USB-C port if you need to recharge when away from the Multi-System Connect wireless base station.
This brings me to the Multi-System Connect wireless base station. This is the heart of the entire Arctis Nova Pro Wireless kit and is what you will mainly use to control everything. This is a small box that you would use to connect to your PC and gaming console and provides everything from EQ configuration, chat mixing, system selection, and removable battery charging. It also provides visual information on volume, the amount of charge you have on both batteries, and which system is being used at the moment. The back of the receiver has two USB-C ports for connecting to your PC and console and a line-in and line-out port.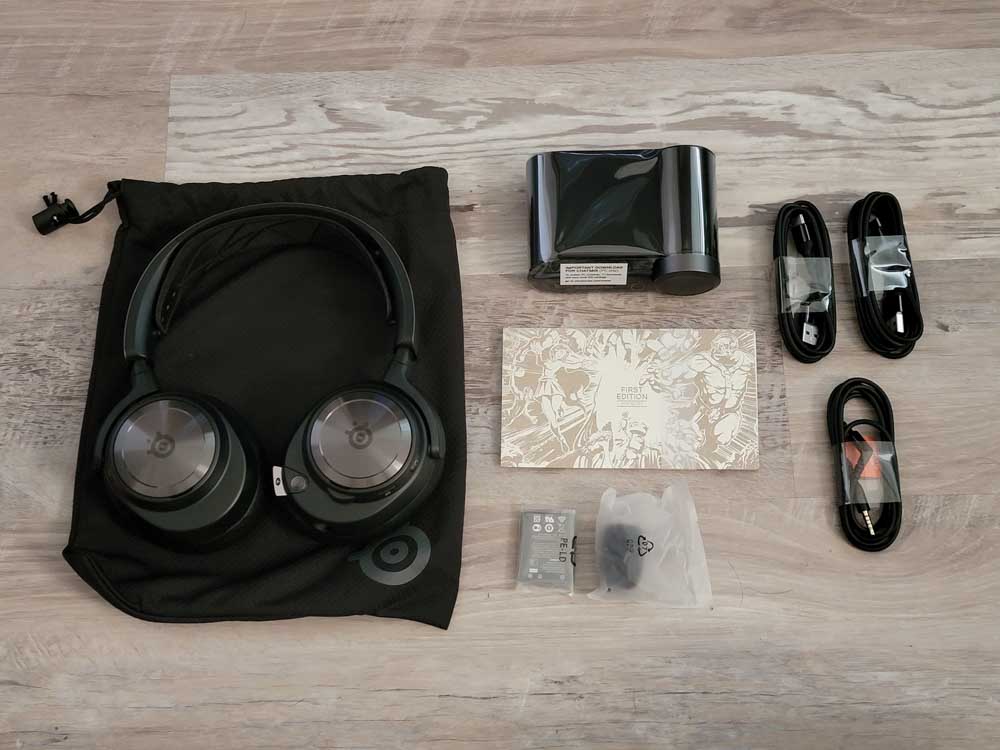 ARCTIS NOVA PRO WIRELESS SPECS
SteelSeries didn't skimp on the specs here, which is as expected from them. There is a new Nova Pro Acoustic System and Premium High Fidelity Drivers (40mm) which are Hi-Res audio capable. These also feature 360-degree Spatial Audio with the Sonar Software (PC), and are fully compatible with Tempest 3D (PS5) and Microsoft Spacial Sound.
I mentioned above that these have active noise cancellation for even more immersion while gaming, but also have Transparent Mode if you do need to hear what's going on in the real world. This can be toggled on and off.
The microphone uses AI-powered ClearCase Gen 2 noise cancellation that silences background noises and keyboard clicks so you're friends won't hear that. They will only hear your amazing voice.
In terms of power, you get two swappable batteries with up to 44 hours of use depending on what you have connected. If you enable the use of Bluetooth, the use drops down to about 22 hours. Speaking of which, it's really neat that you can simultaneously connect to your PC/gaming console, and your mobile phone at the same time using the 2.4Ghz wireless connection and Bluetooth.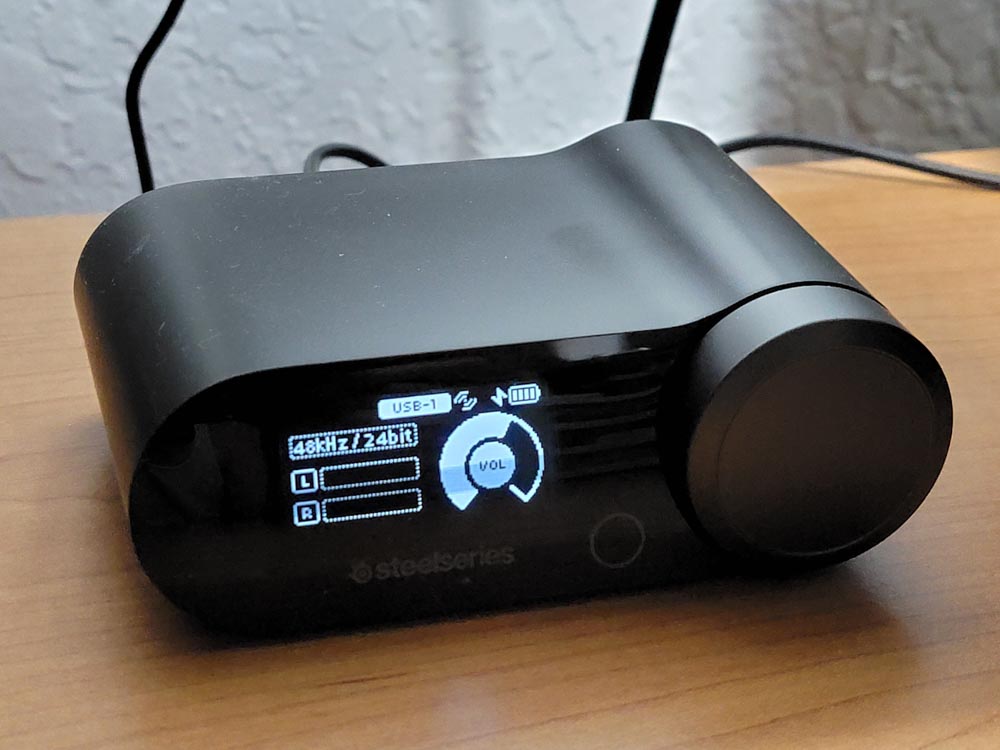 ARCTIS NOVA PRO WIRELESS EXPERIENCE
The setup is incredibly simple. The Multi-System Connect wireless base station needs to be connected to either your PC, gaming console, or both via included USB-C cables and that's pretty much it. There's no need for a separate power cable like with previous setups. If you're on PC or Mac, you'll want to down the SteelSeries GG app. If you can, also download the SteelSeries Sonar app which will open up a whole new world of audio customization. The software will let you customize every single aspect of your audio and it even had presets for your favorite games.
Aside from the software, the hardware is a clear winner here. The new design makes the SteelSeries Arctis Nova Pro Wireless super comfortable when worn and the new adjustment method means it's tailor-fitted for my head. The cushions on the earcups are super soft and the new headband helps keep the pressure off the top of your head. I also really like the fact that they kept the physical buttons which make them a breeze to operate and the way the retractable mic just blends right into the headset when stowed.
Thank you, SteelSeries for bringing back the removable and rechargeable battery packs because this was literally one of my favorite features back when you used to have them on your older headsets. I'm also grateful that we don't need to deal with a tiny 2.4Ghz dongle anymore that could easily be misplaced and lost. If I ever need to take the Arctis Nova Pro Wireless on the go, I can just connect via Bluetooth.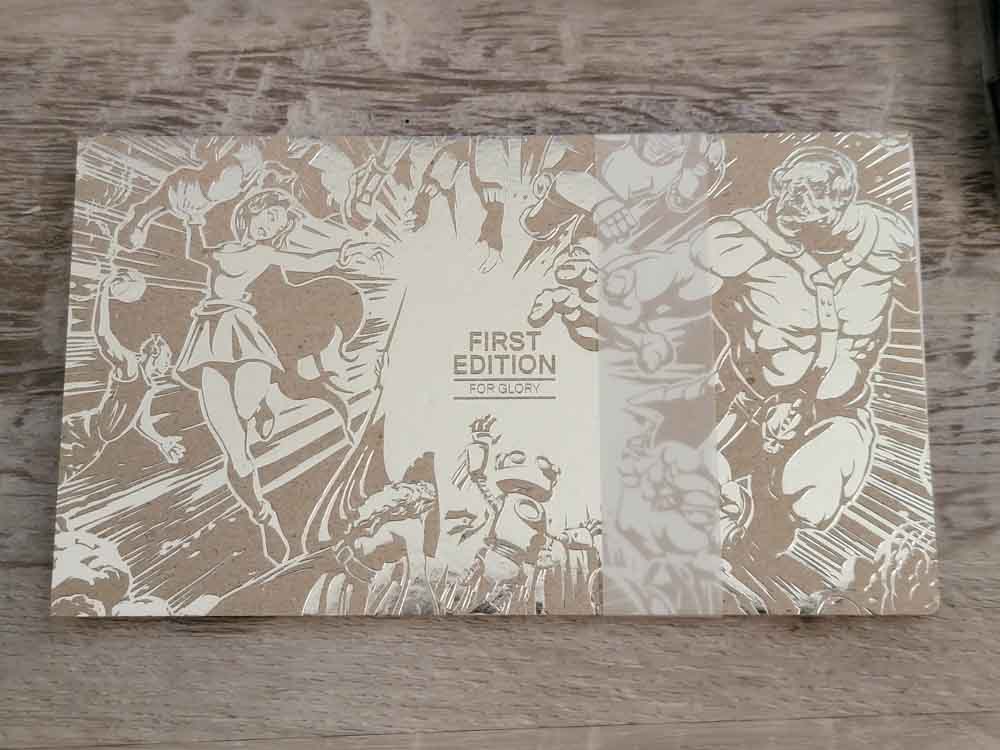 FINAL THOUGHTS
I know I say this with every SteelSeries headset release, but this really is my favorite of the bunch so far. Each new iteration of their headsets seems to bring something new to the table and each is an evolution of the previous one's strengths. The new SteelSeries Arctis Nova Pro Wireless updates the design to something more modern and customizable while still retaining the comfort that their headsets are known for.
They did however bring back something old with the addition of the removable battery packs, but this was honestly something they never should have got rid of in the first place. It is so handy and convenient to be able to swap battery packs and pretty much never have to be tethered to a cable again. The addition of the Multi-System Connect wireless base station is also very welcomed and makes customizing settings on the fly much easier than having to dig through the driver software.
Overall, SteelSeries has another winner here with the Arctis Nova Pro Wireless. There is a wired version too that saves you a few bucks, but wireless is the way to go. Make sure you choose the right version for whatever combo of systems you're using.
You can grab yourself the new SteelSeries Arctis Nova Pro Wireless here on Amazon.
REVIEW SCORE: 10/10