Being a dad of premature twin boys that was in NICU care for nearly 2 months has been a splendid mix of bliss and worry – because during their care, my boys were facing what they called events, where their heart rates would skyrocket, or they would stop breathing; all types of alarms would go off with vital information about their lungs, heart and blood pressure and I immediately wondered if there was any device that could replicate this at home. Then comes Masimo Stork Vitals +, a baby monitoring device that promises just that. Now, I don't usually review parental aid hardware, but this one is special. I'm going to dive into the packaging, main features, and overall performance of the device, highlighting both its strengths and areas for improvement – but let me tell you right away, Stork Vitals+ is a must have for parents!
Immense Presentation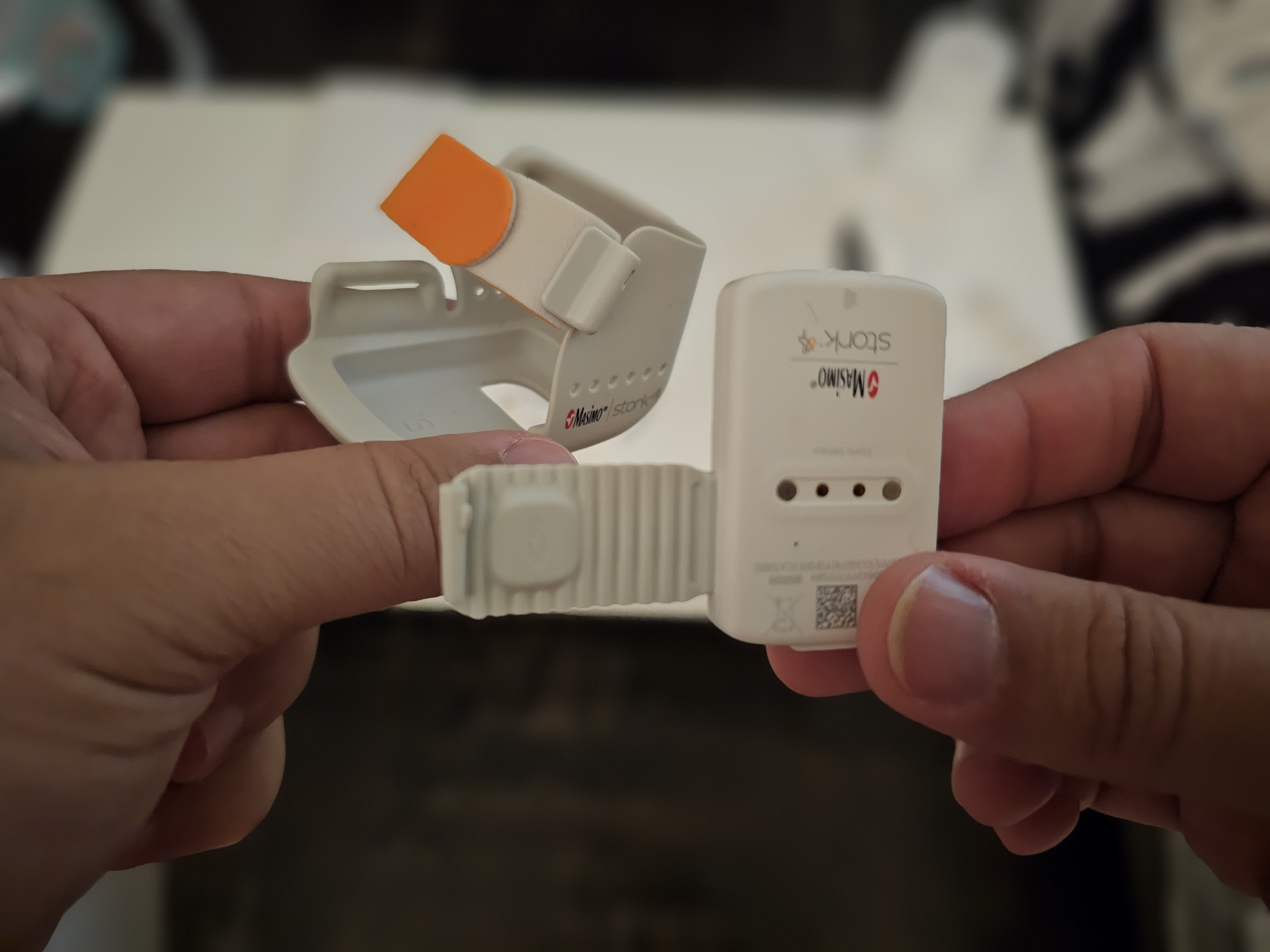 The delivery box for the Masimo Stork Vitals + left a lasting impression. I was actually stunned with its presentation – It's a 3-layer process where you would unfold the flap of the box, be greeting with documentation and other elements within. The inclusion of the Stork sensor and camera, cable management accessories, and screws reflected a thoughtful approach to user convenience. Two power adapters and charging cables, catering to the needs of both devices, all thoughtfully packaged in such a professional and high-quality fashion, I really appreciate it.
A few minor drawback however; when setting up the Vital+ for the first time, the boot sensor seem to stay offline until after you connect your camera, only then things seem to work. Additionally, the app only supports a single infant, however I found a workaround via the Caregiver function where another Stork profile can assign a baby to you. It's a pleasant function for multiple parents to correlate with one another, but proved to be a bit cumbersome for me given the nature of twins – I do have 2 Stork profile to test this specific feature and works flawlessly otherwise. Masimo assured me that they're working on an implementation slated for 2024, so curious how that'll look. Another caveat is that the app needs to have power saving off, so prepare your phone to drain quickly because this app uses a lot of your background time – also during long sessions, the foot sensor seem to disconnect from time to time, and I would occasionally get a notification where it would say my baby is laying face down, when they're not. But, I find that this could be an app issue and something firmware updates should fix.
Excellent Quality
Masimo Stork Vitals + extended its functionality beyond basic baby monitoring. The ability to track room conditions and receive alerts for temperature changes or excessive noise added an extra layer of security. This feature proved particularly useful during the unpredictable moments that come with caring for two infants. The 2K QHD-capable high-resolution video provided a crystal-clear view of my babies' activities. The level of detail was impressive, capturing even subtle expressions and movements. The quality of the video feed remained consistently high, enhancing the overall monitoring experience.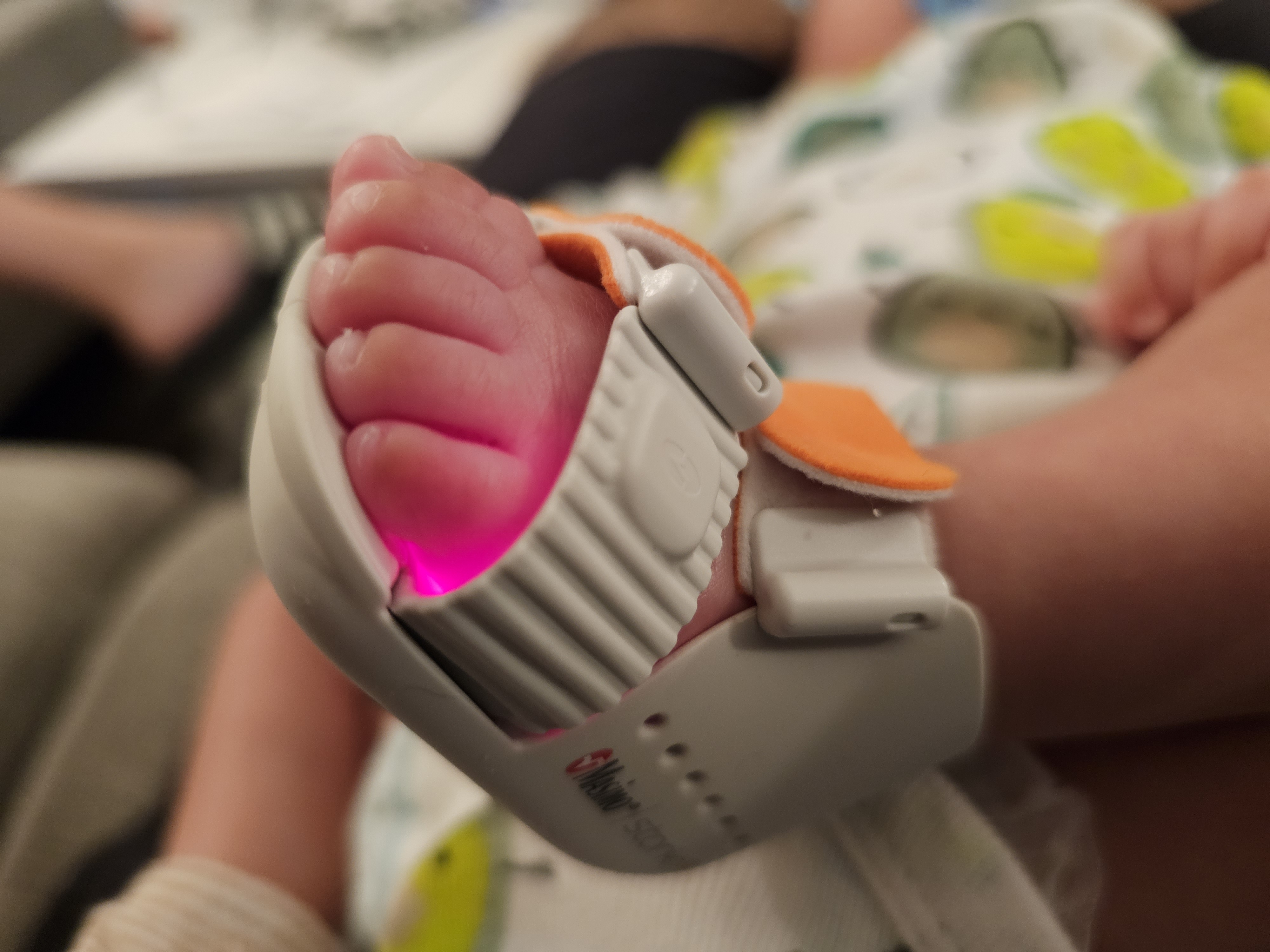 The camera capability of a two-way audio is a welcoming feature. The crisp sound quality allowed me to communicate with my babies from a distance, providing reassurance during moments of restlessness. The device's secure remote tracking feature was a game-changer. The peace of mind that came with being able to monitor my babies' vitals and surroundings from anywhere in the world via the Masimo app is immeasurable. Not that I will be traveling anytime soon, but the option of it being there is really nice. The encrypted connection eased concerns about privacy, ensuring a secure environment for my little ones. The continuous health data tracking feature was a godsend for a parent of twins. Real-time updates on heart rate, oxygen levels, and sleep patterns were invaluable, offering insights that would have otherwise required constant vigilance. The seamless integration of this data into the app provided a comprehensive overview of my babies' well-being.
The option to save photos directly from the app allowed me to create a visual timeline of my babies' growth and milestones. The ability to zoom in and pan out provided a closer look when needed, ensuring that no adorable moment went unnoticed. The inclusion of a one-year warranty on each device speaks to Masimo confidence in the durability and reliability of the Stork Vitals +. It's a reassuring guarantee for parents investing in the product.
REVIEW SCORE: 8.5/10
Masimo Stork Vitals + baby monitoring device is a commendable addition to the realm of parental aids. Its thoughtful packaging and array of features, coupled with the promise of ongoing improvements, make it a promising choice for parents seeking a reliable baby monitoring solution. While the inconvenience of separate accounts for twins is a current drawback, the company's commitment to addressing this in a future update is a positive sign. As a parent of twins, the Masimo Stork Vitals + has proven to be an indispensable tool, offering peace of mind and a window into the well-being of my little ones, even from afar.
For more on Masimo Stork, lifestyle and gaming, follow me on Twitter and other social media here