In the ever-evolving landscape of portable projectors, the MoGo 2 Series emerges as a compact powerhouse, seamlessly blending cutting-edge technology with a sleek design. Thoughtful in every facet of its inception, MoGo 2 surpasses in ways that matters, with elements that would otherwise be annoying to deal with, like manual keystone now made automatic for example. It has everything you would want in a projector, and more.
An Aesthetic Beauty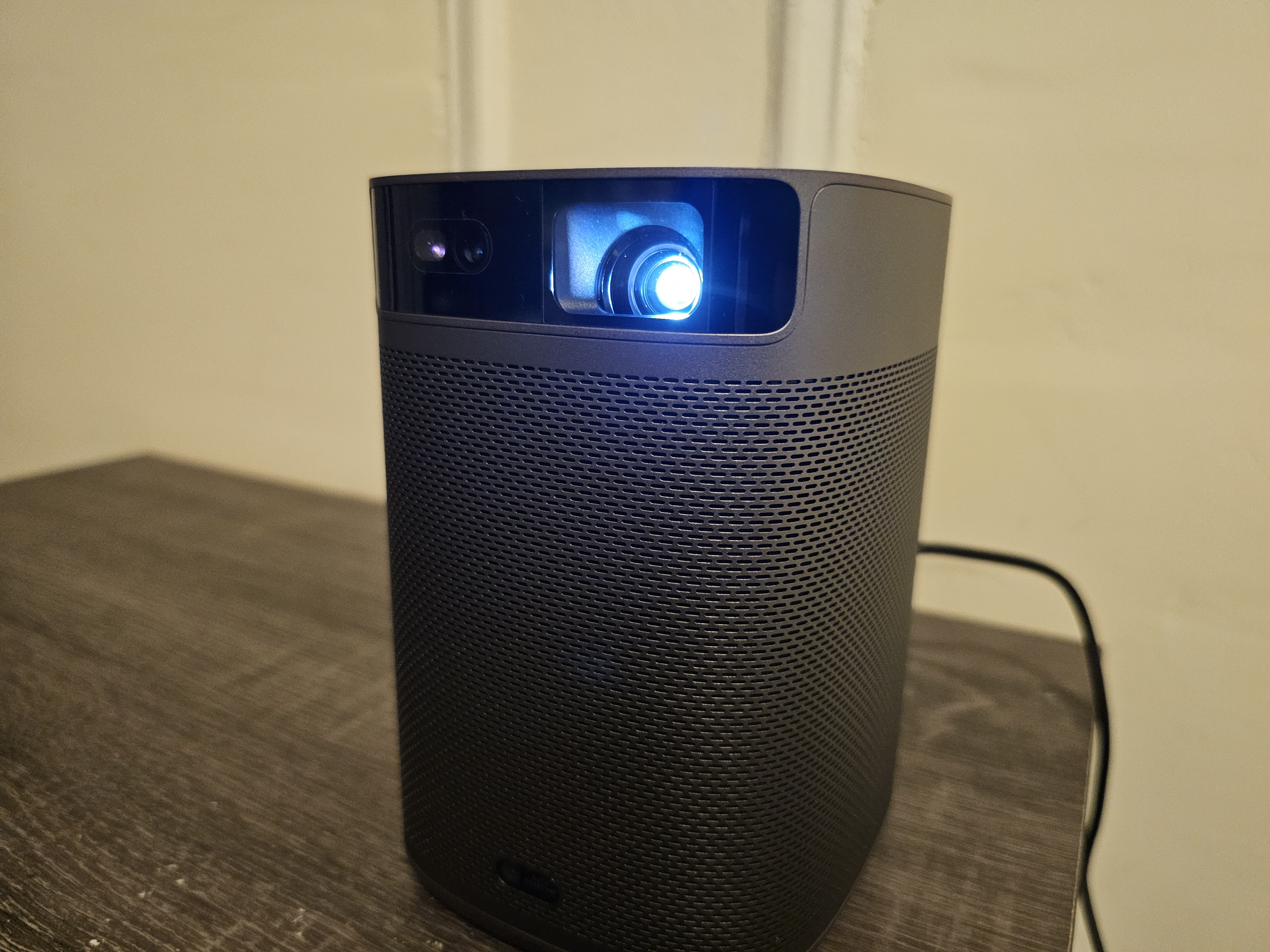 From the moment I unboxed the MoGo 2 Pro Series Portable Laser Projector, it was evident that this device was crafted with precision and style in mind. The compact design, coupled with high-quality materials, lends an air of sophistication to the projector. The sleek finish and thoughtful detailing make it a visually pleasing addition to any setting. The gun-metal grey with black accent really fits well with any modern thematic home. One distinctive feature that caught my eye was the transparent bass diaphragm window on the back. This not only allows the user to witness the diaphragm structure and sound movement inside the speaker but also form and function. The marriage of audio excellence and visual appeal allures in thoughtful engineering behind the MoGo 2 Pro Series – and I can especially appreciate it being an AV Specialist myself.
The MoGo 2 Series boasts powerful speakers that deliver an audio experience beyond expectations. With the flexibility of choosing from four distinct modes – Movie, Sports, Music, and News – users can tailor the audio output to match their preferences and the content at hand. Whether you're engrossed in binge sessions or catching up on the latest sports highlights, the MoGo 2 Series ensures an audio landscape that complements every moment. The inclusion of 2 8W speakers with Dolby Audio and Dolby Digital Plus, the auditory experience is set to surprising heights. I was extremely impressed with how well it reverbed within my play space – the acoustics matched well with the low balance of bass; it's thoroughly amusing for me.
A Symphony for Every Mood
At the heart of the MoGo 2 Pro Series is a powerful projection system, boasting 400 ISO Lumens that bring images to life with impressive clarity. The ISA 2.0 Intelligent Screen Adaption ensures that the projector adapts seamlessly to different environments, optimizing the viewing experience in any setting. The D65 Color Temperature Standard and 90% Color Gamut DCI P3 contribute to a vibrant and true-to-life color reproduction, impressively even in well-lit rooms; I have pre-war designs on my wall with square ridges and even that didn't interrupt the smoothness of the image clarity. Whether I'm watching a YouTube video through screen casting or catching up on my Marvel shows, all were exceeded in expectations.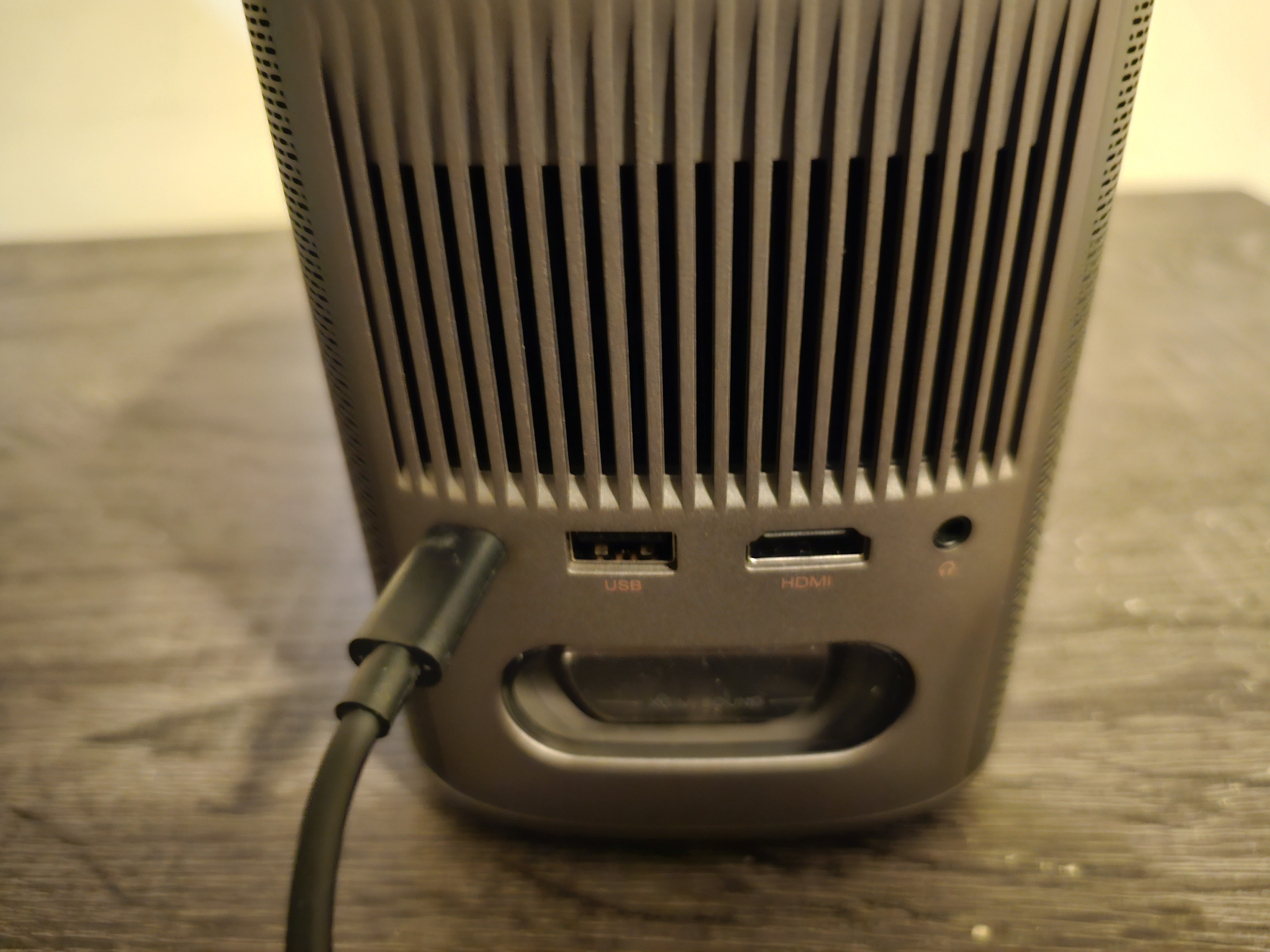 The MoGo 2 Series is not just about aesthetics and audio-visual prowess; it's also equipped with an array of intelligent features that enhance the overall user experience. The Uninterrupted Auto Focus, while generally efficient, may require occasional manual adjustments during extended viewing sessions. However, the Uninterrupted Auto Keystone Correction is a standout feature that consistently delivers, ensuring a perfectly aligned and distortion-free image. The projector's Intelligent Eye Protection is a commendable addition, although its sensitivity might lead to occasional indicators appearing with slight adjustments. Furthermore, the Intelligent Obstacle Avoidance and Intelligent Screen Alignment functionalities showcase the projector's forward-thinking approach to user convenience.
Running on Android 11.0, the MoGo 2 Series transforms into a smart hub, providing access to a myriad of apps and services, all through Google services. The seamless integration allows users to enjoy their favorite content without the need for additional devices. Navigating through the interface is smooth, and the overall responsiveness enhances the user experience. An additional perk is the projector's ability to serve as a battery bank, adding a layer of versatility to its functionality. While it supports a standard charger, opting for a 100W charger ensures a faster and more efficient usage experience.
REVIEW SCORE: 9/10
In the realm of portable projectors, the MoGo 2 Series stands as a testament to the marriage of form and function. Its compact design, superior audio quality, and intelligent features make it a compelling choice for both entertainment enthusiasts and professionals alike. While a few minor nuances exist, the overall performance and innovative features make the MoGo 2 Series Portable Laser Projector a cinematic marvel that leaves a lasting impression.
For more on MoGo 2 and gaming, follow me on Twitter and other social media here