| Used on a PS5 and a CLX Gaming PC |
I had the privilege of putting the Nacon Revolution 5 Pro through its paces, and despite some minor setbacks, this controller holds up with the best in the business; having state-of-the-art hardware places this controller as a leading force for other peripherals to follow. Revolution 5 Pro is leagues above the PS4 iteration before it with hefty features that makes it feel and look premium. If you prefer to game on PC and PS5 but love the Xbox format, I highly recommend this to gamers looking to elevate their competitive experience.
True to Form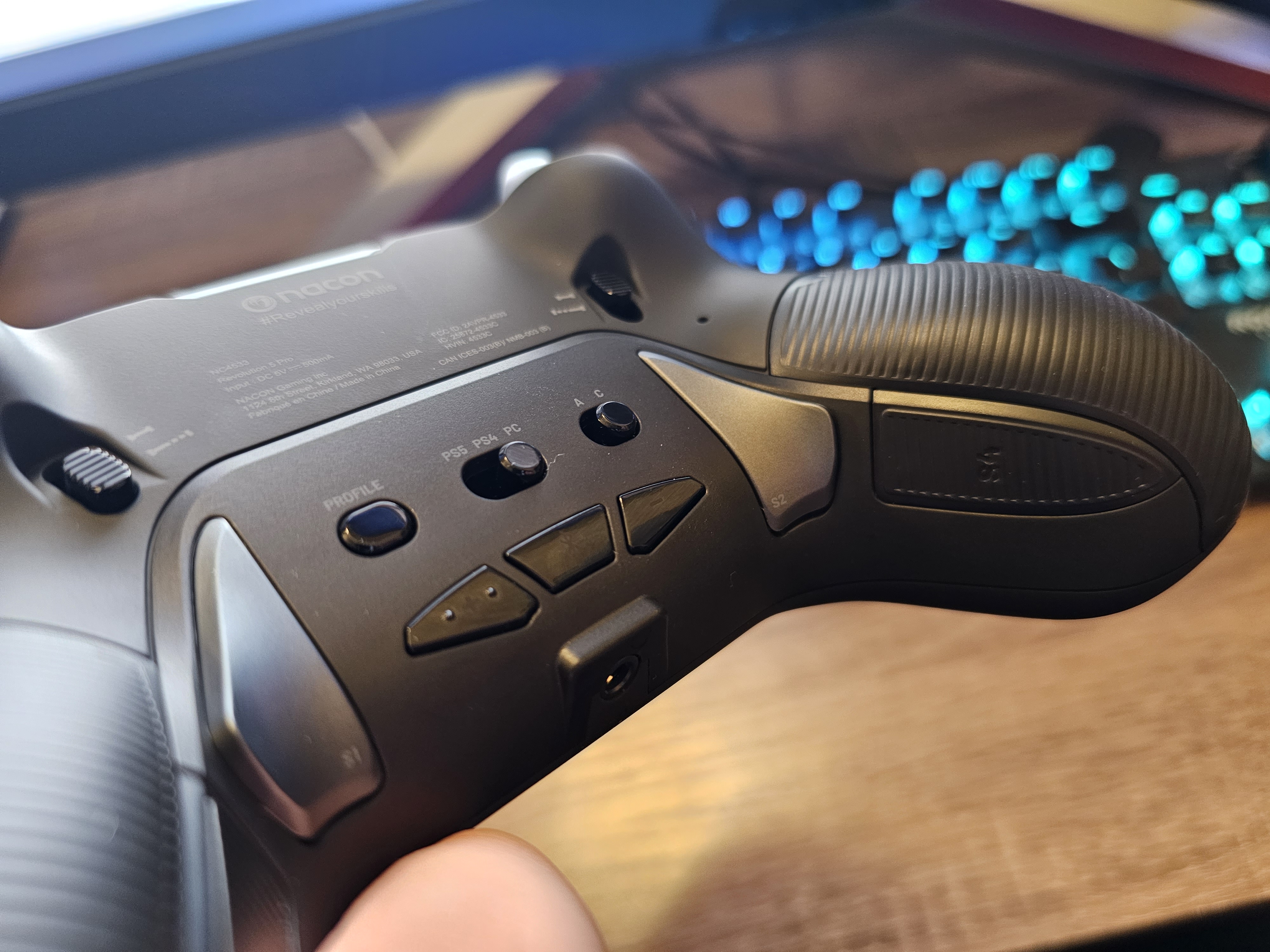 Right out the box, the package is utterly premium with an excellently built carrying case and sturdy cabling. The controller itself looks like a blend of minimalistic futurism, with RGB lighting around the rim of the right stick. There's ample grip textures set on the sides for better comfort and the ability to reduce/add weight is a welcoming feature, something so little pro controllers do – I love mine heavy. The rear buttons are placed well with 2 set at the button of the grip, and another set at the top – flushed so it won't get in the way, but sturdy and responsive for those tight reflexes. Revolution 5 Pro comes with additional joystick nubs, a traditional d-pad alongside the disc format. The matte finish appears to not be prone to fingerprinting too, which is nice – but I suspect time would change that opinion.
The biggest feature in my opinion is Nacon Revolution 5 Pro's implementation of Magnetic Hall Effect technology. This new standard is the controller's bread and butter; these sticks and triggers provides a level of precision and durability that I have rarely seen in a controller. "Stick drift" has been the bane of many gamers' existence – with Scuf's latest PS5 Reflex taking the hit, but thanks to this magnetic technology, it's a problem of the past it seems. Completing the remaining steps in Destiny 2's Season of the Witch while also checking out the changes in the Crucible felt responsive and crisp. Additionally, my time with Modern Warfare 3's campaign and MP proved to be exceptional thanks to the Hall Effects. Nacon also added the ability for trigger stops – they're calling it The Trigger Blocker. This feature works as expected, and being able to customize the amplitude of the triggers on the fly allowed for a level of control that is always welcoming. I dabbled with hair-trigger but that's not my style, I like a full squeeze, so I left it on default.
Wildly Customizable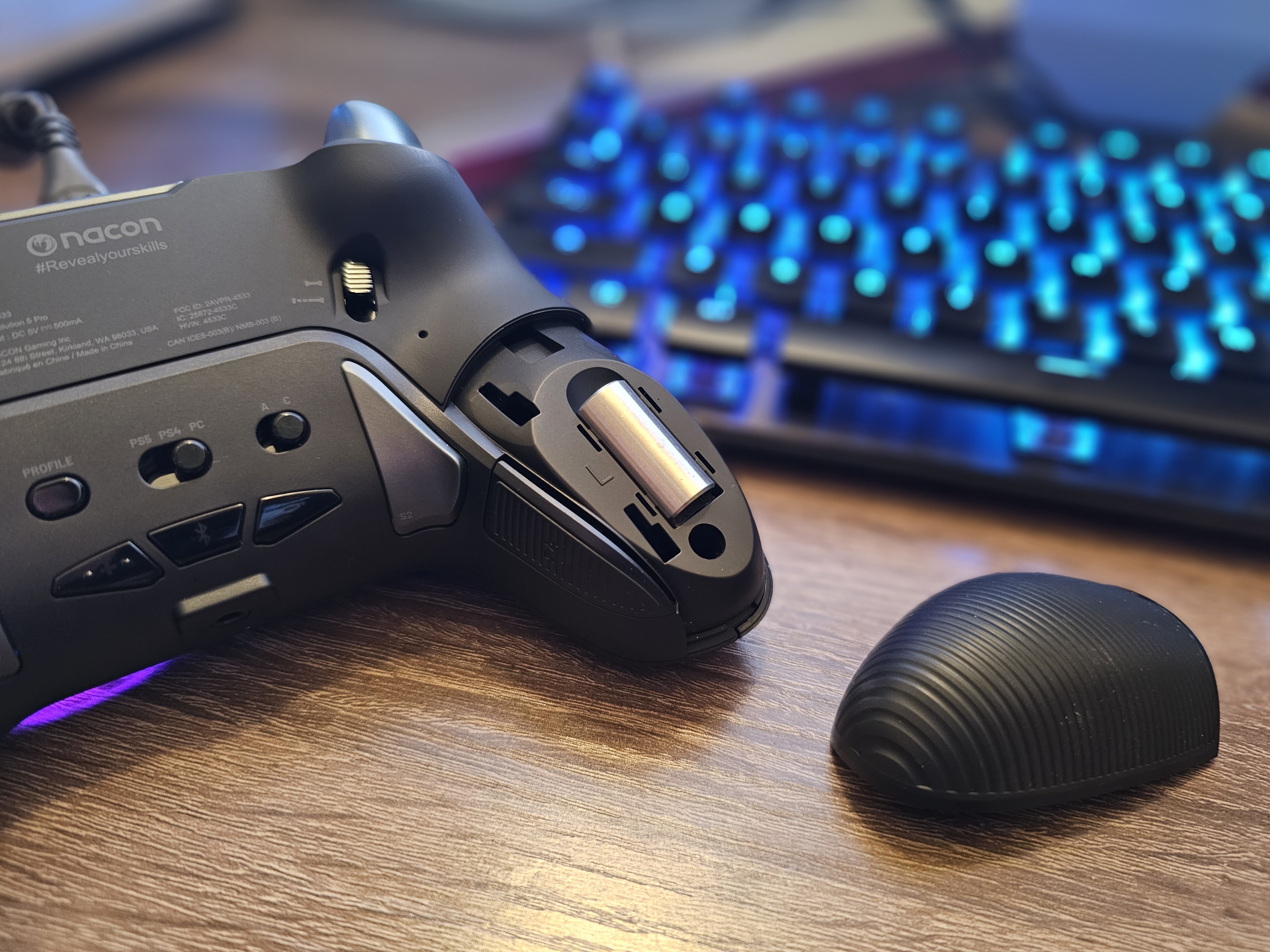 Multipoint wireless connectivity allows for seamless connectivity between my PS5 and CLX Gaming PC. You would need to connect a wireless dongle to either machine for such seamlessness, but it's good. Additionally, you can switch between the audio on the console and any Bluetooth peripheral with relative ease, though I never cared to make it my default way of connecting – my set up is both USB slots connected with the controller's dongle and my Sony INZONE's H5 dongle, each connect without a hitch when playing wireless. But I also play wired, so it's usually one dongle for headset and a 10ft USB-C cable. You have the ability to save up to four profiles per platform which can be done on the fly with a customize button at the top of the controller. I mentioned that the controller comes with additional pieces, right?
Three sets of weights.
Three stick sizes.
Three sets of stick heads.
External microphone jack
While the Android and iOS application is slated for release in 2024, the desktop application provided more than enough options to tailor the controller to my liking. It's intuitive, user-friendly, and allowed for seamless adjustments that significantly enhanced my gaming experience. Equipped with two vibration motors, it's compatible with PC* and PS4 games, delivering a tactile feedback experience that I much prefer. But the biggest miss for me is the lack of haptic feedback for PS5 games – like what the actual freak?! I cannot fathom why it's not standard when this is clearly designed for PlayStation 5 users. Anyway, that's pretty much my only gripe.
Side Note: Nacon partnered with professional player Mister Crimson for its d-pad design, which I think is very cool. I can definitely feel the use of the disc d-pad as I fight my way through Street Fighter 6 or Mortal Kombat 1.
Review Score: 8.5/10
The Nacon Revolution 5 Pro is a gaming controller that raises the bar in most areas while stumble on others; with the Magnetic Hall effect technology being its focal point, and how most pro players would find my gripes fruitless, I can't find a universe where this controller shouldn't be owned by anyone. I highly recommend this controller.

You can buy Nacon Revolution 5 Pro here.
For more on Nacon and gaming, follow me on Twitter and other social media here