This year TCL is taking a different approach with its TV lineup breaking it up into distinct sections such as the S Class and the Q Class. The Q Class brings an array of features and is where the Q7 comes into play. Packed with a 120Hz panel refresh rate, Auto Game Mode, QLED and many other options, can it replace your current home setup?
Style
The Q7(65Q750) by TCL is a 65" QLED 4K television that catches your eye soon as you power it on. It utilizes a FullView metal bezel-less design border all around. It is one of the lighter TVs I have dealt with around its size. It comes in 45lbs and getting it setup was effortless. Attaching and screwing the included legs took a couple of minutes and fit perfectly on my living room TV stand. I have the legs wide as you mostly see them, but they are actually reversible if you have a narrower stand. Centered at the bottom is the TCL logo and the power button and IR sensor hide underneath that. While I usually prefer the IR sensors to the side I do like that the remote control also utilizes Bluetooth so it can be used without being pointed at the TV.
TCL has all its connections on the right side including its (4) HDMI ports. Each one is labeled letting you know there is one for 144Hz, 120Hz, and two for 60Hz (with the last one also supporting eARC). These ports are being used by a PlayStation 5, Xbox Series X, NVIDIA Shield, and sound bar. There is also USB, Ethernet, 3.5mm audio port, Optical, Composite Video, and ANT/CBL.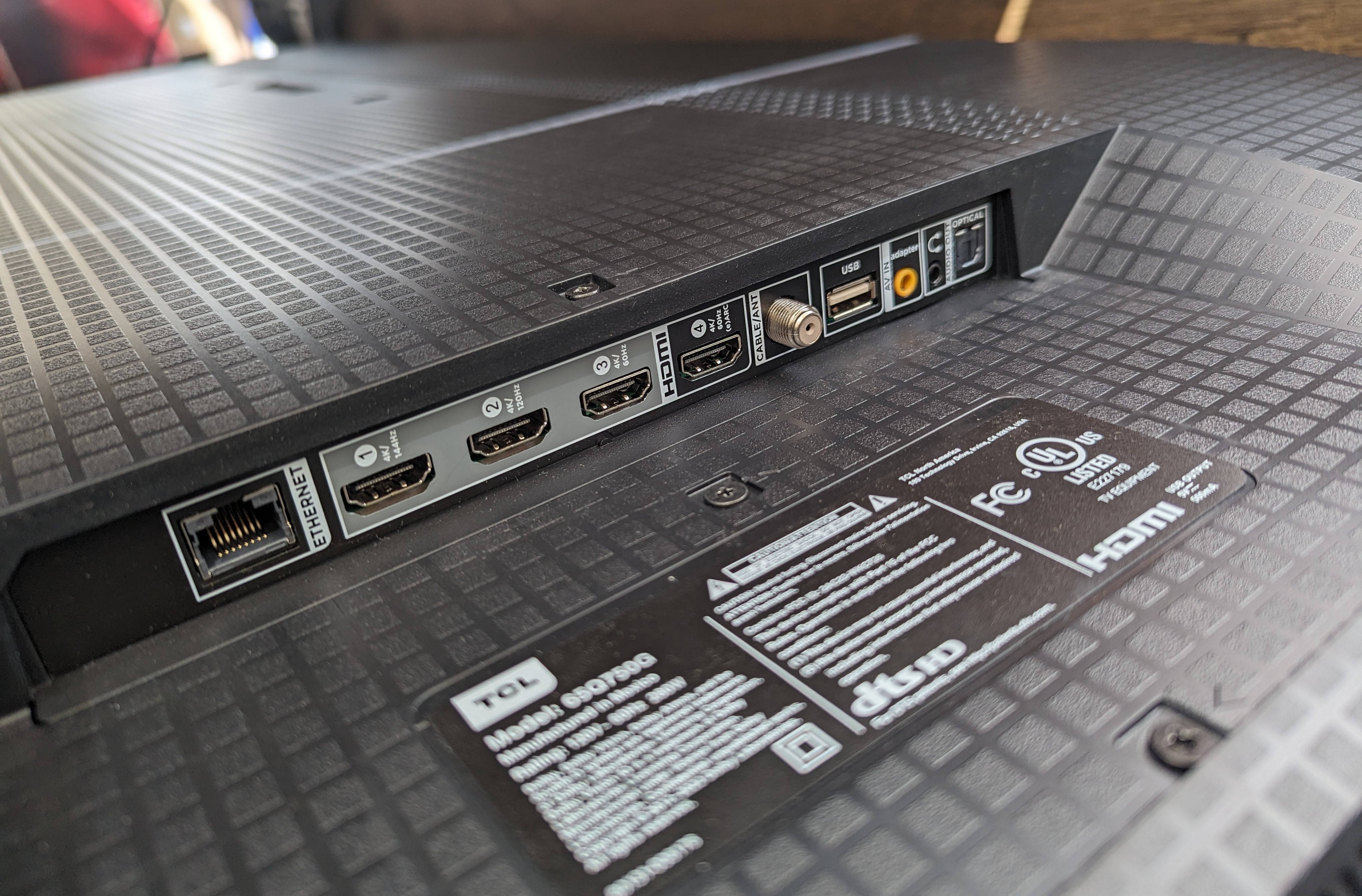 Interestingly this is the first TV I have reviewed with native Google TV as all prior ones had an OS UI created by the TV brand. This was a welcome change of pace and brought some familiarity as I'm already deep in the Google ecosystem. It has you open the Google Home app and try and connect. I had gone that route many times and usually encountered some issues. I don't think this was the fault of TCL but just my Google Home as I have this issue with mobile devices sometimes. Once it was up and running though, I was presented with a nice software update and then got a list of recommended apps.
There are also internal speakers that can get loud. They just don't have a good amount of detail behind them, but they are TV speakers. Some of the better ones I have heard. It will hold you over till you opt for a sound bar system at least. I been using TCL's Q Class 6510 5.1 Home Theater system.
Navigation / Apps / Features
Right away I love how fast this TV powers on. It's got to be at least 1sec and you are presented with the Google TV home screen. Navigation is easy and will try and be curated to your taste on the "For You" tab. There are "ad" slides that will suggest things you like and there is a "continue watching" section. I do like how I can go right into an app, and it will resume right where I left off like on YouTube TV. Prior to TV I would end up starting the app all over again. Google TV which is running Android TV 11 is swift and fast on the TCL Q7 and I think it will be easy for even novice users of it to pick up and enjoy. Also using AirPlay 2 and Chromecast for casting purposes worked without any hitch.
The included TV remote is tall, slender, has a brushed silver metal look, and is backlit. It's not bright but great for those lights dim late nights. There is a bevy of buttons such as google assistant(voice), account switching, and shortcuts for Netflix, Prime Video, YouTube, and Apple TV. TCL Channel will present you with freeTV channels as will the TV Plus and TV (icon) button. TCL Home will give you access to additional TCL devices if you have connected.
What to Watch?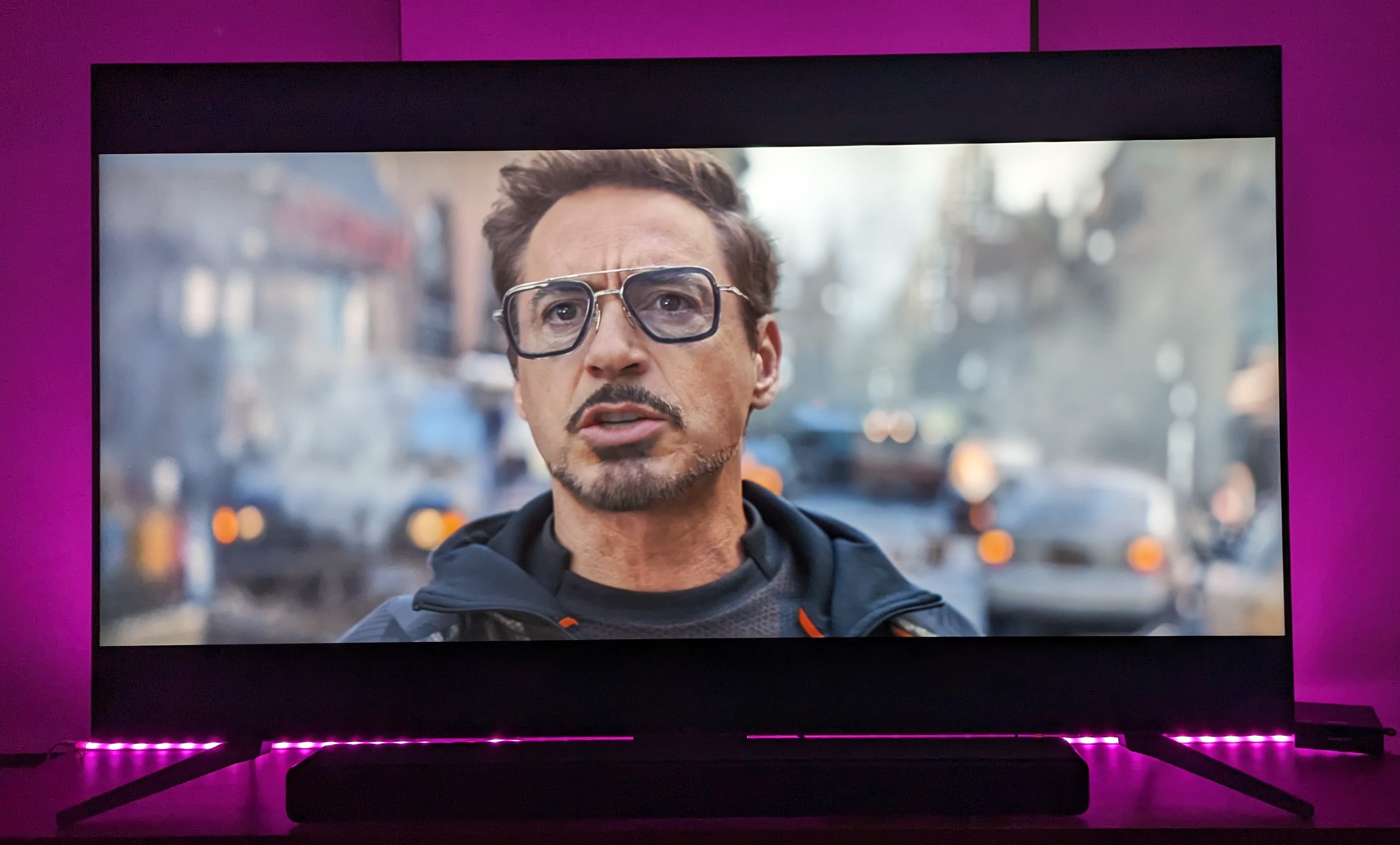 I have been rocking out with the TCL Q750G for the past few months and it's handled my vast media consumption without a hiccup. For my daily TV watching I utilize the YouTube TV app and watching sports such as wrestling, NFL, and MLB. I tend to toggle to the Sports option which will make it a bit more punchy in the color department and handles the fast pace fairly. This TV recognizes Dolby Vision content instantly and allows you to view it in three settings such as Dolby Vision IQ, Dolby Vision Bright, and Dolby Vision Dark. IQ I would say IQ is the best of all but also gives you that "soap opera" effect aka ultra smooth motion so if you aren't a fan, you might toggle it off and keep in mind IQ isn't adjustable. I also found it can be too bright for some dark scenes like those in the night sequences of Black Panther: Wakanda Forever which found me toggling to Dark and made quite the impression. Besides this you do get support for HDR10+, HDR10, and HLG as well as IMAX Enhanced Certification.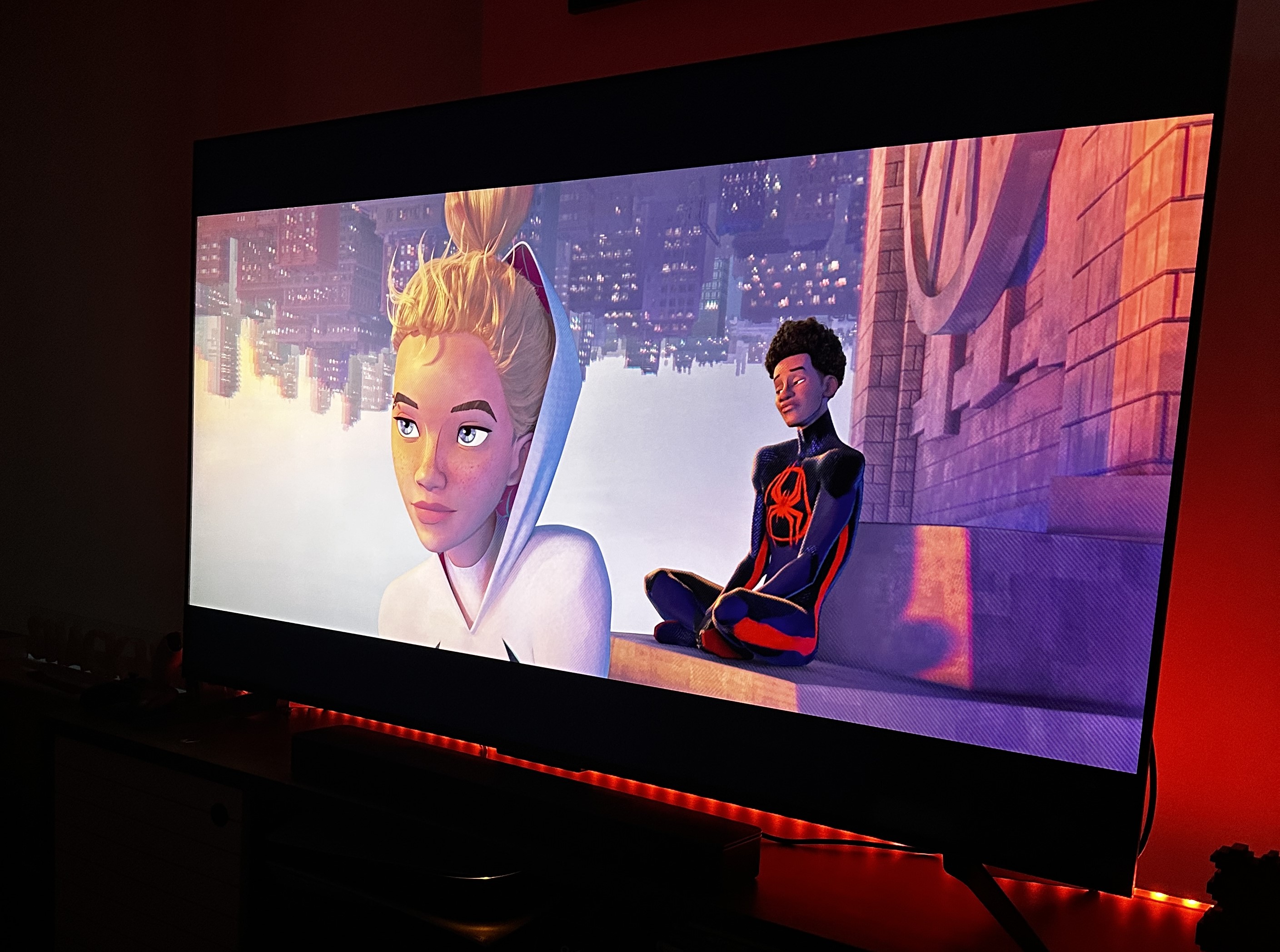 What to Play?
The Q7 has gamers in mind as it supports VRR, ALLM (Auto low latency mode), and has a 120Hz panel (144 VRR Gaming) which is capable on the PlayStation 5 and Xbox Series X. Soon as I booted my PS5 for the first time the TV kicked into "Game Master". This kicks those features in right away but also allows for other on-screen features such as Aiming Aid, Shadow Enhancement, and even screenshots. I can opt out of using Game Master mode but I don't see any reason why you would. As far as the on-screen overlay I barely used it as i didn't need the assistance and any screenshots I can still do via my consoles. If you have a capable PC you can also utilize TCL's Game Accelerator 240 mode for 240Hz VRR gaming at 1080p.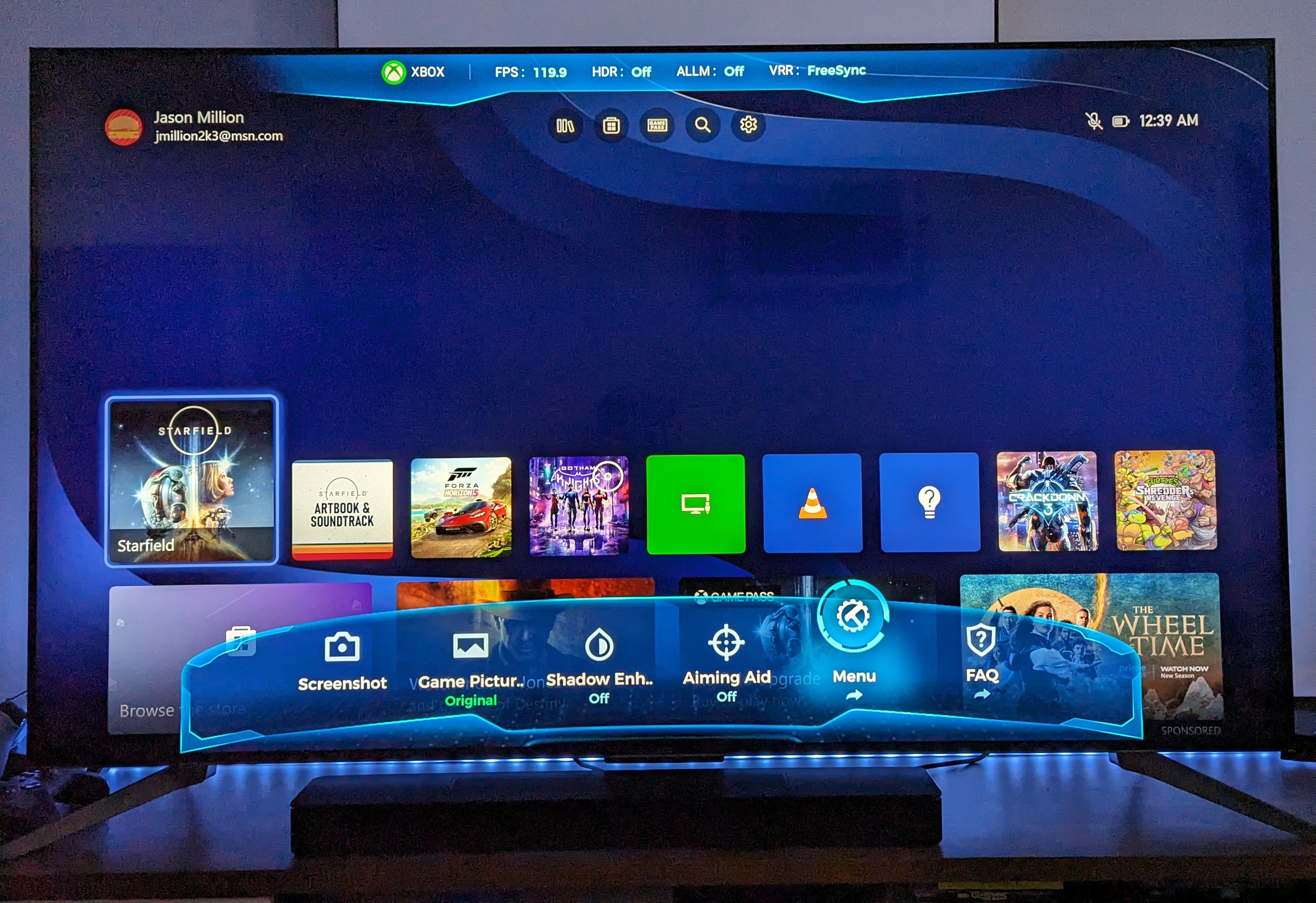 Games such as Forza Horizon 5 look highly colorful, detailed, and make you feel like you are right behind the driver's seat. No tearing or lagging while going at 200+ mphs at every turn. With Starfield I was able to soak up the environment and see details far away on its various planets. Axe wielding Kratos in God of War can take on dozens of enemies at a time with not a bit of lag. Mortal Kombat 11 looks bloody gorgeous even in the darkest part of the game. Same can be said about Tetris Effect with its mesmerizing visuals.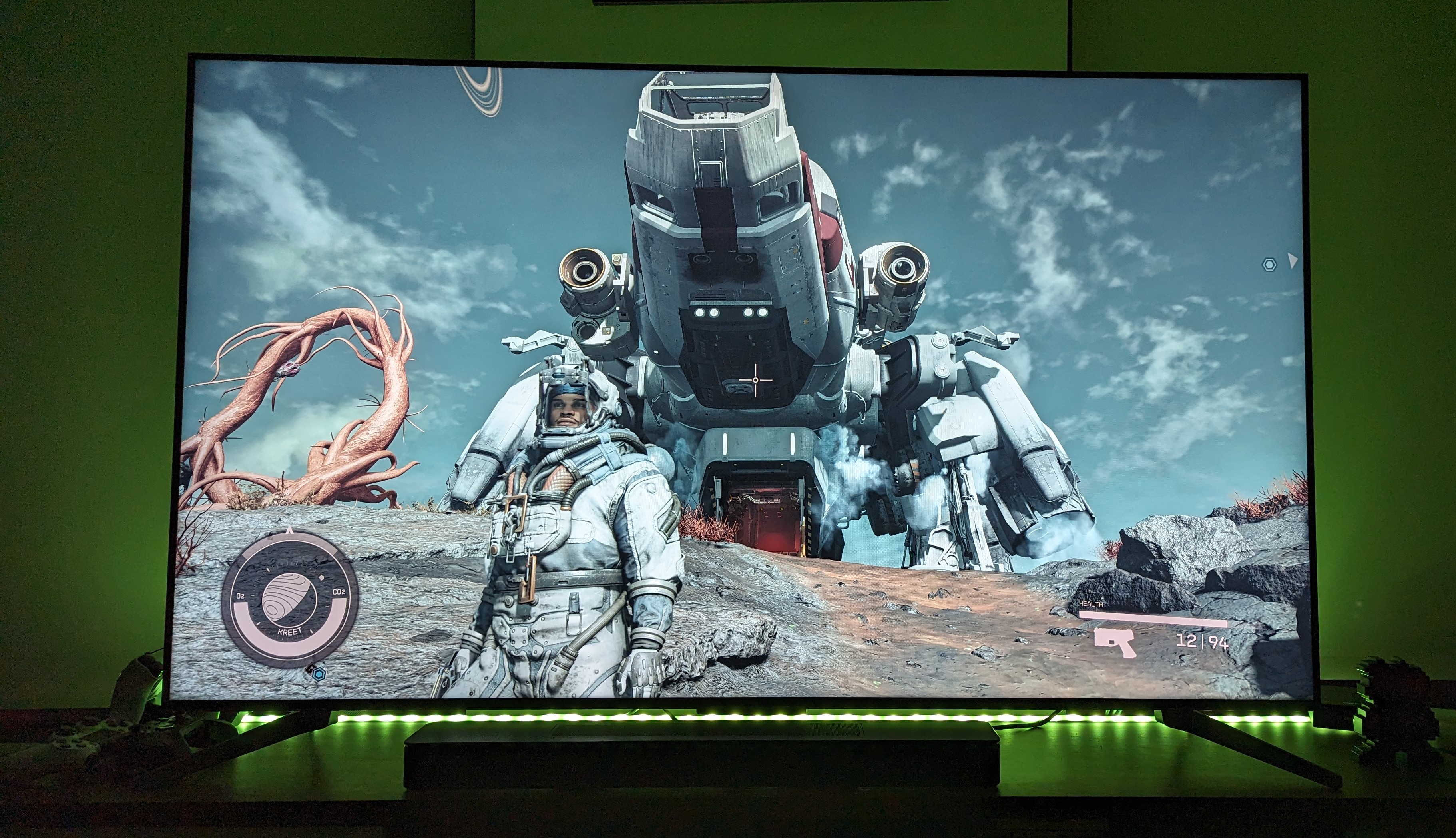 Worth the Money?
For the past few months, the 65Q750G has exceeded expectations. Its panel is quite colorful and detailed, making anything you want, especially Dolby Vision content a gem. Google TV interface runs smooth and is easy to navigate. I'm more fascinated with how it handles the Xbox Series X and PS5 upgrading your experience. No lag for even the most chaotic scenarios in gaming and looks sharp while doing it. This Q7 is chock full of options to cater to your every viewing needs.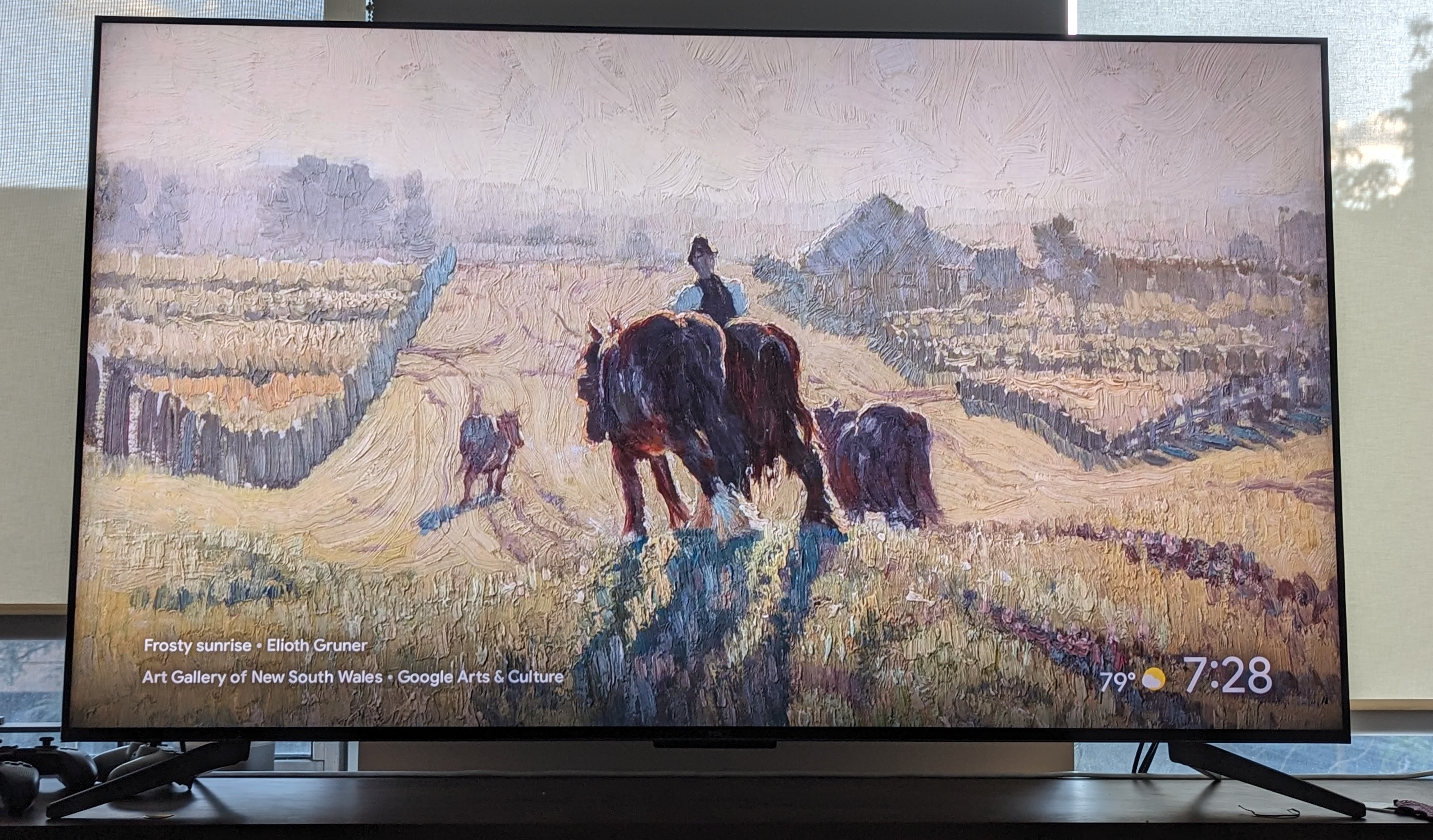 The Q7 in 65" retails for $999.99 but as of this writing is going for $699.99 at various retailers such as Amazon and Best Buy. I feel this makes it even more worthy to buy if you are looking for a TV with all the bell and whistles to feed your 4K consumption or gaming needs.
You can see a unboxing with the TCL 65Q750G on Instagram / TikTok