Air fryers have made a massive boom in the kitchens of consumers over the past few years where they went from being a niche thing to a must have. I tend to use air fryers quite frequently, but I always have gripes about spacing and just time. Typhur looks to eliminate both issues with the Typhur Dome. It is touted as having 30% faster cooking speed, precise controlling, and a large capacity. I have been using it for the past couple weeks now and I'm more impressed with it than I should have.
Style
Right away your eyes will be drawn to its sleek dome shaped design. It's inspired by traditional pizza ovens and gives a nice resemblance. It is mostly silver with portions of it being black such as the air exhaust grill on the back, front portion of the pull-out basket and the LED display.
While it is shorter than most air fryers coming in just under 10" it is wide at 15.5" across and 17.3" from back to front (including the handle). It also weighs a 22lbs so it's not the easiest to be moving around if needed. It can take up quite a bit of counter space so be prepared also if you need to put the tray after taking it out.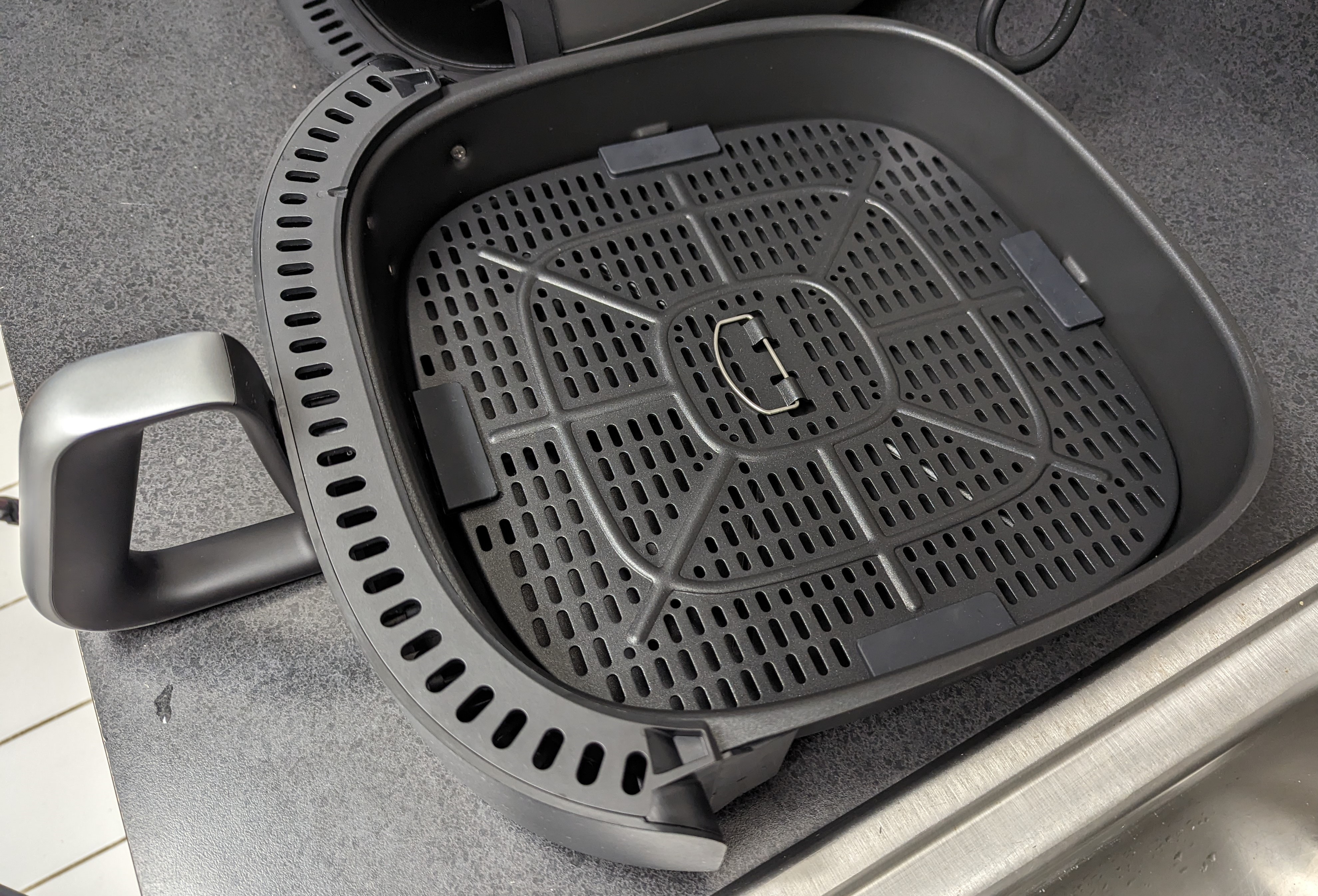 But with its big size it allows more hot air to circulate allowing for even cooking and more space to spread out your food. It is also one of the quieter air fryers as it only reaches 55db.
Setup
The packaging was quite huge for the Typhur Dome, but the setup was easy as everything is assembled. I took the task of cleaning the basket, rack, and device itself before first time use. Afterwards I was able to plug it up and get it programmed utilizing the Typhur app. It did an upgrade, and we were off to cooking. This is the first time using an air fryer with Wi-Fi capabilities, so I was intrigued on how well it performs.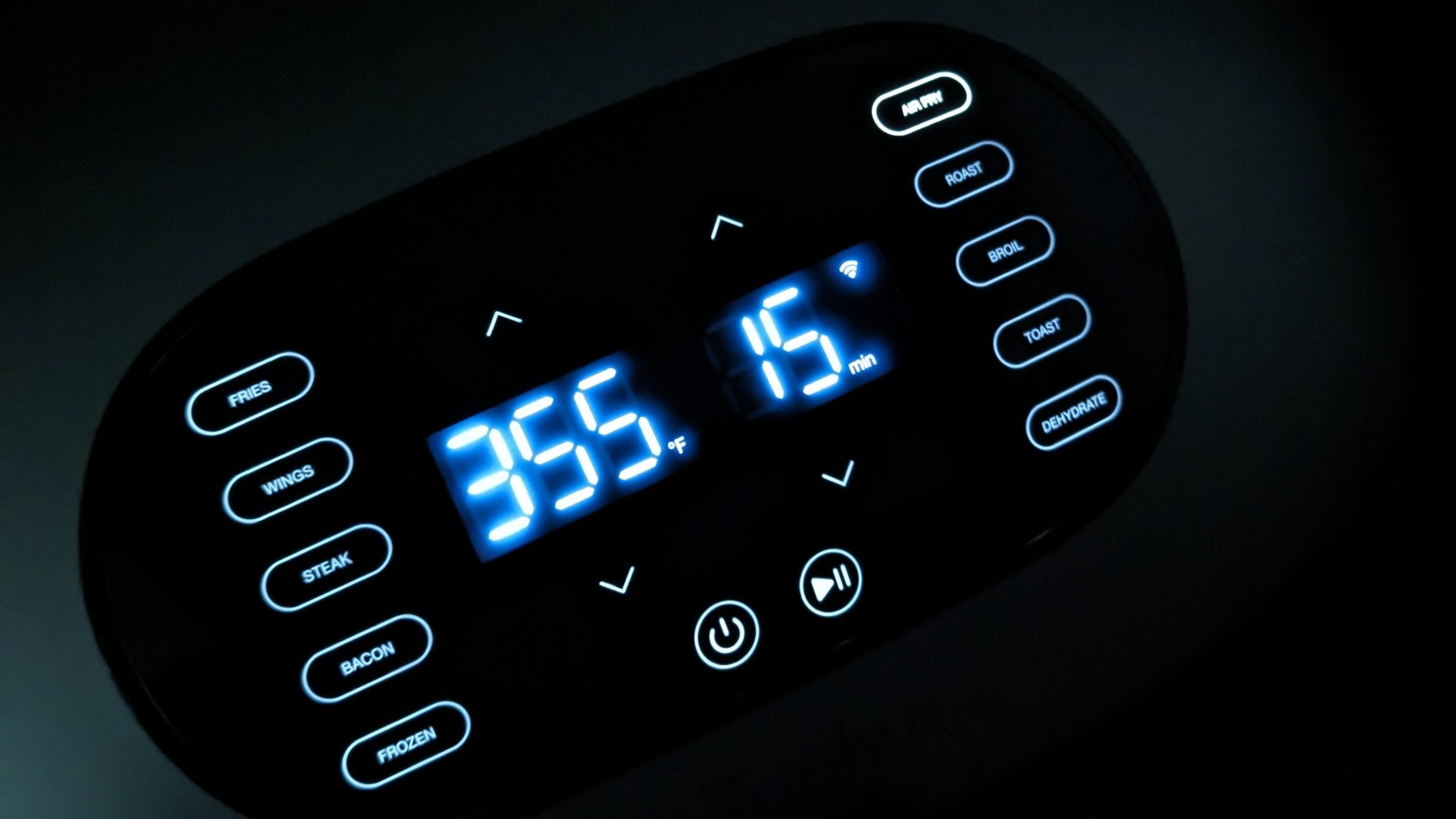 With the Typhur Dome you have the option to use the LED display which is quite bright in light or darkness and it's all touch. It has preset buttons such as Fries, Wings, Steak, Bacon, Frozen, Air Fry, Roast, Broil, Toast, and Dehydrate. And of course, is Temperature and Timer Control. Now the other option is taking a swing at the Typhur App. Going to the Explore tab will give you the ability to search for recipes, but it doesn't just cover the Air Fryer but other also their Sous Vide Station. As for the Air Fryer recipes at this current time there are 49 and I hope more will be added.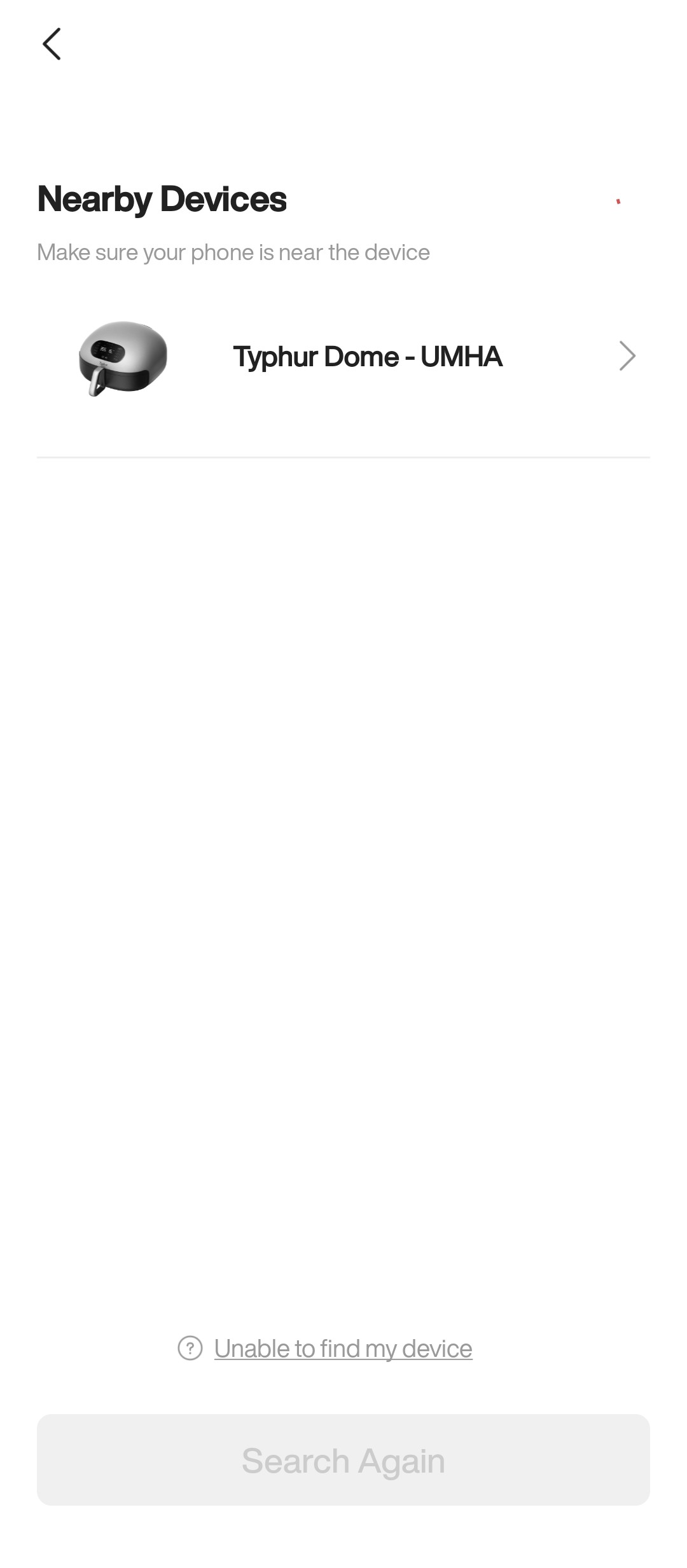 Clicking a recipe will give you a breakdown on things such as Prep Time, Ingredients needed, Equipment to use and the steps to take to make sure your dish is perfect. There is a "Start Cooking" that will set the Typhur Dome to the correct time and temp. Smart safety feature they added though is it won't start till you go to the air fryer and press the Start button. This would remedy any accidents that could possibly have occurred.
Lets Get Cooking
So, for the past couple years I have been using a 5.3-quart Bella Pro Series Air Fryer but whenever cooking I must sometimes stack things up and shake it around to get even cooking. In my first try with the Typhur Dome I realized that wasn't necessary anymore with its 5.6-quart basket. I was able to spread over 12 pieces of wings without issue, pound of Brussel sprouts fit evenly on the rack, smashed potatoes had ample space and two pork chops were able to sizzle without being on top of each other. Other items I cooked were asparagus, pork ribs, fries, frozen pizza, and sausage.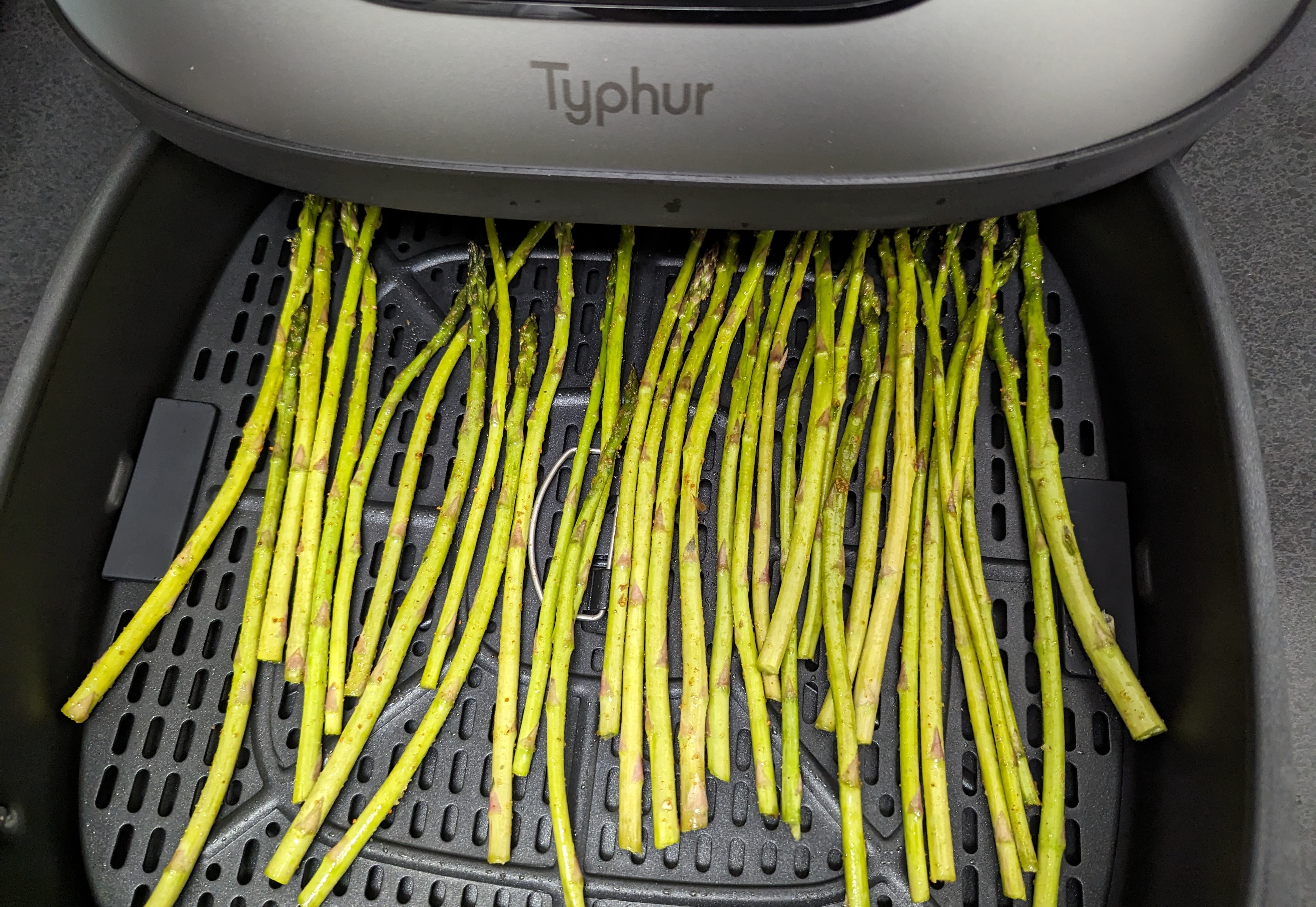 Some I picked the temperature myself such as the wings I cooked at 380F for 14mins, the smashed potatoes I did at 400F, and ribs at 380F for 20mins while the Brussel sprouts, asparagus, and another set of wings I followed instructions from the recipes on the app. They did manage to get the timing down for the most part. This air fryer is able to reach temperatures of 450F.
I like how the app will give you a timer and will also allow you to pause. Also, you will get an alert when the food is ready (the Typhur Dome does *ding* when ready). There is also a self-cleaning mode which basically will burn away any grease/oil build up which usually happens when using air fryers. This process takes about 2hrs, and it sets the device at 230 degrees. Cleaning the nonstick coating tray and basket is easy with some soap and water in the sink. It is dishwasher safe, but I haven't applied the option.
Verdict
Being as this is the first time; I have used a product from Typhur I have become quite impressed with the Typhur Dome. It's brilliant for air frying with its fast-cooking times and food being more even than I ever seen. This allows you to cook more things if needed. The app support is on-point and I just hope they add more common things people like to cook on there. Typhur Dome is a counterspace taker so just be beware you need to make ample room for it. It is quite possibly the most expensive air fryer I have seen at $499.99 but if you need speed and sufficient it's perfect for the job.
You can see a unboxing and cooking with the Typhur Dome air fryer on Instagram / TikTok