The Monster Power Grid is a portable power station that can power almost anything you can throw at it. It features a 296 watt-hour battery that can power 9 devices at once. This includes smartphones, laptops, portable monitors, and even a mini-fridge. It has a whole host of different ports that can accept most devices so you'll never be without power no matter where you are.
DESIGN
The Monster Power Grid looks like a tiny generator and is about the size of large portable speaker. What I like about it is that it doesn't look like a plain old box but instead has quite a bit of style and character to it. It's mostly black but has neon green accents with the color way that was sent to us. It does also come in all black and also in white, but I think this color looks the best.
Most of the different charging ports and power connectors are located on one side of the Monster Power Grid. If you're looking directly at the logo, it would be the right side. This includes 2 x AC outlets, a 12V DC port, 3 x USB-A ports, 1 x USB-C port, and another DC port used to Trickle Charge your car battery.
On the top of the Monster Power Grid is a Qi Wireless Charging Pad that can charge up to 10W.
On the left side of the Monster Power Grid is an LED panel that shows charging and battery info as well as a huge LED light for emergencies.
EXPERIENCE
The Monster Power Grid isn't something you just carry around on a daily. This is something that you would either only use on trips where you'll know you will be off grid for several days, or something that you just carry around in your car for emergencies. It's way to heavy to throw in a bag and you don't want to just be lugging this around with you all day.
Instead, you would probably carry this to a campsite and just leave there when you need it or in your trunk.
While I didn't use this on any camping trips, I did try all the plugs out to see if they do in fact power up my devices. For starters, all the USB-A ports work, though they aren't very fast and I would mainly use them to charge smaller accessories. If you need to charge your phone or tablet, definitely use the USB-C PD port as well as the Qi Wireless Charging Pad.
The AC ports are great for devices like portable monitors, powering a laptop, gaming consoles, or even a small portable lamp. There are literally tons of devices you can plug into these so it all depends what you need power for and where.
What I also really like about the Monster Power Grid is that each little block of ports needs to be turned on so they don't all have power at once. This is great for keeping power from going to those ports when they're not needed. It's probably also great for safety.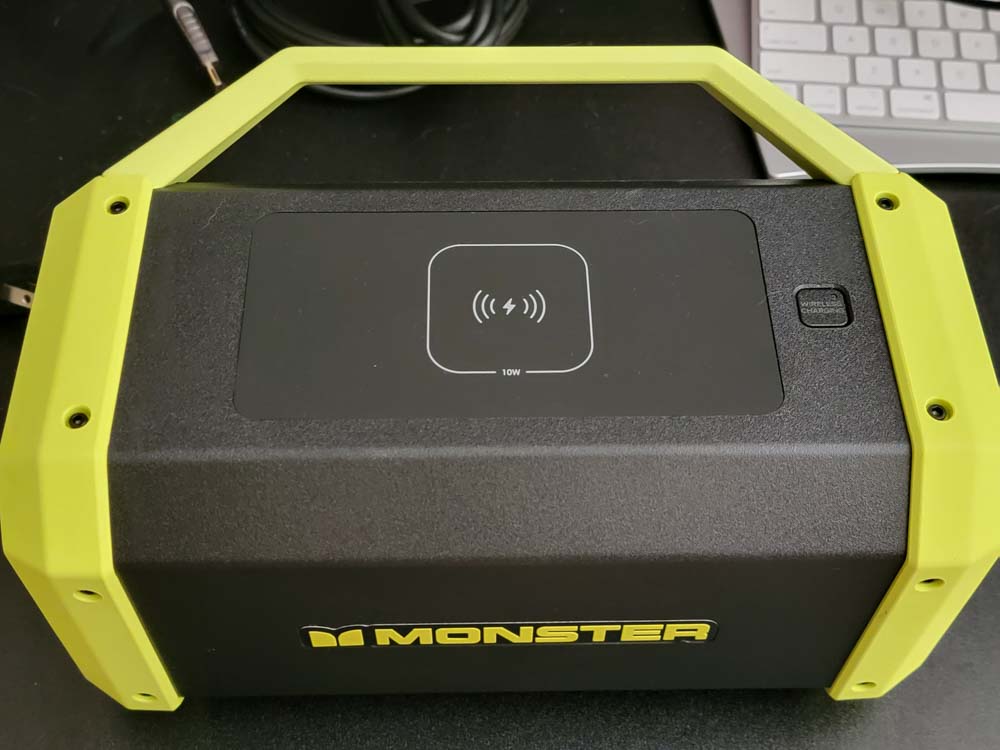 FINAL THOUGHTS
The Monster Power Grid isn't for everyone, though there are many use cases for it. This is great as a tiny portable generator for instance so if you go camping for instance, you have something that can power or charge your small devices. This would also be great for power outages at home like during a hurricane when oftentimes, you lose power for several hours. That's just two examples but I'm sure there's more.
With that said, having something like the Monster Power Grid is quite convenient and while you might not use it daily, when the time does come to use it, you'll be grateful that you have it.