It is that time of the year again. Today is the day before the next annual Google Hardware line event happens and Google officially (cause there have been tons of leaks already) announces the latest in the Pixel line with more details. What's expected is the Google Pixel 8 and 8 Pro, a Google Pixel Watch 2, new colors for the Google Pixel Buds Pro, and who knows maybe even an actual surprise or two. However, with the latest lineup just a day away, I thought it was the perfect time to look back. Over the last year, I have been using the Pixel 7 Pro as my primary daily driver, until recently when I've been rocking the Pixel Fold. Additionally, the device I had been waiting for it seems forever, hasn't left my wrist since, the Pixel Watch. So before I start reviewing the latest, here are a few thoughts as I reflect on the last year!
Google Pixel 7 Pro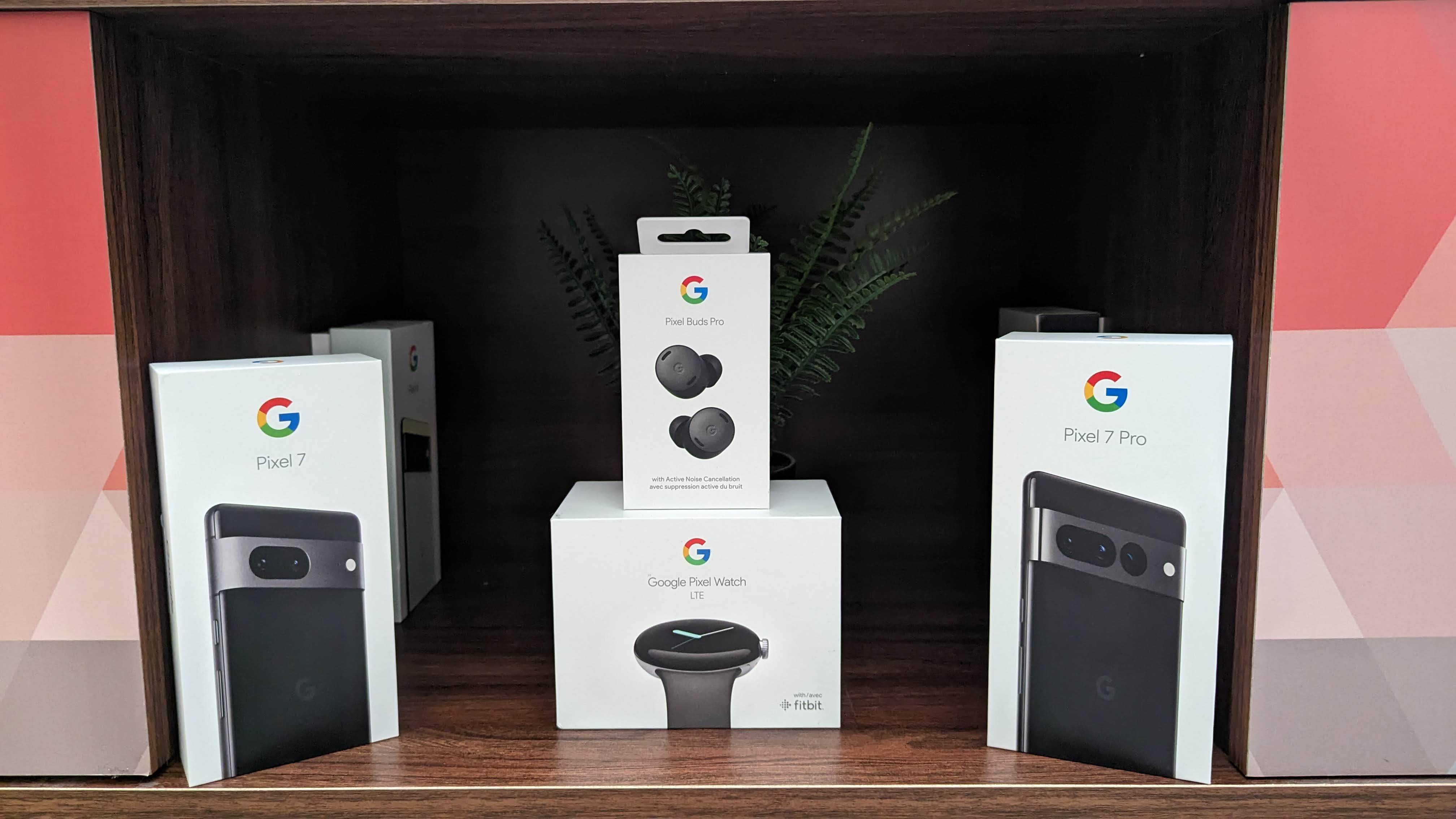 Let's start here. The Google Pixel 7 Pro has been my daily driver since last October until about a month or two when I switched to the Pixel Fold. I really like the Pixel 7 Pro! I liked the 6, and the 7 Pro just refined that up a little more. Battery life has been good to me, operating smoothness has kept up, and Google feature drops have made the phone better over time. My only gripe with it is while the under-screen lock sensor has worked within tolerance spec, I wish it was better or fast all of the time vs just most of the time. I also wish that face unlock wasn't neutered on the 7 series. Yes I can use it to unlock the phone and it works decently most of the time, not being able to use it as a security unlock for apps is annoying. Having to revert to the finger is just something I wish they didn't do. Overall the experience has been great, camera quality is expected spot on and even as I'm using the Pixel Fold, I do miss using my Pixel 7 Pro. I do use it still in one capacity where I can't use the Fold, and that is on my motorcycle as GPS (I download offline maps for the areas I know I'll be in). I use QuadLock and they just don't make a case for the Fold, so the 7 Pro without a sim card had to still step in for that function.
Google Pixel Fold
As mentioned earlier, I've been using this one for a couple of months now, and this is the very first foldable I was interested in reviewing. As I wasn't interested in the Samsung Fold devices (too thin), or any of the Flips (the shape wasn't appealing to me), it took a Google Pixel device to make me want to give it a go. One of the main questions I wanted to see was, do I need a foldable device, does anyone really? Foldable right now comes at a very high price, more so than any regular smartphone which has been on a price climb year after year. With that high premium for a foldable, was it even worth it? And now that we are on the even of the latest 8 Series which aren't in any foldable form, will I be eager to go back to the norm and leave the foldable in the storage bin?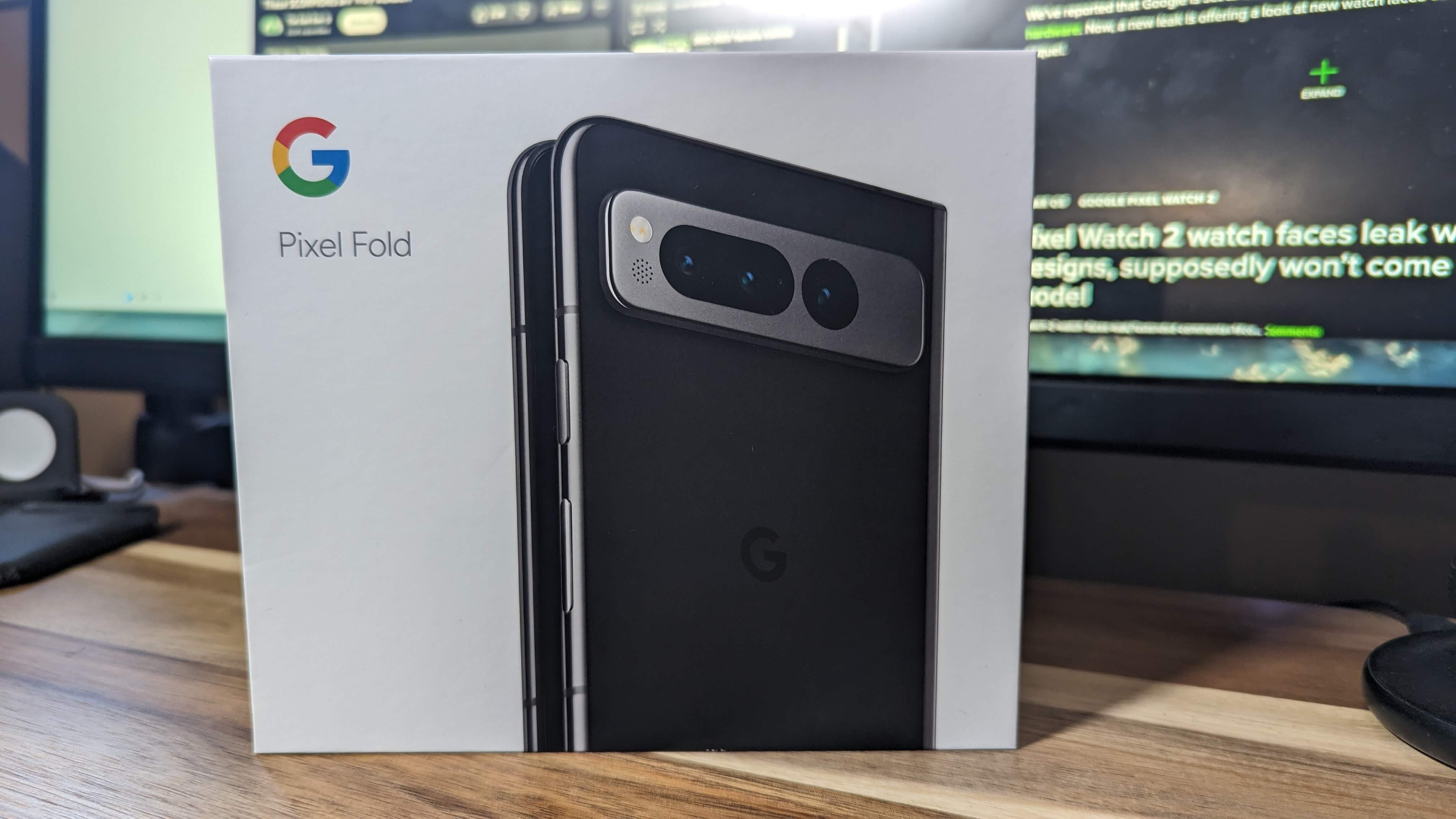 So how has my experience been with the Pixel Fold so far? Well for one, it being a Pixel, I've been able to daily it just as smoothly as I was able to with the Pixel 7 Pro. There are some differences besides just the larger inner screen. For one, the passport shape of it, makes for easy day to day one handing the device in use. But at the same time, this is definitely the heaviest phone I've ever used! So much so that I have a little indent on my pinky finger due to the way I hold the phone. It's a hefty one and something that I still haven't gotten used to in the time I've been with it so far. Gripes with it so far? Mainly the power button unlock sensor. I hate its placement. Due to its size and my hand size, whenever I hold the phone, or grab the phone, the finger I use to unlock it is always touching it. Whether I want to or not, I'm always triggering it. And due to the case I have, it isn't as easy to always catch it, so either I'm unlocking it by accident or not able to unlock it when I'm intentionally trying haha. This really bugs the hell out of me!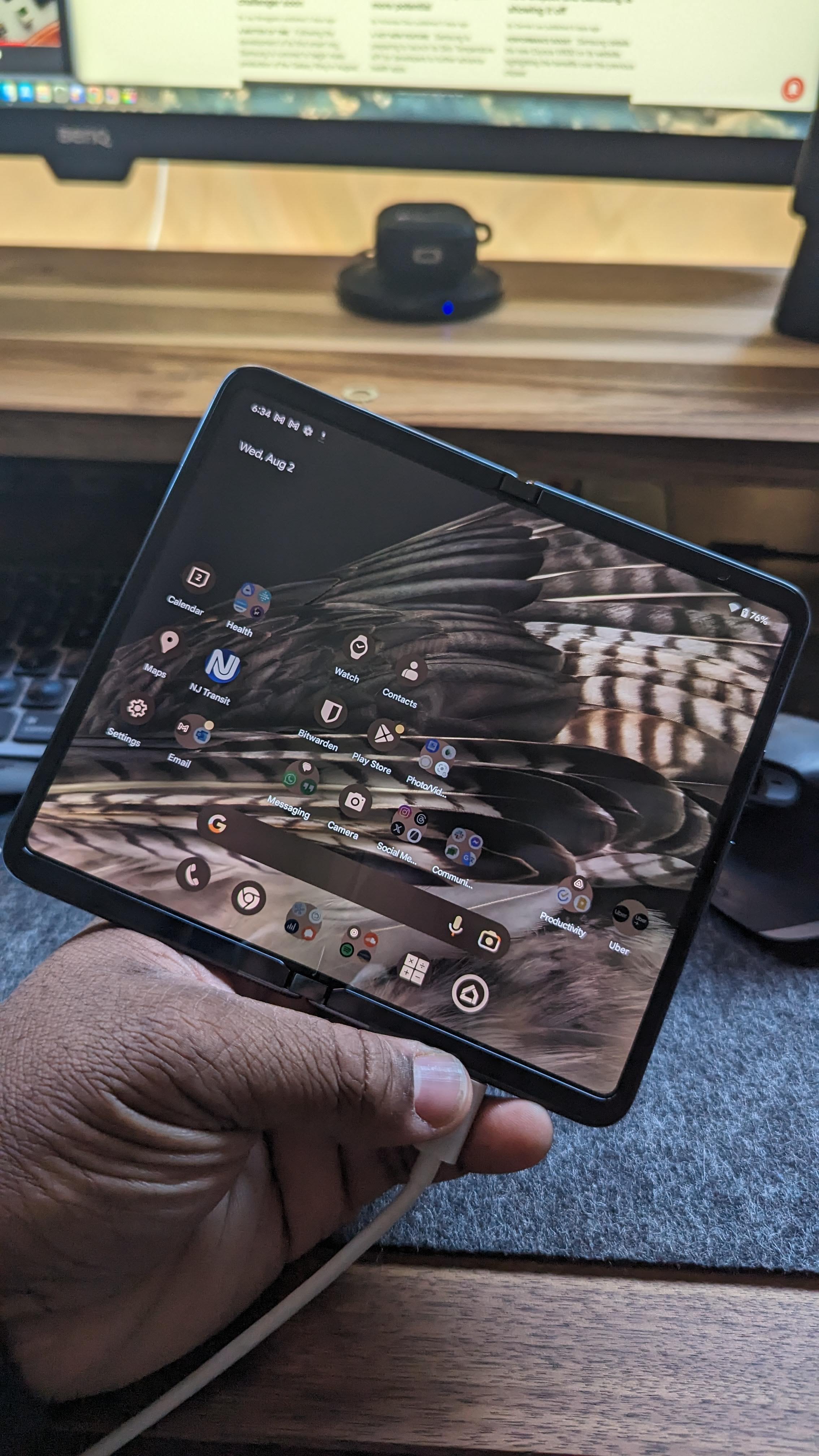 Other than this, I generally enjoy using it……closed. Yup, been with it for a couple of months and damn near 95% of the time I'm using it closed. This is a credit to how easy it is to use close vs say the stories I hear about the Samsung Fold line, but if I'm rarely opening it, is it worth that high price? The times that I have opened it to use the inner case, oh that has been nice! More screen real estate does come in handy and has allowed me to work on items much easier than if I were using a typical candy bar-shaped phone. I've dual-screened apps and worked in WordPress on this very site with easier flow since I had more screen to work with. I've copied and pasted items between apps more easily and been able to input info in one screen/app while seeing the information I needed to input in another screen/app. This has been lovely! But, the number of times I've done that is slim. And the lack of full-screen support for many apps has left me content with just using them on the outer screen. Worth the high premium price? As of today, I think not honestly. If it was cheaper or cost about the same as a Pixel Pro phone, I'd definitely say go for it as long as the camera was on par with the Pro line of cameras also. But as of today, I don't think I need a Pixel Fold. As I embark on using the next generation, we'll see if this is actually true or if once I'm not using it as my daily, will I truly miss it!
Google Pixel Watch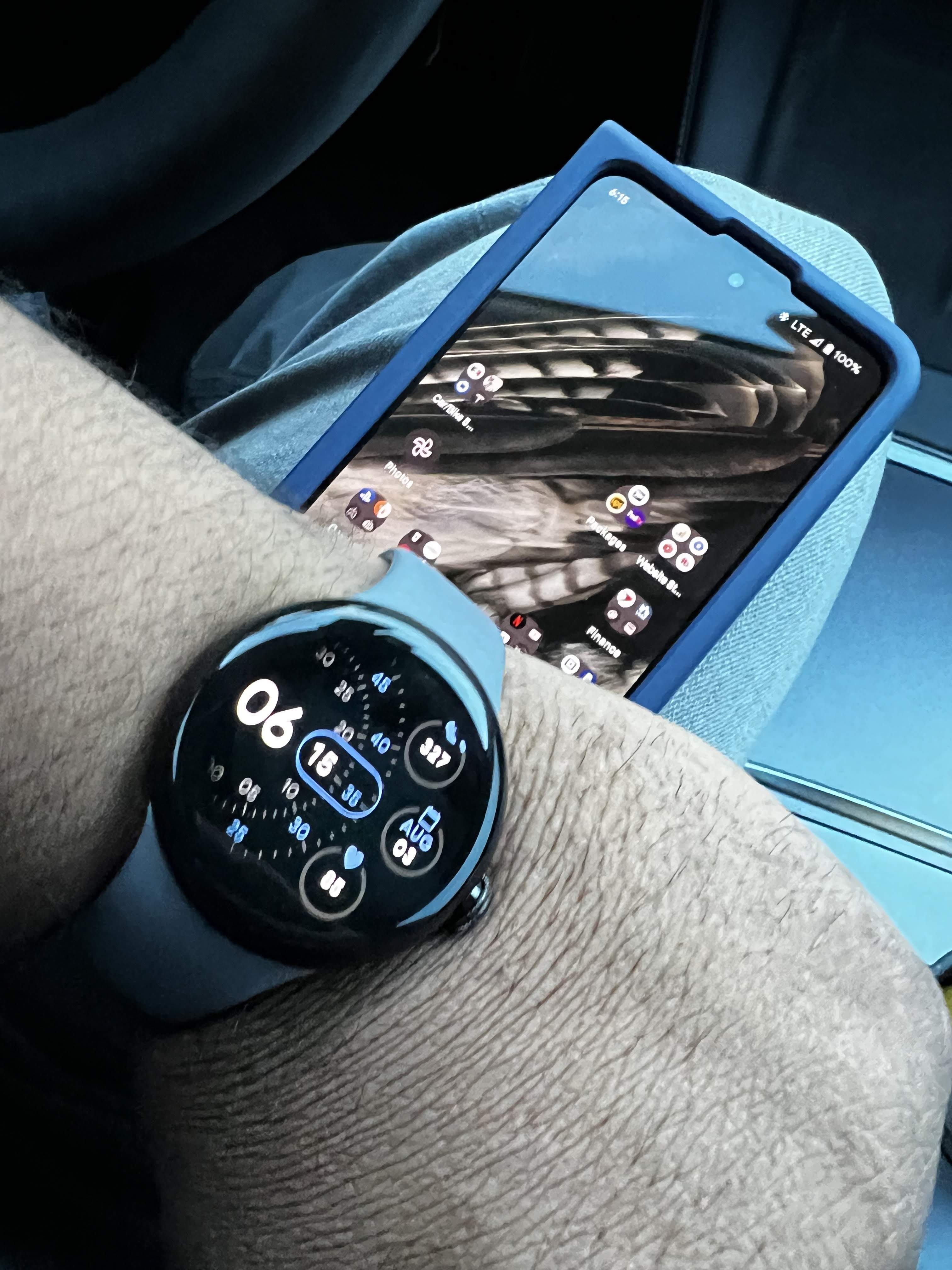 Now this is a device I've long waited for and could now be more excited when it dropped. This is also a device I've used that has been mired in sort of disaster as well. After a year, this is actually the 3rd Google Pixel Watch I've used. The first one came from last year's Google Hardware line up where I received one to review after the show. That one right out the gate was defective and I wasn't able to get it to set up as it had some random error message right from boot up. The Google PR team was able to get me another one (had to travel back to Brooklyn to quickly get it) and that one I've had on my write for a while until I scratched it badly (don't even know how or when) and while 100% completely useable, being Mr. G Style, I couldn't continue to stare at that scratch whenever I used the watch. My 3rd one now, came free when I picked up the Pixel Fold, so at least I didn't have to pay for that one. But that would be my gripe with the watch, the thing is way too scratchable (I say that as my current 3rd floor I just noticed a scratch at the very top center of the dome and at the lower right corner, argh!). The only way to prevent this would be to put on some sort of protection, but those really take away from the beauty of this thing. Rocking it naked so to speak, I've had people ask me what the watch is that, and I just love the way it looks when I use it!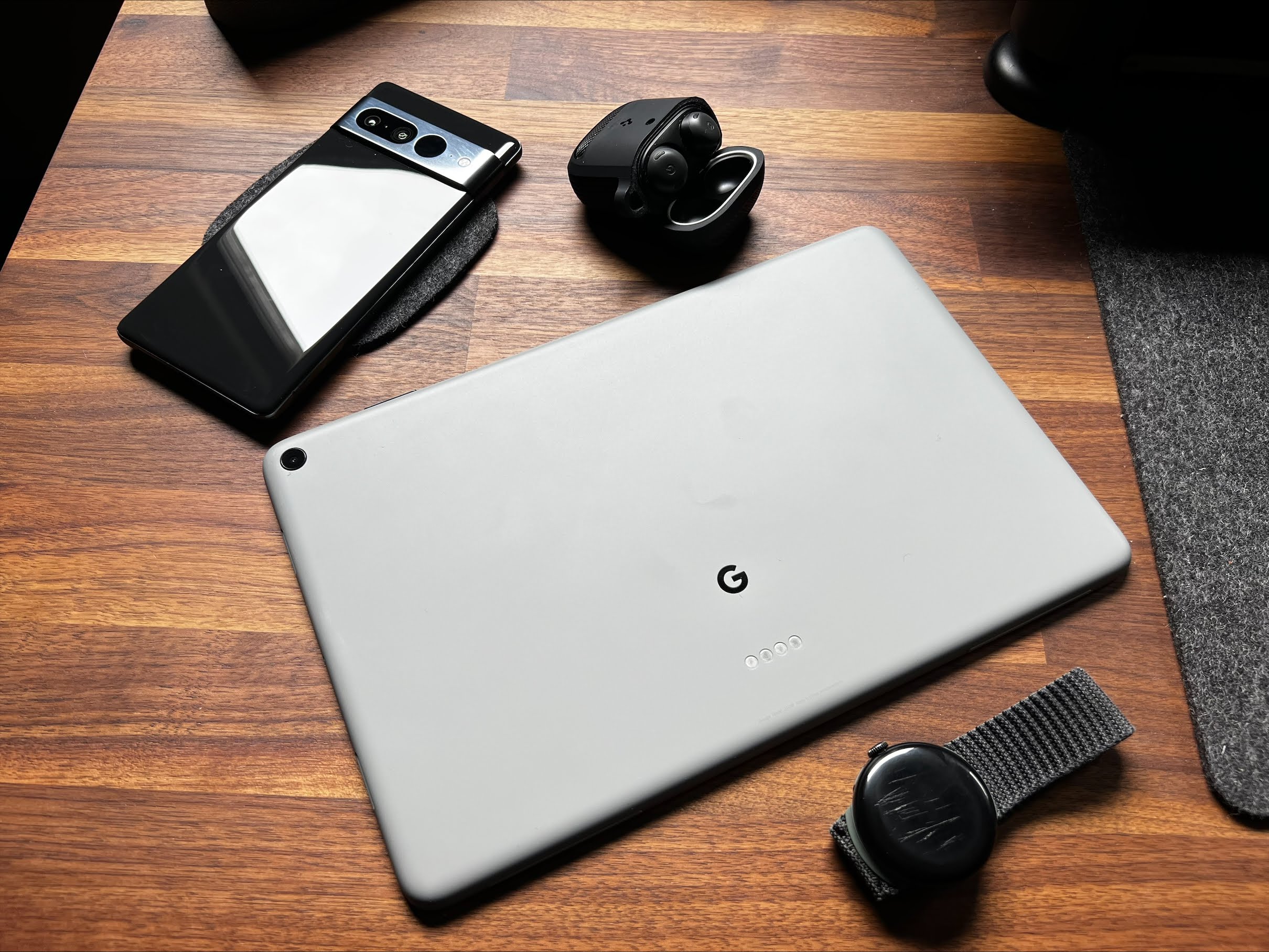 Other than the too-easy scratchable surface (as seen in the image above), the battery endurance could be better, we'll see if that improves with the Pixel Watch 2. I've gotten used to a routine that keeps me with power when I need it. I'm able to get an entire day, and a full sleep tracking at night, before needing to pop the watch on the charger while I get ready for work. Popping it off as I head out, and I'm off to the races. Could it last a little longer, sure, but it's been working for me. Now when it comes to the uses for the watch, fitness tracking, sleep tracking, notifications from the phone, messaging, and more, this has been what I've been looking for in a smartwatch connected to my phone. It looks good doing it, the performance has been good compared to others I've used in the past, and I couldn't be happier. I am eager to see what improvements come in the PIxel Watch 2. One suggestion though, if you are thinking of picking one up, get the regular WiFi/Bluetooth model. I have the LTE version and the number of times where my watch and phone haven't been near enough to each other for Bluetooth to do its thing has been minimal. And when it has been far enough away, the amount of times I've used the watch to make/receive a call has been next to none. If I had to buy one, I'd get the WiFi version. I actually think I may now get rid of the data plan I have for it and just use it via Bluetooth, save some money!
Wrap Up
Let's quickly wrap up. Each of the existing Pixel line of devices makes for great daily drivers and if you pick up any vs waiting for the newest editions tomorrow, you'll be happy. One is a ride or die, one just isn't worth the price, but you'll enjoy it if you do decide to just risk it all, and one has been a long time coming and I love it (despite the scratches, just be uber careful haha). Each of these has me excited about what is next from Google, and fortunately, we'll find out tomorrow. We'll be in attendance, so be sure to check us out on X or maybe Threads as we live cover the event. I'll take the opportunity to put that Pixel Fold in action and will be dual-screening it up for coverage haha