XGIMI just announced their new flagship, long-throw home theater projector, the Horizon Ultra. XGIMI bills this as an ultra-compact, 4K, self-contained home theater projector with both Dolby Vision and Dolby Atmos sound running Android TV, all in a sleek and home-friendly design. When we were asked if we'd like to check one out ahead of its release; well, consider us interested!
Key Features via XGIMI
4K with Dolby Vision
2300 ISO Lumens
Dual Light Technology
Intelligent Screen Adaption 3.0 (ISA 3.0)
Dual 12W Harman Kardon Speakers
Wi-Fi 6 Dual-band 2.4/5GHz, 802.11a/b/g/n/ac/ax 4
Android TV™ 11.0
2GB RAM
32GB Storage
Design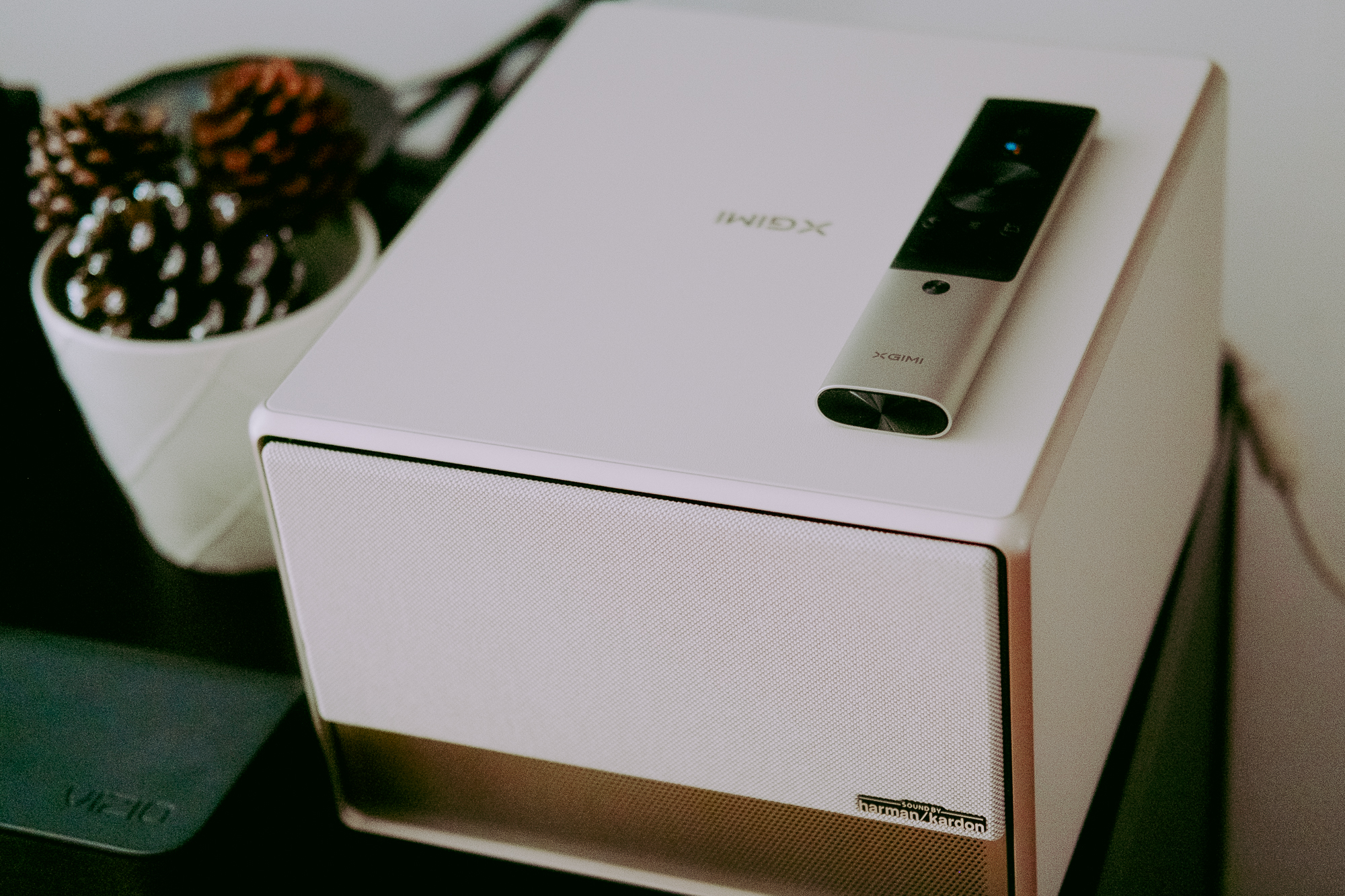 The best way to describe the XGIMI Horizon Ultra is a tiny but mighty home-theater-in-a-box. The Horizon Ultra is a sleek, yet warm piece of kit that can easily blend into our home's décor. That's important when you consider that the projector will become a part of the family in a very real way. The choice of materials – a matte, beige/off-white plastic housing with chamfered edges and mechanical lens cover gives it a premium feel whether it's in use or waiting for the next time you power it on.
This projector is much more than just a pretty face; with Harmon Kardon audio that is Dolby and DTS compliant, you can fill up just about any space with sound as well as sight. When first testing it out it left me shook that it was filling up my living room with such rich sound. I didn't even consider running an optical cable to my sound bar – there wasn't ever a need for it.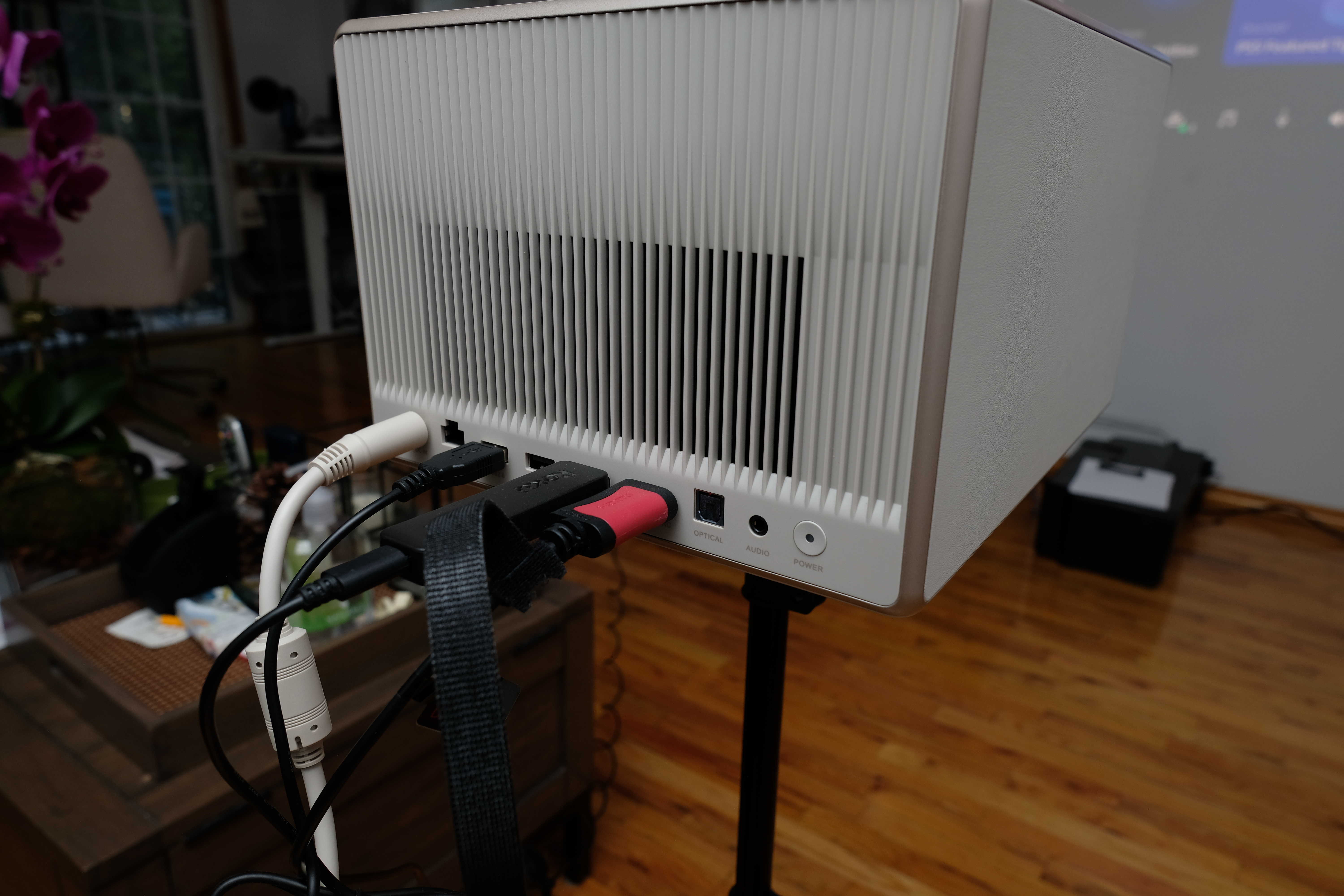 Speaking of ports, the rear of the projector houses all the I/O ports including power, an HDMI 2.0, an HDMI eARC port, two USB ports, a LAN connection, and a 3.5mm headphone jack and Optical out. Rounding out the connectivity options, the Horizon Ultra is equipped with a WIFI 6 and Bluetooth 5.2/BLE antennae.
It's worth mentioning that design innovations on the outside also translate to the inside – the Horizon Ultra employs dual light (laser and LED) technology (DLP) to keep colors bright and accurate throughout the frame. This Dual-Light DLP tech allows the Horizon Ultra to support 4K UHD in HDR10, HLG, and Dolby Vision formats with a lamp life of 25,000 hours.
What works
One of my biggest concerns going into this review would be the initial setup. When you buy a TV from your local electronics store, you open a box, plug in a few cables (if you're a cord cutter, maybe just one cable) and you're pretty much good to go. I was happy to encounter a similar setup experience – upon opening the box, I found a spot for the projector and cleared a wall. After plugging it in, it sprang to life and began configuring itself based on the ambient light and wall color of my living room. The initial setup was made even easier thanks to XGIMI's ISA 3.0 technology, which self-adjusted the image to not only fit on the wall I pointed the projector to, but also auto-keystone correct the image.
Powered by Android TV means that you have access to the Google Play Store and the many streaming services and options. Most of the major streaming platforms are readily available including Apple TV+, YouTube TV, Paramount, etc., and only require a ubiquitous Google account to get started. This allows for a ton of flexibility for the projector – I went so far as taking it out to a friend's cookout for an impromptu movie night on their deck.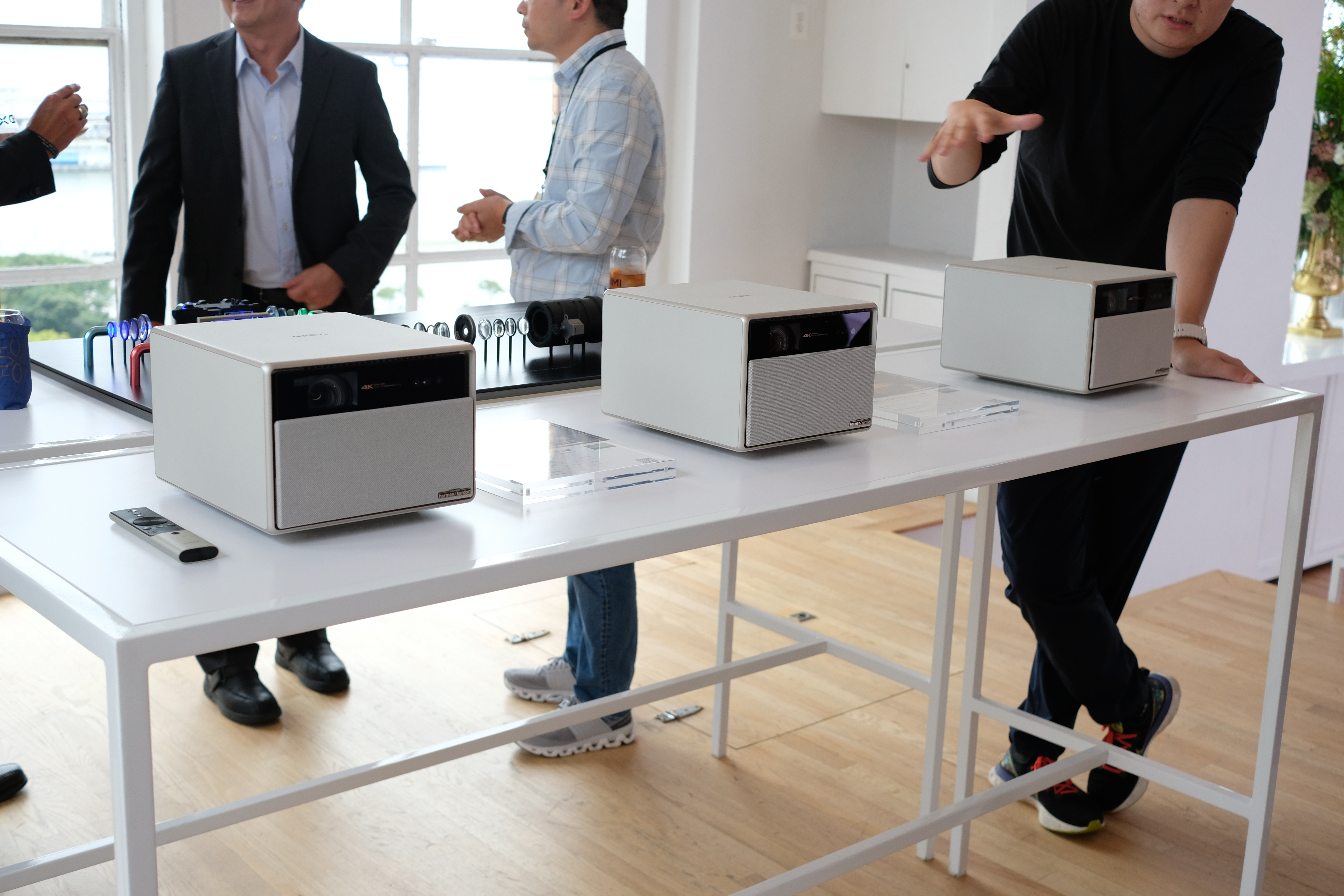 Beyond the easy setup, one of the biggest wins comes in the Horizon Ultra's design. If you look at most home projectors, they share a similar aesthetic – specifically, something that looks like it belongs in an office and not in your home. I'm very happy to see that the Horizon Ultra makes a much warmer choice in not only looks but also materials. It's amazing how the off-white color warms up the room and feel cozy and part of the home. The dual laser display technology does offer accurate color reproduction and adequate brightness, even in my all-white living room without shades on the windows. While it may not be as bright as the TV that's mounted on the wall during the day – I typically don't use it except in the evenings.
What About Gaming
If you're anything like me, gaming is a big enough part of your life that you would want to take advantage of the large screen size a projector affords you for gaming, if it can keep up. Historically, projectors struggled with the refresh rates needed for gaming, and at 60Hz, I had my doubts that the XGIMI Horizon Ultra could keep up. After a few hours of grinding on Street Fighter 6, Melty Blood, and Need For Speed (all PlayStation 5), I was satisfied with the onscreen result. If you're a gamer or if being gaming capable is a must, the Horizon Ultra is able to keep up with today's latest high-end consoles.
Not Perfect
While there are plenty of pros with the Horizon Ultra, there are some pain points that need to be addressed. At the time of this writing, the menus are a bit sticky – press an arrow key on the remote to cycle through a menu, and you might find it stuck for a second before it suddenly jumps multiple options down/across. While it might not happen during every session, it's frequent enough that when we asked an XGIMI rep, they did acknowledge this issue and plan an over-the-air update that aims to resolve this.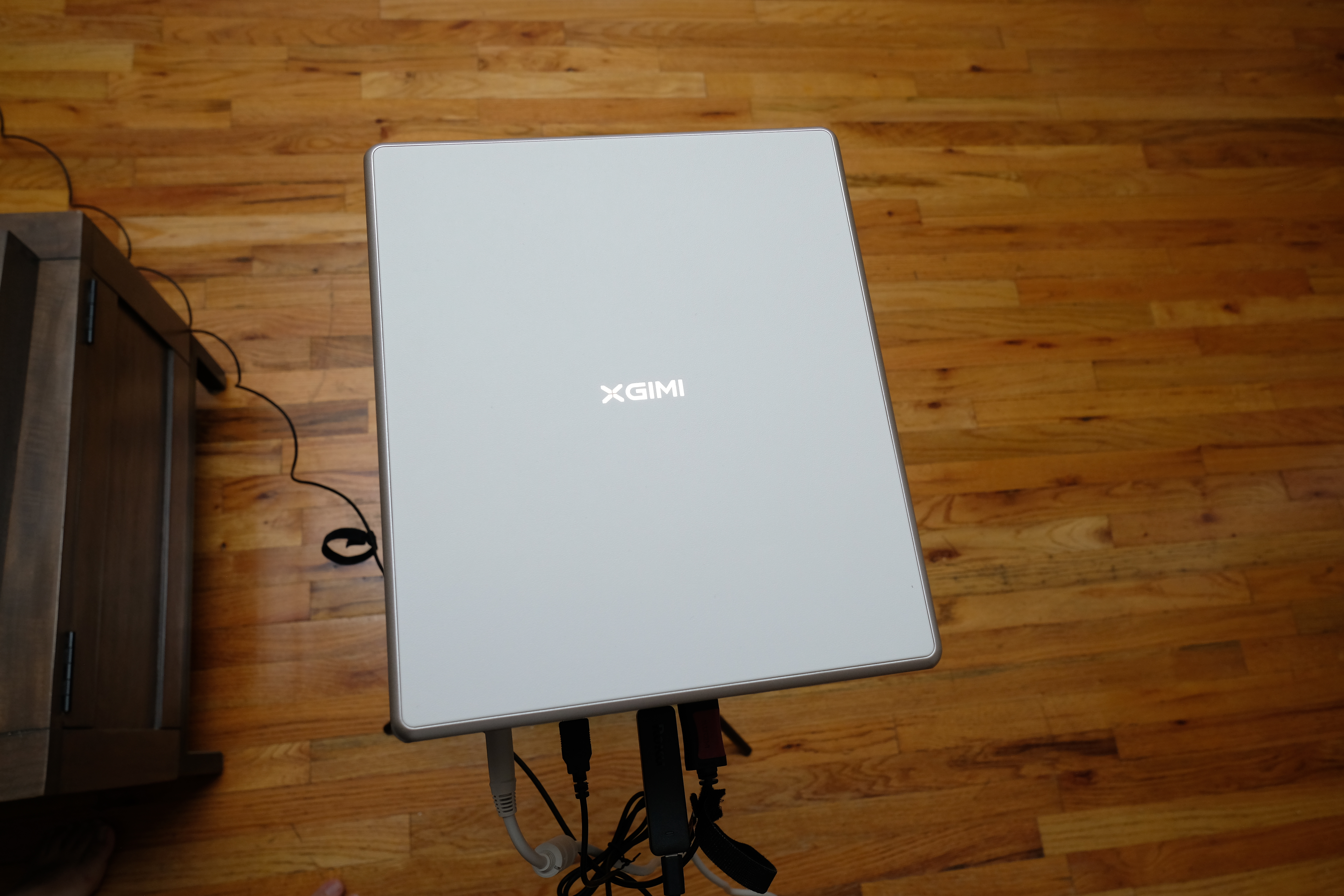 Are you a Netflix subscriber? I hate to break it to you, but there's no easy way to get Netflix working on the projector natively. Unfortunately, this seems to be an ongoing beef with the streaming service and projector makers. There are several workaround options, and the projector even comes with a card teaching users how to mirror Netflix to the projector, but I've found the most reliable option to be a separate box via the HDMI-in (in my case, my PlayStation 5). The mirroring app that's required to make this workaround work is unreliable at best and completely unusable at worst. If you must have Netflix on your projector, don't get rid of your streaming stick or box.
Wrapping Up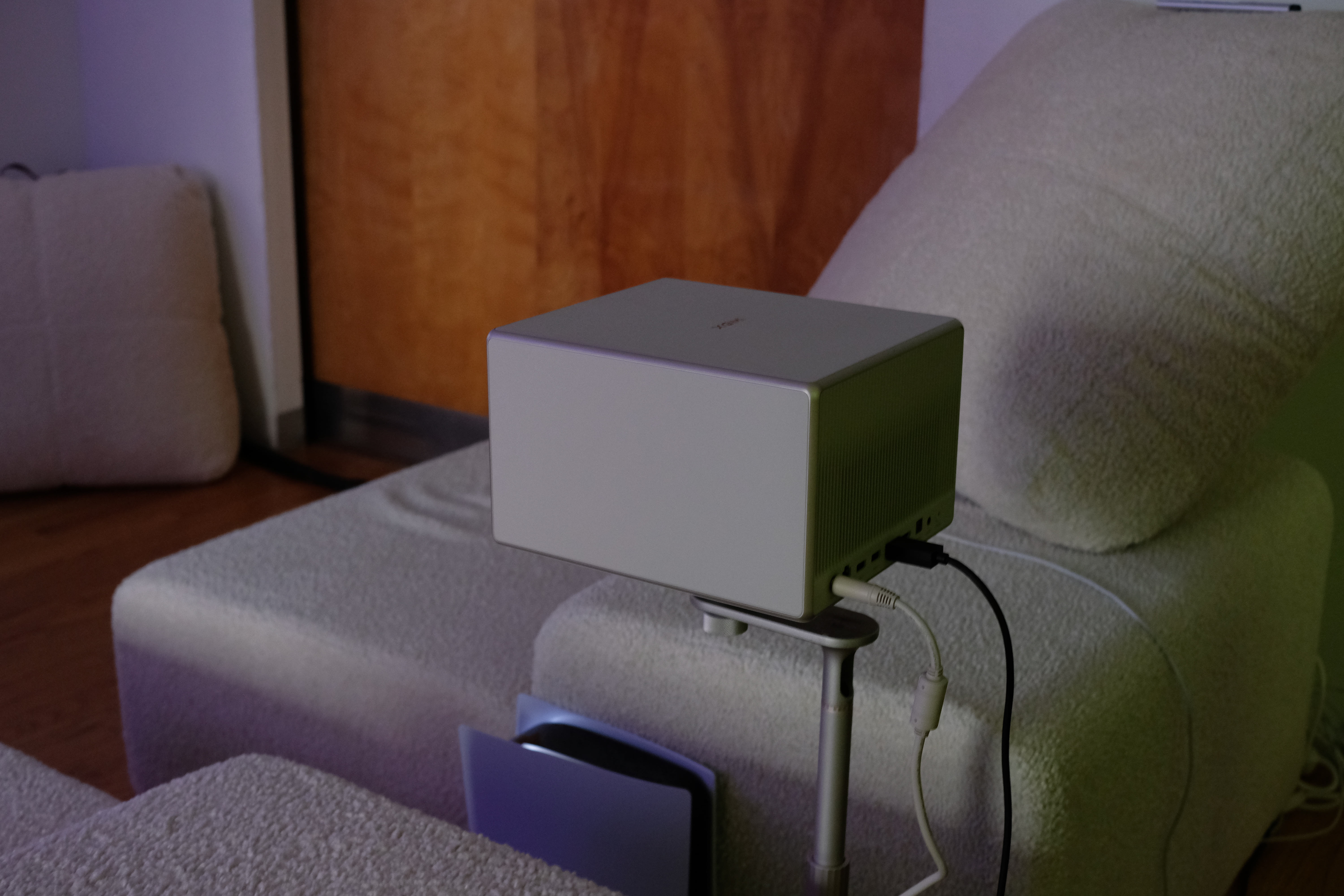 I've been on the fence about purchasing a projector as a TV replacement. While the idea of a movie theater experience at home is compelling, it's also very cost-prohibitive. The XGIMI Horizon Ultra is not shy about going head-to-head with Sony's 4K home projector – a $6000 affair that's nearly double its size. If you're looking for a short-throw, laser projector, then the costs only go further up. At $1700 this projector offers many of the same features as higher-end TVs while offering double the screen size and the flexibility to resize as your needs change. Additionally, you don't necessarily need a flat white wall (like I have) to get a decent image, nor do you need a screen either – thanks to its ISA 3.0 technology, the project can color correct on colored walls (though there is a dip in brightness). It's hard to imagine that his all fits in a 10.4 x 8.8 x 6.7-inch box that weighs just under 11 ½ pounds.
If you're looking to elevate your movie night game, be sure to check out the XGIMI Horizon Ultra. You can pick one up today for $1699 at Amazon or directly from XGIMI.