There are many choices when it comes to wall chargers, but not all of them are created equal. You should be using a GaN-style charger these days and one that has USB-C PD ports and multiple ports for charging several devices at once. This can save you from having to carry a bunch of chargers when you go on a trip and is quite convenient since you only need to use one outlet. So what's a good choice for this? There are actually a few, but one of them is the Monoprice 100W GaN USB Wall Charger, which features two USB-C ports and two USB-A ports.
The Monoprice GaN wall charger looks like a slim, square box that just plugs into your wall outlet. It's matte white in color, but other than that, there's nothing particularly special looking about it. On the front, you get two USB-C ports on top and two USB-A ports on the bottom.
These four ports output wattage differently depending on what is plugged in at the same time. Individually, it would be USB?C1: 100W, USB?C2: 18W, USB?A1: 12W, and USB?A2: 12W. If you plug something into all the ports, then it would be USB?C1+USB?C2: 65W+18W and USB?A1+USB?A2: 17W for a total of 100W.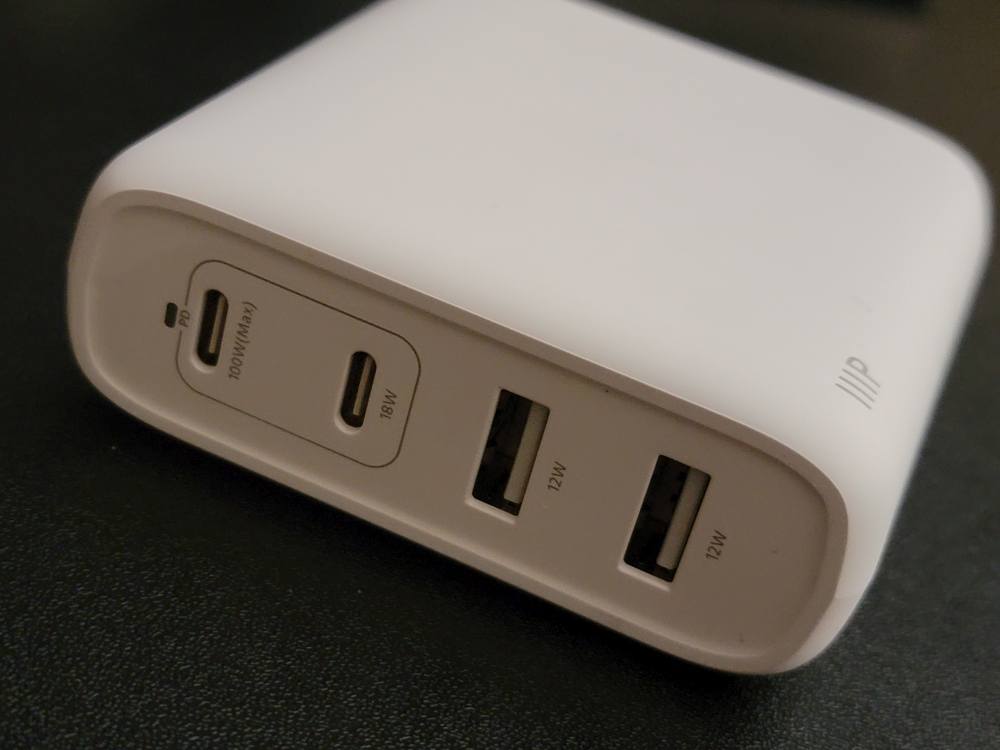 These numbers are pretty good as you can charge a laptop, a phone, and two other devices at once without having to worry about not having enough power for fast charging. This is definitely great for travel where all you'll need is this and some extra cables to charge all your devices.
So with that said, the Monoprice 100W GaN USB Wall Charger is a pretty good buy for anyone who wants a charger that can charge it all. Charge your laptop, tablet, phone, and more with just one charger. The price isn't bad either at just $40, especially for a 100W charger.