Its been a couple years but the true sucessors to the WF-1000XM4s are finally here with the WF-1000XM5s. Besides a shiny new coat of paint and a smaller size they bring them a bevy of upgraded features.
There is improvement to its ANC, a Intergrated Processor V2 for better bluetooth stablility, Dynamic Driver X for finer sound, and better battery.
We have been rocking out with them for awhile now and they are quite an adjustment over its predecessor. Look forward to our review coming soon.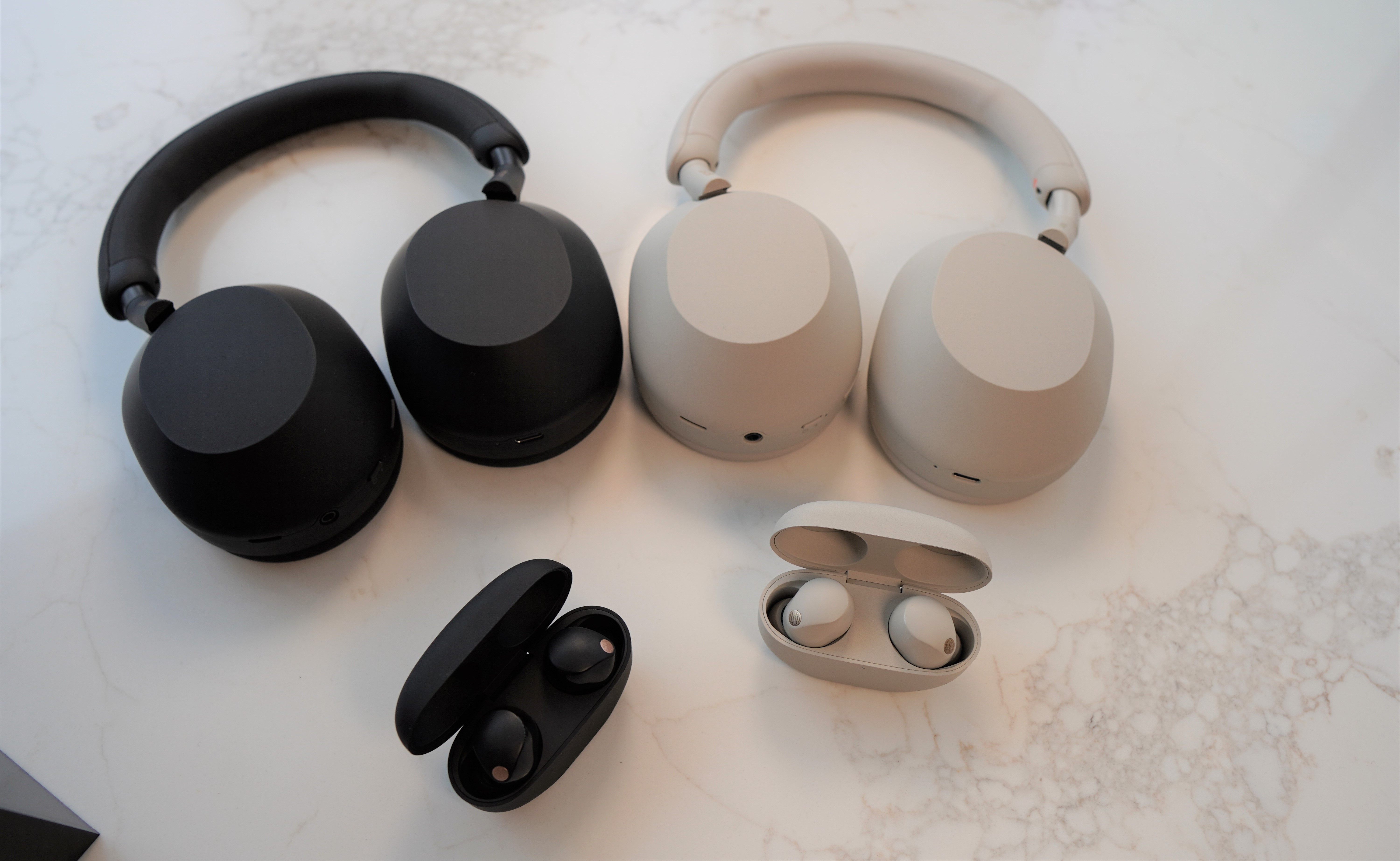 Sony WF-1000XM5 are available for pre-order at various retailers such as Amazon or Sony's own website.
Scroll down to learn more and also about Sony is working with Miguel and even doing a sweepstakes for a show in Los Angeles or winning your own pair of WF-1000XM5s.
---
Sony Electronics Unveils WF-1000XM5 Truly Wireless Earbuds "For The Music", The Best Noise-Canceling Earbuds
With next-level immersive sound, the WF-1000XM5 earbuds deliver rich, detailed audio that brings your music to life.

SAN DIEGO, CA — July 24, 2023 — Sony Electronics Inc. today announced the WF-1000XM5 earbuds – the latest truly wireless model of the award-winning 1000X series. This new model offers the Best Noise Canceling by reducing external noise over a wide bandwidth, from low to high frequencies so you can focus on your music. Following its predecessor, the WF-1000XM4, the WF- 1000XM5 raises industry standards with astonishing sound and Sony's best ever call quality 2, despite a smaller and lighter design.
Partnership with global recording artist Miguel
In line with the WF-1000XM5 earbuds launch, Sony has partnered with global singer, song writer and Sony Music Entertainment artist, Miguel, on storytelling around how the WF-1000XM5 earbuds are "For The Music".
"As a music lover and a music creator, the WF-1000XM5 earbuds really surprised me in terms of bass, clarity, and overall dynamic range. I enjoy the ability to personalize and craft my own sound, and these earbuds deliver an authentic music listening experience," says Miguel. "Plus, the noise canceling gets rid of any unwanted noise."
For The Music
With the launch of this product, Sony has established the brand tagline "For The Music" for its audio products. Under this tagline, Sony is affirming itself as the premier audio brand connecting creators and music lovers. The "For The Music" brand will include audio products, such as headphones, wireless speakers and professional headphones and microphones. Visit forthemusic.electronics.sony.com to learn how Sony audio is "For The Music", aiming to create authentic music experiences and transcend emotion for fans by supporting creator vision over everything.
The "For The Music" platform will host various VIP experiences and sweepstakes promotions to further connect fans to their favorite artists. To kick things off, Sony and Miguel are partnering on a launch event featuring Miguel's upcoming album and the new "For The Music" brand platform. For this event, Sony is hosting a sweepstakes for five lucky winners to attend Miguel's launch party as VIP guests in Los Angeles, August 25-27, 2023. The sweepstakes will launch on July 24, 2023 and end on August 11, 2023. Winners will be notified beginning August 14, 2023. Another sweepstakes promotion will offer monthly prizes for five winners to get the new WF-1000XM5 earbuds and limited edition For The Music merchandise. The sweepstakes begins July 24, 2023 and winners will be chosen monthly starting August 15, 2023.
To enter, visit forthemusic.electronics.sony.com.
Terms and conditions apply.

The Best Noise-Canceling Earbuds
Noise cancellation does not get better than the WF-1000XM5 earbuds. The earbuds reduce external noise over a wide bandwidth, from low to high frequencies. It contains two proprietary processors that cancel more external noise than ever, a new high-performance driver unit Dynamic Driver X, dual feedback microphones, and innovative Noise-Isolation Earbud Tips for a more stable fit. Real- time noise canceling processing can be optimized to provide the best performance for your environment so you will hear a big difference especially in airplanes, trains, or buses.
The WF-1000XM5 now feature three microphones on each earbud, including dual feedback mics, which improve low-frequency cancellation performance. Newly developed by Sony, the Integrated Processor V2 unlocks the potential of the HD Noise Canceling Processor QN2e. The unique combination of technology controls the six microphones, across both ears, to deliver unprecedented noise-canceling quality that can be adapted to provide the best performance for your environment.
The specially designed driver unit Dynamic Driver X, able to reproduce lower frequencies, has been improved using a dome-edge separation structure that combines different materials, allowing for a more accurate generation of cancellation waves in lower frequencies.

Expertly engineered for astonishing sound quality
Thanks to the specially designed Dynamic Driver X, the WF-1000XM5 lets you experience rich and more detailed vocals. The diaphragm structure combines several different materials for the dome and the edge, achieving low distortion and a clear sound quality.
By combining Sony's newly developed Noise-Canceling Processor QN2e and Integrated Processor V2, the WF-1000XM5 incorporates precision 24-bit audio processing and high-performance analogue amplification. The result is low distortion and crystal-clear audio reproduction.
The WF-1000XM5 supports High-Resolution Audio Wireless, thanks to LDAC, over industry-adopted audio coding technology. LDAC transmits approximately three times more data than conventional Bluetooth audio for exceptional High-Resolution Audio quality that is closer than ever to studio recording.
Using Edge-AI, DSEE Extreme upscales compressed digital music files in real-time, including those from popular streaming services.3 4 It dynamically recognizes each song's instrumentation, musical genre, and individual elements, and restores high-range sound lost in compression.
Head tracking ensures a realistic and compelling listening experience by automatically adjusting sound fields to compensate for your head movement. Sounds are precisely aligned with your smartphone screen, even as you move, to completely involve you in your viewing by connecting to compatible smartphones/service.

Sony's best ever call quality
Mute the outside world with Precise Voice Pickup Technology and advanced audio signal processing. The person on the other end of the call will hear your voice clearly, even when you are in noisy situations.6 The WF-1000XM5's noise reduction algorithm was developed with AI machine learning using more than 500 million voice samples to suppress ambient noise, increase accuracy, and extract your voice clearly in various environments.
Bone conduction sensors pick up the vibration of your voice directly from your skull bones, helping to isolate your speech from ambient sounds and background noise, for clear calls even in loud environments. An AI-based noise-reduction algorithm based on Deep Neutral Network (DNN) processing and bone conduction sensors allows your voice to come through clear and natural even in a noisy environment. The WF-1000XM5 also has a wind noise-reduction structure and a mesh wrap in the microphone that will minimize noise during calls so you can be heard clearly in windy conditions.

Comfortable and beautifully designed
The WF-1000XM5 earbuds feature an improved, glossy texture and more luxurious feel that fit comfortably in your ears while keeping out external sounds. By downsizing the earbud body and optimizing the placement of the components, the earbud is now approximately 25% smaller and 20% lighter than the WF-1000XM4. The size of the charging case has also been reduced, so it will fit even more sleekly in your pocket.
Noise-Isolation Earbud Tips feature a unique polyurethane foam material which reduces noise in the high-frequency range. Soft and elastic, they maximize the contact area between the earbud tip and the ear canal, insulating your sound and reducing noise. It also improves adhesion to the ear canal for a more secure, stable fit.
The WF-1000XM5 earbuds feature a shape with an ergonomic design for a more stable fit that was designed by utilizing extensive ear-shape data collated since introducing the world's first in-ear earbuds in 1982. Sony's continuous evaluation of different ear shapes and sensitivities has helped design an ideal earbud shape, secure and comfortable for almost everybody.
Seamless listening experience
The WF-1000XM5 also features Auto Play delivering music and audio notifications when you need them. Music plays at your preferred time, such as when you're putting your earbuds on or starting to walk for a break, uplifting your mood effortlessly. Audio notification reminds you of all your important events, so your phone can stay safely in your pocket. Link with Spotify, Endel and Apple Music, and get your favorite music and relaxing soundscapes.4 In line with the WF-1000XM5, the WH-1000XM5 now also supports Auto Play. The Auto Play app is in beta phase, meaning its features and benefits are subject to change and improvement.

If you're looking for new entertainment options beyond music and movies, the WF-1000XM5 uses new sensors and spatial sound technology to deliver immersive sound for Augmented Reality games like "Ingress" from Niantic.10 11 When playing "Ingress" with the WF-1000XM5, sensor and spatial sound technologies deliver a new experience: using head tracking, the sound is conveyed from different directions to line up perfectly with the action on the screen.

The WF-1000XM5 also presents Sony's popular features like Adaptive Sound Control and Speak-to- Chat as well as Multipoint Connect that lets you pair two Bluetooth devices simultaneously. These earbuds utilize a powerful new Integrated Processor V2, which transmits a Bluetooth signal simultaneously to and from both ears, so you can enjoy a stable sound. And to add to the list, in just one tap, the WF-1000XM5 enables quick, effortless Bluetooth pairing with your Android devices13.
Get hands-free help by saying "Ok Google" or "Alexa" to activate your preferred voice assistant. Then, listen to music, connect with friends, get notifications, set reminders, and more. You can even control the features of your earbuds, like noise cancellation with your voice.

Enjoy up to 8 hours of charge on your earbuds and use the case, which has up to 16 hours of charging capability, for up to 24 hours16 of use and listening every time you leave the house.16 And, for your convenience, a 3-minute quick charge will give you up to 60 minutes of play. Qi technology (charger sold sep.) offers easy wireless charging. You can even use a smartphone with Qi technology and battery share function18, like the latest Xperia models, to charge your earbuds in their charging case. The earbuds are also water-resistant with an IPX419 rating, so splashes and sweat won't stop you from moving to the music.

Made with the Environment in Mind
WF-1000XM5 uses recycled plastic materials, and adopts Sony's proprietary paper Original Blended Material for the packaging. Original Blended Material is a paper material made from bamboo, sugarcane fibers, and post-consumer recycled paper.

Pricing and availability

The WF-1000XM5 are available in black and silver for $299.99 MSRP USD and available for pre-order today at Sony.com and other authorized dealers including Best Buy and Amazon.

For US pre-orders, please visit: https://electronics.sony.com/audio/headphones/truly-wireless- earbuds/p/wf1000xm5