To celebrate the launch of Diablo® IV, a new collaboration with Jackson and the new Limited Edition Jackson Diablo IV Kelly guitar conceived by Jackson's Principal Master Builder Pasquale Campolattano was announced earlier today. This hand-crafted, limited-edition model is designed for the ultimate action role-playing game fan. The Jackson Diablo IV Kelly reimagines the famous Kelly shape played by music legends such as: Jeff Loomis, Marty Friedman, Brandon Ellis, and emerging artists alike.
"We were thrilled when Blizzard approached us with this project, as it presented an incredible opportunity to collaborate with the talented artists and creators behind one of the most beloved game series of all time. Jackson and Diablo are a perfect match, and we knew we could bring something truly special to life," said Pasquale Campolattano, Principal Master Builder – Jackson. "Our goal was to create a design that resonated with fans and the game creators themselves. We immersed ourselves in the game's lore and breathtaking artwork, and it became clear that Lilith and the symbolic imagery had to take center stage. The dark, bold design exudes pure metal and pays homage to the game's essence. Incorporating the "IV" and "Rune" symbols as fretboard inlays added an extra touch of menace, resulting in a commanding guitar for any stage."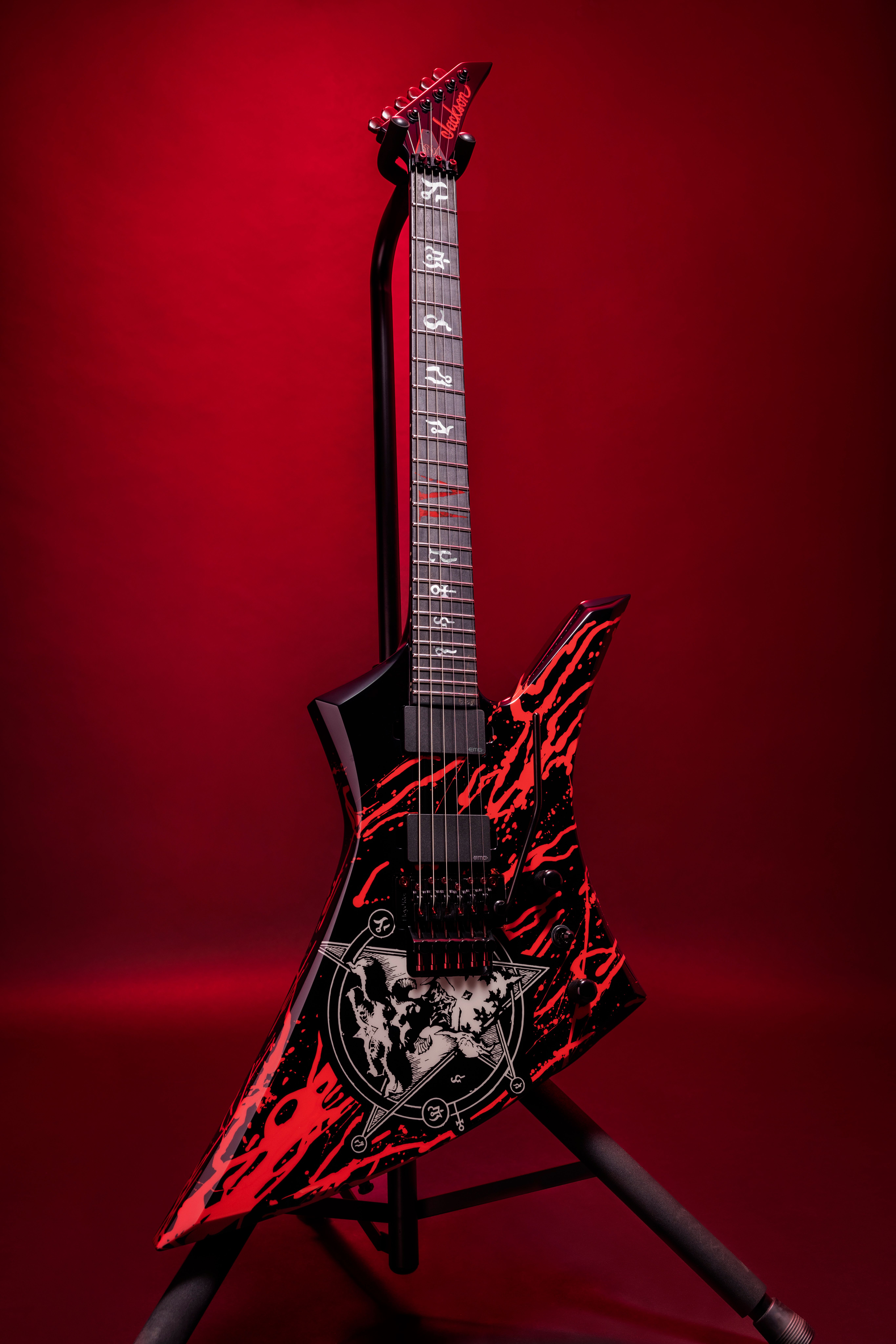 "When I look at the Jackson Diablo IV Kelly, I see a guitar that represents Diablo. Thick, heavy, and explicitly designed to both conjure darkness and crush enemies. It symbolizes the beauty in destruction," said Joseph Piepiora, Associate Game Director of Diablo IV.
"Demons and Hell are a pretty good crossroads for guitars and what we do with Diablo," said John Mueller, Art Director for Diablo IV. "Our symbol of Lilith showcased on the Diablo IV Kelly, with the red splashes and runic symbols, alongside the thoughtful and thematic choices around materials used to build this guitar, are an incredible representation of the world we have crafted for Diablo IV."
DETAILS
Inspiration: Campolattano took inspiration from his favorite characters in-game and made it his mission to incorporate the history, lore, and symbols of Diablo that players know and love and fuse them into this guitar.
Design Highlights: The design includes a hand-painted "Lilithgram" Demon Blood Drip finish, as well as custom "IV" and "Rune" fingerboard inlays. Other key features include:
Genuine Mahogany body
Quartersawn Maple neck through design
Hand shaped custom heel contour
Ebony fingerboard with "IV" and "Rune" custom inlays
Stainless Steel Frets
Hand painted "Lilithgram" Demon Blood Drip finish
Luminlay glow-in-the-dark side markers
Dual Active EMG Humbucker Pickups
G&G Custom Diablo Case included
Availability: Limited quantities will be available in US, EMEA, and APAC regions. Contact your Jackson Custom Shop Dealer to purchase.
For more on Diablo IV, Jackson and gaming, follow me on Twitter and other social media here