Late last year I had the opportunity to check out Logitech's for Mac mouse line up – the Lift for Mac and MX Master 3S for Mac – to see how they performed and became a part of my workflow. When I got asked to check out the K380 and MX Keys Mini I couldn't pass up the opportunity. I spend a lot of my day typing and have used everything from my MacBook Pro's keyboard to a custom-built mechanical keyboard, each giving you a different typing experience. With the two Logitech keyboards, we put them through their paces – using them for composing emails to even some light emulation gaming – here's how they stack up.
Gear Tested & Quick Specs
Logitech K380 for Mac
Connection Type: Bluetooth Classic (3.0)
Wireless range: 10 m (33ft)
Customization software: Logi Options+ for Mac (OS X 10.8 or later)
Battery: 2 x AAA
Battery: 24 months
Special Keys: Hotkeys (Brightness up/down, Mission control, Launchpad (requires software download, Media keys and Eject), Easy-Switch™ (allows you to quickly switch between paired devices)
Logitech MX Keys Mini for Mac
Connect via the Bluetooth Low Energy technology
Easy-switch keys to connect up to three devices and easily switch between them
10 meters wireless range
Mac Media & Special Function keys (Emoji, Dictation, and Mic Mute/Unmute)
Hand proximity sensors that turn the backlighting on
Ambient light sensors that adjust backlighting brightness
USB-C rechargeable. Full charge lasts 10 days – or 5 months with backlighting off 7Battery life may vary based on user and computing conditions.
On/Off power switch
On/Off power switch
A budget option to keep you productive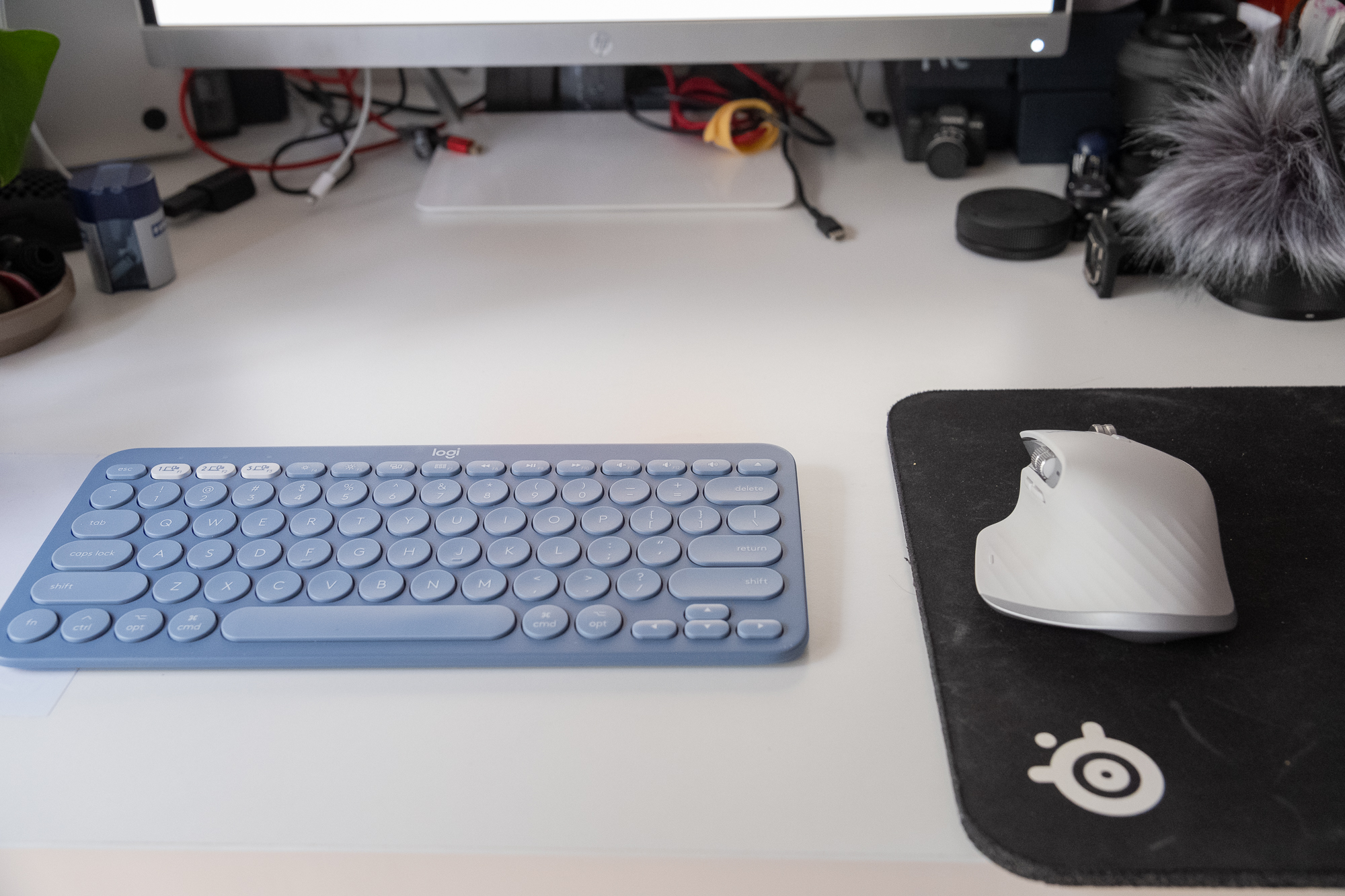 There are many budget keyboard options out there – from no-frills generic keyboards to other Logitech-made keyboards, Mac users who've considered these options in the past may find themselves wanting for many of the specialized function keys that are available on their OEM keyboards. Whether you're using an Apple laptop or desktop, there are certain keys that we've been accustomed to using on a regular basis. That's why the Logitech K380 for Mac works as a good entryway to the world of third-party keyboards without sacrificing any of the functions that we've come to expect with our Apple Keyboard layouts.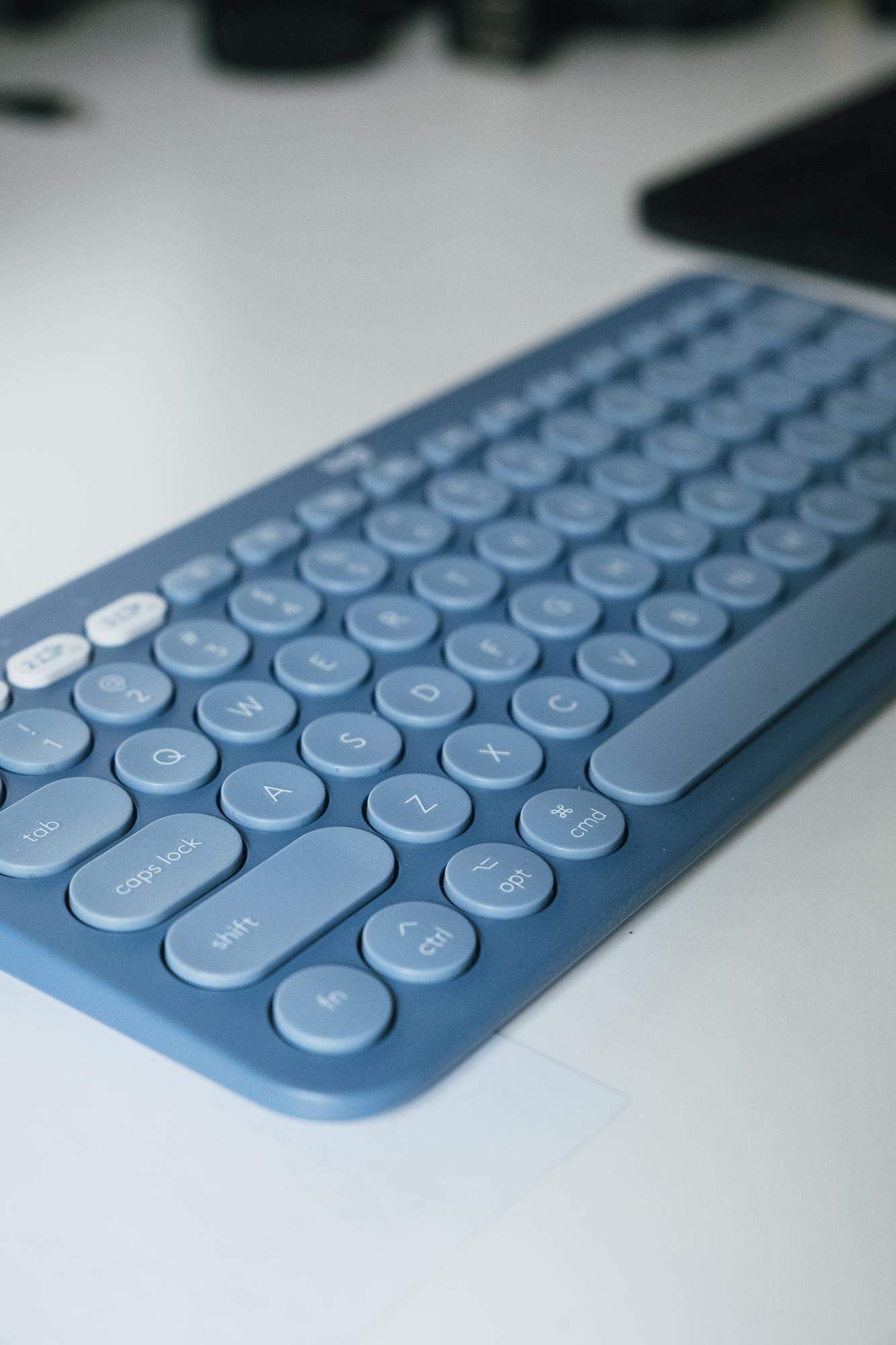 The K380 is a decent membrane keyboard that's not too squishy and provides a throw distance like the stock keyboard in your MacBook. The keys are responsive but require a deeper press over time and the chiclet-styled, round keys seemed a bit cramped at first. Many of my gripes, however, are nullified by the shear compactness of the keyboard. While I found myself more comfortable using the MX Keys Mini, the K380 was a lot easier to pack into a bag when moving about.
A solid desktop keyboard replacement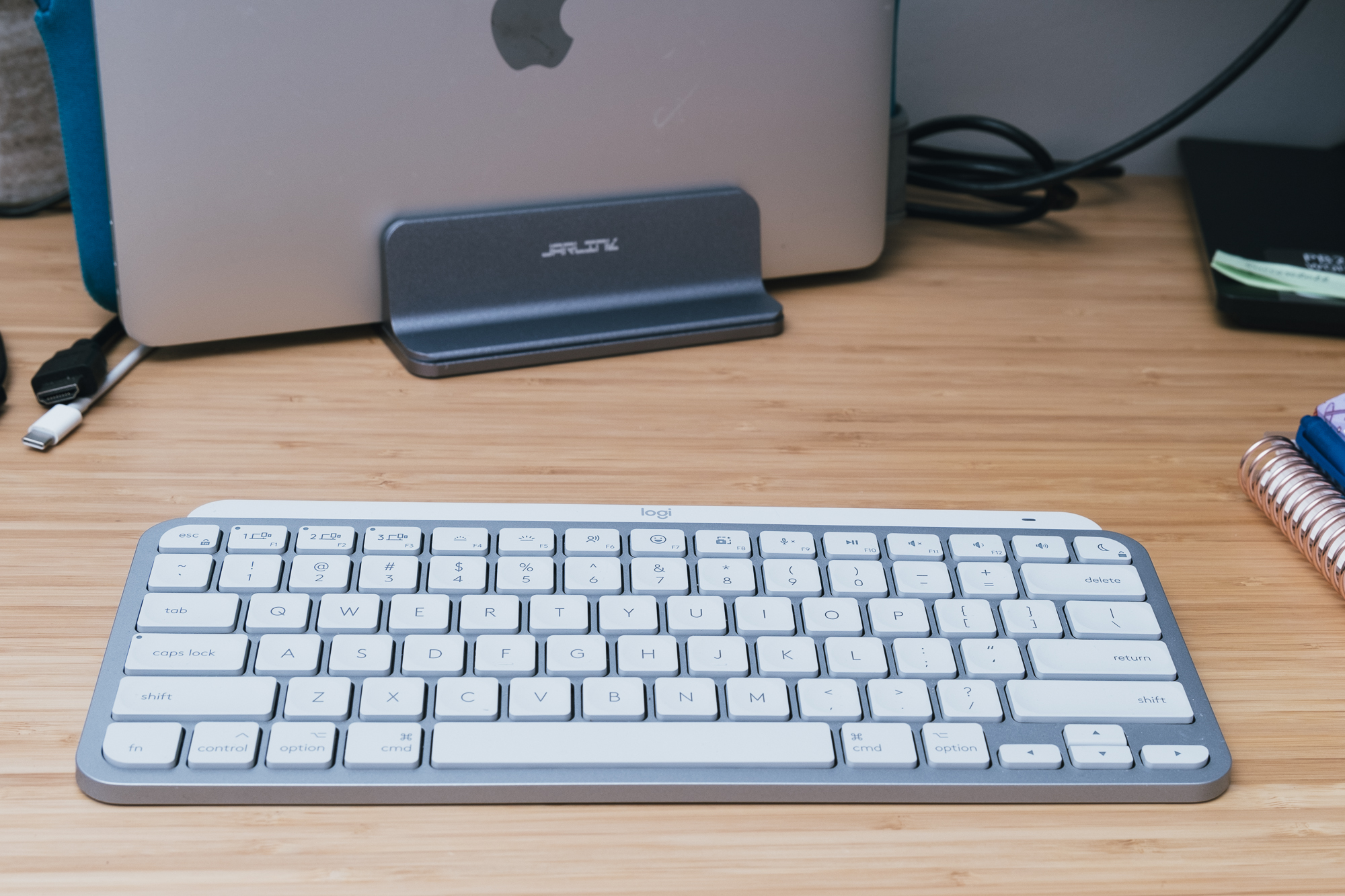 If you have looked up desk setups on YouTube (yes, I'm that weirdo) chances are you have come across the Logitech MX Keys Mini for Mac. Mac have traditionally been ignored in the desktop accessories market but I'm glad that this has changed from the early days when I switched from Windows to Mac (I will not date myself – let us just say it's been a while). The Logitech MX Keys Mini takes all the high gloss, aesthetics from the MX Keys Mini and adds the top row of Mac-specific function buttons to the keyboard. Boasting an impressive battery life (charged using the include USB-C cable) the MX Keys Mini for Mac not only looks stylish but also keeps all the functionality you need at your fingertips plus three added productivity enhancements – a dedicated Dictation Key, an Emoji Key, and Mic mute/unmute key.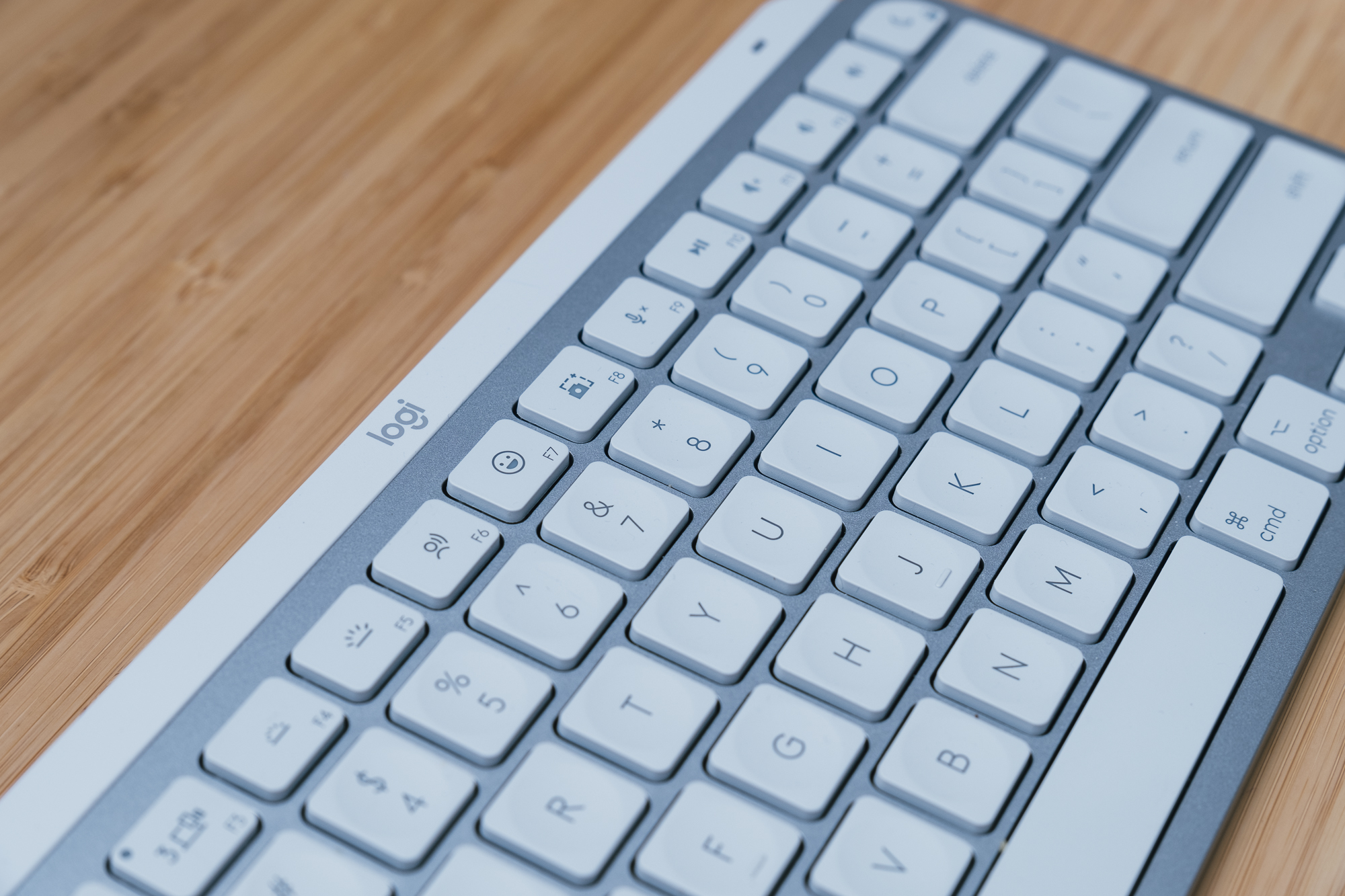 The keyboard layout is more akin to your standard layout keyboard – just ever so slightly more compact without feeling cramped or claustrophobic. The backlighting on the keyboard does reduce overall battery life, but it's nice to have when working in lower lighting. While the MX Keys Mini is not a mechanical switch keyboard, it does have a far more pleasant throw distance and sound when typing than the K380. While it may seem a bit silly, I found myself using the Emoji key far more than I care to admit and found it a lot easier than remembering CTRL+CMD+ Space (which I had to look up to be sure).
Who's this for?
Ultimately, picking up an external keyboard or replacing what Apple includes with their computer comes down to two things: personal preference and productivity needs. Both the K380 and MX Keys Mini can pair up to three devices – so theoretically, that includes your iMac, your MacBook (Pro), and your iPad/iPhone. This makes a lot of sense because with the Apple ecosystem, chances are if you're in for a penny, you're in for a pound and have at least two or three of these devices laying around. Both keyboards make it easy to switch between devices without having to jump through many hoops to do so – a big plus for me and something I can't get with one of my wired mechanical keyboards.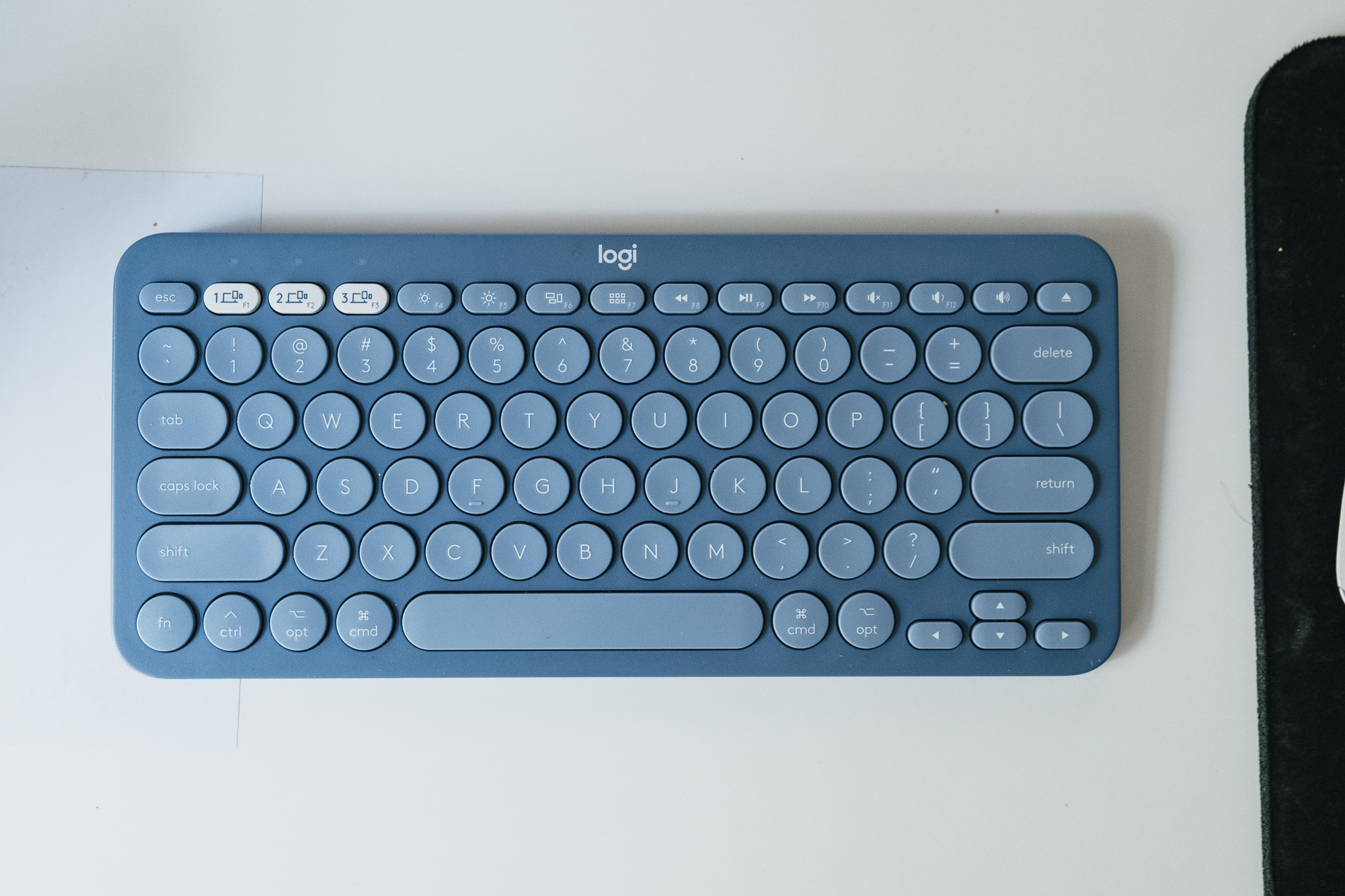 The difference in my testing comes down to what are you trying to accomplish on your Mac. If working from a coffee shop or for far more casual typing needs, the K380 is really all you need in a Bluetooth keyboard specifically for Macs. It provides a solid platform for daily tasks at a very reasonable price. If you consider yourself more of a power user or "creator" then the additional function keys and backlighting on the keyboard make the MX Keys Mini a better choice. Neither will give you that "thocc" of a true mechanical keyboard but thocc alone doesn't make a keyboard good.
You can pick up the Logitech K380 for around $40 (Amazon) and the Logitech MX Keys Mini for about $100 (Amazon).