Have you ever tried to reach that perfect temperature for your meat but sometimes either it is dried out or comes out raw? While there are meat thermometers for that it usually means you need to hover your food constantly and check so often. There is where Meater comes into play.
Style
Meater is a slender 5" probe that comes mostly in a silver colorway with a small portion of the base being black. That area is where you would hold onto it while you are ejecting it into whatever protein you desire. The end of the probe is pointy to help achieve that goal.
Besides the probe, Meater comes with a dock that protects the stick while not in use and charges it as well. The dock itself is made out of bamboo which gives it more of a premium feel than some of the other plastic models out there. It also has a magnetic backing that can be attached to any surface. I have mines on my fridge. The dock also only takes (1) AAA battery. The model have Is "Honey" but there is also brown sugar and cherry.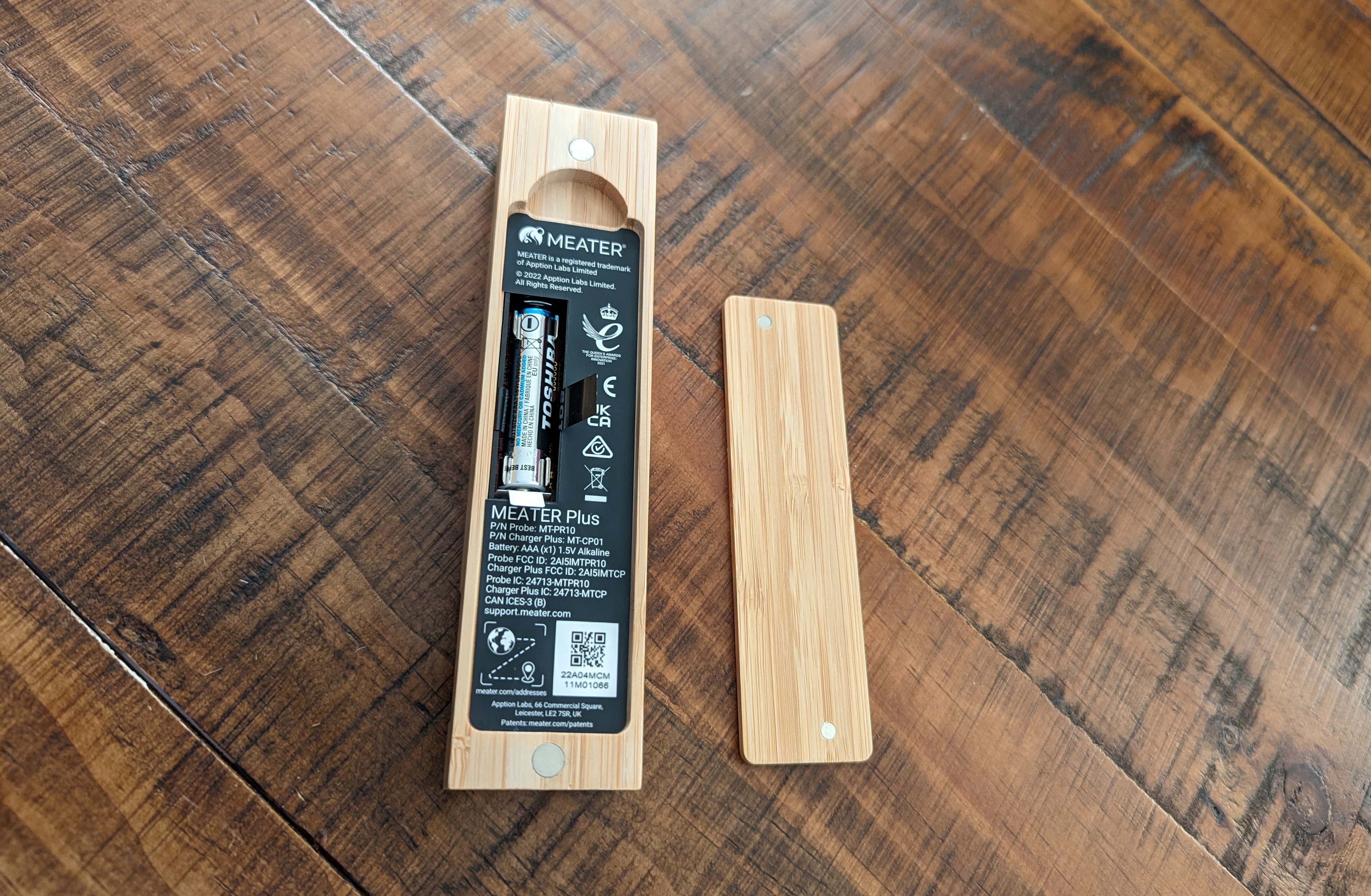 The model provided to me is also their MEATER Plus version. The difference between this and the regular MEATER is distance as this has a Bluetooth range of 165ft compared to 33ft on the standard has it uses the dock as a repeater of sorts for range.
Setup
Getting the MEATER working doesn't take much effort. It's a simple unpacking of just pulling out the thermometer, taking the tag off, and doing the same for the dock which is pulling the tab off the battery. Once you do this give your MEATER time to charge before first usage.
When you get your MEATER fully charged you can download the mobile app and sync. Check to make sure there is an update as I would get a prompt soon as I opened the app. After that's done, you can get to cooking with your MEATER.
Usage
I like to cook steaks a great deal and trying to hit that perfect temperature of medium which I always prefer can be a headache at times. That can be contributed to the cut of steak and how high you have the heat. To get some assistance with this you can take the MEATER thermometer and try to slide it into the thickest part of the meat but also making sure you don't go past the indicator line on the actual thermometer. that line is the different between internal/external temps.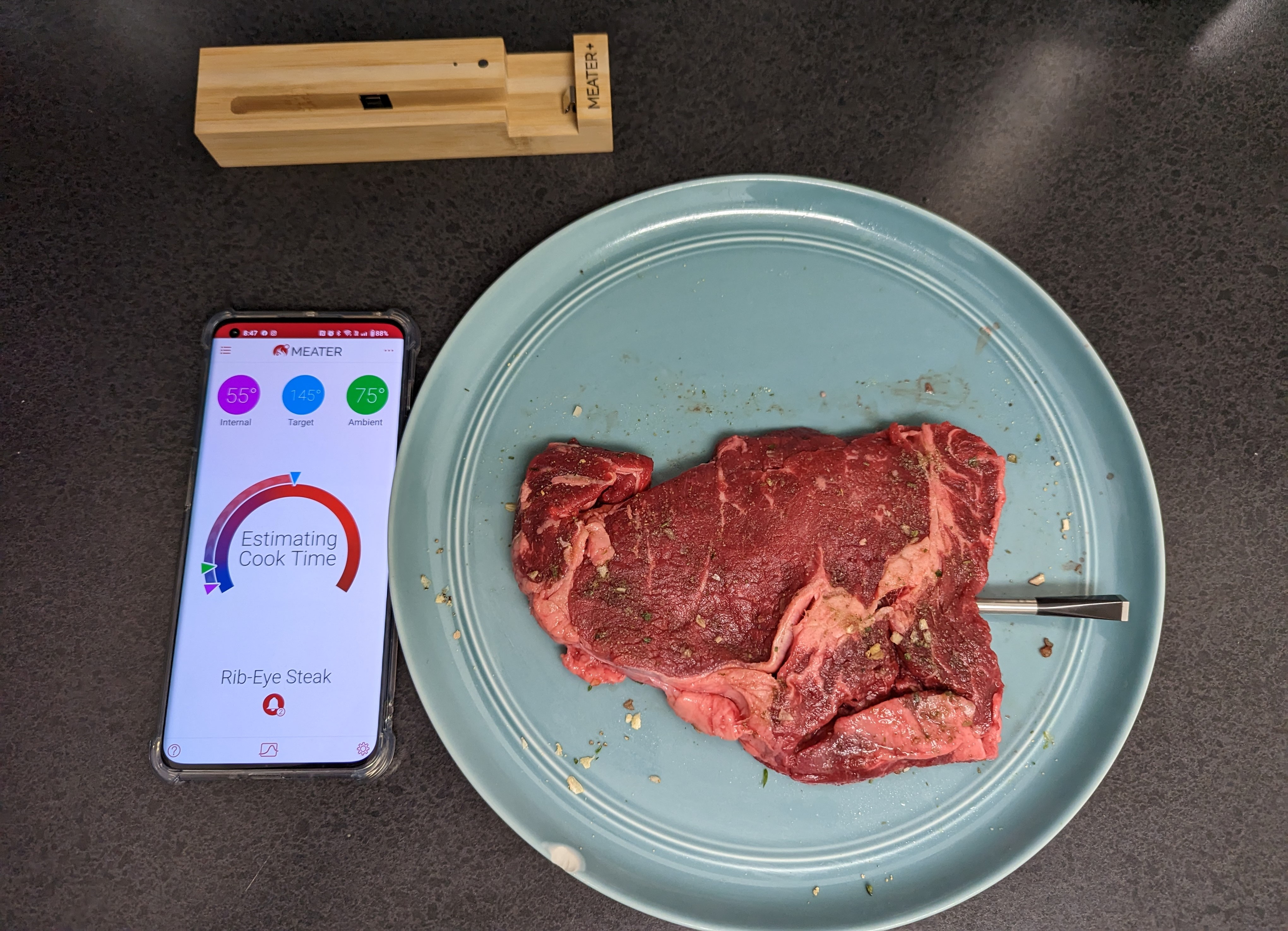 Once that is placed you can go through the app and pick what kind of cut of meat you have and what temp you desire. You don't have to worry about burning the thermometer as it's resistant to heat and that's saying a lot as I have it placed in a cast iron skillet. The thermometer has two sensors which can tell internal (max 212 degrees) and external(527 degrees) temperatures. This helps with making sure your skillet isn't too hot and also gives you update inside your meat. The MEATER also will also take all this and calculate a timer for when your meat should be done.
There is an option to have alerts pop up on your phone when its done and/or give you notifications along the way to achieve your chef goals. The results I got from MEATER were on par with what I expected. I will say though if you are using MEATER try to use it on thicker cuts of meat instead of thinner ones. There were times I used it on thinner steaks and had a hard time getting it in and partially stabbed resulting in some of the thermometer going through and touching the pan itself. I did find this pleasant to use with cuts of chicken drumsticks and thighs even putting it in my air fryer.
The Meater thermometer itself is easy to clean too just wipe it down and set it aside to let it dry and then you can place it back in the charger. Just make you don't put it back in there wet.
Verdict
MEATER is a great cooking assistant If you like to cook various amounts of meats and looking to get that perfect temperature or even trying something new. It helps take the guesswork out of cooking and besides using it in the kitchen like I have it's great for the outdoors for times like grilling as well.
MEATER Plus starts at $99.95 while MEATER goes for $69.95. There is also a MEATER Block which comes with (4) thermometers and utilizes Wi-Fi. I think this will be a great cooking gift for anyone you know.
You can see a quick unboxing of the Meater Plus on Instagram