BenQ's MOBIUZ series of gaming monitors have always been an impressive set of monitors when you consider cost to performance ratio, build quality and audio quality. BenQ has also managed to give you a great gaming monitor at a cost that you can afford and not feel like you don't have a premium gaming monitor. These are just the facts.
This is my second MOBIUZ monitor that I had the pleasure of reviewing but not my first BenQ and me saying is just that I know the quality that BenQ brings and I say that without any bias because good products are just good products. I've been using the BenQ MOBIUZ EX270QM for close to three weeks now and I am quite impressed. The BenQ MOBIUZ EX270QM is one of the best gaming monitors that you can buy and I stand on that but it has one small issue. I'll get to it but carry on with this review.
DESIGN AND LOOK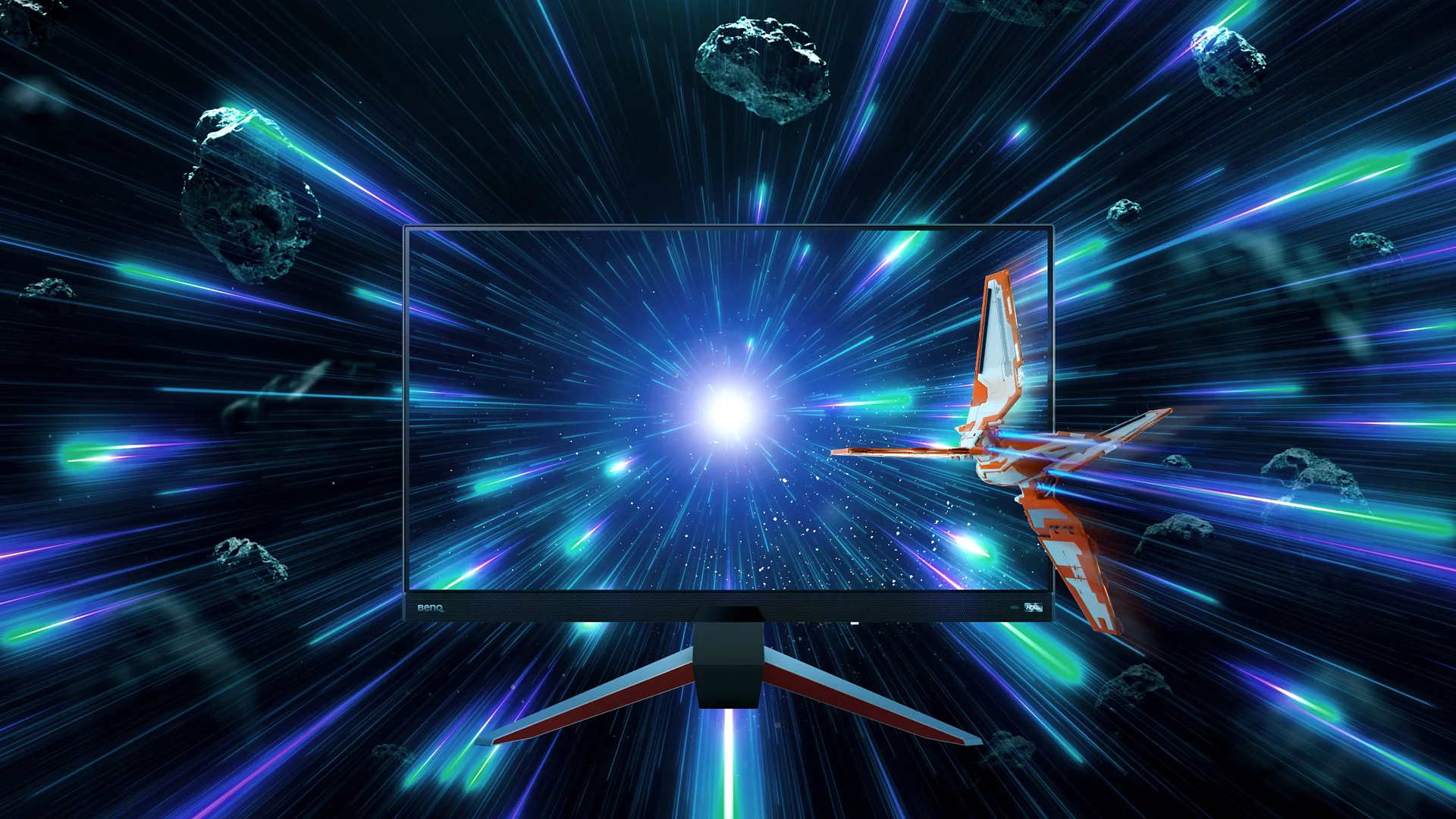 BenQ's MOBIUZ lineup of monitors have a very distinct design, look and colorway. The look of the MOBIUZ monitors is very sleek, compact and carries a very neat and clean aesthetic. Having it sit on your desk gives your setup some flair.
The screen for the most part is bezel-less and once you turn it on you can see how that bezel-less design is a big selling point for this monitor. When you're gaming, screen real estate is super important and you get what seems like so much more for a monitor that's only 27″. Right underneath that screen are the speakers which I'll get into later because they're incredible but once you put it altogether you get a very clean and pretty monitor that looks great visually.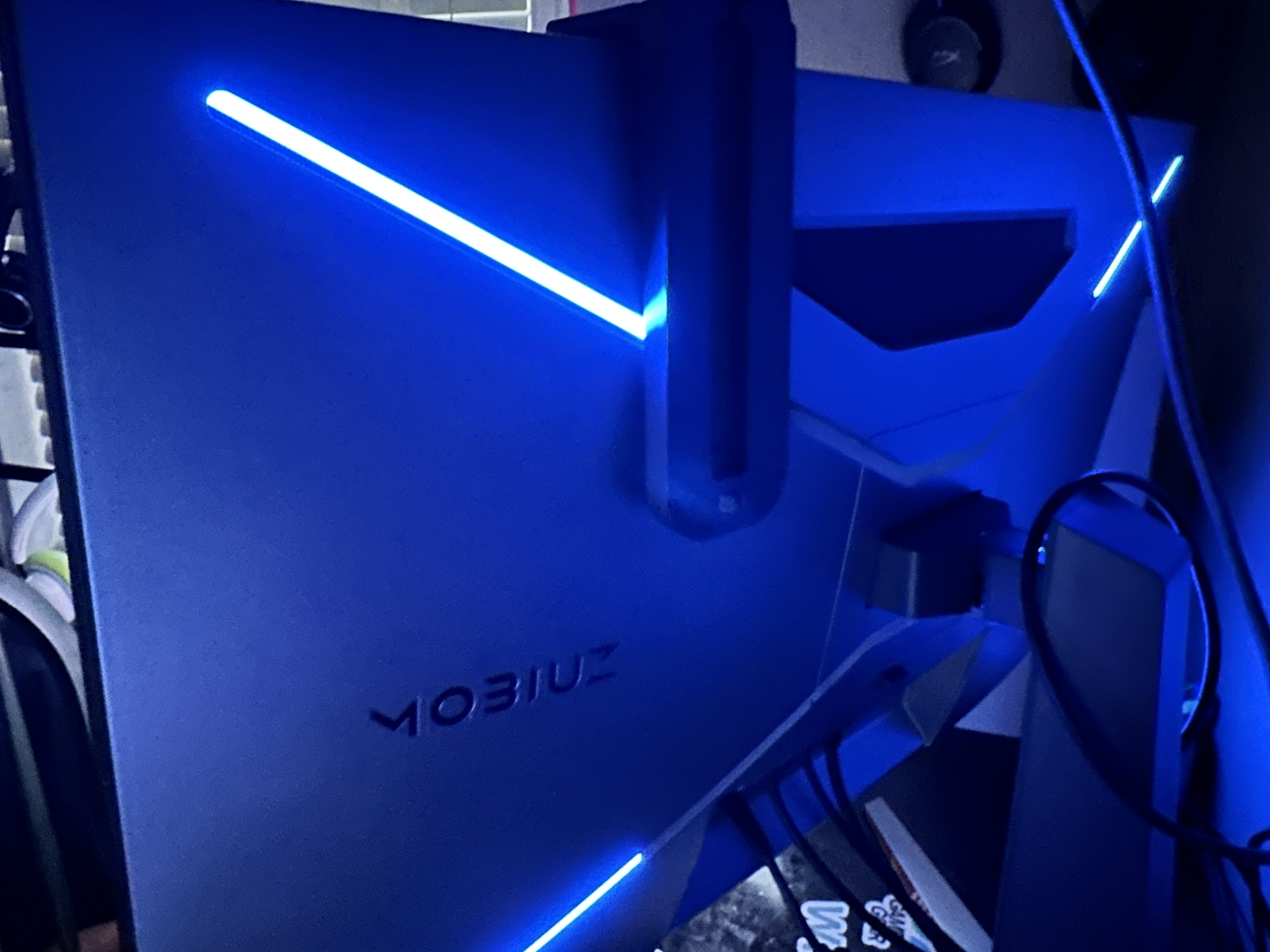 The back of this monitor has LED lighting on the back that is good for flair just awkwardly placed because you can't see it unless your desk is up against a wall and even with that you're only catching the reflection. In a dark room however, seeing that glow from the LED's is cool. You can change the lighting profile from static to breathing to rainbow and once again, it adds cool factor to this monitor.
PORTS , REMOTE CONTROL AND MENU
The BenQ EX270QM has all of the standard ports that you expect on a gaming monitor so nothing really notable here. You get two HDMI 2.1 ports, a 1.4 DisplayPort, and 3.5 MM headphone jack. Unfortunately, if you consider it unfortunate, there's no USB Type-C.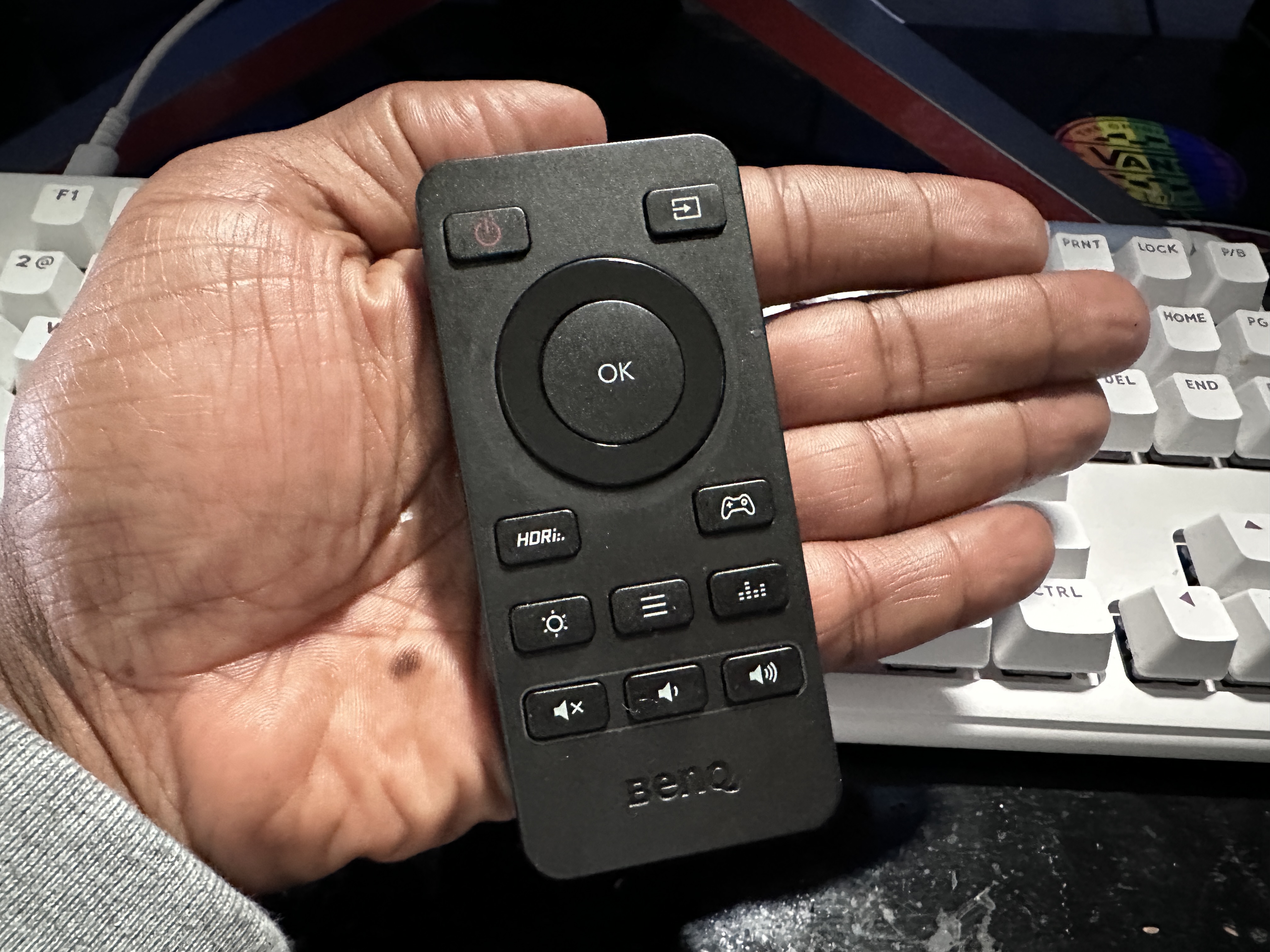 The BenQ Mobiuz EX270QM has a remote control that comes with it and if you opt to not use the menu button on the bottom side of the monitor then this is the way to go. I personally don't like the menu button at all and the remote control is why. It's small and it handles all of the functions you need it to.
The menu itself is standard stuff. You can change all of the things you need and really set up your display for your games and or media. The menu does give you a lot of options. You can switch your display profiles for games, media, in terms of colors, audio, brightness, whatever. This menu just like all menus has a lot of information and I didn't find it complex at all. Just a few minutes of using it and you can easily navigate through it. BenQ hasn't changed their menu style much depending on the monitor and in my personal experience it works. No issues there.
SPECS
The BenQ Mobiuz EX270QM is a spec monster. For a monitor so thin and good looking, BenQ didn't skimp on the insides with what they did with this monitor. It's ideal for gaming. If you've read my reviews before then you know I'm not one to talk about specs all day nor try to explain them in great detail because I'm gamer and only the experience matters when you play your games. There is a group of folks that wanna read the spec sheet. I won't deny them. Here you go.
| | |
| --- | --- |
| Screen Size | 27-inch |
| Panel Type | IPS |
| Backlight Technology | Local Dimming |
| Resolution | 2560×1440 |
| Brightness | 400nits typical, 600nits peak (HDR) |
| Native Contrast | 1000:1 |
| Viewing Angle (L/R) (CR>=10) | 178°/178° |
| Response Times (GtG) | 1 ms |
| Response Times (MPRT) | 1 ms |
| Refresh Rate | 240Hz |
| Color Gamut | 98% P3 |
| HDR | HDR10, VESA DisplayHDR 600 |
| Color Mode | Cinema HDRi, Custom, DisplayHDR, ePaper, FPS, Game HDRi, M-Book, Racing game, RPG, sRGB |
| Aspect Ratio | 16:9 |
| Display Colors | 1.07 billion |
| PPI | 109 |
| Display Screen Coating | Anti-glare |
| Color Temperature | Bluish, Normal, Reddish, User Define |
| Gamma | 1.8 – 2.6 |
| HDCP | 2.2 |
| Built-in Speaker | 2.1 Channel (2Wx2 + 5W Woofer) |
| Audio Settings | FPS, Racing Game, Pop/Live, Cinema, Sport Game |
| Headphone Jack | Yes |
| Tilt | -5? to 15? |
| Swivel | 15?/15? |
| Height Adjustment Stand | 100mm (3.93 inches) |
| VESA Wall Mount | 100 x 100mm |
| Connectivity | DisplayPort v1.4, 2x HMDI v2.1, USB Type-B (upstream), 2x USB 3.0 (downstream) |
| Eye Care | Flicker-free Technology, Low Blue Light, Brightness Intelligence Plus (B.I.+), Color Weakness, Paper, TUV Certificate (Flicker-free, Low Blue Light) |
| Gaming Features | FPS Mode, Motion Blur Reduction, Color Vibrance, Light Tuner, FreeSync Premium Pro, Black eQualizer |
| Dimensions (H x W x D) | 422.1 – 522.1 x 609 x 194mm (16.6 – 20.6 x 24 x 7.6?) |
| Weight | 7.6kg (16.8 lb) |
SOME OF THE BEST SOUNDING SPEAKERS ON A GAMING MONITOR
When you play your games and watch your media. The sound is extremely important and this is typically the area where gaming monitors simply suck. More often than not they sound tinny, far away and having a soundbar or a good set of headphones is an essential tool to just listening to your audio on your monitor.
The BenQ Mobiuz EX270QM does not have a problem with bad audio, AT ALL. The Mobiuz series in my view has the best sounding speakers on the market when it comes to gaming monitors. It's not about being louder than others, it's about balance and clarity. These speakers get perfectly loud and have a fine balance of bass that isn't noisy or choppy
GAMING ON THE EX270QM and HDR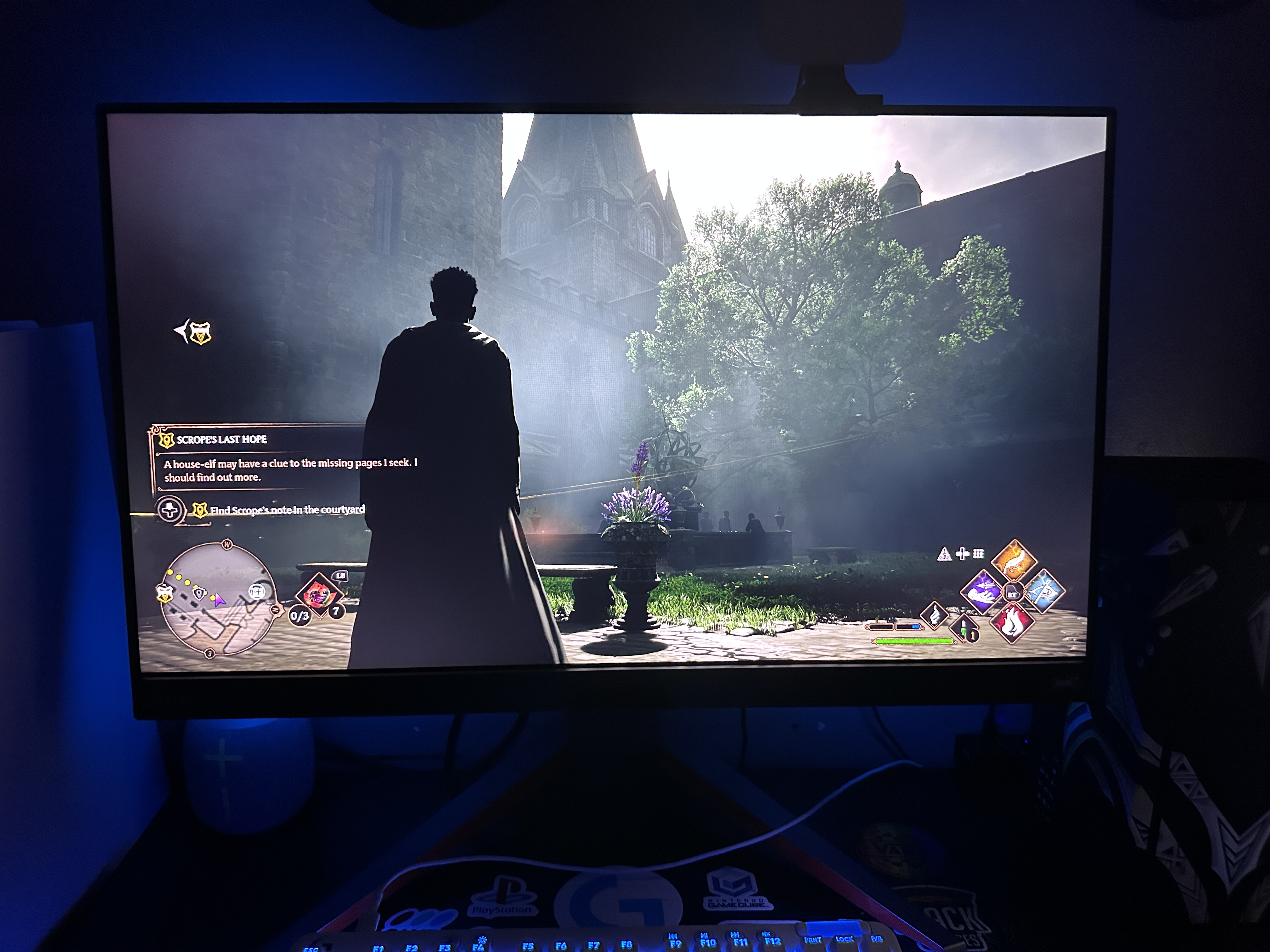 Gaming on the EX270QM was an overall very good experience. It was for me at least. I game in 1080p primarily as a framerate over resolution guy and sometimes gaming in a lower resolution looks like it. On this gaming monitor it makes everything look good. The best part? That 240Hz. Yup. That's it. It's the thing that you'll love this monitor for. If you play FPS games like COD, CS:GO or in my case Destiny 2 and you're into PvP you'll notice the difference immediately from any monitor that you may have used before that didn't have this refresh rate. The refresh rate is actually the reason you might consider buying this monitor in the first place.
If you're playing on a console like an XBOX Series X or a PS5 you'll get the best gameplay at 1440p @120Hz. For PC you have Nvidia G-Sync support as well as AMD FreeSync Premium Pro support so all of the bases are covered.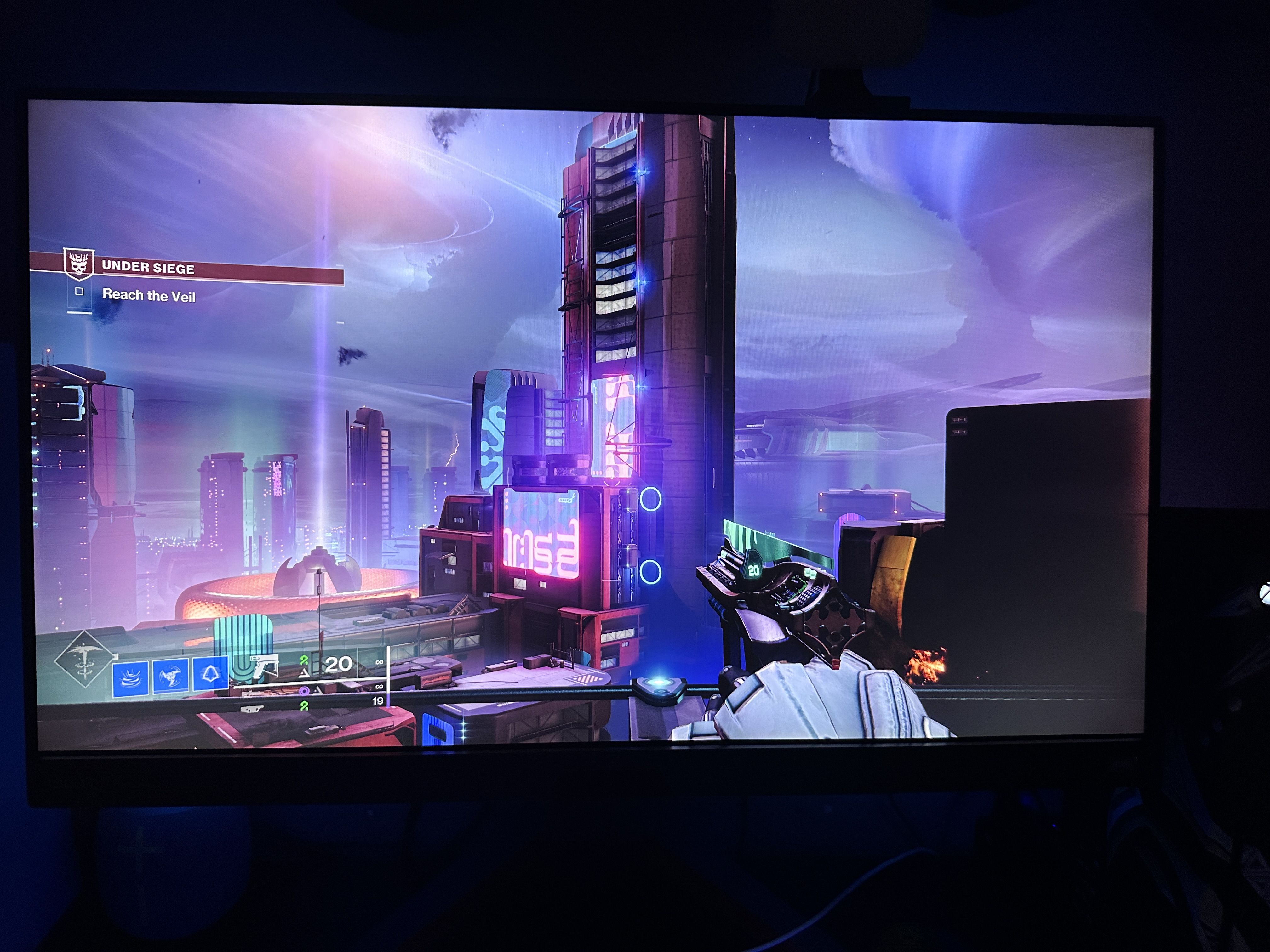 HDR on this monitor isn't bad just not mindblowing depending on what that means to you. It comes with VESA Display HDR600 with peak brightness at 600 nits which is very bright. I've played on gaming monitors with 1000 nits and let me tell you, while this can be a good thing it's very bright and can really do a number on your eyes after awhile so in this case what some may consider a knock against this monitor I see it as being perfect. The BenQ HDRi technology will also enhance the HDR a bit further but overall the HDR on this display is again, just fine. You can switch the color profiles to match what you like so you have options. Games that accentuate color like High on Life or HiFi Rush will really pop. This monitor does a very good job with games that have expansive color palettes and shows off those games very vividly. Gaming with this monitor has been an experience that I have no real complaints about.
THE BENQ EX270QM IS GREAT BUT A LITTLE EXPENSIVE
Even though I have a bit of a personal love for the BenQ Mobiuz series monitors for what they are as a whole. I do pride myself on being honest in my assessment of a gaming monitor no matter the brand and in the case of the EX270QM I'll say this. It's a very good monitor that will give you a great gaming experience but it's going to cost you. At $800 this monitor is not cheap. Not that it should be cheap but it's not really affordable in a sense. If you have a limited budget after you spent a ton of money building a gaming PC even on a mid-level, adding $800 to the cost of your setup is a big hit to your wallet. Same thing goes if you spent over $500 for a console and have to add $800. This is my biggest issue with the EX270QM. You can get it now a little cheaper on Amazon right now for $700 but that ain't exactly cheap either.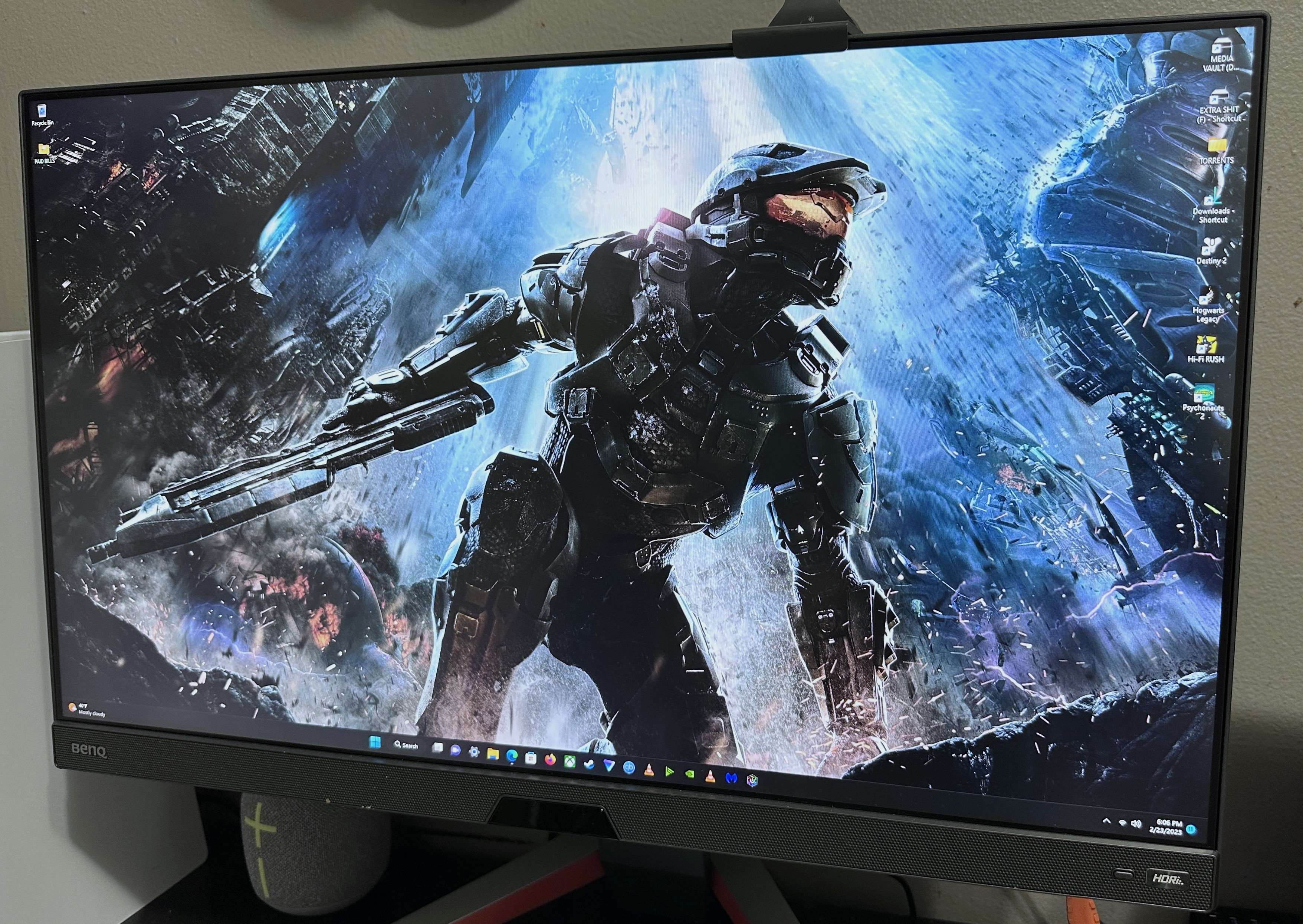 Here's the conundrum. This is a monitor I would absolutely recommend for a number of reasons despite the high price tag. Build quality, bezel-less display, 240Hz refresh rate, 1440p@120hz on console, Nvidia G-SYNC and those speakers. Is this a perfect monitor? No. Are there comparable options? Yes and there's maybe one or two other monitors that I can recommend against this one so that's makes the choices slim. BenQ won't ever really let you down when it comes to their gaming monitors. It only matters what you're willing to spend.