Some years ago, when I moved into my current spot I one of the first soundbars I got to really try out was the Bluesound Pulse. It was massive in size and couldn't even fit on my TV stand at the time. But it had such rich sound it lived up to the hype. It's been a while, but its successor had arrived in the Bluesound Pulse+ last year but didn't have Dolby Atmos out the box. Pulse+ now does support it so felt like the perfect time to dive in.
Style
Build wise the Pulse+ is indistinguishable to the Pulse. It still stretches 42" across, is 5.5" wide and 2.75" tall. It comes in two colors of white or black the latter which Bluesound was nice enough to send over. It has a clean matte black finish with the name on top and insignia on each side of the soundbar. There are no physical buttons on the device other than a touch LED on the front for volume controls and a light indicating your current connection.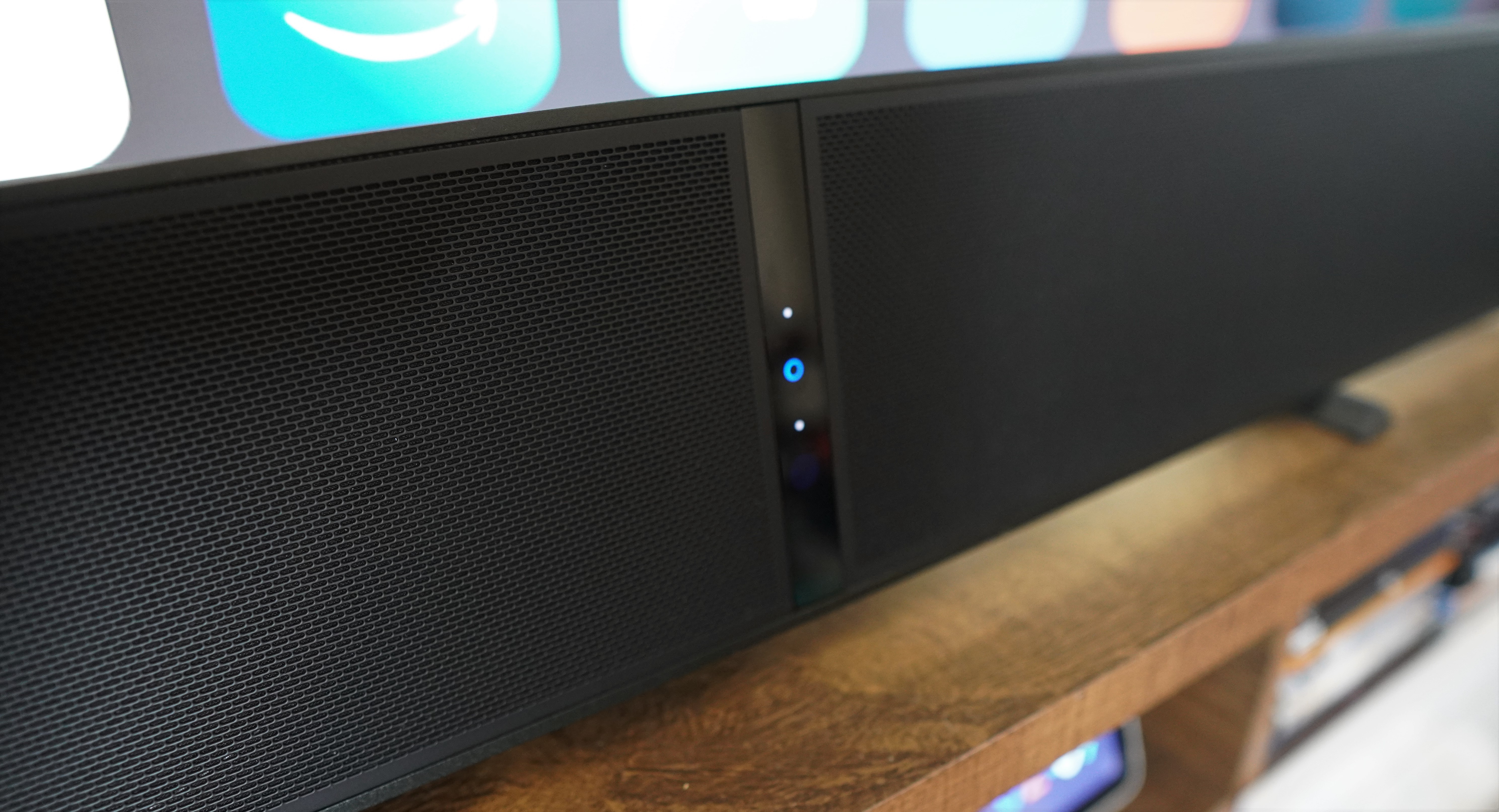 Setting up the Bluesound Pulse+ helps you realize how heavy it is coming in at 15lbs. It can't stand on its own and you must use the included two pegs to help it hold up. Besides that, it does also come with a HDMI cable, optical cable, and power plug (there is also an international plug). This is a welcome change from the original Pulse that didn't support HDMI or even come with an optical cable.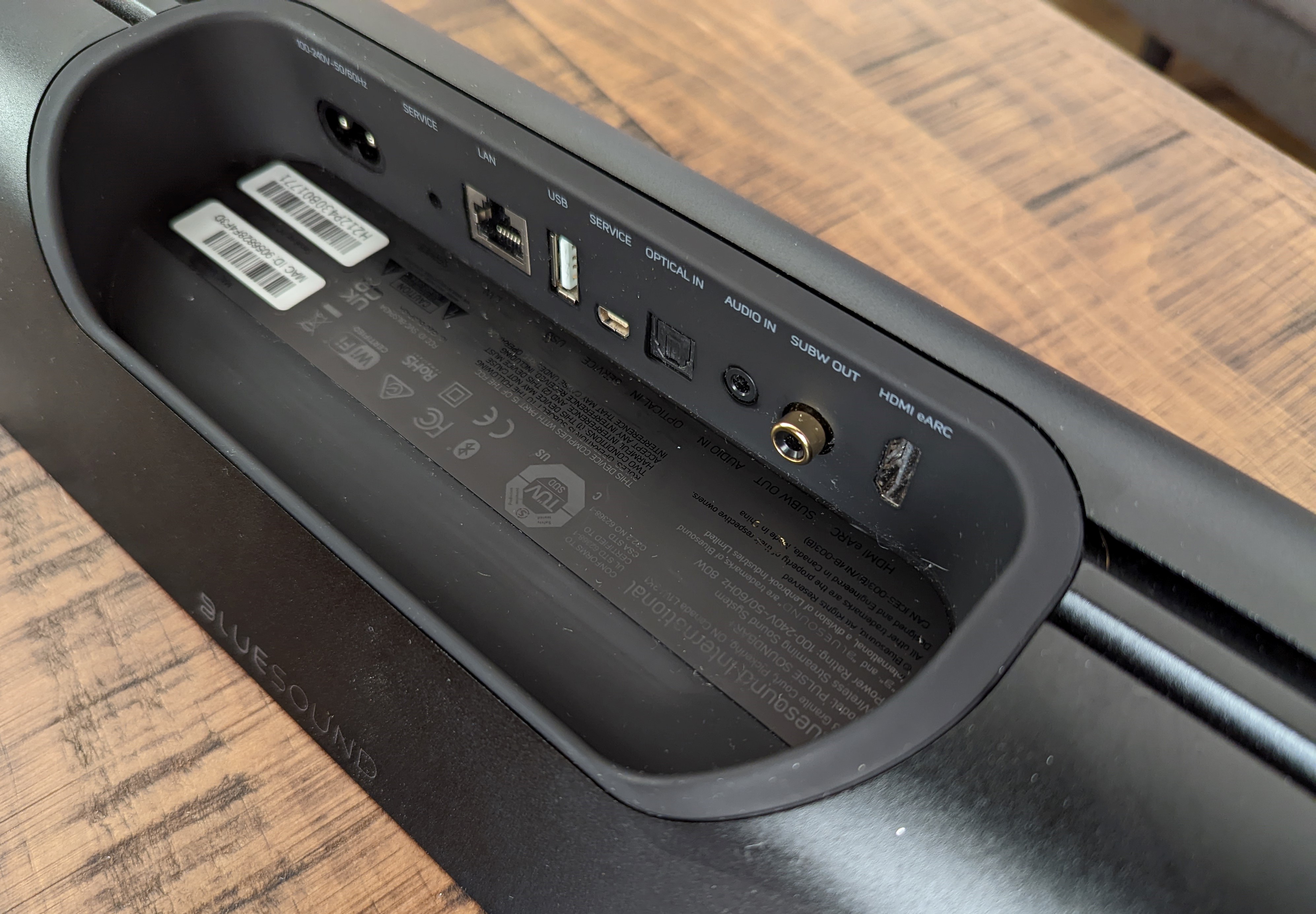 Setup / Features
Connecting the Pulse+, my Vizio TV had no issue syncing with it via eARC instantly. My Vizio remote was able to change volume on the soundbar easily. To get the most out of the Pulse+ though you need to download the BluOS app and connect your various music apps to it. I have it synced with Spotify, Tidal, Amazon Music, and TuneIn. While there isn't Apple Music or YouTube Music on the app you can use Google Assistant/Apple AirPlay 2 to cast to the Pulse+. Compared to when I used BluOS with the original Pulse the app looks to have better support with Spotify and Tidal then I remember previously. It still can take a bit of getting used to with menus on the left and right sides of it.
The app does allow for changing audio delays, opting for Deep Bass, volume leveling, connections and even pairing multiple other devices. I used the Pulse+ by itself for a few weeks and then opted to connect two Pulse Flex 2i speakers as well. Soon as they were paired to the app they were fired up with updates which was good to see.
Sound
At the core of the Bluesound Pulse is eight Class D powered speakers providing 120W. Its packing (2) Tweeters, (2) Mid-Range, (2) Woofer, and (2) Passive Radiators. It caters to just about every audio format from the likes of MP3 all the way to MQA also giving you up to 24-Bit and 192kHz. There is also Dolby Atmos support which its predecessor didn't have.
Off the bat Pulse+ is a room filling soundbar. In my apt I get a feel of the audio no matter where I'm standing. While I used it with the likes of apps such as Spotify, Apple Music, and YouTube Music, I found the audio experience ideal with Tidal since they support MQA and CD Quality tracks. Also the BluOS apps will indicate the sound quality on there as well. I can hear the clarity and detail from the higher supported codecs.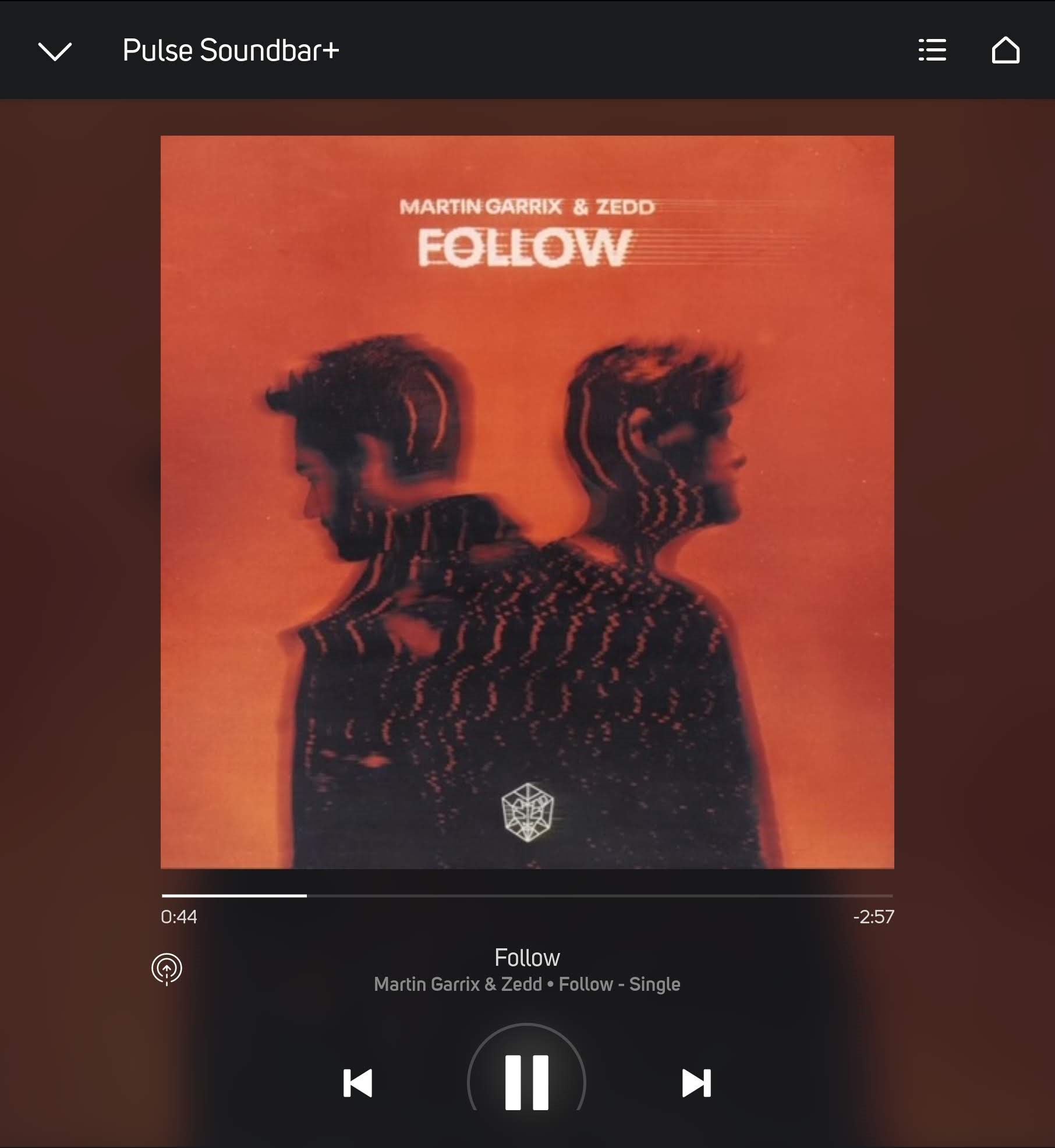 Realistically what I was most interested in the Pulse+ was how it handled Dolby Atmos content. Its pretty detailed enough to feel like you are right in the action. For instance, in "Bumblebee", that first fight scene against Blitzwing you feel like he's hovering over you and launching missiles. Another title I like to test out is "Spider Man: Far from Home" with his first battle against Mysterio. You get various echoes, hovering around you, and hard hits that can be felt thanks to the impressive wide soundstage the Pulse+ provides.
One thing to note though is to get the most out of Dolby Atmos you want to make sure you have Surround Upmixer and Virtualizer enabled in the app.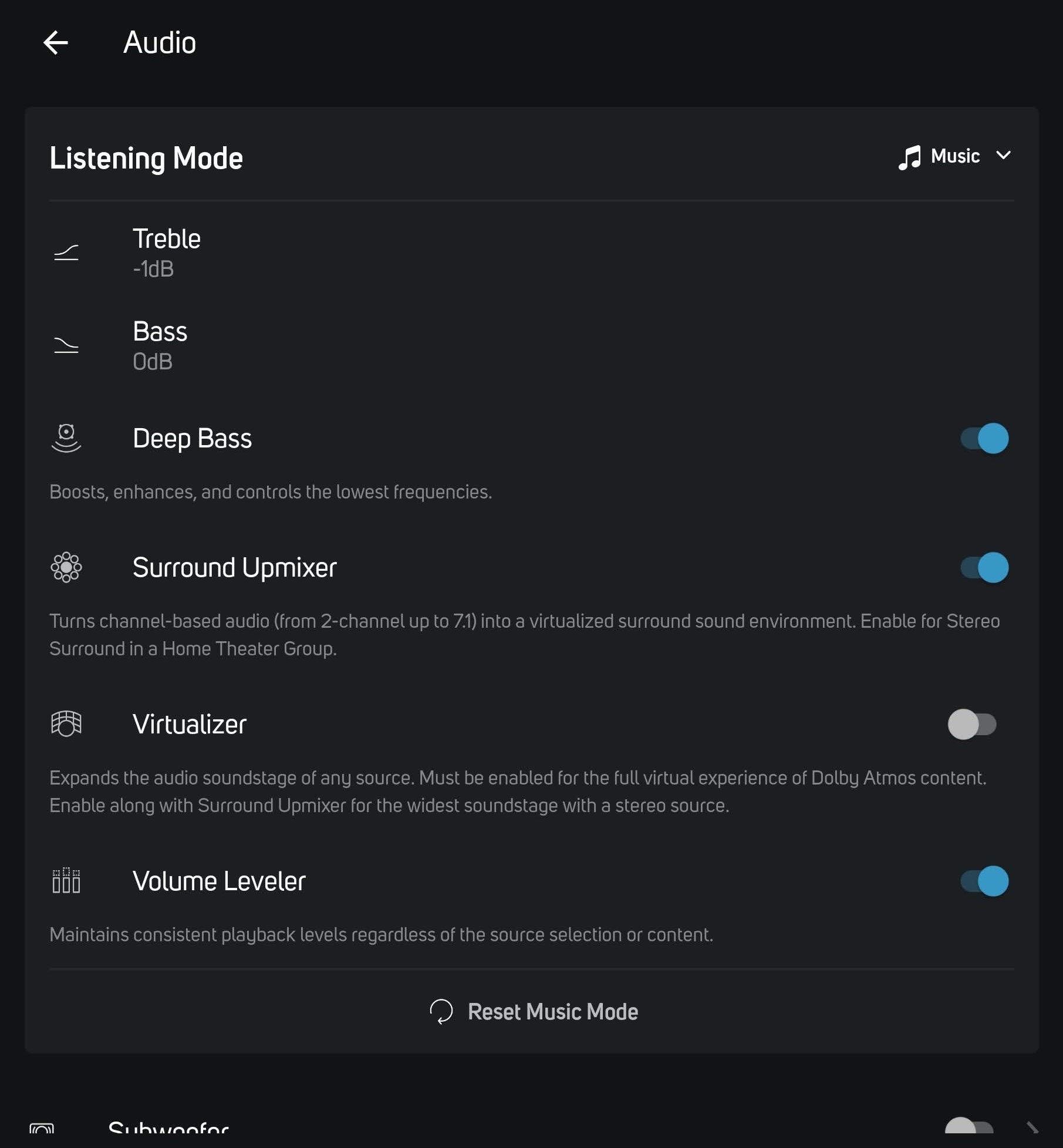 Using the soundbar for everyday usage such as watching shows on YouTube TV or playing the occasional game on PS5 or Xbox Series X has been fine. Only gripe I may have with the Pulse+ is turning it on or switching sources it sometimes doesn't kick the audio in. This is even with the option turned on to recognize audio changes. Its not much but I sometimes have to press the volume button to recognize. Also even just pausing content and turning it back on it takes about 1-2secs to kick back in audio.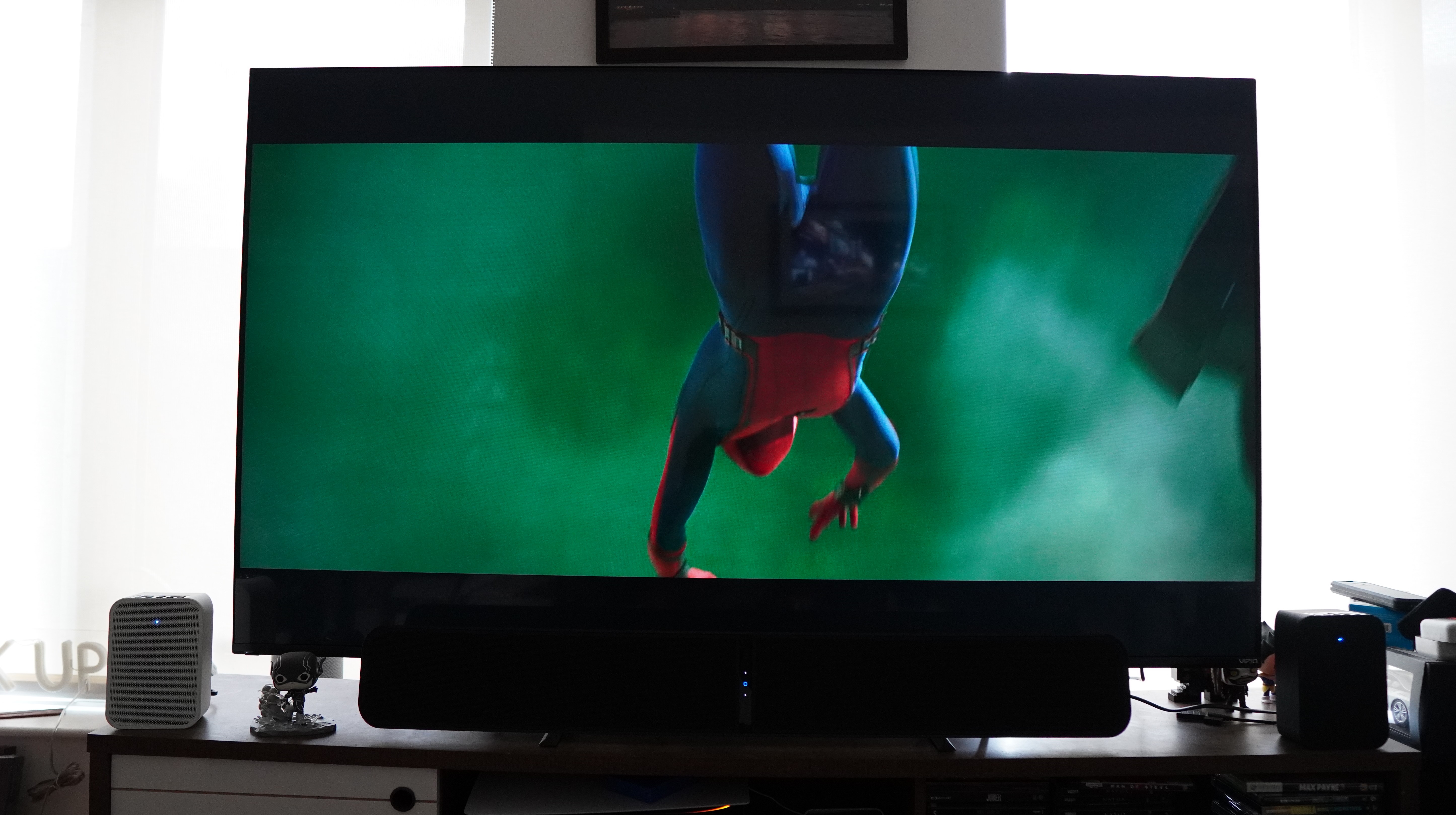 After just using the Pulse+ solo, I tested it with the two Pulse Flex 2i speakers. They do a nice job of giving you more a of a surround sound feeling depending on where you have them positioned. Since they are wireless you can have them right in front of you, or behind you for more effect.
Verdict
Following my usage of the Bluesound Pulse+ the past couple of months its been a mostly positive experience. It has fit into my listening lifestyle easily providing such rich wide sound and handled most of the Dolby Atmos content I threw at it. Probably its biggest issue is its size. Its huge and depending on your setup can probably block a part of your TV without making the proper adjustments. Of course, you can wall-mount it to alleviate this but how many people frankly do in their homes.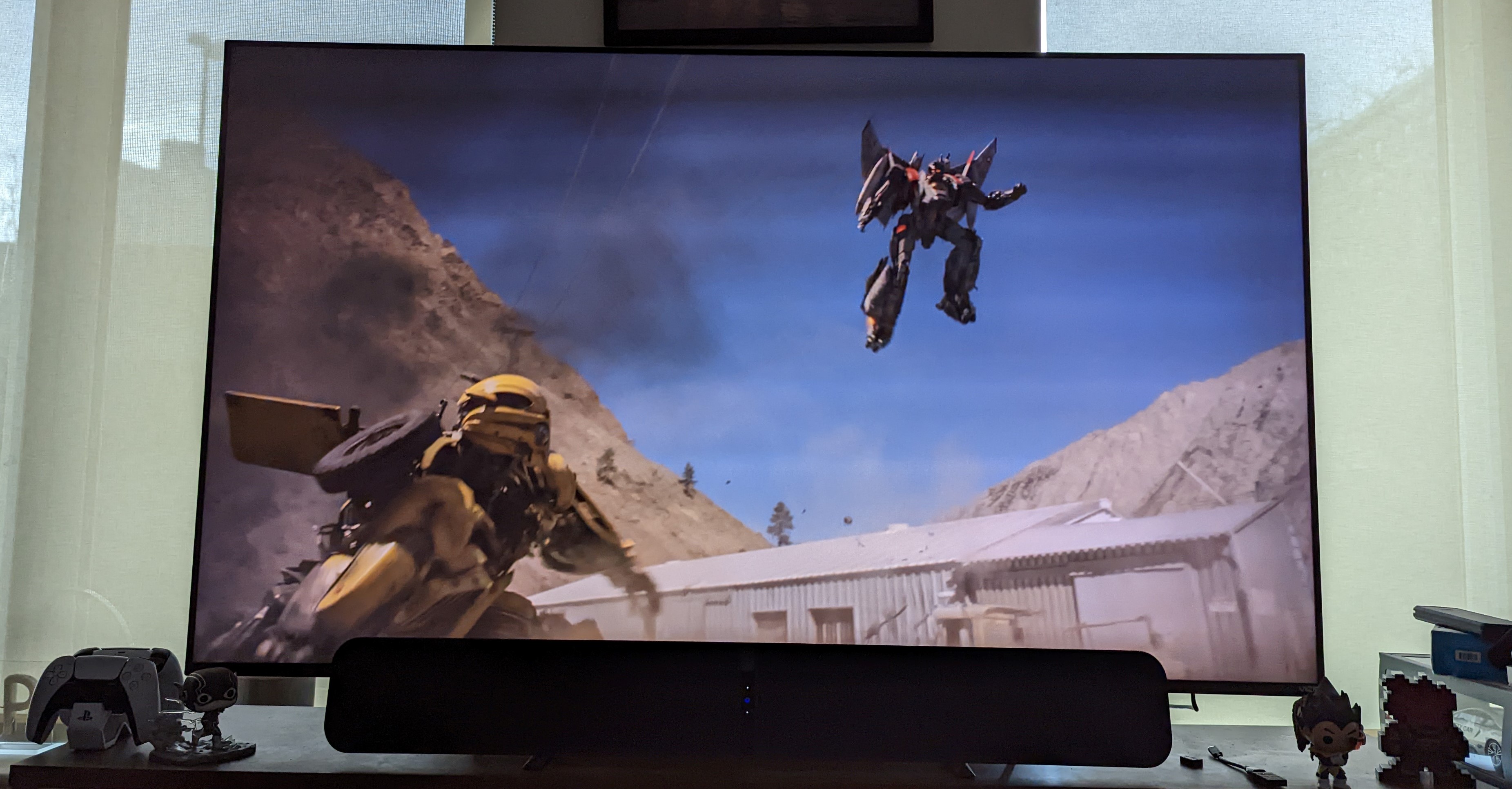 If you are looking for some detailed Dolby Atmos sound and/or in the Bluesound ecosystem the Bluesound Pulse+ can be a nice addition to your listening setup at a pricey $999.99