Posting video is huge right now, especially with platforms like TikTok, Instagram Reals, Youtube, and more. More and more people are capturing their everyday lives on video to share with the world. However, the one drawback to taking video on your own is that it is very difficult to go hands-free and have the camera follow you around like it would if you had your own cameraman. Well, now that's a thing of the past because the Pivo Pod S does just that. Set it down on a table or tripod and let the hardware and software keep you centered in your video so you'll never have to out of the frame or have to adjust your camera again.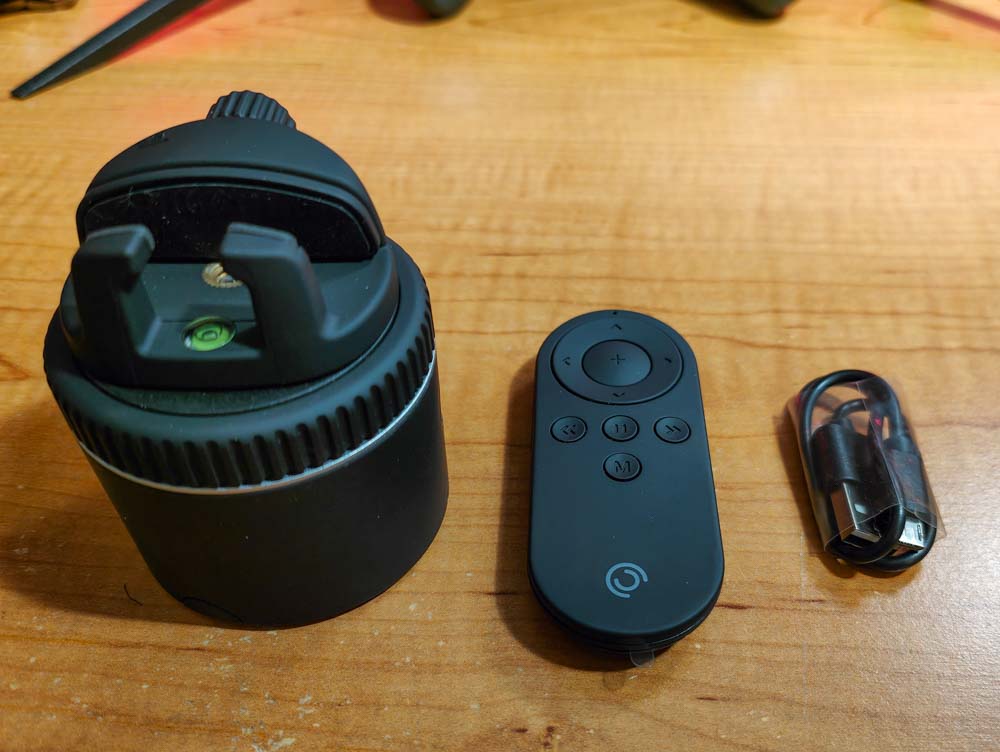 HARDWARE
The Pivo Pod consists of a couple items. There's the main Pivo Pod, a remote control, and a charging cable. This is what comes in the box. The Pivo Pod does not require a direct power connection, but it does need to be charged. This is good because it means you can use the Pivo Pod S anywhere without having to plug it into an outlet. Just make sure it's charged.
Anyways, the Pivo Pod is a small, cylinder-shaped product that has a phone mount on top. You can place your phone in this mount which is tightened into place with a knob on the back. What makes the Pivo Pod special is that this phone mount can rotate around 360-degrees to automatically turn your phone where you need it to be. On the bottom of the Pivo Pod are three retractable legs you can use for better stability as well as a standard camera tripod mount hole if you would rather mount this to a tripod.
There is a charging port located on the side, but it is a micro-USB port which is a little disappointing. I would have much rather seen the more modern USB-C port here which is more in line with what is included on most phones these days, aside from iPhones.
Lastly, the remote control that the Pivo Pod comes with is fairly small and fits in the palm of your hand. It's easily pocketable, with buttons that are easy to press and reach for without having to look at it.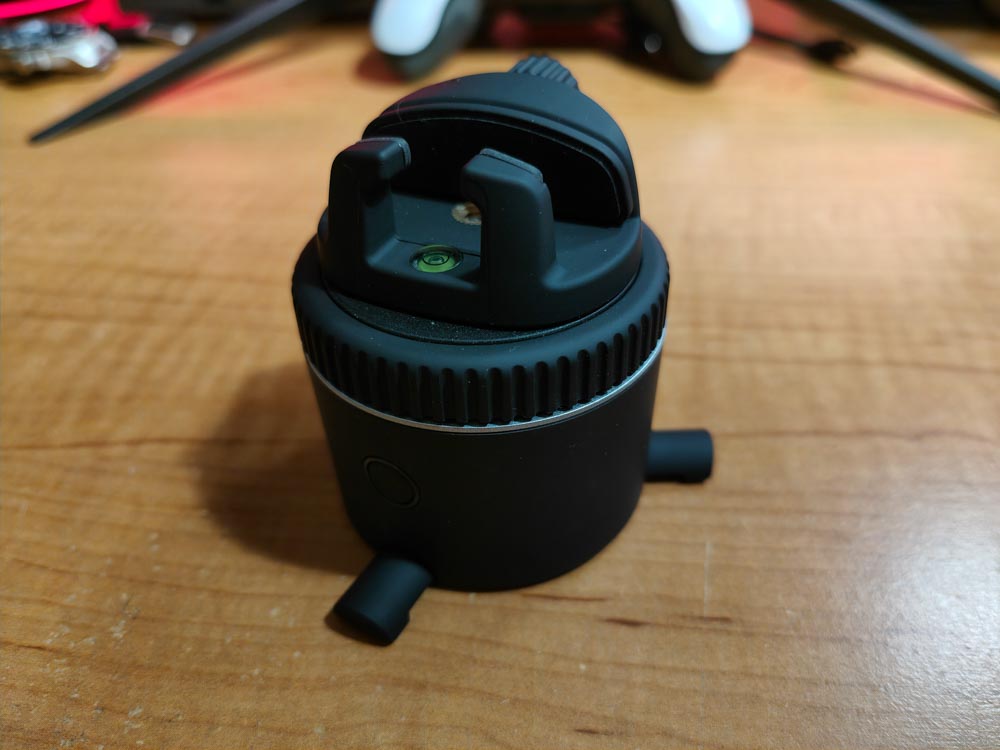 SOFTWARE
To make the most of the Pivo Pod, you'll need to download the apps for it onto your smartphone. There are several of them so you'll need to download the one that makes the most sense for how you're going to use it. The default app is called Pivo Play, but there are also Pivo+, Pivo Tour, Pivo Chat, Pivo Present, Pivo Live, and Pivo Studio. Each app serves a different function. All apps are available on both Android and iOS.
You'll have to download one of the apps in order to pair your Pivo Pod with your phone. Once you do, you'll see a variety of different modes such as capture, panorama, clone trail, and more. There are actually a ton of different modes you can try out with some of them being more useful than others. The app is also where you can adjust Pivo Pod settings such as the different follow modes, tracking speeds, and zoom.
I suggest starting off with the Pivo Play app first as it seems to have the most options for you to test out and is the most comprehensive of all the apps. You do need to use one of the apps though because the Pico Pod will not function without it. Even with the remote control, the most you can do is rotate it. You can't take any photos or video without the app and you can't auto-track either. The stock photo app you have won't work with it.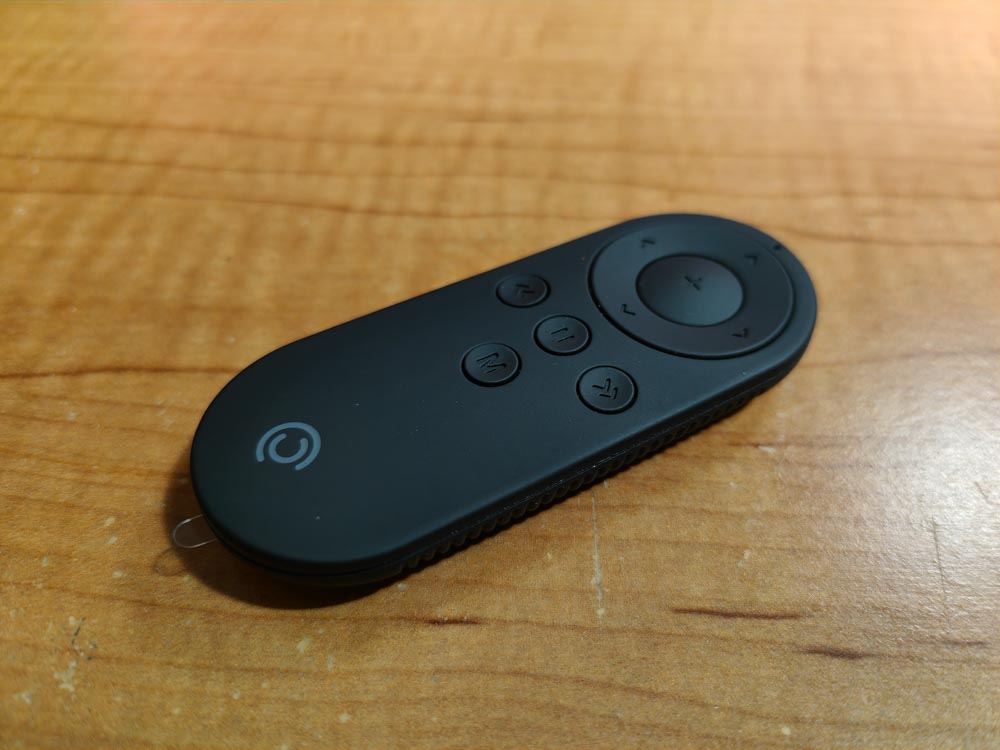 EXPERIENCE
The Pivo Pod is very simple to set up. Basically, just charge up the device, download the app and you're pretty much good to go. You will need to set up a Pivo account to use the app, however. The Pivo Pod can accommodate most phones, even really large ones. Cases on your phone could possibly get in the way though, based on how thick they are. You may have to remove the case if it is too large.
Once on, just start the app and you can either start recording your video from either the front or rear cameras. The front camera means you'll be able to see what the app is doing, while the rear cameras might give you a better picture, depending on the settings. Most people will probably just use the front selfie camera.
In terms of what it's supposed to do and whether or not it does it well. All I can say is that the Pivo Pod does exactly what it says it does. This thing tracks your face with ease and keeps you centered on the screen. Not only that, you can have it set on the fastest mode which means it'll be able to keep in sync with you even if you're moving sporadically. You just need to play with the settings to get everything set up the way you like.
The best way to take video and photos is with the included remote as this will let you control the shutter at a distance. It's easy to use and you don't even need to point it at the Pivo Pod for it to work. You will need the app open though.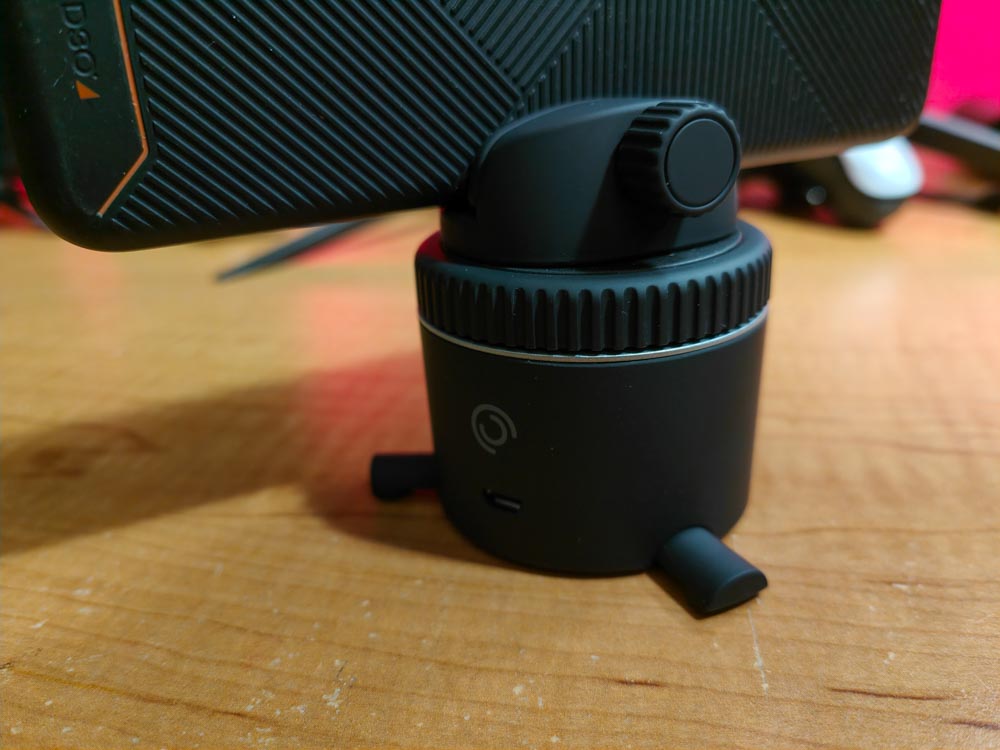 FINAL THOUGHTS
The Pivo Pod is a fantastic device for content creators and one I'm sure you won't be able to live without once your start using it. The following feature itself is a game changer for your videos and if you look through all the different modes and apps you can download, there's a plethora of things you can do with this.
Not only that, there are a variety of accessories you can purchase for the Pivo Pod that extend its functionality. For instance, there are tripods you can pick up, different types of phone mounts, and a studio attachment you can use to take 360-degree product photos.
So with that said, if you're serious about content creation and want to step up your game, I'd definitely recommend the Pivo Pod to spruce up your vids.
You can pick up the Pivo Pod here on Amazon.