Electric bikes are fun. There's something about being able to travel faster and farther with minimal effort that makes them so appealing. What I also like about them is that there are so many different kinds of electric bikes out there and in all different shapes and styles. While I have already in the past checked out some more traditionally styled electric bikes, it's time to take a look at some of the more portable options out there that ride on smaller tires, are easier to transport, and are easier to maneuver around places thanks to their smaller size. First up is the Swagtron EB7 Elite Plus Electric Bike which features a 7-speed gear shift, 20 miles of electric range, up to 18.7mph, and is foldable for easy storage.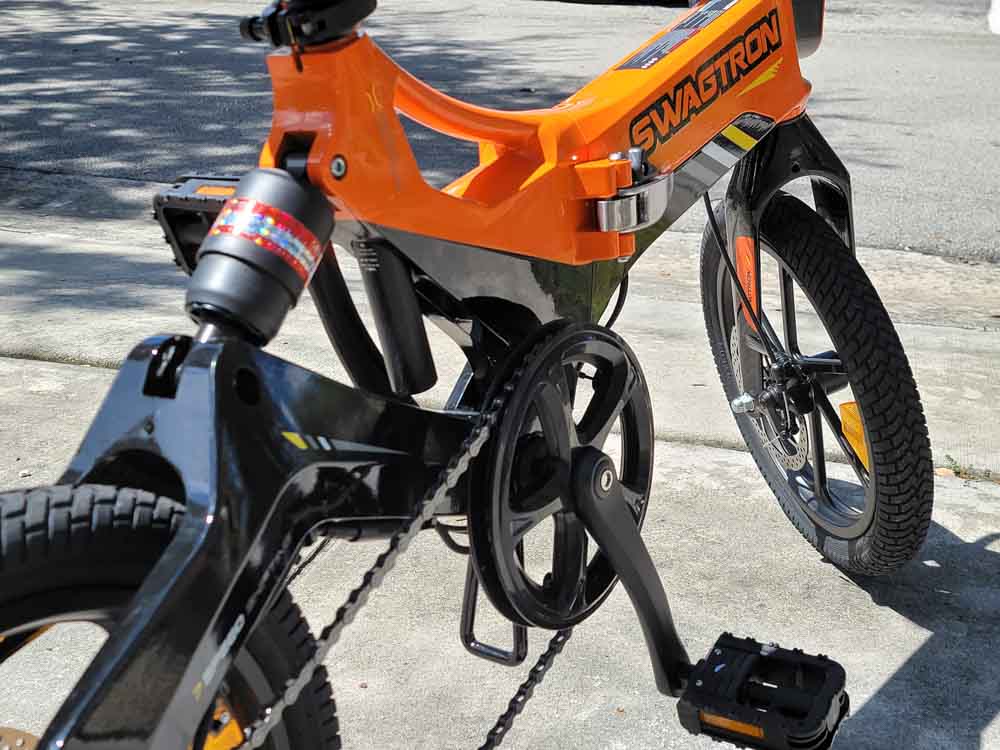 DESIGN AND FEATURES
The Swagtron EB7 Elite Plus is not their smallest electric bike, but it's a good compromise between size and performance. The bike rides almost like a full-sized bike but is much lighter and easier to travel with. And despite its smaller size, it doesn't skimp on the details as it does have many of the features included on its larger electric bikes. More on that in a bit.
Starting with the look. the frame and wheels on the Swagtron EB7 Elite Plus are smaller and lighter. You're looking at an aircraft aluminum frame sitting on attractive 16-inch wheels. While it might seem small, it's strong enough to hold up to 264 lbs. It even has a gas shock on the rear wheels for better comfort and stability. The colors on this bike aren't bad either with a bright orange frame with black accents. While the Swagtron EB7 Elite Plus may look a little goofy at first because of its proportions, it's actually not a bad-looking bike at all as you start to appreciate its compactness.
The handlebar on the Swagtron EB7 Elite Plus is a straight bar and is where all the controls are. You have a digital control panel on the left, the gear shifter on the right, and the throttle on the right as well. The bike also features both front and rear disc brakes, controlled by the two levers on either side of the handles. Swagtron also includes ergonomic rubber grips for comfort.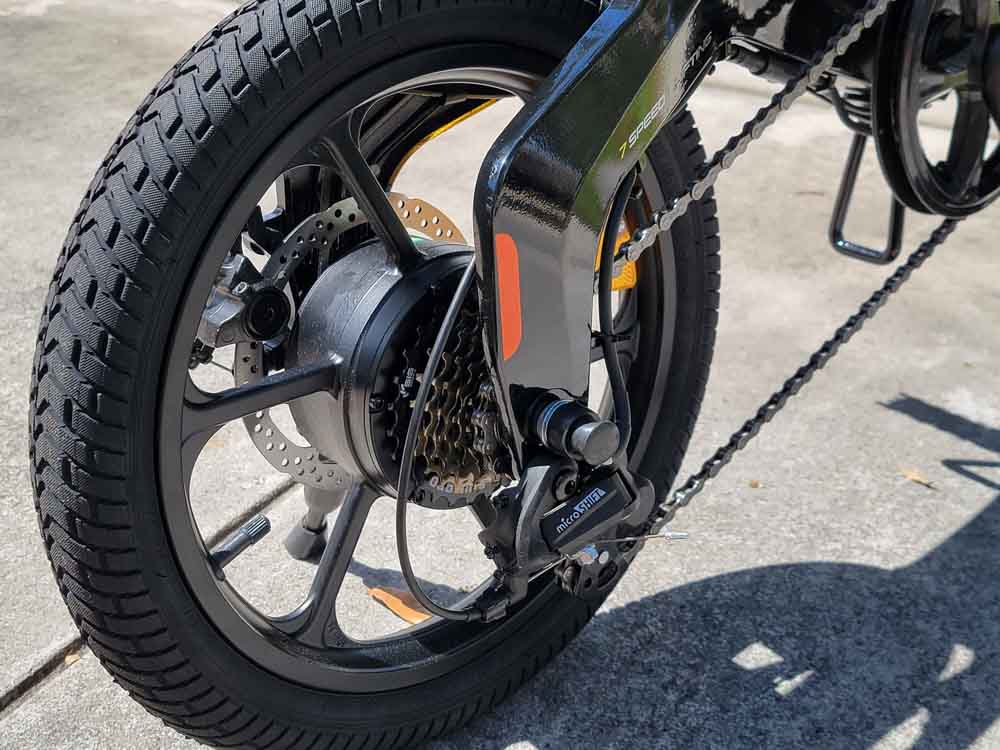 If you're looking to store your bike or make it easier to carry around, you can fold the bike in half and drop the handles down. Not only that, but the pedals can also be folded flat to further reduce their footprint. Folding the bike also gives you access to the battery compartment in case you want to remove the battery to charge it. You can charge the bike without removing the battery, however. To prevent theft, the battery release is key locked.
Now let's talk about some specs. We get a 350-watt motor, powered by a large capacity, 36-volt Li-ion battery. The bike can go on electric alone for about 20 miles without any pedal assistance. Of course, you can go much further than that by combining pedal power with the motor because there are instances where you'll need to go much slower and it's not worth draining the battery for that. In terms of speed, you can hit about 18.6 mph on the electric motor. There are three modes that you can ride the bike with – Full throttle. Pedal-only. Or pedal-to-go electric-assist mode.
If you choose to just pedal the bike, the Shimano 7-speed gearbox is quick and easy to use.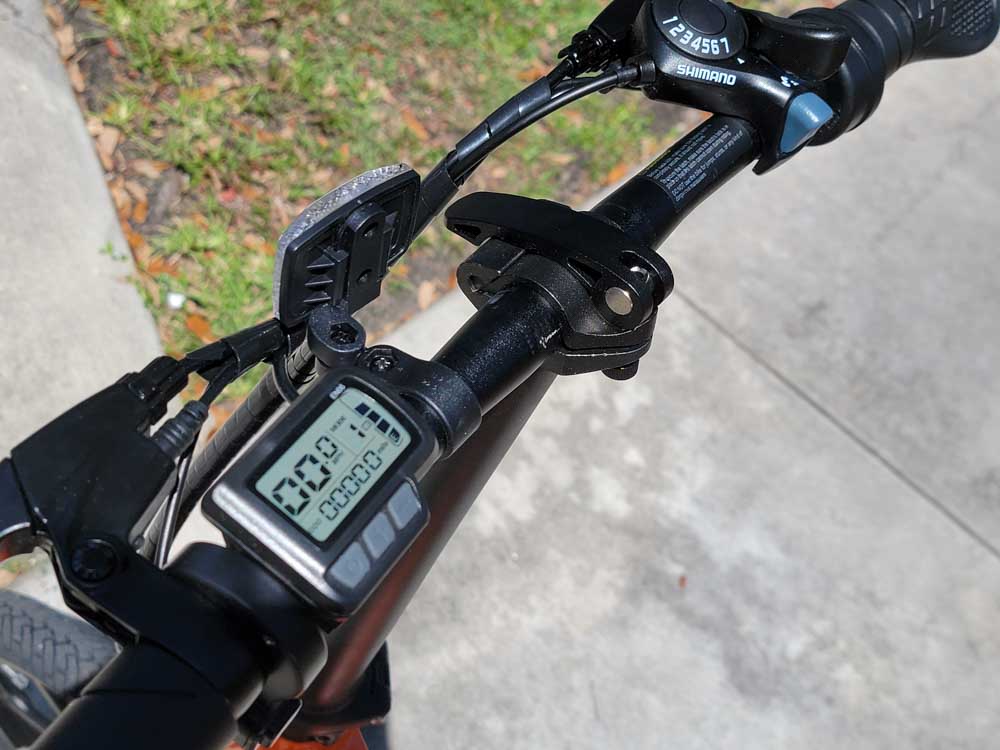 EXPERIENCE
The Swagtron EB7 Elite Plus is a blast to ride around on. I still like the fact that it basically feels like a regular bike that you can just pedal around, but when you need to get to where you're going quicker, just turn on the electric motor. I like the versatility of choosing how you want to ride it and also how fast you want to go. It's not just a one-speed or nothing deal.
The ride on the Swagtron EB7 Elite Plus is also really smooth and comfortable. This is probably due to the gas shock on the rear frame and the heavily cushioned seat. The riding position is also pretty good since the seat can be raised and the handlebars sit fairly high. I'm 5'8″ so it wasn't too hard to ride, although some shorter people might have issues reaching the ground with both feet.
Do I have any real complaints about the bike? Not really. The Swagtron EB7 Elite Plus is very solid and easy to ride. I would say that I do kinda wish the presets for the electric motor could be a bit slower as the lowest settings it seems to go to is about 13 mph. Would be nicer if it could do maybe 10 mph in that area for those who still want to cruise but don't want to go super fast.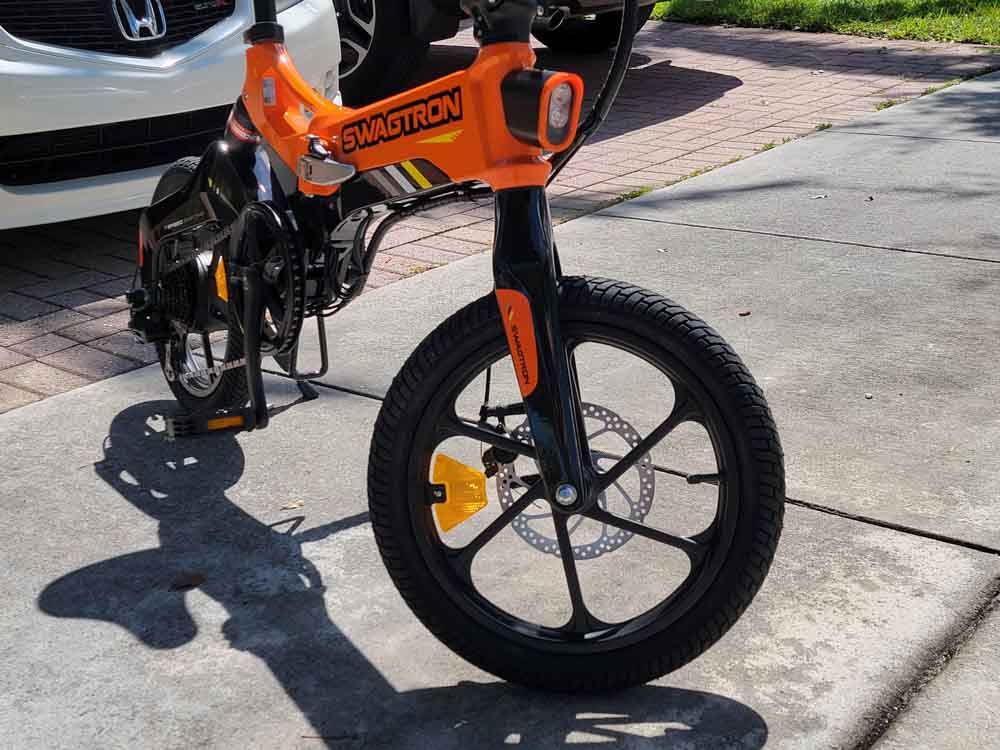 FINAL THOUGHTS
I'm really digging the Swagtron EB7 Elite Plus. I didn't think I'd like it all that much based on its weird proportions, but in actuality, the bike isn't as oddly shaped as you think. Adults will feel quite comfortable riding this thanks to the adjustable seat and raised handlebars. The smaller proportions also make it easier to maneuver than its larger siblings.
I also love that it doesn't skimp on features just because it's smaller. You still get a large battery, a fast motor, and the ability to fold it up and stow it away in much smaller spaces. This bike is perfect for anyone that needs a commuter bike that isn't so large but still comfortable enough for an adult to operate.
You can pick up your very own Swagtron EB7 Elite PLus here on Amazon.