In today's fast-paced digital landscape, a reliable docking station can be the linchpin of productivity. With a slew of options available today, theres one that stands pretty tall — Plugable's Thunderbolt 4 and USB4 Docking Station. This dock steps up to the plate with a promise to redefine your work and play experience. Boasting an impressive array of features, it aims to be the go-to hub for your expanding connectivity needs.
Definitive User Interface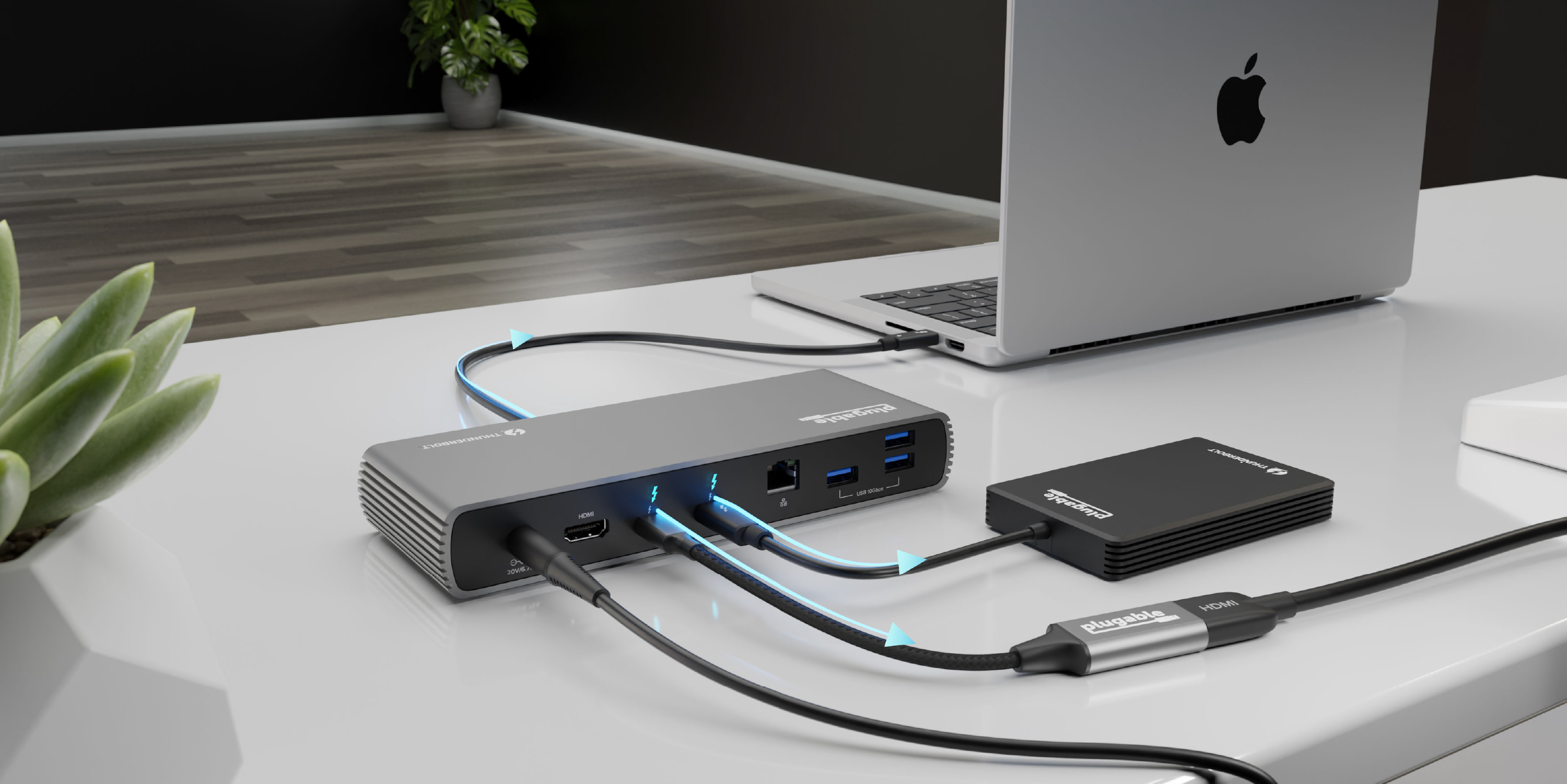 The Plugable Thunderbolt 4 and USB4 Docking Station exudes durability; encased in a sleek, durable chassis, you get an immediate premium feel that complements any workspace. The compact design ensures it doesn't consume any desk space, yet its weighty build imparts a reassuring sense of sturdiness. Connectors and ports are thoughtfully arranged, providing easy access without crowding. It's a thoughtful overall design with ease of use in mind, assuring users of its longevity and reliability.
Plugable was created to perpetuate your computing experience. Here's a closer look at its features:
Dual 4K 60Hz Displays: One of the most striking features of this docking station is its ability to support dual 4K displays at 60Hz. This translates to crystal-clear visuals and smooth motion, a boon for content creators, designers, and professionals seeking an immersive visual experience.
Thunderbolt 4 Ports: The TBT4-UDX1 doesn't just include Thunderbolt 4 ports; it harnesses their full potential. With 40Gbps of bi-directional bandwidth, this dock ensures that data-intensive tasks like large file transfers and video editing are accomplished swiftly and efficiently.
Expanded Connectivity: With a total of 10 ports, this docking station transforms your laptop into a connectivity powerhouse. Among these ports, you'll find four 10 Gbps USB-A ports, an Ethernet port with a speedy 2.5Gbps transfer rate, an SD card reader, and a 3.5mm combination audio jack. This extensive range of ports ensures seamless integration with your existing peripherals.
100W Power Delivery: Beyond mere connectivity, the TBT4-UDX1 goes the extra mile by offering 100W power delivery. This means it can not only connect your devices but also charge them simultaneously. This is particularly valuable for power-hungry laptops and mobile devices.
Thunderbolt and USB4 Compatibility: This docking station supports both Thunderbolt 4 and USB4, providing versatility and future-proofing for your expanding tech ecosystem. This ensures compatibility with a wide range of devices, making it a smart investment for long-term use.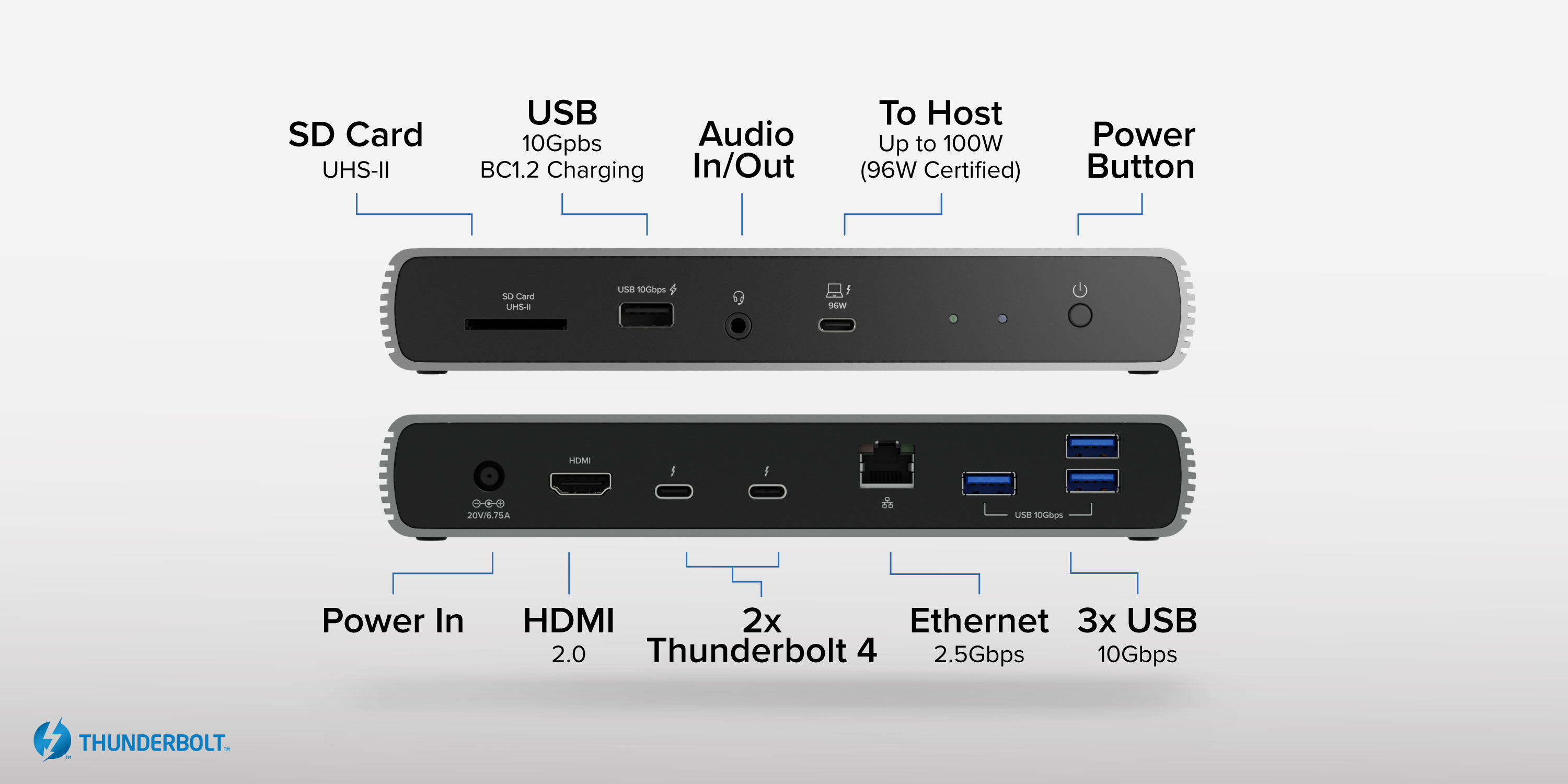 All The Bells and Whistles
The TBT4-UDX1 is engineered to keep pace with evolving technology. Its Thunderbolt 4 and USB4 compatibility means it can seamlessly integrate with upcoming devices, ensuring its relevance for years to come. For tasks that demand precision and clarity, the support for dual 4K displays at 60Hz is a game-changer. Whether you're editing videos or working on intricate designs, this feature sets the dock apart. I was rather surprised to see that no level of input delays were present during my intense gaming sessions.
With 10 ports at your disposal, this docking station eliminates the need for additional hubs or adapters. It accommodates a wide array of peripherals, making it an efficient and clutter-free solution for connectivity. The Thunderbolt 4 ports with 40Gbps bandwidth facilitate lightning-fast data transfers. This is a crucial feature for professionals handling large files or engaging in data-intensive tasks. The ability to provide 100W power delivery is a significant advantage, especially for users with power-hungry devices. Connecting my ROG Ally to charge during my breaks is a handy thing to have. Surprisingly charging my gaming laptop in the process. It streamlines your setup by reducing the need for multiple chargers. At $289.95 the TBT4-UDX1 offers an attractive and competitive price point for a docking station with such advanced features. It presents a compelling value proposition compared to other Thunderbolt 4 docks on the market.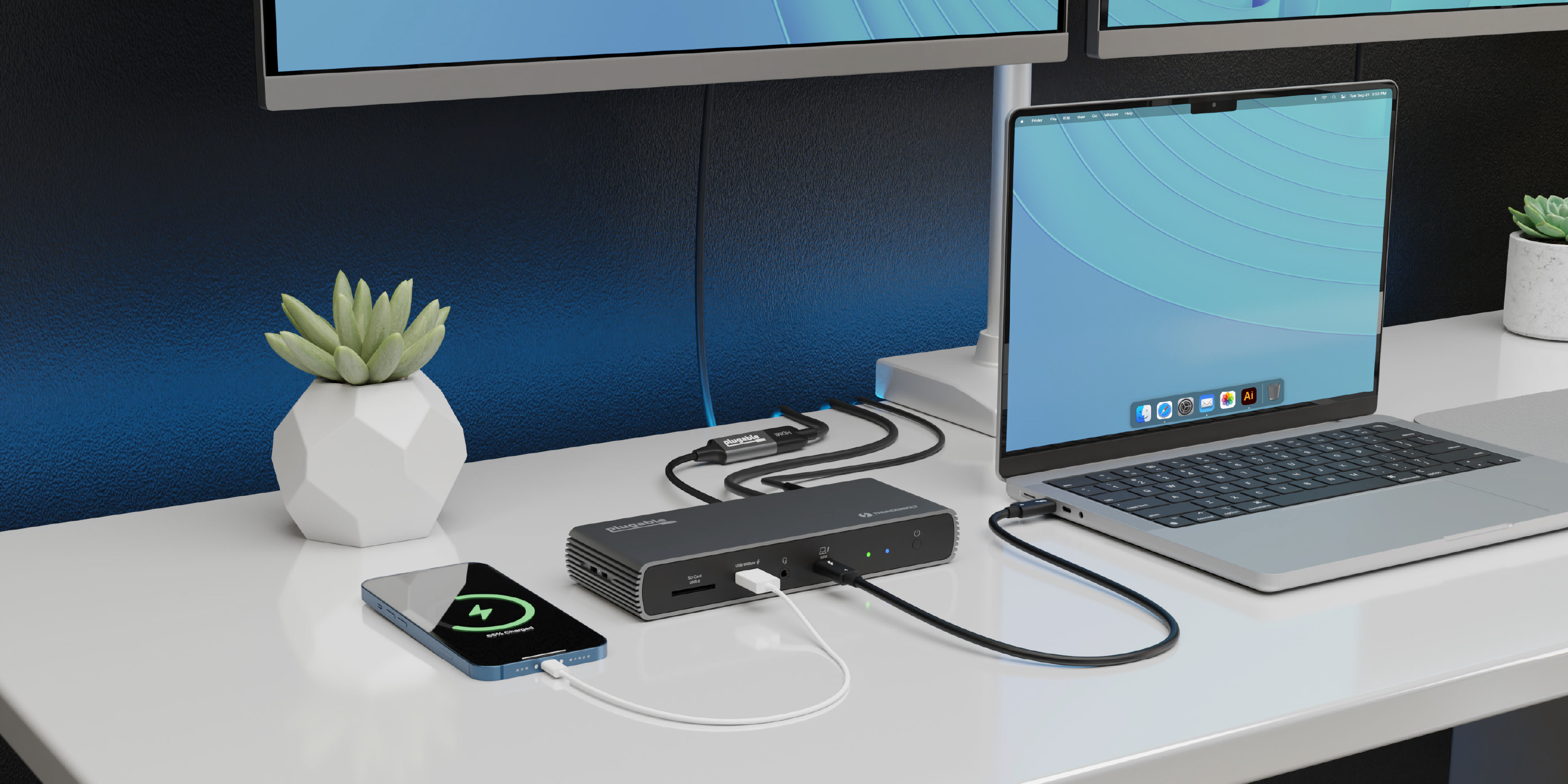 REVIEW SCORE: 9/10
To fully harness the capabilities of Thunderbolt 4, your host device should also be Thunderbolt-certified. While this is not a drawback of the docking station itself, it's a consideration for potential buyers. The Plugable Thunderbolt 4 and USB4 Docking Station (TBT4-UDX1) sets a new standard for docking stations. Its blend of forward-looking technology, extensive connectivity options, and competitive pricing make it a formidable contender in the market. Whether you're a creative professional seeking high-fidelity displays or a business user with demanding data transfer needs, this docking station delivers on its promises.
You can find this docking station over at Amazon for $289.99
For more on The Plugable and gaming, follow me on Twitter and other social media here