The underwater adventure game immerses players in a poetic story about the engulfing power of grief. The game also aims to raise awareness of human impact on the oceans, through a unique partnership with Surfrider Foundation Europe.
Quantic Dream and Parallel Studio are proud to announce the release today of Under The Waves, the new narrative adventure game published by SPOTLIGHT by QUANTIC DREAM label, available on PC, PlayStation 5, PlayStation 4, Xbox Series S/X and Xbox One.
Set in an alternative, retro-futuristic version of 1979, Under The Waves takes place in the depths of the North Sea and follows the daily life of Stan, a professional diver working for an oil company to carry out maintenance work. Hiding away from his past, Stan finds peace underwater, far from everyday life, wrapped in the comforting monotony of isolation. The confrontation with strange events will slowly lead him to question his own reality.In a semi-open world, Under The Waves reveals its subtle and poetic narrative through Stan's daily missions, whether aboard his submarine or in his self-contained suit. Players can freely explore the deep sea, visit shipwrecks and collect materials to recycle in the life module, to craft new items to be used in the various main and secondary quests.
Ronan Coiffec, co-founder and Game Director of Parallel Studio, looks back at the origins of the project:
"Almost 20 years ago I was unknowingly creating the first outlines of a project that would become Under The Waves, by the light of my little bedside lamp at art school. At the weekend I would play, in wonder, the game that made me want to do what I do today: Omikron The Nomad Soul. I feel like I've fulfilled several dreams through Under The Waves, working on a meaningful game with a talented team, in collaboration with Surfrider Foundation Europe in particular, and working with Quantic Dream. These 3 years of production have been incredible and emotionally rich. From the birth of the project, through the COVID period, isolated in our flats, remote meetings with Quantic Dream's writer/director David Cage to discuss our narrative, the meetings with Surfrider to define the key messages of our story, then the motion capture, voice recording and lighting adjustment phases under the expert eye of the Quantic Dream teams. We have experienced and learnt so many things that have nourished the project, which today is Under The Waves, a narrative adventure game, the fruit of the hard work of a team of indie developers who were keen to create an original, meaningful and engaging experience. We hope that players will be touched by the experience we have created with passion, generosity and sincerity."
Behind the melancholy force of Stan's story on his path to resilience, Under The Waves also opens up a reflection on the impact of humans on the planet and living things. To support its ecological subtext, subtly distilled throughout the adventure, Parallel Studio worked with Surfrider Foundation Europe at various stages of development. This unique collaboration aims to convey a message of hope to players about ocean conservation, through contextual messages, visual assets in the Foundation's colours and dedicated trophies/achievements.
"After more than a year of close collaboration, we are very proud to see Under The Waves come to fruition," says Rémi Touja, Digital Marketing Manager at Surfrider Foundation Europe. "As an avid gamer myself, with a keen interest in storytelling, I was delighted to be involved in this partnership, in order to convey Surfrider Foundation Europe's messages to a new audience. The game gives us a unique opportunity to talk about ocean issues in a whole new way, by integrating them subtly and naturally into Stan's adventure and the gameplay, without ever being moralistic or forcing the message. We're convinced that with this approach, players will be more sensitive to our messages and who knows, maybe it will inspire them to take some initial action, like picking up a piece of waste the next time they go to the beach. The whole team is really looking forward to seeing this collaboration come to fruition and discovering the impact Under The Waves will have on players!"
Under The Waves is the latest addition to the SPOTLIGHT by QUANTIC DREAM catalogue, the French studio's publishing label. For Guillaume de Fondaumière, CEO and Head of Publishing at Quantic Dream: "This is a project we fell in love with immediately when we started building our publishing catalogue. Whether through its storytelling, its artistic direction or, more generally, the dedication of its development team, Under The Waves represents what we believe in at Quantic Dream: a unique and memorable interactive experience that will emotionnaly touch those who play it, crafted by a passionate team. We're also very proud to have been able to support Surfrider Foundation Europe and to contribute to making their very important actions towards ocean preservation known to a wider audience."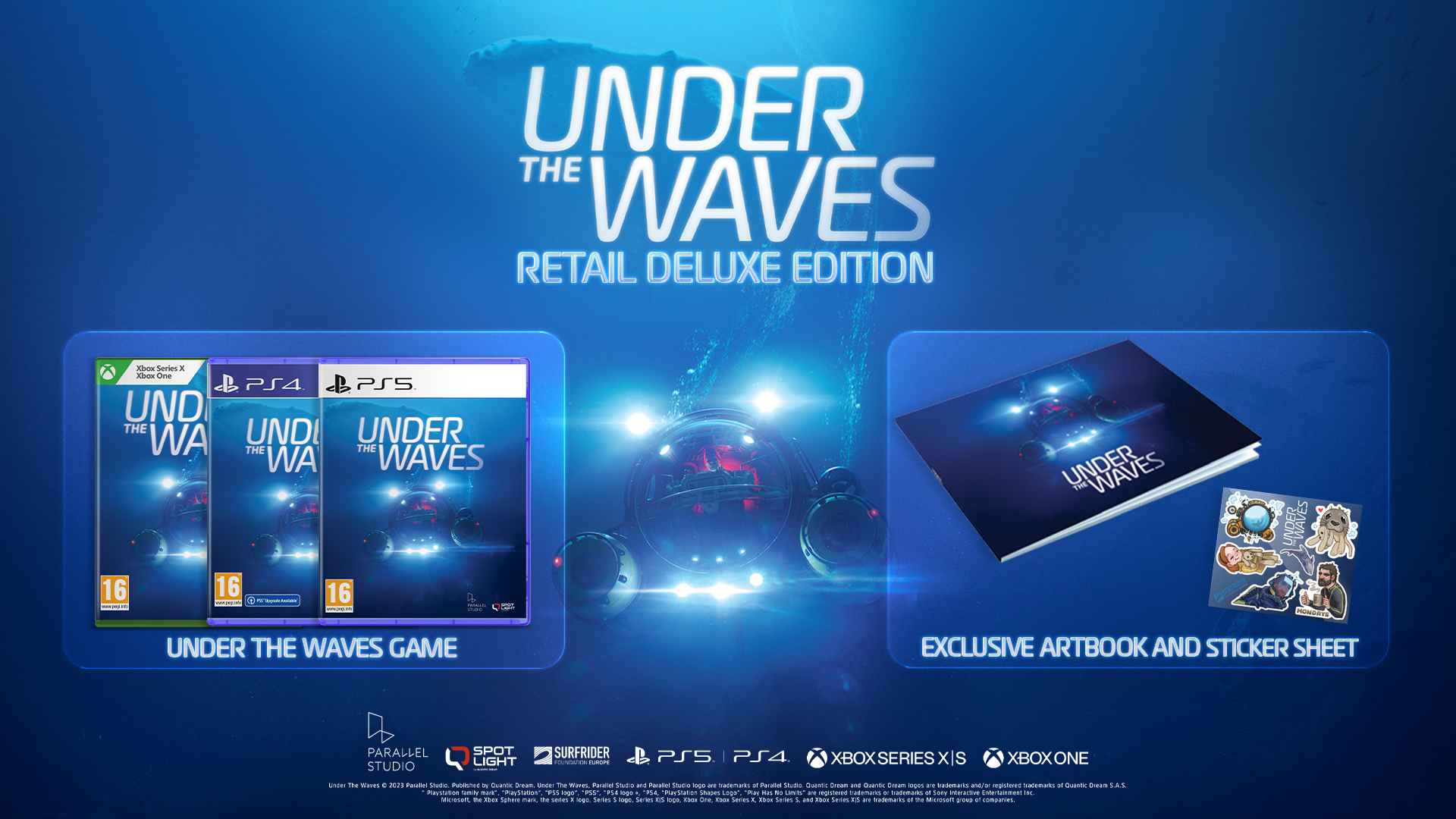 Under The Waves is available digitally on PC, PlayStation 5, PlayStation 4, Xbox Series S/X and Xbox One, for $29.99. A deluxe physical edition including an art book and an exclusive set of stickers is also available on PlayStation 5, PlayStation 4, Xbox Series S/X and Xbox One, priced at $39.99.
Kid Katana Records partners with Quantic Dream and Parallel Studio to offer players around the world the immersive and minimalist soundtrack of Under The Waves. Composed by Nicolas Bredin, Under The Waves' soundtrack stands as a profound embodiment of the game's narrative, influenced by Icelandic composers such as Valgeir Sigurdsson and Ólafur Arnalds, as well as post-rock bands like Mogwai, Sigur Ros and Radiohead.
Under The Waves soundtrack is available now on all platforms.
To find out more about Under The Waves and upcoming SPOTLIGHT by QUANTIC DREAM releases, visit QuanticDream.com, and follow @Quantic_Dream and @FromParallel.
For more on Fusion 3 and gaming, follow me on Twitter and other social media here