There are lots of tools available for content creators that help simplify your workflow. For digital creators, you have digital pen tablets, studio controllers, and editing controllers. These are amazing tools that take your creativity to the next level by ditching the mouse and keyboard for tools that are more intuitive and natural to use. One such tool is the TourBox Elite. The TourBox can be used as a photo and edit maker or a drawing controller. Whether it's brush control, video and audio editing, image manipulation, parameter calibration, or tool switching.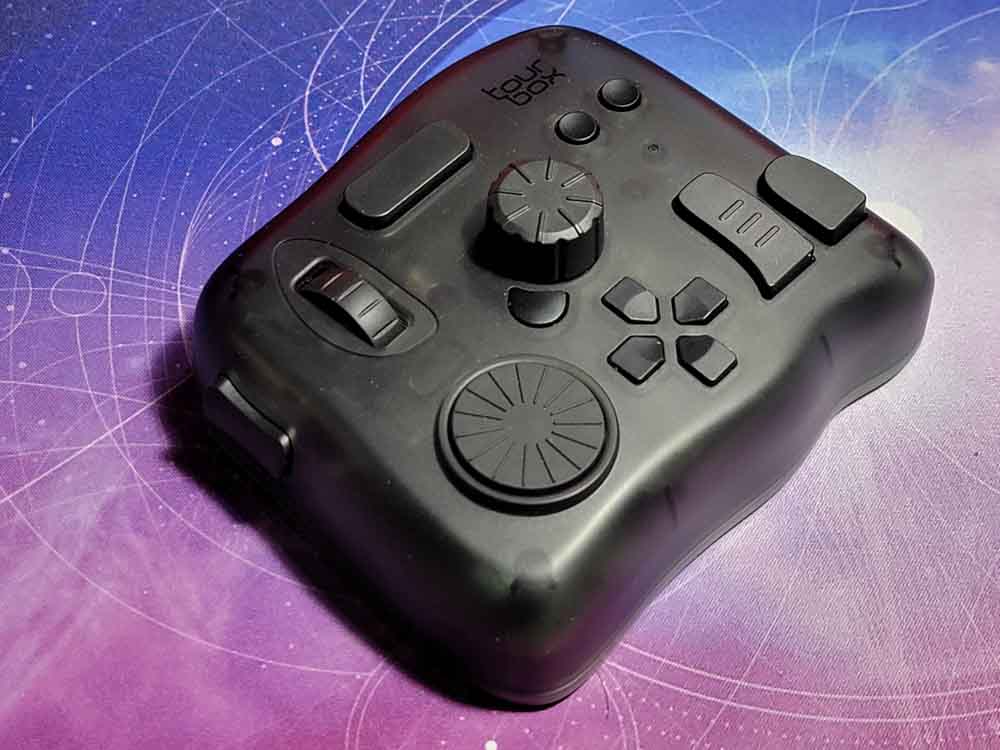 DESIGN
This version of the TourBox Elite I am looking at is the special-edition Smoke Black Translucent model. This differs from the normal black and white models because you can see the inside of the TourBox Elite, which is pretty neat. I've always been a fan of translucent or clear gadgets and being able to see the guts.
Aside from the color, the body looks like a handheld controller, except that it's asymmetrical and is meant to be placed on the surface of a table and not held in your hands. It's designed in a way where your hand rests on top of it and all the buttons can be easily reached and controlled with all your fingers, including your thumb. Think of it as an advanced mouse that you use with your left hand. There are 14 buttons, three of which can also be rotated or turned for extra functions. You can also combine button presses for even more programming options.
These buttons, dials, and wheels are very clicky and have great feedback and some even have haptic touch as well. I like the fact that the buttons are easily recognizable and unique to the touch making it very simple to use without looking at the controller. Once you get used to it, it becomes an extension of your hand.
Overall, the TourBox Elite is a very well-designed gadget. It has excellent weight to keep it from moving around your desk as well as some very grippy rubber feet on the bottom. There is a USB-C port on the top that is used for firmware updates or if you want to use it wired and not through Bluetooth. The TourBox Elite also uses standard AA batteries.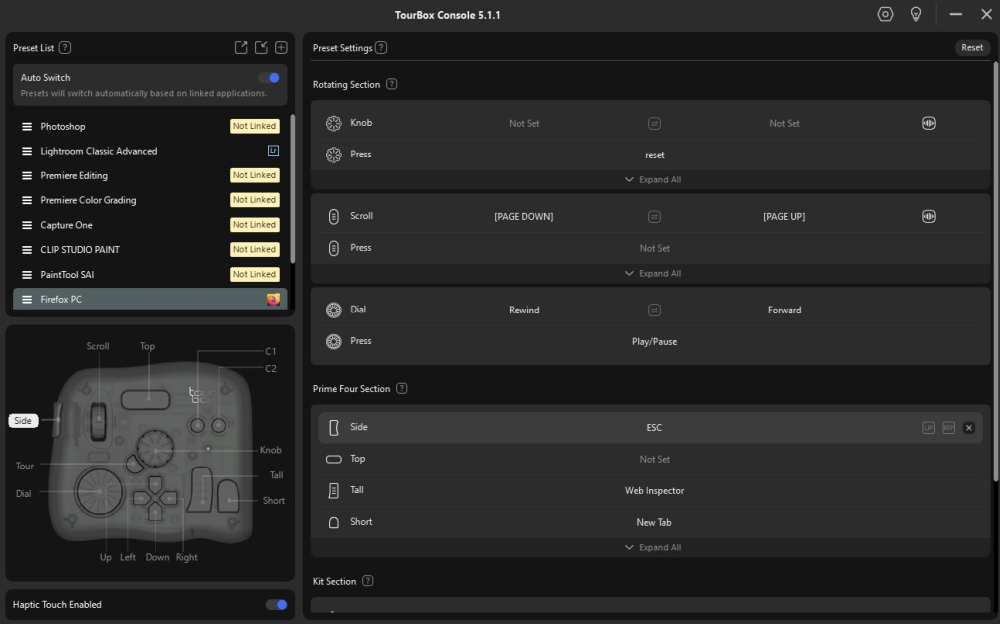 TOURBOX CONSOLE
As great as the TourBox Elite is, it's nothing without the TourBox Console. The TourBox Console is the brains behind the TourBox Elite and is what you'll be using to program every aspect of the experience.
For first-time users, TourBox includes several popular presets. This includes presets for Photoshop, Lightroom, Premier, and more. You can even download presets created by others for any number of apps. If you can't find an app you want to use the TourBox with, you can also create your own which is very simple on the TourBox Console.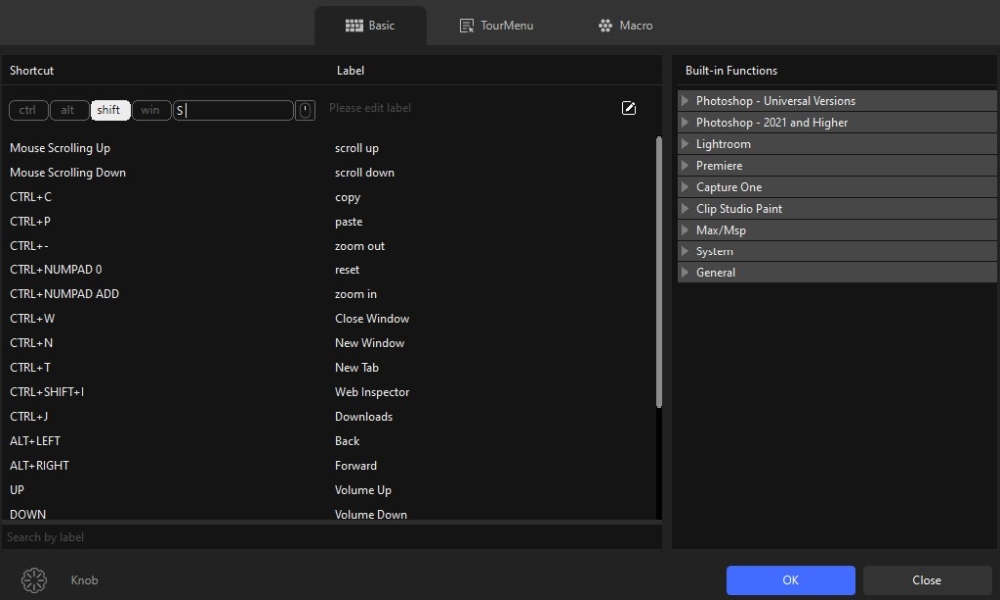 Simply create a new preset in the Preset List. This will allow you to start with a blank slate on the TourBox Elite. Next would be to click the button you want to program and then select it on the TourBox Console. From there, you'll be able to assign basic functions to the button or create a custom macro for it that can include a series of complex instructions. For instance, a button could be assigned with a shortcut for taking a screenshot. If it is a macro, a button press could include a shortcut, plus several mouse actions, text insertion, and more. This obviously can save a lot of time in your creative flow.
You can also assign a button to bring up a TourMenu. This allows for even more custom shortcuts and macros if you don't want to assign those things to a button. I haven't had to make much use of the TourMenu however as I'm able to just use the buttons and dials for everything I need.
What I find really neat though is the fact that the TourBox Console can switch presets automatically based on which app is open at the time. If you're working between multiple apps at once, it knows which one you're on and will adjust presets accordingly. That's for any app you have programmed, and it doesn't even need to be a creative app.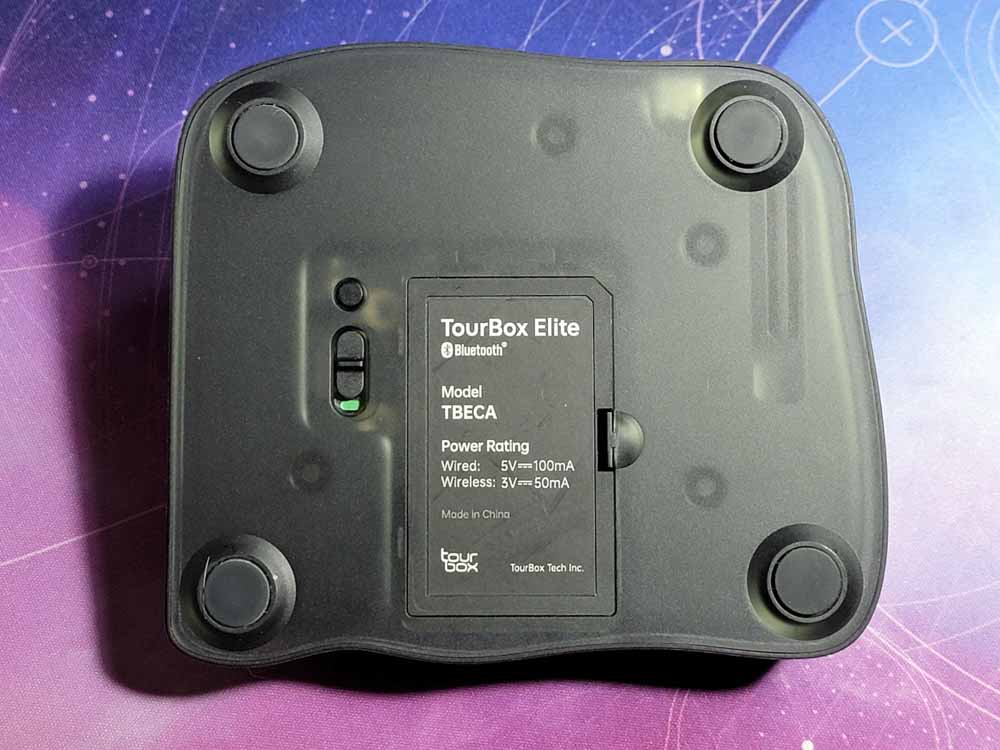 EXPERIENCE
A lot of my experience with the TourBox Elite has been very positive. This is tested on both a Macbook Air and on a Windows PC desktop. Both were connected via Bluetooth, which thanks to the Dual-host Bluetooth LE 5.0 technology, means that I don't need to pair it to different devices each time. I just need to press a button on the back to switch between my two machines.
I actually also used this on a wide variety of apps, not just creative ones. At work, we actually work with a lot of web apps, so I was able to program the TourBox Elite with the Chrome browser and I had shortcuts and macros set for everything I needed to do on our web app. I also used it for several system-wide shortcuts such as taking screenshots and text editing. I tested this with Lightroom and Figma, and for the most part, it really did help reduce some time it took for repetitive tasks. And that's actually what's great about this. I'm able to work smarter, not harder.
As for the TourBox Console, it took me very little time to figure out how to use it. The way you can set custom shortcuts and macros is really intuitive and simple to do. There are tons of advanced options, but they make it easy to figure out where you'll be literally programming like a pro within a day or two.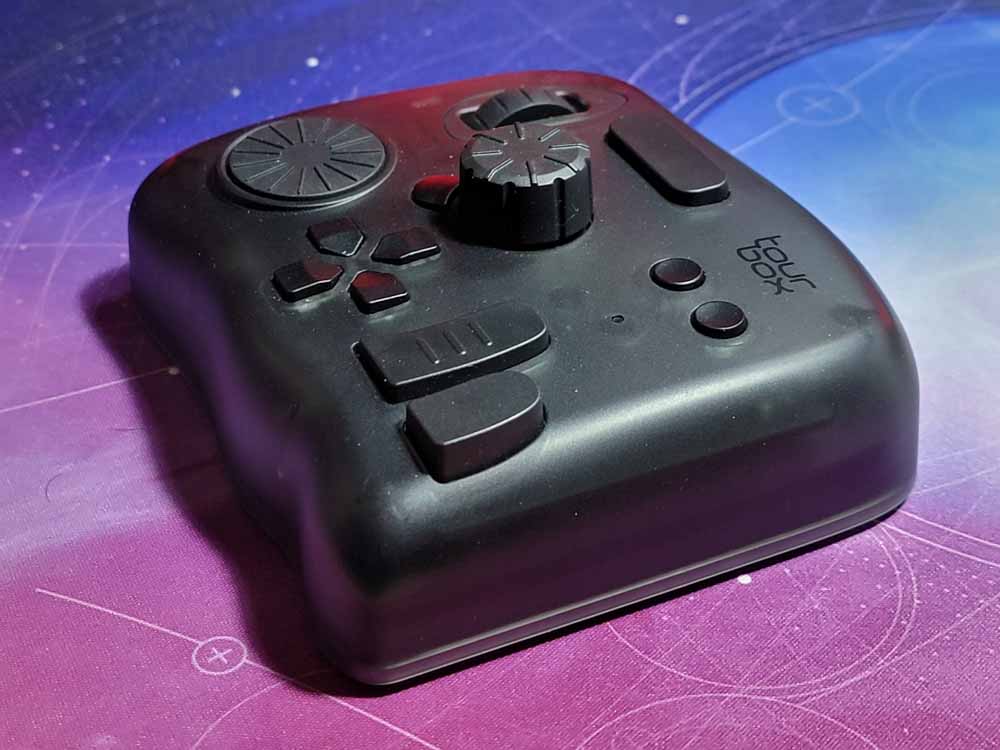 FINAL THOUGHTS
The TourBox Elite just might be the most useful gadget I've looked at in a long time. Not only that but there's nothing I can really say negatively about it. The TourBox Elite has been nothing but a pleasure to work with since I've had it. It has certainly streamlined my workflow and made many tasks less time-consuming. What otherwise would have taken several keystrokes, has now become just one button press, which over the course of a day really adds up to time savings. Basically, anything that doesn't require interaction with the keyboard or button presses on an in-app menu is time saved and the TourBox Elite does that perfectly.
While there are other devices that can do similar things that the TourBox Elite can do, none have the ergonomics of it and the uniqueness of its design. The TourBox Elite is definitely something that is very special and if you're a digital creator or if you just want to optimize your workflow, the TourBox Elite is well worth your consideration.