For me, photography should be equal parts technical and fun. Many of today's digital cameras are technically miles ahead of anything that was available during the golden era of film photography but many of these cameras are simply not fun. The LomoApparat from Lomography is a simple, 35mm box camera that is both eye-catching and promises to make photography fun again. Does it deliver?
LomoApparat Features via Lomography.com
Film Format: 35 mm
Focal Length: 21 mm
Available Apertures: f10
Shutter Speed: 1/100 (N), Bulb (B)
Flash: Built In Flash
Available ISO Settings: No ISO Adjustment
Multiple Exposure: Yes
Tripod Mount: Yes
Cable Release: No
Battery: 1 × AA
Ergonomics & Design
As previously mentioned, the LomoApparat is a box camera – a plastic rectangle that houses a roll of 35mm film and a few controls (if we can call them that). The rear houses a lever to open/close the film back, a multiple exposure switch, and one winder to advance the film. At the top of the camera, you'll find another winder to rewind the film, a shutter button, and at the front an on/off switch that allows you to shoot normally (1/100 second) or in bulb mode as well as a small button to turn the Flash on and off (it's on by default). The camera also has a ¼-inch thread for mounting to a tripod which is neat for a simple camera – though a shutter release connection would've been a huge bonus when using it on a tripod.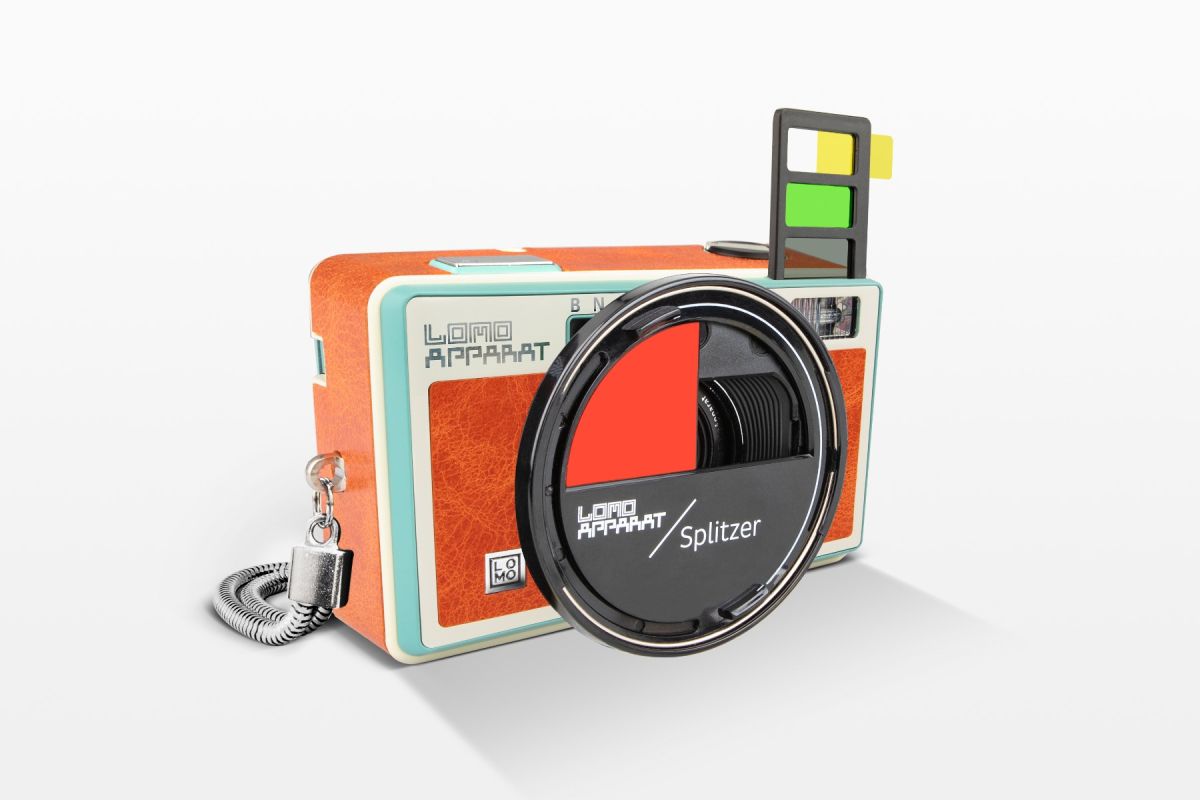 During our testing, we had the opportunity to shoot with the Neubau Edition, an orange and teal colorway with an Italian leather finish to keep things grippy. Combined with the included metal wrist strap, it helps keep everything in place no matter where you're at. Honestly, it's the styling of the camera that I found most appealing – it's simple yes, but still has an eye-catching design that conveys "fun".
Using the LomoApparat
The beauty of carrying around a camera with a wide-angle field of view and small aperture is that you won't need to worry about focus (light on the other hand…) as just about everything in the frame will be in focus. That's the general appeal of the LomoApparat – you carry it with you, point and shoot. At 21mm it's able to cram a ton into a frame or allow you to get the crew together for an arms-length self-portrait.
Final Thoughts
Lately, I've been able to test several cameras – from a Sigma fp L to Canon's vlogging camera, the PowerShot V10 and while all of these cameras have their cool features or even "better" resolution than what I can achieve with the LomoApparat, none of them come close in sparking joy in me as a photographer. No, I will not be using the LomoApparat for client work or even using the output for my articles – but that's fine. Sometimes photography is not about output but a vibe – and the LomoApparat is a camera that truly gets it.