When it comes to enterprise-grade headsets, there are only a few choices of well-known brands in this sector, such as Jabra, Poly, and Logitech. In fact, at my regular day job, we use the Jabra Evolve 75, which might be the worst headset I've ever used. Not a day goes by when I don't curse these things out. That's why when I had the chance to try the new EPOS IMPACT 1000 ANC Headsets, I jumped on it because anything has to be better than those Jabras. I"m glad I did because the EPOS IMPACT 1000 is much better in all areas – better comfort, better build quality, and better sound overall.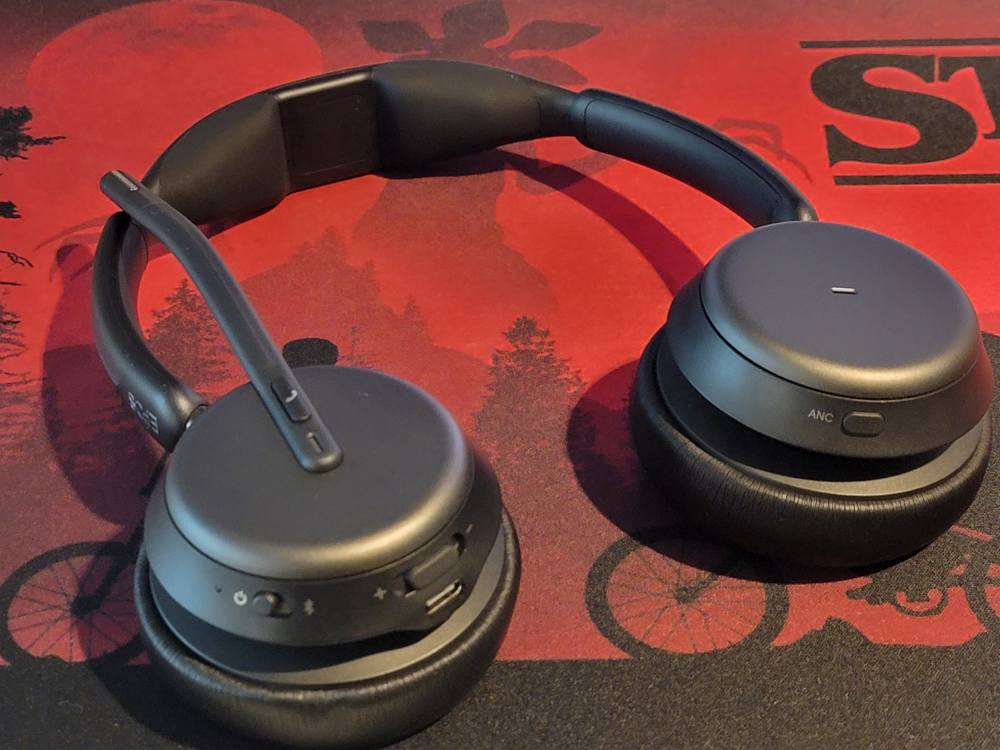 DESIGN
The EPOS IMPACT 1000 is a well-designed and very attractive headset, which is probably why it was a reddot design winner for 2023. Starting with the headband, while it may look thin, it's quite sturdy and very solid. The top of the headband is very well-padded and there are height adjusters nicely integrated on the sides. You'll also notice the notch at the top of the headband and the little wireless charging logo on it. Yes, these can be charged wirelessly by placing these on the included stand.
The earcups that are attached can swivel for more minute fitment adjustment and comfort. The ear cups on these are also very soft and plush and feel great on your ears. The material itself feels like vegan leather of some kind that is soft and cool to the touch. The controls are thoughtfully placed on the bottom side of the ear cups and are easy to feel around for. What I do like too is the placement of the mic. The mic can be oriented for either left or right-side positioning with a handy call button on the side.
This also means that the headset doesn't actually have a left or right side since you can wear these either way.
Included with the EPOS IMPACT 1000 is a charging stand which I mentioned briefly above. This stand lets you hand your headset when not in use but also serves as a wireless charging dock for the headset. While you can also charge with a USB-C cable, wireless charging is just so much more convenient.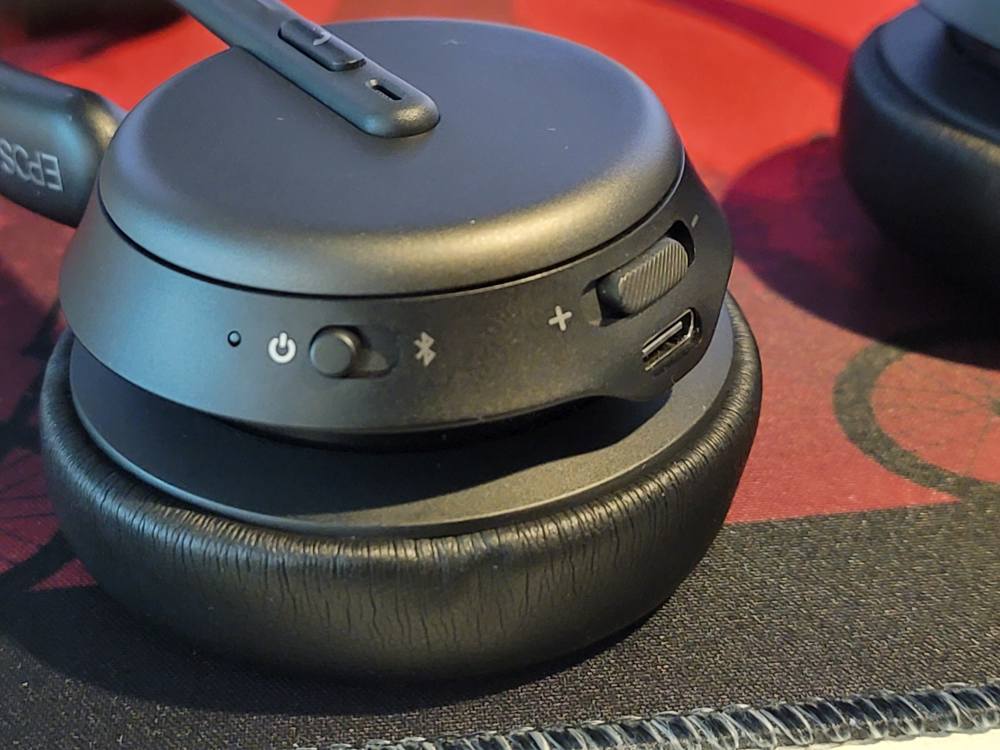 EXPERIENCE
For starters, there is the optional EPOS Connect app you can download on either PC or Mac. This is used to update the firmware on your headset and to adjust other settings of the headset. You can still use the headset without it, the app helps with minute adjustments.
There are also several ways to connect the headset to your device. You can either use Bluetooth, the wireless dongle that is included, or via USB-C cable. Bluetooth is the most convenient, but I prefer the dongle mainly because Bluetooth can be sketchy sometimes and the dongle seems to work flawlessly. The cable I didn't even bother using, but I did use it to update the firmware.
In terms of sound quality, the EPOS IMPACT 1000 is very good at handling voice and background noises. First what you hear is very clear and crisp. Voices sound great and I had no issues hearing anything in my online calls. In terms of microphone output, I did a test with a co-worker in a room with lots of noise and they said they could not hear any of the background sounds or other people talking, other than my own voice. This is also without any other apps installed, such as Krisp. So overall, super impressed with the audio quality.
My only negative experience is with media like movies or music. Mainly there is no bass, but I'm assuming it's because the EPOS IMPACT 1000 is tuned for clear voice instead, which is understandable.
FINAL THOUGHTS
I'm very impressed with the EPOS IMPACT 1000. These are much better than what I was using before in every way possible. They're much more comfortable, made with better materials, and are rock solid, meaning they don't feel like they're about to fall apart. I also really appreciate the included charging stand and the case that it comes with.
Aside from that, the EPOS IMPACT 1000 sounds great and the microphone and noise cancelation are top-notch.
The EPOS IMPACT 1000 isn't cheap though and comes in around the $250 mark, but seems on par with what other business headsets are priced at.