You may have heard of the brand Shokz before as they're pretty well known for their superb bone-conducting headphones. While these are great for working out, they had a couple of drawbacks, mainly the band that connects both sides got in the way sometimes and the bass response wasn't the best. However, Shokz seems to have solved many of the small complaints people might have had with their original headphones and have come out with the new OpenFit true wireless earbuds. While these are not bone-conducting. They do feature a unique open-ear design that improves comfort, portability, and sound quality.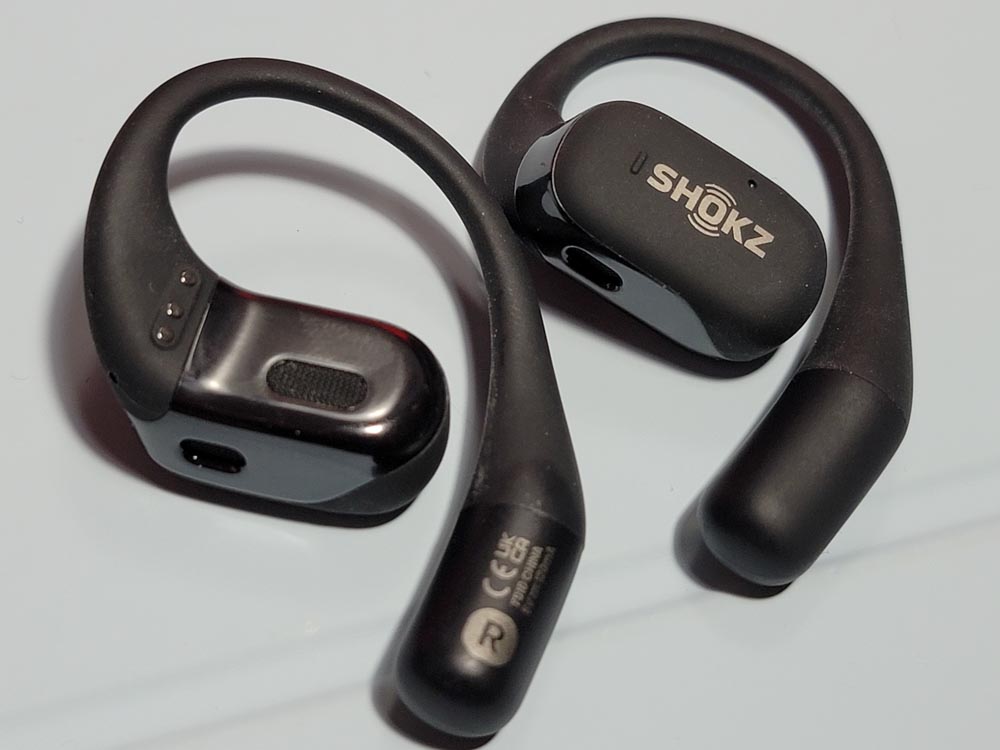 DESIGN
For starters, the Shokz OpenFit does away with Shokz's original designs for a truly wireless design. There's no more band connecting the left and right earbuds which makes the design of the new OpenFit much more compact. This can be seen with the much smaller footprint and case. You can now carry the OpenFit in your pocket whereas all the older Shokz products really couldn't.
The Shokz OpenFit aren't like traditional earbuds that plug into your ear canal. Instead, these are designed with earloops they call Dolphin Arc Ear Hooks. These go around your ear while the earbud themselves sit right on top of your ear canal. The Dolphin Ark Ear Hooks are made with a built-om 0.7mm ultra-fine flexible memory wire that will adapt to the shape of your ear for a more ergonomic fit. Also for comfort, the Shokz OpenFit is coated in a soft-touch finish
Anyways, the design of the Shokz OpenFit mostly focuses around the ear, leaving the inner part of your ear open so that you can still hear the world around you if needed. This is great for those who like to listen to music, but still need to be aware of their surroundings. This was something the original Shokz bone-conducting headsets were good at and the same goes for the Shokz OpenFit.
We should also talk about the case these come in which are much smaller than any case Shokz has had before. Not only is it small, but the case can be charged with a standard USB-C cable. This is great because the previous products required a proprietary cable which you could lose.
Lastly, the Shokz OpenFit is IP54 rated for water resistance so you need to worry about sweat while working out.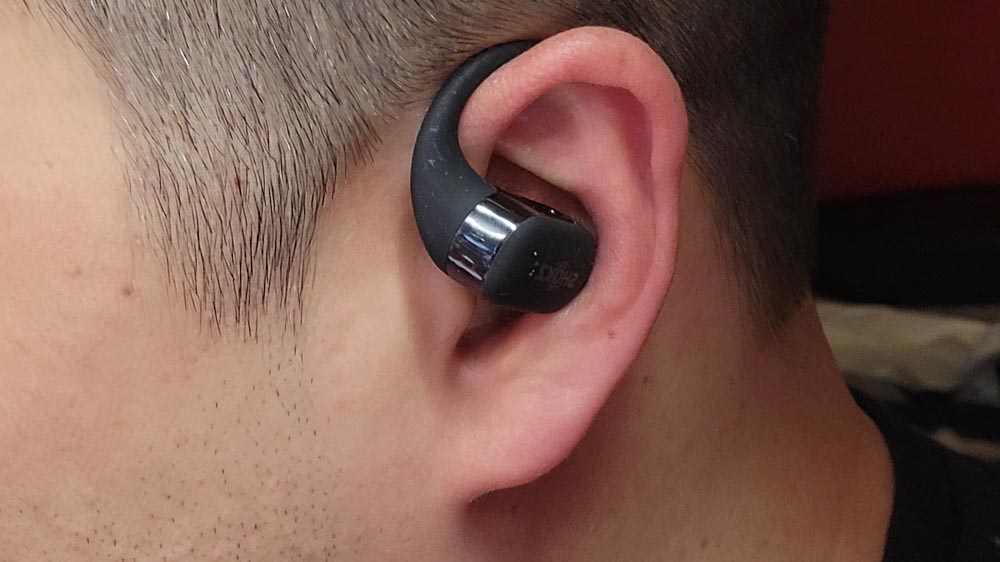 EXPERIENCE
I'm going to move on to experience now because the last thing you probably want to read about is an entire section of specs. I'll sprinkle these throughout my experience notes. For starters, the Shokz OpenFit is very comfortable. I've always had issues with earbuds no matter what the size because they always seem to start hurting the inside of my ears after a certain period of time. With these, I never once felt uncomfortable. Not only that, there were times when I forgot I even had them on. That's how comfortable they are.
In terms of how they sound, these certainly don't lose out again actual in-ear earbuds. Thanks to what Shokz calls, DirectPitch technology, the sound quality is very good. We're talking super clear highs and mids as well as very good bass response. While the bass isn't going to be as good as much larger headphones, the Shokz OpenFit delivers enough bass that your music won't sound tinny.
Controlling the Shokz OpenFit is also pretty simple, though can be a little finicky at times. The earbuds utilize a touch-based control system. Tap twice to play and pause music and hold down on each earbud to go back or to the next track. You can customize this as well if you download the Shokz app so you're not restricted to just these actions. Now, I do say that the controls are a little finicky because the touch doesn't always 100% work. While decent, touch-based controls aren't my favorite.
Aside from that, I love that these now fit in a much smaller case and charge with just a regular USB-C. I can now carry these in my pocket and charge using the same cable I use to charge my phone.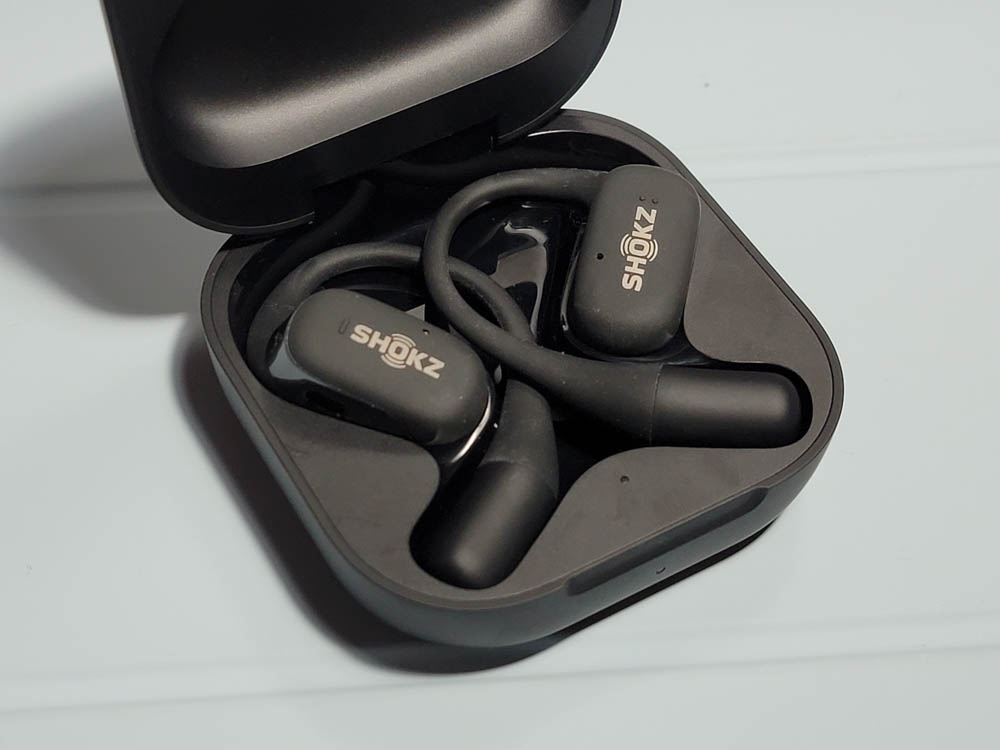 FINAL THOUGHTS
The Shokz OpenFit has become my new favorite set of earbuds. Not only do these sound great, but the comfort of these is beyond any other pair of earbuds I own. With these, I don't get earaches anymore from long periods of use. Half the time, I completely forget that I even have them on. That's how comfortable these are. Because of this, I've been using the Shokz OpenFit for workouts, casually listening to my music and videos, and even Zoom calls on my phone.
The ShokzIn my opinion, Shokz has a winning product herewith the OpenFit and there's no other product on the market like them.