Most modern laptops are truly feats of engineering and design. In most cases, your laptop is probably the only computer you need – even for some intense computing like gaming, or creative applications. Over time, computers have gotten faster, more powerful, and even more portable –but it's largely come at the cost of ports. While some laptops come with just about every port imaginable, most do not – that's where the EZQuest USB-C Multimedia 8-in-1 Hub (EZQuest 8-in-1 from here on out) comes in.
Tech Specs via EZQuest
11-inch Nylon Braided USB-C cable with Aluminum housing
HDMI 4K (60Hz max)
Two USB-C (5 Gbps)
Two USB-A 3.0 (5 Gbps)
SDCH/Micro SD Card Reader
USB-C PD 100 Watt/5 Gbps Data
Compatible with Apple Computers with USB-C/Thunderbolt 3 (minimum); All PCs with USB-C/USB-4 ports; Android Phones with USB-C port; Nintendo Switch
EZQuest 8-in-1 Hub in Everyday Use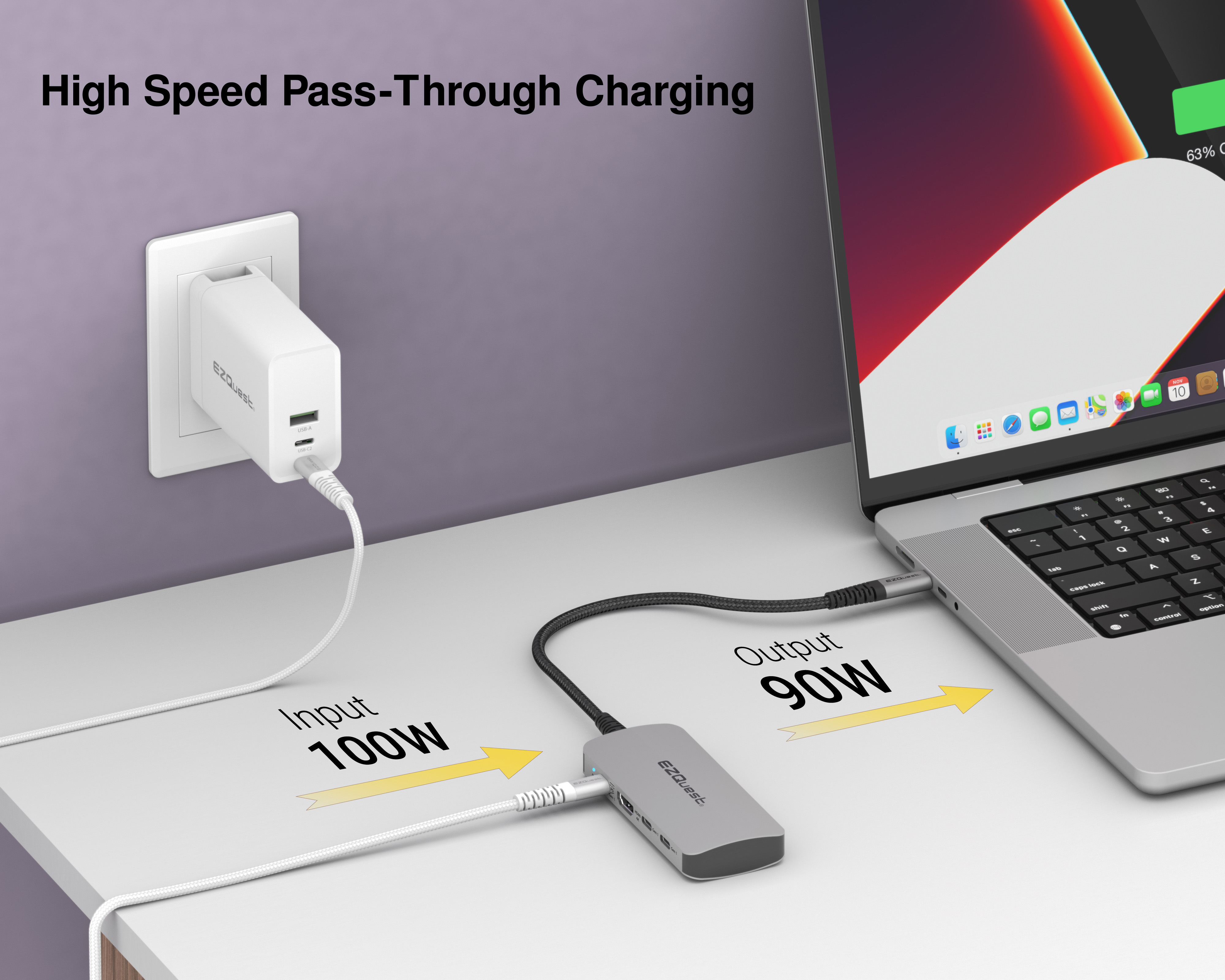 That subheading isn't a stretch. I've used the EZQuest 8-in-1 every day for a little over a month and found that it has disappeared into my work life. The hub remains a fixture on my desk – connecting my monitor, USB podcast mic, a camera (currently in testing), my SJCam M20 action camera (now being used as my webcam), and of course, as a card reader. This thing has become the central hub where I get work done.
As a central hub (no pun intended), it allows me to maximize efficiency across my personal (2016) MacBook Pro and work (2020) MacBook Pro – even allowing me to expand the available number of ports on the latter. The 100W PD option allows me to keep my laptop topped off and still have a native port ready. This is critical especially if some devices require more power than others.
What about the Switch?
Yeah, that bit caught my attention – a USB-C hub that stated it worked with the Switch. Well, here's where the EZQuest 8-in-1 started to show its flaws. It very technically is compatible with the Switch in that it can supply power to your Switch, it'll even allow you to connect a single wired controller. But that's about it; if you're looking for a portable replacement for the Nintendo Dock, this ain't it. I don't think it's a deal breaker if you're looking for a USB-C hub, but I wouldn't buy it strictly for use with your Switch.
Other Hubs & Final Thoughts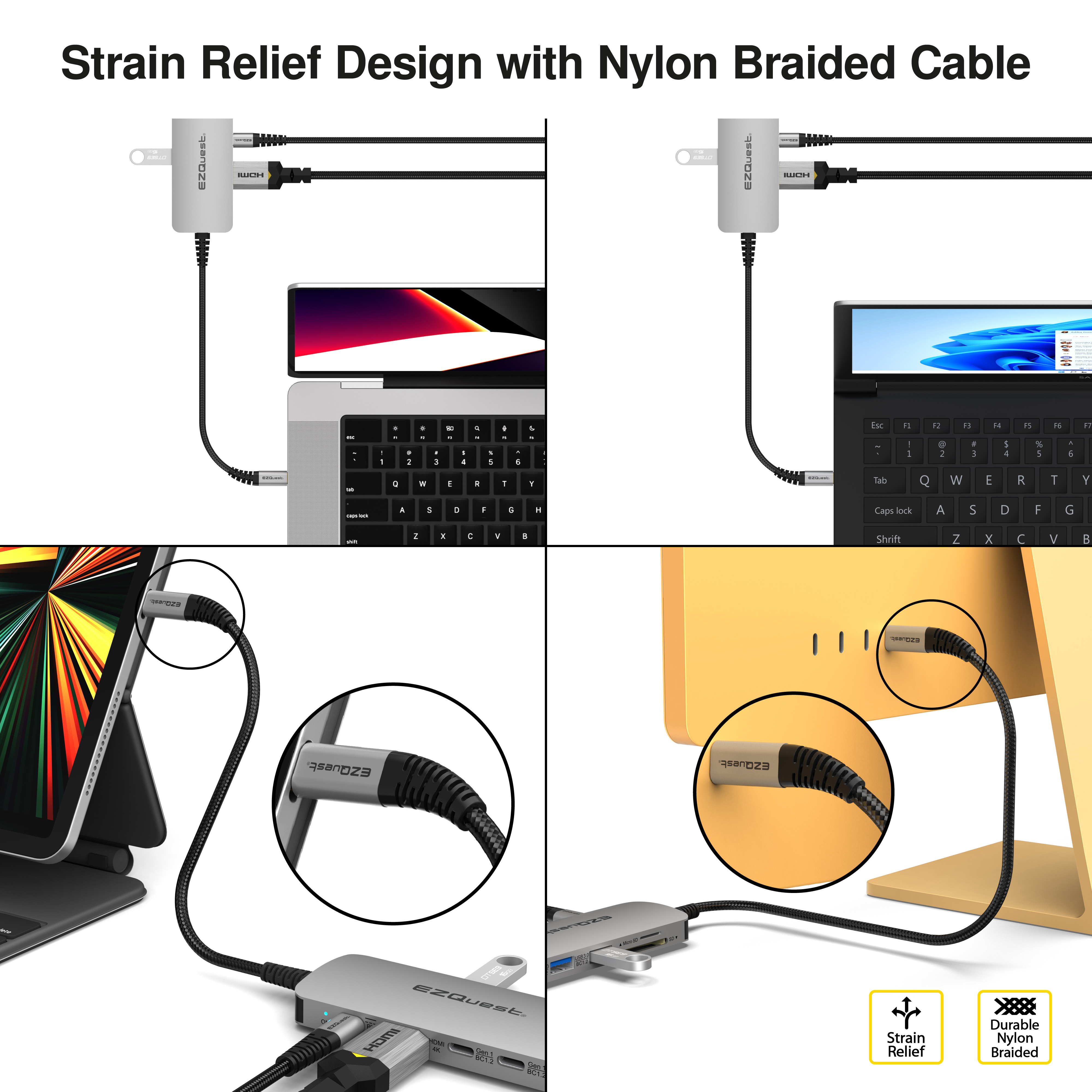 We recently reviewed a similar (although with far more ports) hub and I've personally used a number of these since buying that 2016 MacBook Pro and it's always been a matter of juggling compromises. Some (cheap) hubs will only come with USB-A ports, or you can get an HDMI 4K out but not a card reader, or worse – no PD option. That's where the EZQuest 8-in-1 stood out. It wasn't overkill with the number of connections (if you need more than 8 consider a proper desktop hub like the CalDigit TS3 or TS4) but also supplying you with every port you could conceivably need at home and on the go. In my experience, I never once felt that data transfers lagged or that I was lacking connectivity options. Coming in at just under $60 (Amazon), it really should be in your travel gear bag.