| Sleek with any VR |
When Meta Quest 2 launched, I searched tirelessly for additional accessories to further its potential at a fraction of the cost. I managed to get a cooling fan to prevent lens fog, a portable battery pack and much more. But one key element I was missing, and it was quality wireless earbuds. Well, thanks to one of my favorite brands, Anker launched an excellent piece of hardware that should fit both your everyday needs and gaming alike, the VRP10 Wireless Buds. Comfortable, affordable and downright cool looking, these gaming buds managed to make my overall VR experience that much better.
Design and Comfort
The Soundcore Anker VRP10 Wireless Earbuds have interchangeable ear tips for a comfortable and secure fit in a variety of ear sizes. The earphones are extremely lightweight, making them comfortable to wear for long periods of time. The charging case and earbuds have LED indicators that show the battery state and charging process. I especially like how the dongle fits within the eggshell charging case – it's a very unusual design. It also has touch controls on the outside of each earbud, allowing you to control music playing, answer calls, and activate your voice assistant without taking out your phone. They are also sweat and rain-resistant, with an IPX5 rating, making them excellent for workouts and outdoor activities – however I would be cautious because the overall protection does not appear to be very trustworthy. Their elegant design should be appropriate for everyday use, especially when gaming.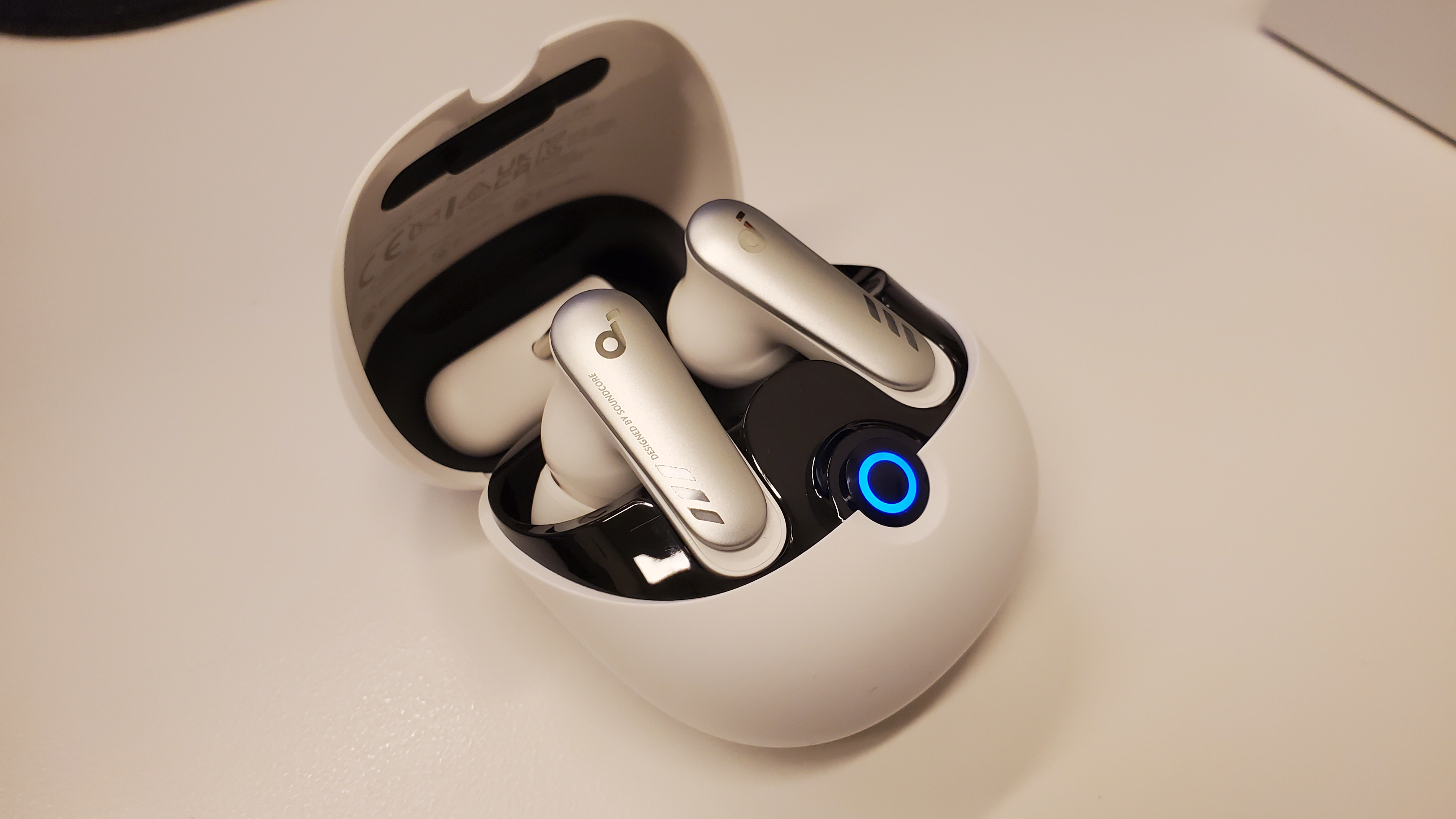 It's intended to provide high-quality audio in a small, lightweight container. The 10mm driver and graphene diaphragm in these earbuds work together to provide clear, crisp audio with plenty of clarity and depth. As previously stated, graphene is a lightweight conductive solution that provides exceptional sound quality without the stress of having anything tucked in your ear – well, it's there, but the VRP10 is one of the lighter earbuds.
The VRP10 earbuds are also equipped with Bluetooth 5.0 technology, which ensures a stable and dependable connection with your audio source. This reduces audio dropouts and ensures that you may listen to music or podcasts uninterrupted. The VRP10 earbuds create a balanced and natural sound profile, with a modest focus on the low-end frequencies. This provides a pleasant thump to the bass without dominating the rest of the audio. The in-ear design of the earbuds provides good noise isolation, which helps to improve music quality by eliminating outside noise and distractions. These earbuds comes with software where you can update firmware, adjust EQ and much more. Make a profile and you're good to go. I'll add that I hope Anker implements a firmware update that gives a sound indicator whenever the earbud is attached in your ears – I like that feature in my Galaxy Buds, and would like here as well.
This will provide a great degree of sound quality in a compact and comfortable form. These earbuds produce clear and detailed audio that will help you stay focused and engaged whether you're listening to music, watching movies, or taking phone conversations.
Quite the Life it Has
On a single charge, the earbuds have a battery life of up to 6 hours, and the charging case provides an additional 24 hours of battery life. The housing is equipped with a quick charging feature that allows for up to an hour of playback time after only ten minutes of charging. The longevity of the battery life is remarkable and should be sufficient for the vast majority of users. When taking into consideration both their features and their cost, the Soundcore Anker VRP10 Wireless Earbuds provide an excellent value for the money. They have a reasonable price point while still maintaining a high level of sound quality, a comfortable fit, a respectable battery life, and noise-cancelling technology.
Using the Soundcore VR P10 wireless gaming earbuds, I was able to have a much more enjoyable time playing Meta Quest 2; overall, these earbuds have made my gaming experience better. These earbuds offered the necessary level of comfort for me to be able to play for several hours straight. They didn't move at all, even when I was putting a lot of pressure on them during my gaming sessions, which amazed me. The sound coming from various games were crystal clear, very precise, and very deep. I am able to hear every footstep, gunshot, and explosion in great detail, which gives me an advantage in games like Medal of Honor.
The Soundcore Anker VRP10 Wireless Earbuds are a good option for consumers who are looking for a pair of true wireless earbuds that is not only comfortable but also comes packed with a lot of features. It is ideal for use while on the move, but even more so for your virtual reality experience. Because it is one of the more affordable options and because it is backed by a reputable brand, I can guarantee that this will be one of the more advantageous choices that are available on the market.
REVIEW SCORE: 8/10
For more on Soundcore Anker's VRP10 Wireless Buds and gaming, follow me on Twitter and other social media here