If you're serious about gaming or typing, you owe it to yourself to pick up a mechanical keyboard. There's nothing quite like typing on one and the quick response time you get on them is perfect for gaming. Not only that, who doesn't love the matter-of-fact clicky noises you get from the press of each key? Not only that, many mechanical keyboards can be customized, but why customize if you can pick up something thing truly special? Enter the Drop + The Lord of the Rings Dwarvish Keyboard, a 1-of-2 officially licensed pre-built mechanical keyboard, created for the most loyal fans out there.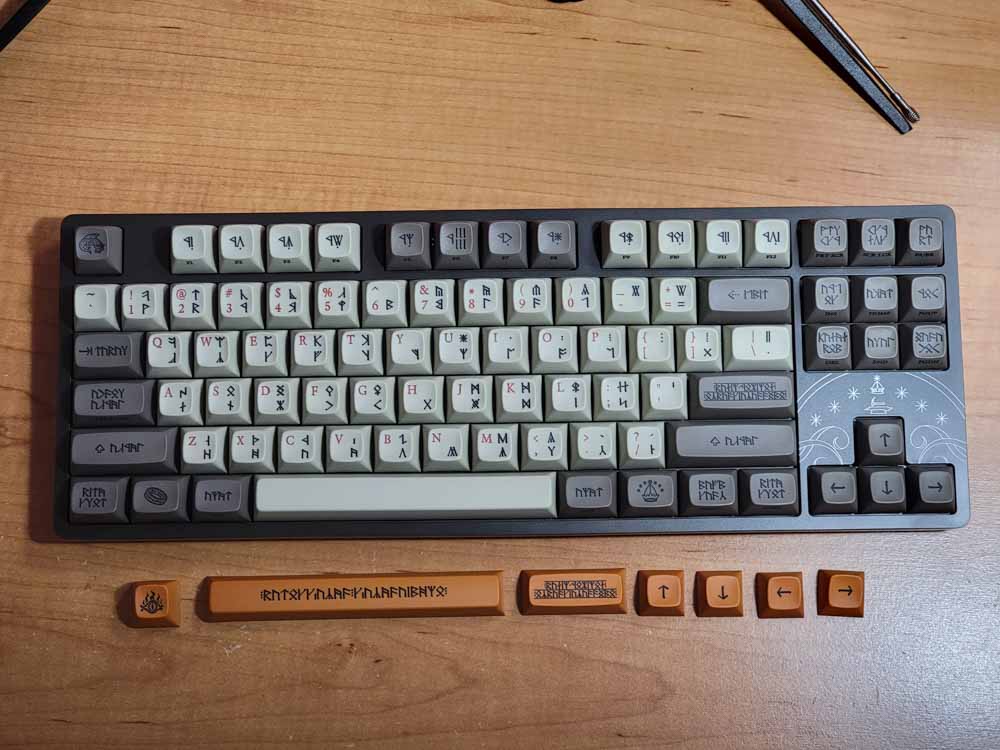 DESIGN
The top reason why you'd pick up the Drop + The Lord of the Rings Dwarvish Keyboard over any other mechanical keyboard is because of the design. Even if you're not a Lord of the Rings fan, you can't help but admire the craftsmanship and detail that went into the look of it. You get everything from a specially etched aluminum case with artwork by OSHETART, Drop + The Lord of the Rings Dwarvish Keycap Set (Training Dwarvish Base Kit, with selections from Durin's Forge Kit and added novelties), white backlighting, and even LOTR-inspired box art.
It's really something special, and you'll get the same type of treatment if you decide to go with the Elvish Keyboard. I love how both have their own unique art and colors.
I should point out that this is not a full-sized keyboard and instead, only has 87 keys, aka TKL layout (ten keyless). There is no number pad. TKL keyboards are very popular now mainly for space saving. TKL isn't for everyone, but it's still not as small as the 60% compact keyboards.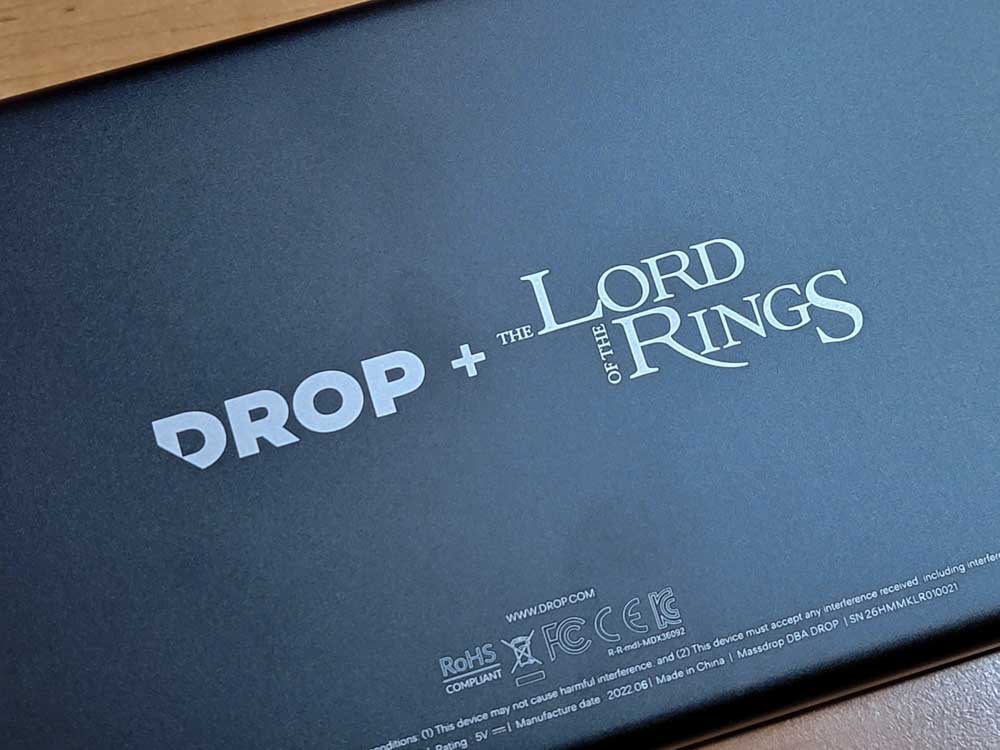 Back to the design, the base is made of anodized aluminum. It's dark gray and the back is printed with the Drop + The Lord of the Rings logos. The casing by itself is pretty impressive due to its heft and how solid it feels. Definitely high quality. You'll also find some grippy rubber feet and risers on the back.
I mentioned it above, but there is another set of keycaps included with the keyboard, but for only certain keys. This lets you accent the keyboard in a sort of light wood color with new Drwarvish text on them. I ended up swapping these out to add a splash of color to the Drop + The Lord of the Rings Dwarvish Keyboard. The regular keycaps are finished in a light grey and beige color.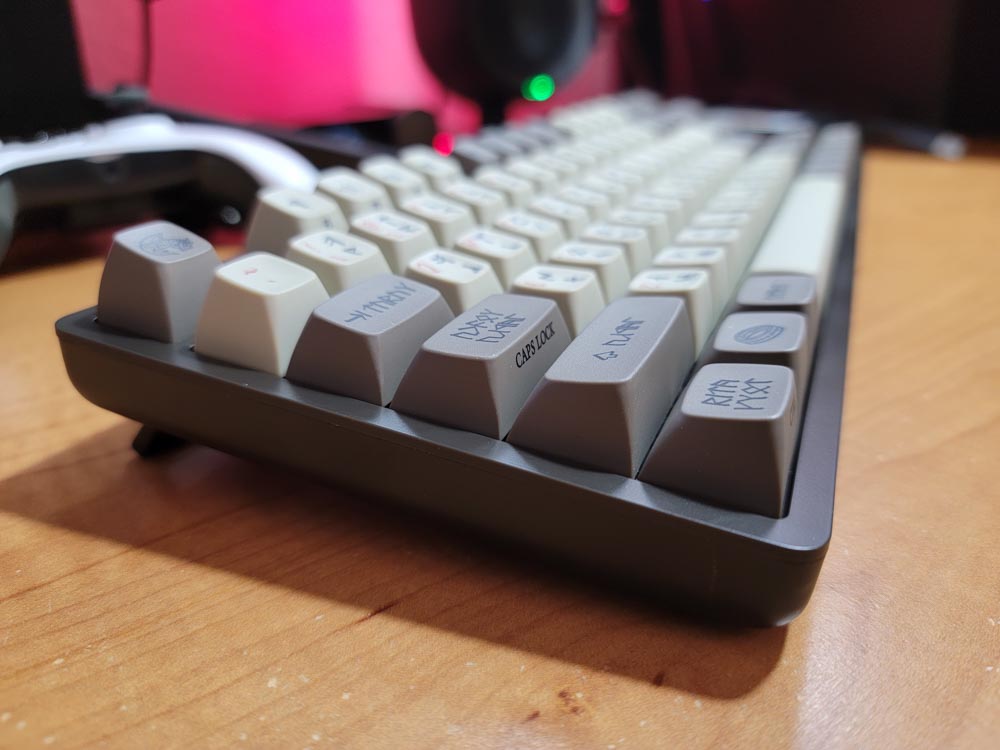 EXPERIENCE
The Drop + The Lord of the Rings Dwarvish Keyboard utilizes Drop's Holy Panda X Mechanical Switches. These are supposed to give a better tactile feel while also having improved consistency and less stem wobble. They do have a bit of resistance at the initial touch but have a satisfying click after the press. I should point out that these switches are manufactured by Gateron.
Another interesting point is that the keycaps have a deep concave face on them. You can really feel the dip on your fingertips and may make finger placement on the keys more accurate.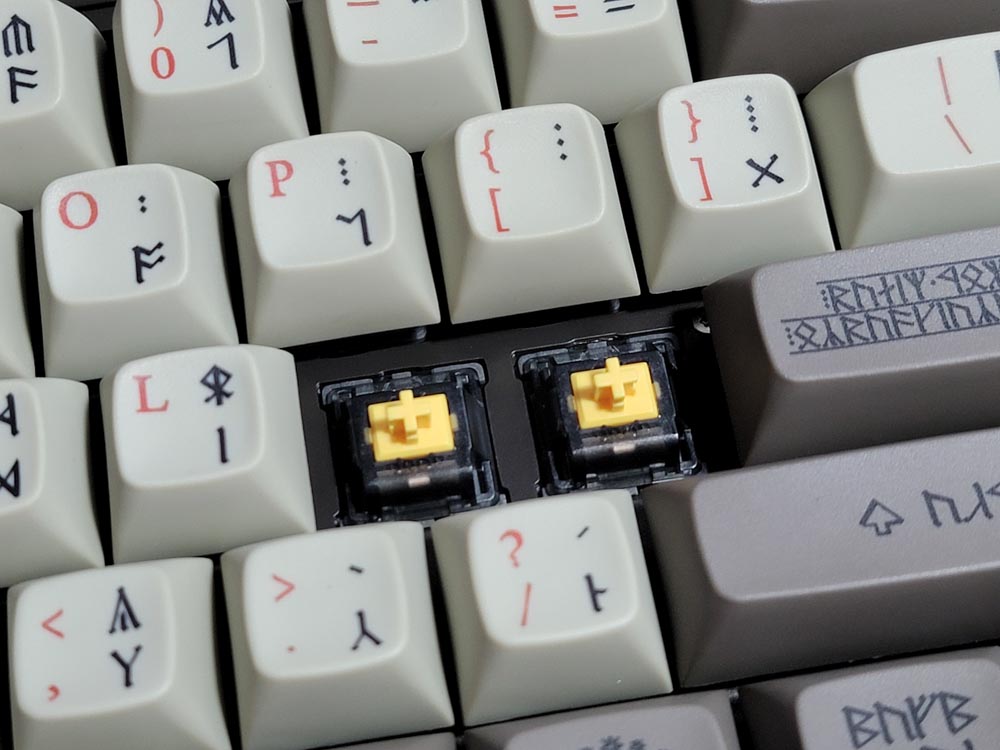 On the software front, there isn't any. This is strictly a plug-and-play keyboard so there isn't any software to install. That also means you can't enable custom functions or macros. For the most part, this keyboard is mostly used for a more satisfying typing experience, though you can also still use it for gaming. It just doesn't have all the gaming bells and whistles.
In terms of construction and quality, the Drop + The Lord of the Rings Dwarvish Keyboard is absolutely perfect. The base is solid as a rock, the keys sound really good, and you can't ignore just how awesome the keyboard looks. The only ding I'll give it is that it just uses a regular USB-C cable and not something a bit more custom like a breakaway cable or one that is braided and coiled.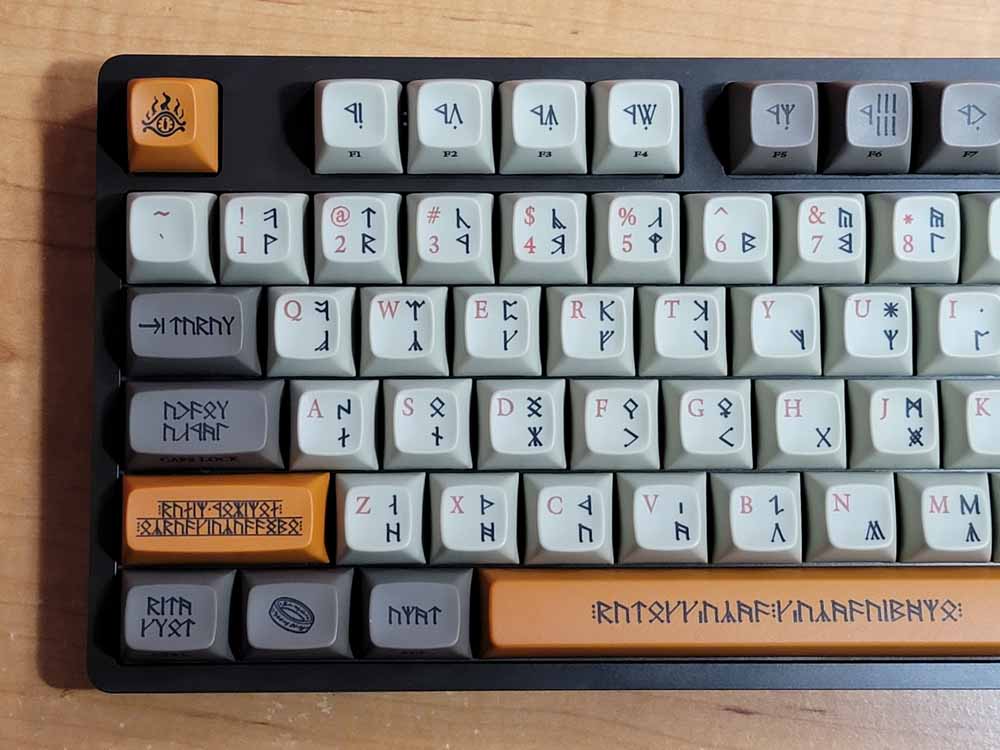 FINAL THOUGHTS
The Drop + The Lord of the Rings Dwarvish Keyboard is one of the nicest-looking keyboards I've ever seen. I've used a lot of gaming keyboards and mechanical keyboards before, but this one takes the prize when it comes to looks. The custom etching and Dwarven keys look amazing I also love the color scheme on this thing and while it doesn't match anything on my desk, it sure does stand out. In fact, for me, this is almost more like an art piece than it is a keyboard. I almost don't even want to use it.
So with that said, if you're a The Lord of the Rings fan, this is one item I'd definitely try to pick up. Whether it's the Elvish version or this Dwarvish version, both are works of art that you can either use as they were meant to be used, or put up for display. Regardless of what you choose to do with them, you won't be disappointed by their details and build quality.