You've probably heard of and seen PowerA accessories at your local retail stores and noticed that they make accessories for pretty much every console. Most notably, they make a lot of controllers, cases, and other accessories for every need you might have. However, some of their most fun and flashy accessories are made for the Nintendo Switch, especially their licensed products that feature recognizable Nintendo characters. Take for instance their newly released Kirby licensed merchandise that includes a full-featured Kirby Edition Protection Case and a Kirby Edition Enhanced Wired Controller.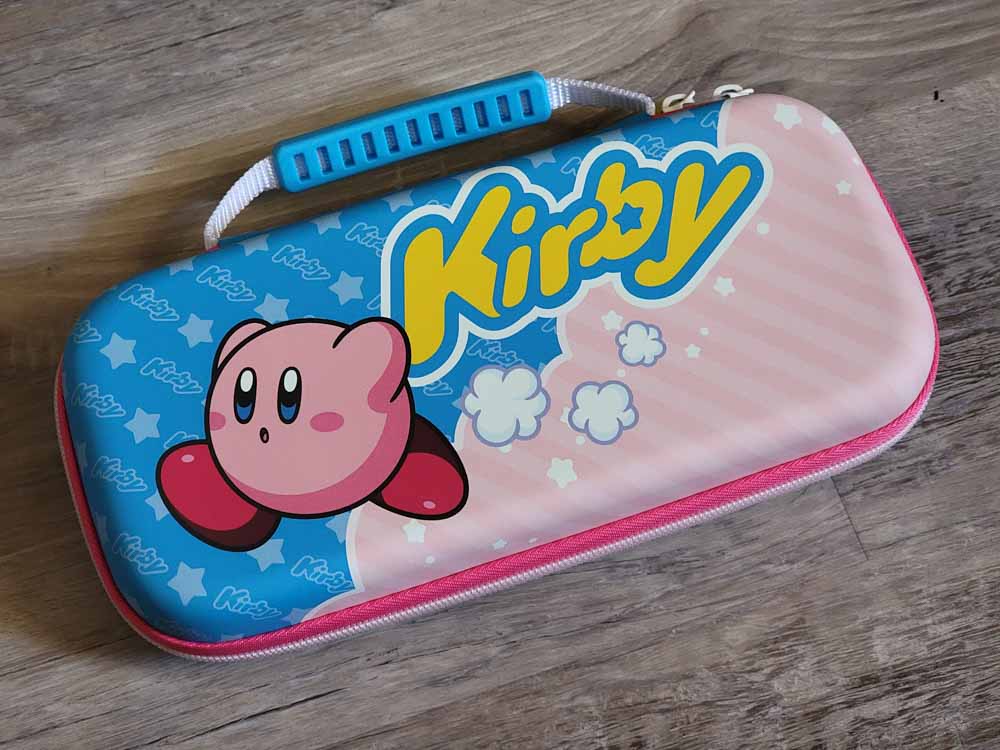 PROTECTION CASE – KIRBY EDITION
We looked at a Metroid Edition Slim Case a while back and let me just say that this Kirby Edition Protection Case is much more impressive. First off, this isn't the same type of case and is slightly larger to accommodate extra accessories and features. For starters, there is much more room inside of the case to accommodate either the new Nintendo Switch OLED, Nintendo Switch, or Nintendo Switch Lite. The back even has extra grooves in it for the parts on the Joy-Cons that protrude out so they don't get squished in the case.
Other notable enhancements include an interior pocket to hold extra Joy-Cons or cables and accessories, 10-game cartridge holders, and a built-in stand for Table Top mode. There's also a Velcro strap to keep your Nintendo Switch firmly in place while stored away and a foam insert if you are using this for a Nintendo Switch Lite. Lastly, there is a carry handle on the outside and double zipper pulls.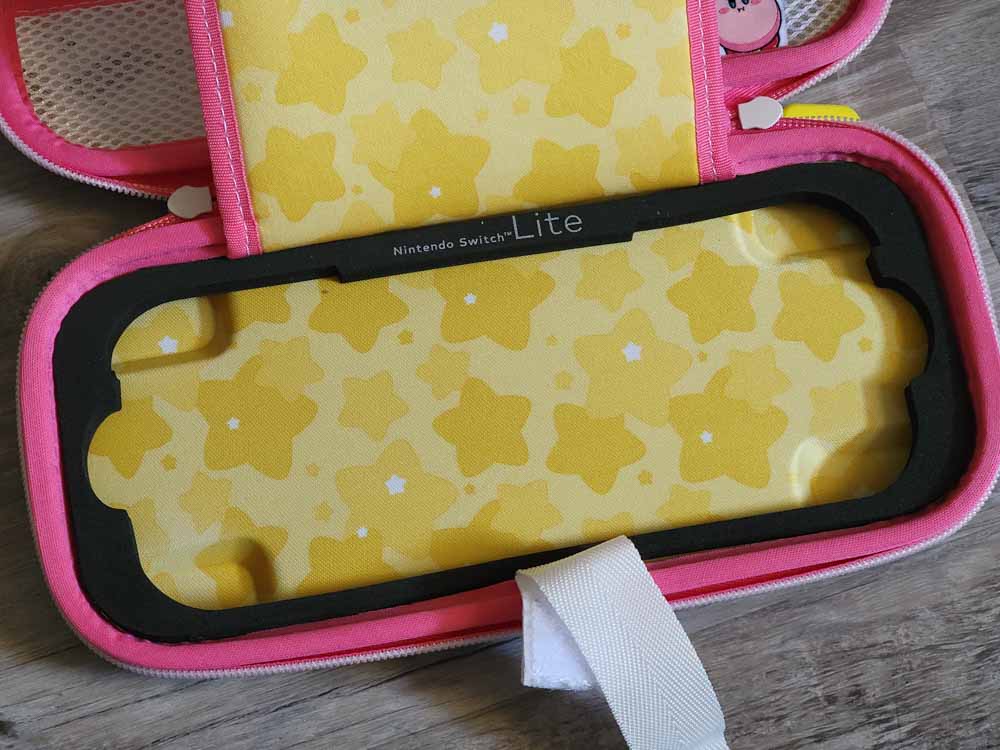 While these are all great features, my favorite thing about the Kirby Edition Protection Case is just how far they went with the theme. This isn't just a case with an image of Kirby slapped on the front. Instead, the entire case features Kirby-themed colors that also carry into the interior of the case. There is a lot of pink here as well as yellow and blue accents. The interior also sees a star-patterned insert and a special Kirby tag. It's these little design extras that really make this case stand out. I should also mention that the outer Kirby image is really nice and fun looking.
The PowerA Protection Case (Kirby Edition) is available now for $19.99.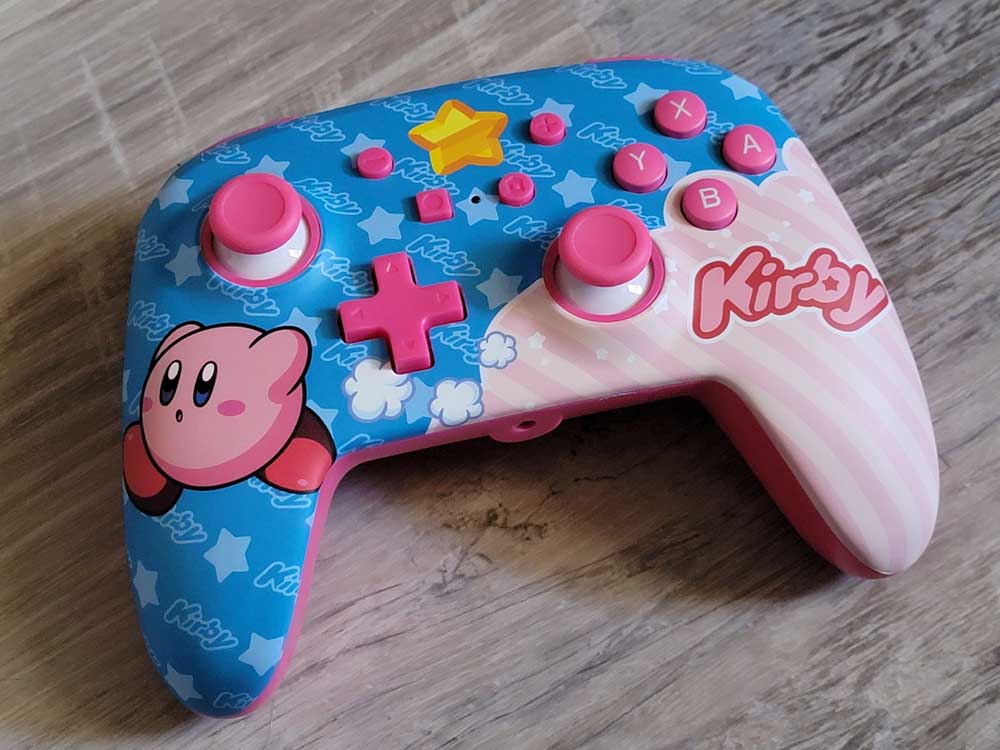 ENHANCED WIRED CONTROLLER – KIRBY EDITION
The PowerA Enhanced Wired controller is for those who want full-sized controller to game with and one that is a lot more comfortable to use than the smaller Joy-Cons. To me, a full-sized controller is just easier to use with much better button placement. In the case of the Enhanced Wired Controller, you also get two extra programmable buttons on the rear.
Since this is a Kirby Edition Enhanced Wired Controller, PowerA gave the controller some extra flair with the same Kirby-themed design on the face. This is carried over onto the rest of the controller with Kirby-themed colors on the buttons, rear casing, joysticks, and d-pad. Even the detachable cable is white to match the theme. Basically, everything on the controller has been color coded to match the design and if you're a Kirby fan, you're really going to love this.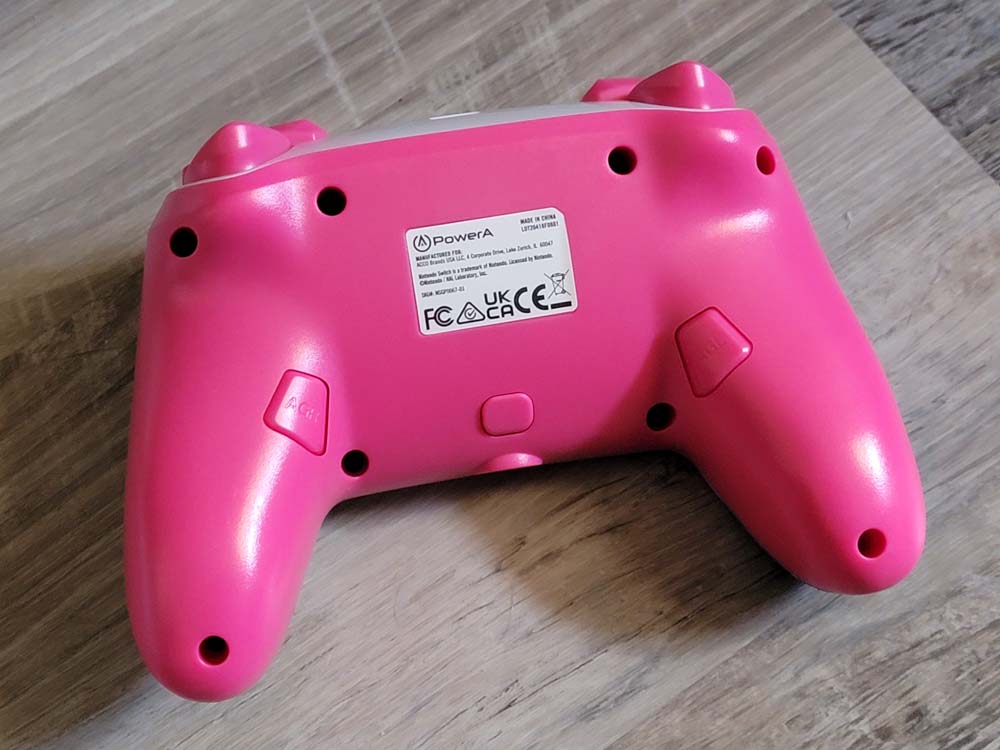 Aside from its looks, the Power A Enhanced Wired Controller does have some excellent features. It includes a detachable 10ft long cable, anti-friction rings, and an ergonomic design. Also, the controller has rear game buttons that can be mapped to other buttons so you won't have to take your thumbs off the sticks for certain games. There's even a 3.5mm audio jack for a headset.
The Enhanced Wired Controller is pretty solid, but it does feel a bit light in your hands. That's most likely due to not having any rumble motors. It still feels really comfortable, however. I just wish it had a little bit more weight.
The Power A Enhanced Wired Controller (Metroid Dread Edition) is available now for $27.99.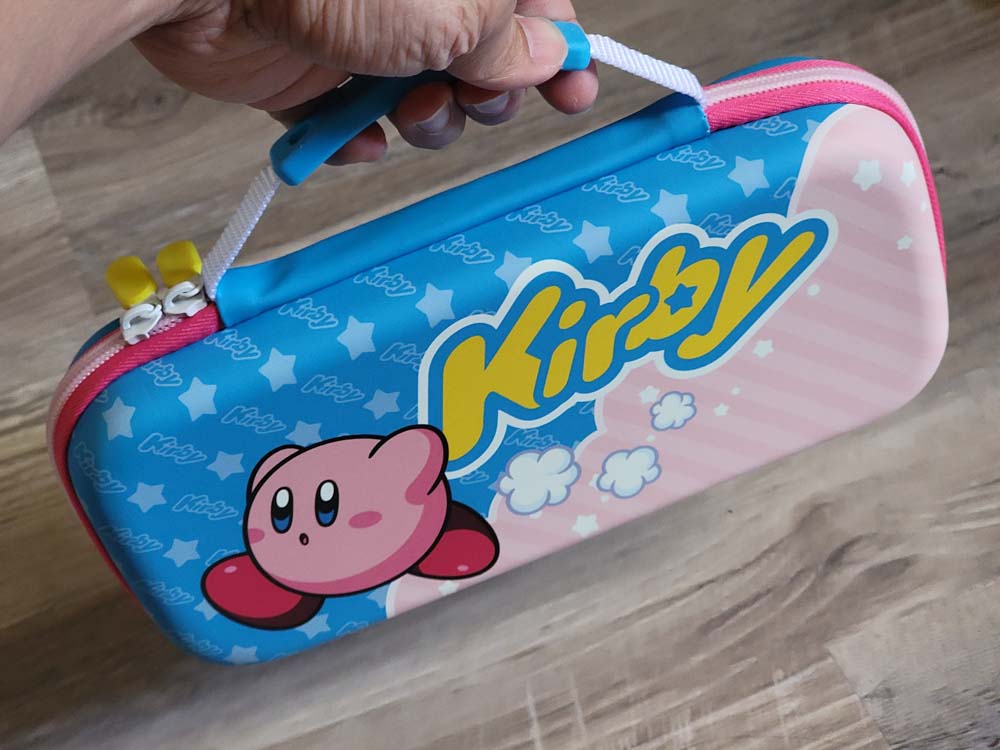 FINAL THOUGHTS
It looks like PowerA really went all out on these new Kirby-themed products. In fact, this might be their best series yet. I love the fact that they left no surface untouched and everything has been color matched to go along with the Kirby colors. I also love how fun these designs look with their bright colors. Both the Protection Case and Enhanced Wired Controller are perfect choices for those who want to carry and protect their Nintendo Switch as well as play with a controller that is more familiar in shape.
Now if only Nintendo had an actual Kirby-themed Nintendo Switch to go along with this.