Yesterday was the big day for Microsoft and the XBOX faithful. A glimpse into what we can expect from XBOX for the nest 12 months. We knew that XBOX had a lot going on but to what extent nobody had a clue.
The XBOX/Bethesda showcase cleared up a lot of the rumors with a lot of gameplay and announcements of huge partnerships that will have team green with plenty to play and be excited about for the coming year.
WHAT THE XBOX/BETHESDA SHOWCASE TOLD US
The XBOX/Bethesda Showcase was 95 minutes of just games. The show was incredibly well paced. XBOX minimized long drawn out conversation and set pieces and got right to it. Within the conference we got a lot of the things that XBOX fans expressed they would like to see from XBOX. That's really what we took from this show watching it live and then watching it again. XBOX was addressing fan feedback and that's what this show told us in a nutshell.
GAMES, GAMES, GAMES
XBOX brought the games that's for sure. We finally got to see Redfall which was slated for summer release this year but was unfortunately pushed back along with Starfield (we'll get into Starfield later). XBOX showed off Forza Motorsport 8 which was absolutely stunning and in our opinion the signal that Forza Motorsport is the new king in the console racing space arcade and simulation, sorry Gran Turismo. It was also in our view the best game shown.
We saw XBOX solidify partnerships that the fans had been asking for most, notably Persona. XBOX has been working diligently to cement more of a footprint in Japan where Sony and Nintendo reign supreme and while getting Atlus to partner with them to bring Persona to XBOX and GamePass won't change that, it was great to see XBOX fans be able to finally have access to the Persona games. Kudos to XBOX on solidfying this.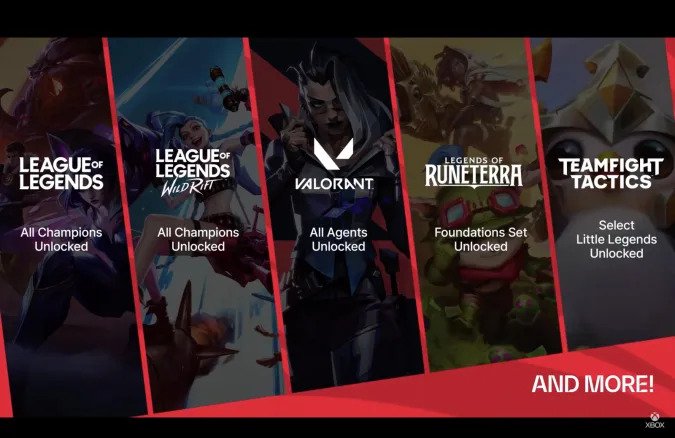 Riot Games and XBOX coming together on a partnership to bring all it's content to GamePass was a huge announcement which we feel isn't getting the attention it deserves. Think about it, all of League of Legends, Valorant and Legends of Runeterra with everything unlocked for GamePass subscribers is what makes GamePass such a compelling value and that cannot be understated. Like Riot Games or not there's a huge fanbase for these games and the revenue they'll generate is just smart business for Microsoft and XBOX.
INDIE AND 3RD PARTY KICKED ASS
Indie and 3rd party games were the stars of the show. There were a shitload of games. The more we watched the showcase the more you got the sense that XBOX was focusing on 3rd party content to fill out the calendar for the next 12 months. There were some notable games that stuck out. Hollow Knight: Silksong, Ereban, Cocoon, Wo Long: Fallen Dynasty, Pentiment, The Last Case of Benedict Fox and Diablo IV were the standouts as the GSG gang saw them. So if you don't necessarily care about AAA 1st party as much as everyone else then you definitely got your fill of games coming for the year.
STARFIELD
FINALLY! Easily the most talked about game in the XBOX lineup and the game that everyone, I don't care if you're an XBOX fan or not wanted to see. That's Starfield. Originally supposed to be coming out 11/11 of this year it unfortunately fell victim to the swarm of game development delays that have plagued all of gaming. Not really a problem as a whole but it became one because we never saw anything in terms of any gameplay from Bethesda but we got a bunch concept art and developer videos talking about the game on YouTube and hearsay. Well, that was put to rest yesterday as Phil Spencer announced that we would finally see what we're getting next year.
Depending on how you feel about space exploration games you'll either love or hate Starfield. It's been contentious on the internet so far with some loving it and some mixed feelings and some outright hating it. Bethesda still has time to polish it up and make it better so we'll see. Microsoft and XBOX ended the show with Starfield and it topped off the show.
OVERVIEW OF THE XBOX/BETHESDA SHOWCASE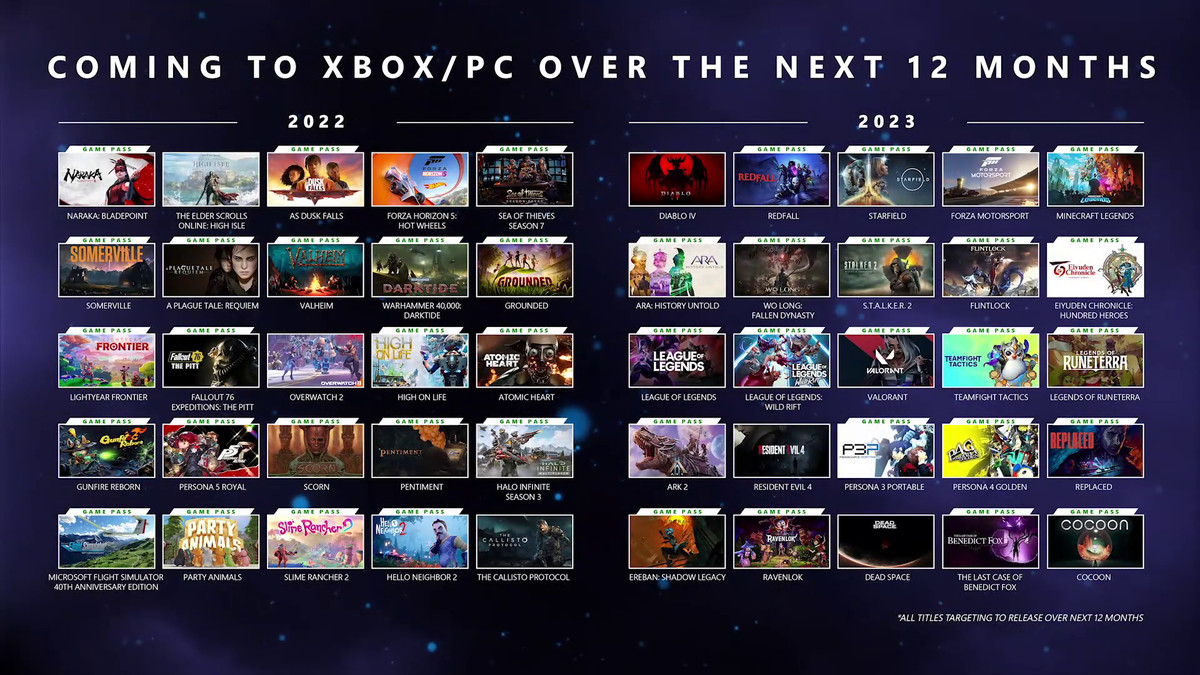 Whatever side of the console war spectrum you live on, if you're a gamer then you have to appreciate what XBOX showed yesterday. It was not a mindblowing but it was solid. Microsoft addressed a lot of the key game concerns that their fanbase had and made sure GamePass would be stocked like the fridge after grocery shopping with all of the games we saw. As good as the show was it could have been so much better. Microsoft left a lot on the table in what they didn't discuss. No Avowed, not even talk of it. No Contraband, Indiana Jones, Fable, etc. Hideo Kojima announcing an exclusive project with XBOX was cool for sure but that game we're sure isn't in development yet so we can expect that it'll be quite a few years before we see or hear anything from Kojima Productions and XBOX. Most glaring? A lot of the games at the showcase that folks are excited about the most seem to be for 2023 and not so much this year with 6 months remaining in the year. That's not a good thing.
If we had to give the XBOX showcase a grade we give it a solid "B". Respectable and indicative of a very good show but not a great one. The good news is, Microsoft and XBOX are not done as they have an extended showcase planned for tomorrow and maybe we'll get an idea of what's happening with the "BIG" games like Avowed and so on. Either way, it's a good time to be a gamer, even more so if you're Team Green and who can mad at that? What did you think of the showcase? Comment below or hit us up on Twitter and chime in. Lastly, you wanna know what games are coming this year and in 2023? Check out the lists below
2022
Naraka: Bladepoint (Game Pass)
The Elder Scrolls Online: High Isle
As Dusk Falls (Game Pass)
Forza Horizon 5: Hot Wheels
Somerville (Game Pass)
A Plague Tale: Requiem (Game Pass)
Valheim (Game Pass)
Warhammer 40K Darktide (Game Pass)
Grounded (Game Pass)
Fallout 76: The Pitt (Game Pass)
Overwatch 2
High On Life (Game Pass)
Scorn (Game Pass)
Atomic Heart (Game Pass)
Gotham Knights
Gunfire Reborn (Game Pass)
Persona 5 Royal (Game Pass)
Call of Duty: Modern Warfare II
Pentiment (Game Pass)
Halo Infinite: Season 3 (Game Pass)
Microsoft Flight Simulator: 40th Anniversary Edition (Game Pass)
Hogwarts Legacy
Party Animals (Game Pass)
Slime Rancher 2 (Game Pass)
The Callisto Protocol
Hello Neighbor 2
Lightyear Frontier
2023
Diablo IV
Redfall (Game Pass)
Starfield (Game Pass)
Forza Motorsport (Game Pass)
Minecraft Legends (Game Pass)
Ara: History Untold (Game Pass)
Wo Long: Fallen Dynasty (Game Pass)
S.T.A.L.K.E.R. 2 (Game Pass)
Flintlock (Game Pass)
Eiyuden Chronicle: Hundred Heroes (Game Pass)
League of Legends (Game Pass)
League of Legends: Wild Rift (Game Pass)
Valorant (Game Pass)
Teamfight Tactics (Game Pass)
Legends of Runeterra (Game Pass)
Ark 2 (Game Pass)
Resident Evil 4
Persona 3 Portable (Game Pass)
Persona 4 Golden (Game Pass)
Replaced (Game Pass)
Ereban: Shadow Legacy (Game Pass)
Ravenlok (Game Pass)
Dead Space
The Last Case of Benedict Fox (Game Pass)
Cocoon (Game Pass)