We've talked about a couple of gaming monitors here already and while those were excellent monitors, they're also a bit on a pricey side of things. For those on a budget but still want a pro-level gaming monitor, you should check out the Viotek Reaper (RFI25CBA) Extreme Gaming Monitor. The Viotek Reaper is a 25″ Full-HD monitor with 144Hz refresh, 1ms MPRT, and has G-Sync/FreeSync-ready Adaptive Sync. Those are just some of the features that make the Viotek Reaper a competitive option.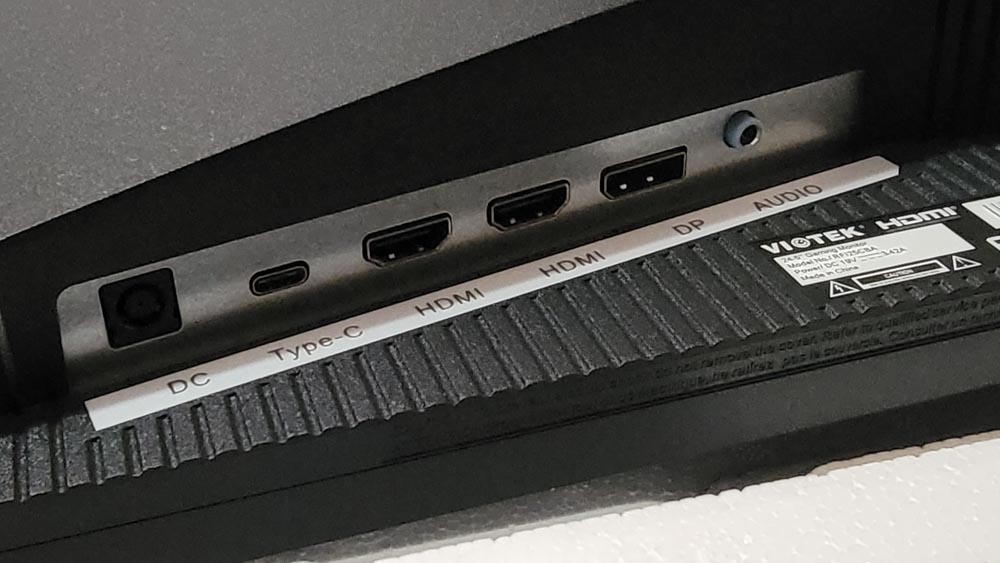 SPECS
Starting things off, the specs on the Viotek Reaper are pretty good and feature many of the must-have options gamers need. We'll just list them out here first along with their description. What most gamers will look for first is the resolution, refresh rate, and response time.
EXTREME PERFORMANCE – 144Hz refresh, 1ms MPRT & Adaptive Sync for smooth video with low input lag.
GORGEOUS IMAGES – Crystal-clear FHD resolution, extra-wide 178° viewing angle, 111% sRGB w/ DCR/DLC.
PRO-GAMER FEATURES – G-Sync/FreeSync-ready Adaptive Sync, GAMEPLUS crosshairs & FPS optimization.
4D STAND – Tilt, swivel, pivot & raise for optimal positioning. Incl. portrait mode w/ auto rotate.
RICH CONNECTIVITY – 1x DP, 2x HDMI, 1x Audio Out (3.5mm), USB-C w/ DP-ALT-MODE, and VESA.
MOBILE-READY – Connect a mobile device as a main display or PBP/PIP (must be DP-ALT-MODE compatible).
As you can see, the specs here are mainly built for fast gameplay and very low lag. For now, 1080p is optimal for fast gaming and while there are other monitors with much faster refresh rates than the 144Hz here, you probably won't even be able to tell the difference. Those using AMD and NVIDIA GPUs will also appreciate the addition of both G-Sync and FreeSync.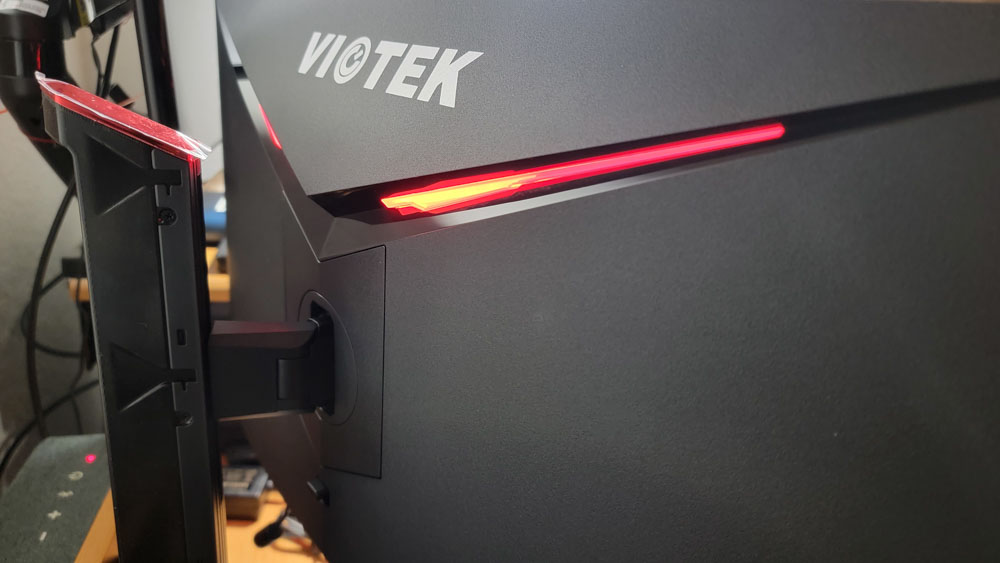 DESIGN
Now we can get to the design. While having a great-looking monitor is a plus, especially for gaming, ultimately the specs come first, which is why we started with that. However, the design of the Viotek Reaper doesn't lose out on the specs as it is a pretty nice-looking monitor with some pretty interesting features.
For starters, this is a regular widescreen display with a resolution of 1920×1080 so you're looking at a 16:9 screen. That's pretty much the norm these days. The only thing larger in a 1080p display is if you go ultrawide. Back to the display, it has an anti-glare coating on it so it's not shiny at all, which is a big plus in my book. That means no reflections for a much cleaner and clearer picture. This display is also an IPS panel for much richer colors. The monitor also has very thin bezels on the display, except for the bottom part of the monitor. It's pretty much edge-to-edge.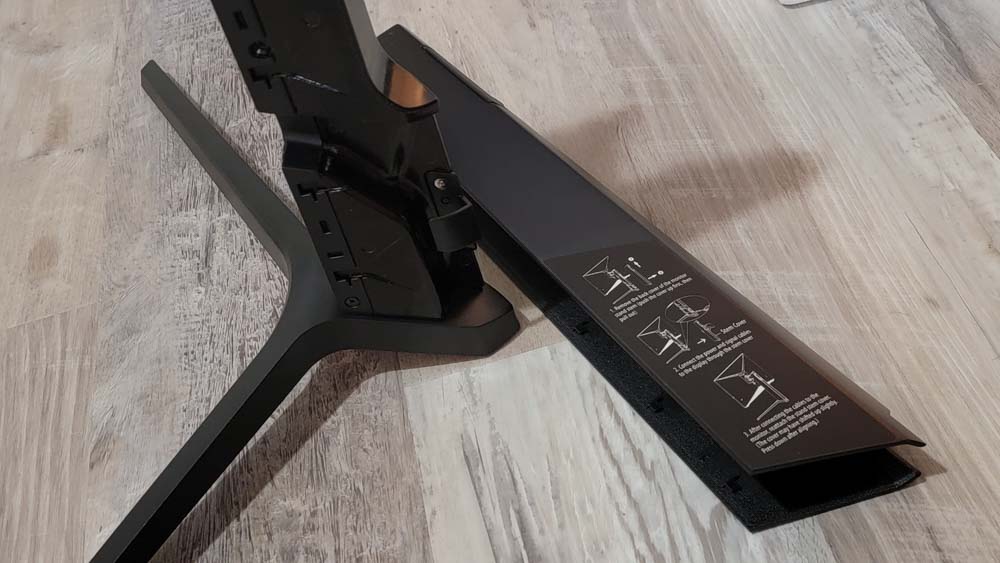 The Viotek Reaper also features some built-in LED lighting in red. These are located on the bottom corners of the monitor as well as on the back panel. It's a nice addition that does give the Viotek Reaper a bit of a sinister look.
Another cool aspect of the Viotek Reaper is the stand. The stand itself is not very heavy, but it does feel very sturdy. It also has some interesting features. For instance, if you take off the arm cover, it has a hidden cable management system that will help feed all the connected cables through the back and out of sight. The stand also allows for up and down height adjustment (about 5 inches) as well as tilt and swivel. Not only that, but if you raise it to the highest point, you can rotate the display into portrait mode, which is auto-detected via a G-Sensor.
Lastly, the Viotek Reaper has a healthy amount of ports. You're looking at 1xDisplayPort 1.2, 1xHDMI 2.0, 1xHDMI 1.4, 1xUSB Type-C, and 1×3.5mm audio out. That last bit means this does not have built-in speakers.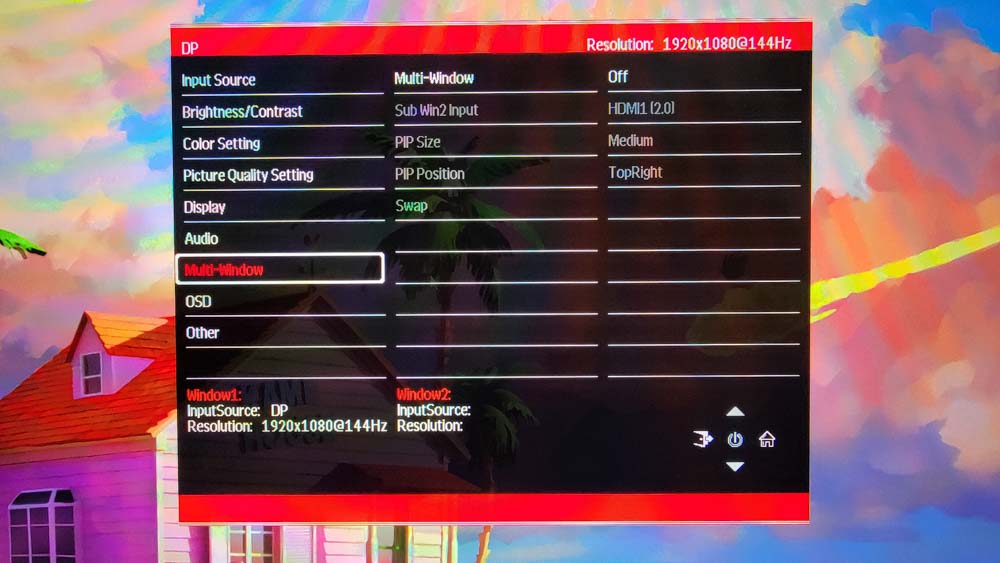 EXPERIENCE
For reference purposes, I tested the Viotek Reaper with an AMD Ryzen 5 PC with an NVIDIA RTX 3070 and 32GB RAM. I also used it with the included DisplayPort cable. I should point out that in the spec sheet, you can only get the full 144Hz refresh rate if you use the DisplayPort option while you're limited to 120Hz using HDMI.
In terms of build quality, the Viotek Reaper is very solid and sturdy. The base is really supportive but also doesn't take up a lot of space. The monitor isn't that thick either which helps cut down on the weight. The control button placement is a little weird though as it sits on the back of the monitor so you'll have to feel around for it if you plan on making any adjustments.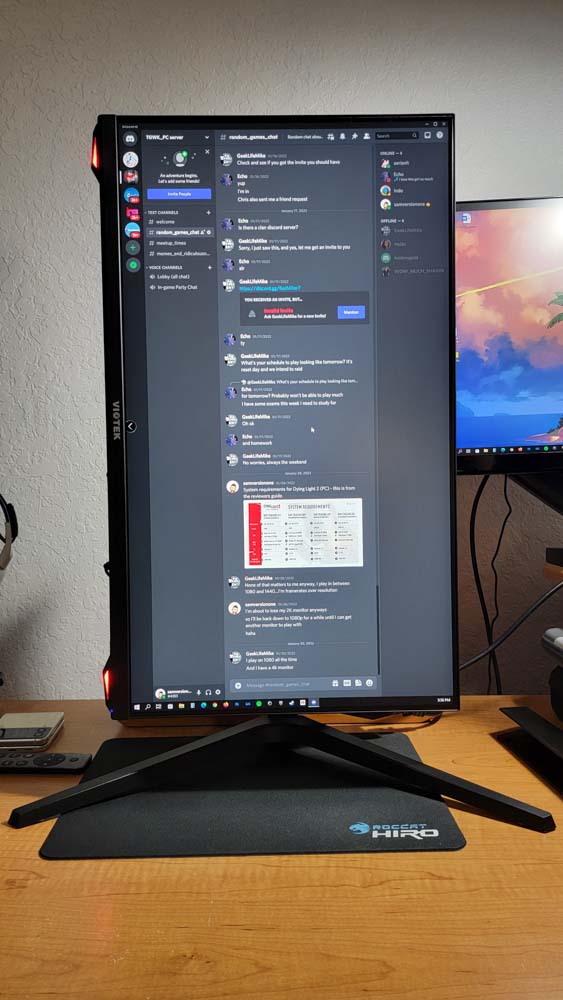 The picture quality on the monitor is amazing. Even though this is only a 1080p monitor, the IPS panel had some really rich colors, which kept my games looking tip-top. The blacks on it also seemed pretty black, so that's good too. In terms of speed, the 144Hz refresh rate kept all the action onscreen looking smooth.
I should note that this monitor does not support HDR mode, but it does have presets for different image adjustments (standard, photo, movie, game, FPS, RTS, sRGB). It also has Dynamic Luminous Control which auto-adjusts the brightness levels based on what's being displayed.
If you play a lot of FPS games, you'll also be happy to know that there is a GAMPLUS mode that enables crosshairs on your screen so you'll always know where the center is.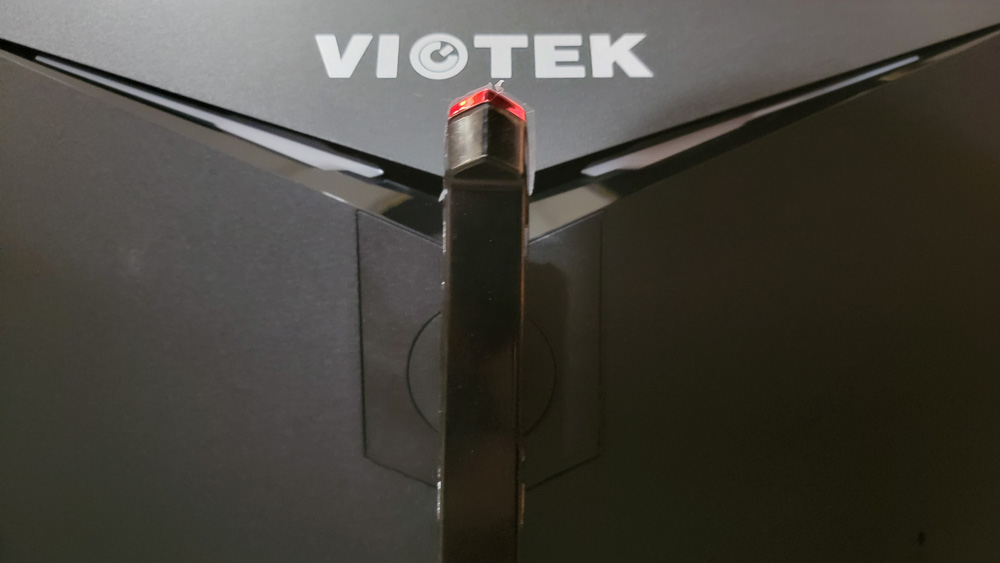 FINAL THOUGHTS
So is the Viotek Reaper (RFI25CBA) Extreme Gaming Monitor a budget beast or a dud that should be avoided? It's actually a beast that punches above its weight level. This monitor has so many great features that would even impress a pro gamer, especially at its price point. You're looking at an under $200, 25″ 1080p 144Hz gaming monitor that will not only make you competitive but also looks really good physically. The LED lights on this thing are pretty sick looking and I love the smaller footprint of the adjustable stand.
While this monitor might be small for some users, this is still a great gaming monitor for those who might be tight on space and cash. However, those around you would think you spent more than you really did with the Viotek Reaper.
The Viotek Reaper (RFI25CBA) Extreme Gaming Monitor is available now on Amazon.