| Clean and Easy |
It's time to check out a microphone that's versatile and high-performance, totally created for gamers, streamers, and content creators. Cherry's UM 9.0 Pro is the latest in their line of peripherals that boasts an elegant design in matte copper, integrated RGB lighting that adds a touch of style to any setup in today's aesthetics, and more. The three-legged stand is made of solid metal and comes with an integrated vibration damper, which ensures stability and excellent sound quality. This complete set of high-end device left an impression on me, proving to be one of the greats for ease of use and quality; if you're looking to upgrade at a relatively reasonable price, take the time to look into this one.
Get into the Copper!
One of the standout features of the UM 9.0 Pro is its four different polar patterns, selectable with a single touch of a button making it a highly versatile microphone. The four polar patterns include cardioid, omnidirectional, bidirectional, and stereo. The cardioid pattern is perfect for single-person recordings or streaming, while the omnidirectional pattern is best suited for group recordings. The bidirectional pattern is ideal for interviews, and the stereo pattern is perfect for capturing the soundstage of musical performances. The LED indicators at the top of the microphone show which pattern is currently selected, making it easy to keep track of your settings at a glance. Gain control is also available of course, which lets you adjust the microphone sensitivity to suit your needs. Push-to-mute function is there as a touch sensor, which of course allows users to easily mute the microphone when needed during streaming/gaming sessions; quickly avoid background noise or to take a quick break with a touch of a button is always a welcoming feature – it is located at the top of the microphone alongside the LED indicators.
Features
Elegant design in matte copper look
Three-legged design stand made of solid metal with integrated vibration damper
Versatile thanks to four different polar patterns: cardioid, omnidirectional, bidirectional and stereo
Impressive RGB lighting for an intense gaming or streaming setup
Gain control for adjusting microphone sensitivity
Compatible with PC, Mac, PS4 and PS5 (Plug&Play via USB cable)
Convenient push-to-mute function
Headphone jack with integrated volume control in CHERRY design
Shock-mount function for first-class sound quality without unwanted background noise or vibrations
The UM 9.0 Pro is a top-performing microphone when it comes to sound quality. This is largely due to its shock-mount function, which is designed to eliminate unwanted background noise and vibrations that can affect the clarity of recordings and streams. The microphone is also compatible with a wide range of devices, including PC, Mac, PS4, and PS5, making it an easy and seamless addition to any setup. The Plug & Play functionality via USB cable means there is no need for complicated drivers or additional software. Additionally, the UM 9.0 Pro has an integrated headphone jack with volume control. While this may not provide the same level of sound quality as dedicated headphones, it is perfectly adequate for most users. This feature is particularly useful for gamers and streamers who want to monitor their own audio output in real-time without any delay.
It Glows to Perform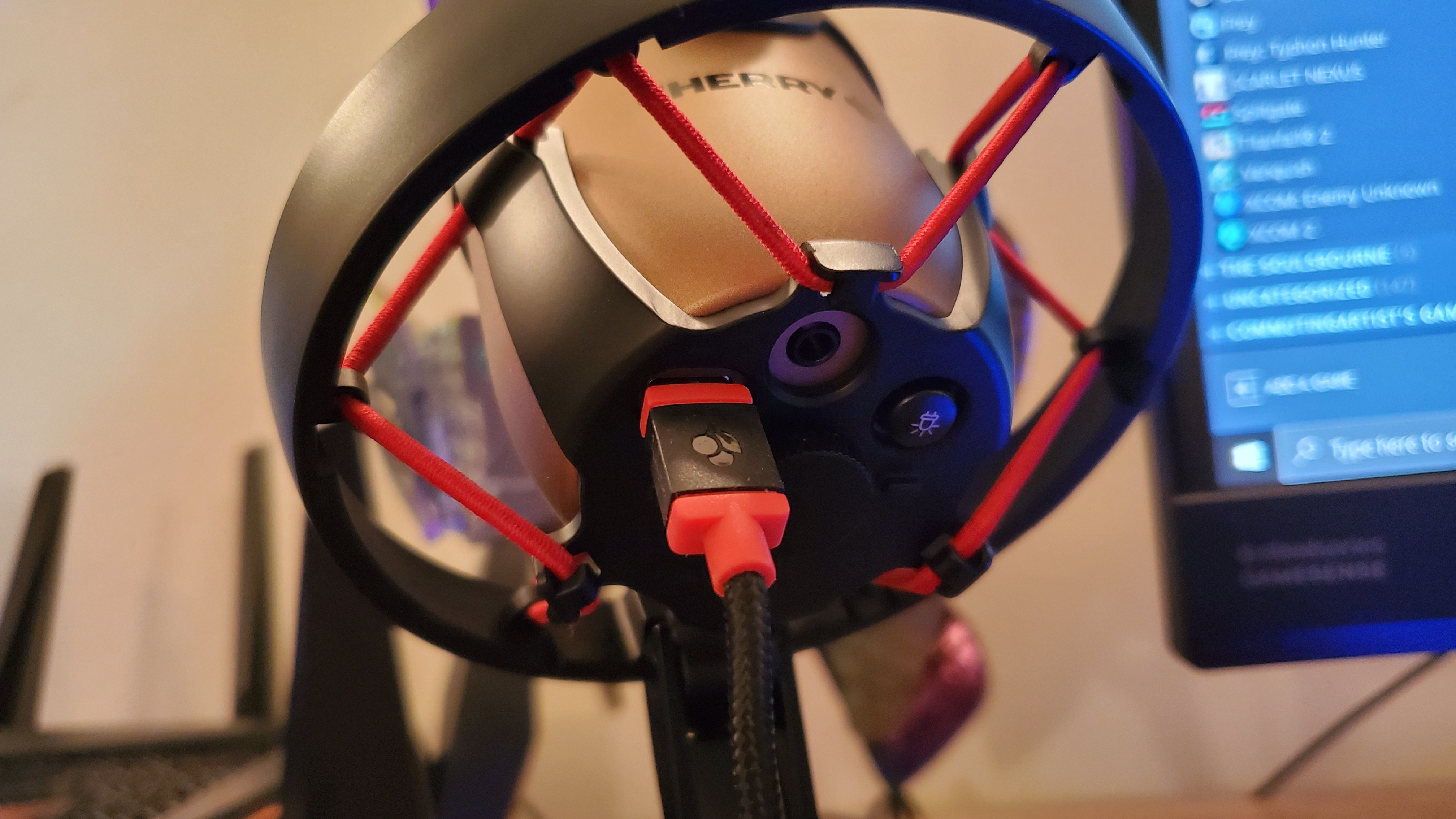 Of course, what's a stylish microphone without RGB lighting – there's a button that allows you to switch between color choices, even a spectrum one that fades slowly into another color. When tapping the mute button, it'll default to red which helps with visual aid. It's vibrant and integrated well, though I found myself turning it off as it can be a bit distracting during intense gaming sessions.
While the UM 9.0 Pro is an impressive microphone, it does have a minor inconvenience; switching between polar patterns is a seamless experience, but that also means rotating the microphone for the desired method. For most people, especially streamers, I don't see this as being an obstacle at all – but for newcomers during the learning process, I can see that positioning can pose a risk of having audio muffle during recorded/streaming sessions. LED indicators at the top of the mic can help with direction, but when pressure sets in, it easy to assume that possible oversight can be an occurring theme. The UM9.0 Pro is absolutely a microphone for experienced creators and tech enthusiasts. If you're like me that plays on a high-performance gaming PC, this mic will benefit you tremendously. Even if you're looking to upgrade your set up – which I recommend looking into CLX Gaming for custom builds that ranges from top of the line to affordability, consider UM 9.0 Pro since the specs and aesthetic has provided a visually pleasant and comfortable gaming experience for me; plug & play alongside clear comms during intense moments like Destiny 2's Trials of Osiris was met with ease.
REVIEW SCORE: 9/10
In terms of gaming and streaming, the UM 9.0 Pro is a practical and effective choice. The four polar patterns make it a versatile microphone that can be used for a range of applications, and the shock-mount stand coupled with gain control ensure excellent sound quality, which is crucial for gaming and streaming – this is coupled with excellent RGB implementation. Overall, the Cherry UM 9.0 Pro is an impressive and versatile microphone that I think people who are looking to upgrade should consider.
For more on UM 9.0 Pro and gaming, follow me on Twitter and other social media here